The best standing desk converter can only really be decided by you. What I mean by that is that everything comes down to your preference. What might work for others, might not work for you. And vice versa.
But if you're someone who is unfamiliar or just got newly introduced to standing desks and adjustable desk risers, it can be confusing where to start. Especially with so many different choices in the market right now.
So to help you figure out which standing desk converter will work best for you, I wrote this buyer's guide. This will include the different types of desk risers, their uses, things you need to consider, as well as the health benefits.
If you'd like to check out different units of standing desk converters, head on to our list of the Best Adjustable Desk Risers For 2021 here.
What Is A Standing Desk Converter?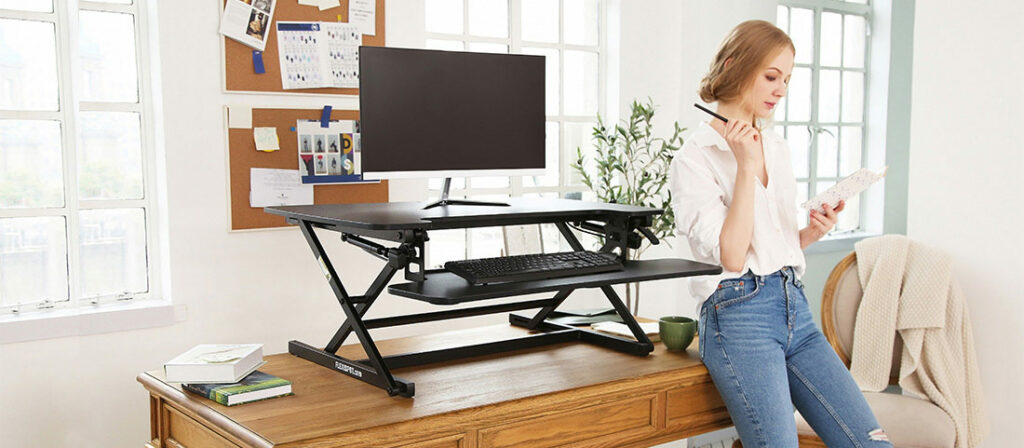 Whether you're working from home, in an office, or somewhere in between, you can't deny that working in an ergonomic environment greatly improves your productivity and overall health.
That's why standing desks and desk risers are getting so popular right now. More and more people all over the world are now realizing how sitting for long hours throughout the day can negatively affect your health.
But what exactly is a standing desk converter?
To clarify any sort of confusion, a standing desk and a standing desk converter are two different things. A full standing desk is a complete and dedicated desk on its own. Quite similar to any office desk you might already have. The only difference, you can use this while you're standing by adjusting its height level.
Meanwhile, a standing desk converter or an adjustable desk riser is a smaller and more portable desk that you can place on top of your already existing work table.
Usually, these kinds of desks are adjustable as well which you can raise or lower to accommodate your height level. The best standing desk converter will provide ergonomic relief too.
In this particular buyer's guide, I'll be talking about the latter.
Why Do You Need A Standing Desk Converter?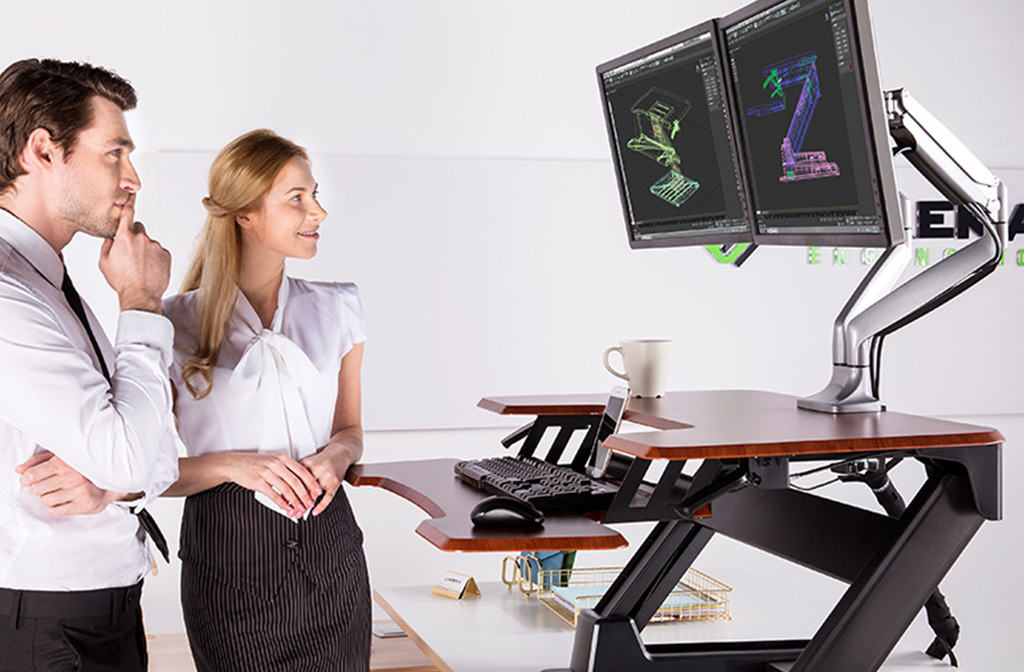 There is a multitude of reasons why it's preferable for some of you to get an adjustable desk riser instead of a full standing desk. Here are some significant reasons why:
If you're quite satisfied with the work desk you already own but want to get into the habit of standing while working there's no need to get rid of it. With an adjustable desk riser, you can just place the unit on top of your existing desk and use it while you work.
If you don't have enough space in your house to get a standing desk, an adjustable desk riser will do just fine. It significantly takes up less space and can be placed on any sturdy surface you prefer to work on.
There are also features an adjustable desk riser has that standing desks might not. For example, certain desk risers are shipped pre-assembled to your home. So if setting up your desk is an inconvenience, you won't experience this with some desk risers. Another is built-in keyboard trays. Portability is another great factor. And so much more.
Different Types of Standing Desk Converters
Z-Lift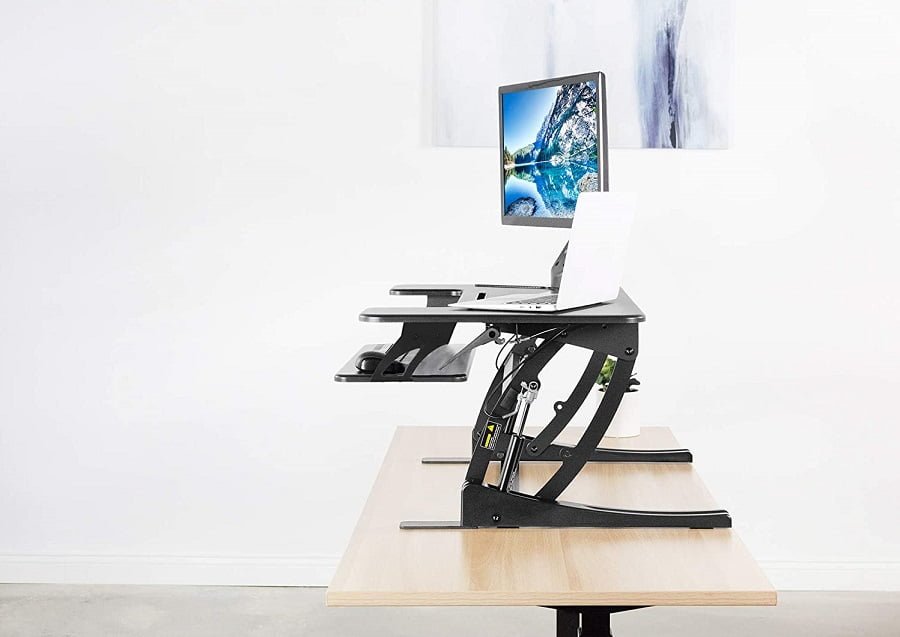 Z-lift desk risers are one of the most common types of standing desk converters in the market. Due to that fact, you get a wide range of options from so many different manufacturers to choose from. You're most likely to get a budget-friendly option as well if you're tight on money.
It's one of the more popular types of adjustable desk risers too because, in the past, this kind of frame was your only option. So it's really more traditional and people find it reliable without the added high-tech functions.
Usually, this type of frame tends to swing forward so you're going to have to keep that in mind. This kind of mechanism could be inconvenient for people who don't have much office space.
Check out our review of the Seville Classics AirLIFT Workstation here!
X-Lift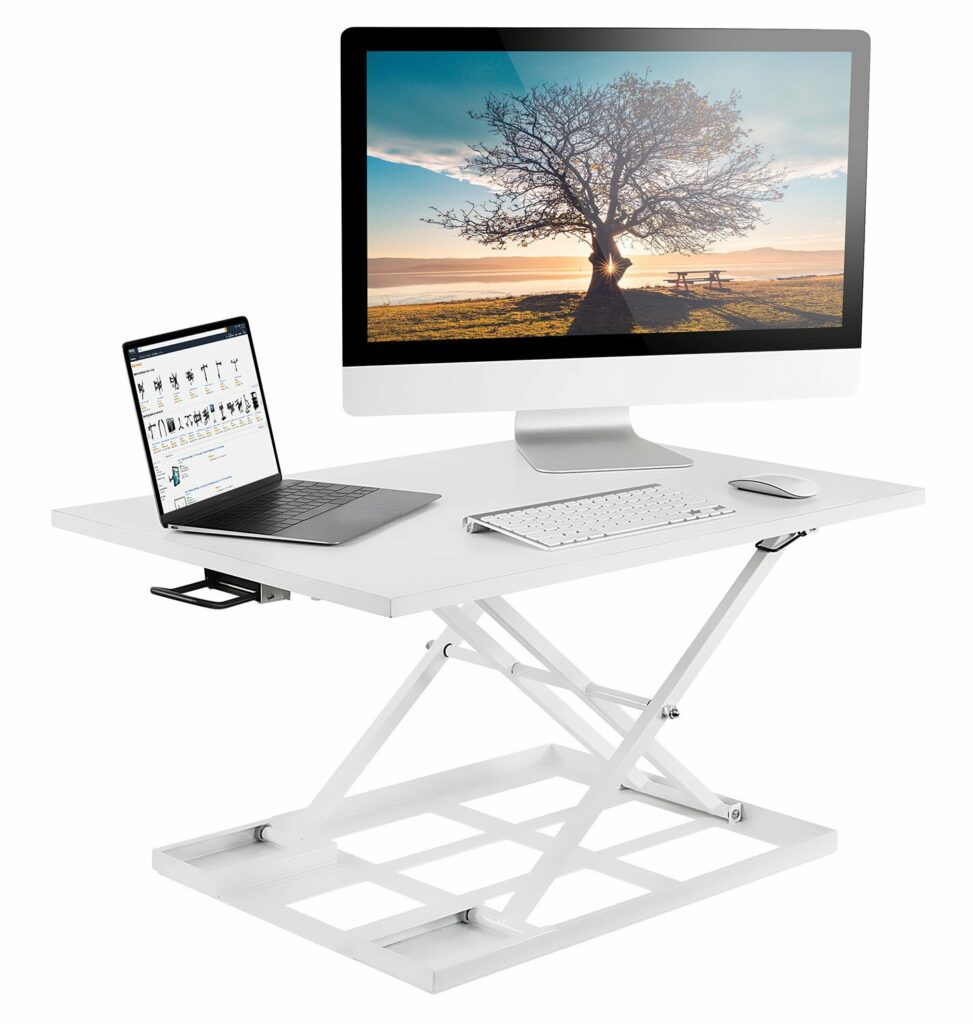 Almost similar to the Z-lift, An X-lift desk riser is another common and popular type of standing desk converter. It's named after the X-shaped frame it sports.
But unlike the Z-lift, the X-lift doesn't swing forward whenever you adjust its height settings and raises and lowers in a straight motion instead. So if you have little space on your office, this could be more up your alley.
They're a lot less expensive too and are the cheapest type of standing desk converter in this list.
Check out our review of the FEZIBO Stand Up Desk Converter, a very affordable X-lift desk riser!
Electric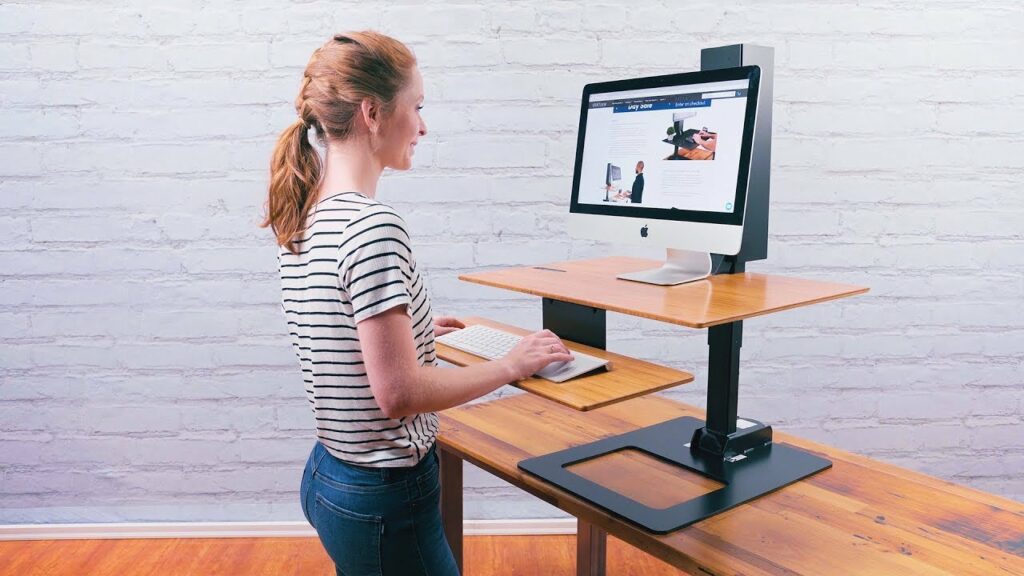 Electric standing desk converters are perfect for people who work with a heavier load of equipment. This kind of adjustable desk riser uses an electric lift mechanism which allows its users to adjust their desks' height settings with a single push of a button.
Some electric desk risers have customizable height settings while some have built-in presets.
In any case, if you're bothered by having to manually adjust your desk risers, try opting for an electric one.
Do keep in mind this type of standing desk converter can be a lot more expensive than your usual Z-lifts and X-lifts depending on the manufacturer.
Post & Base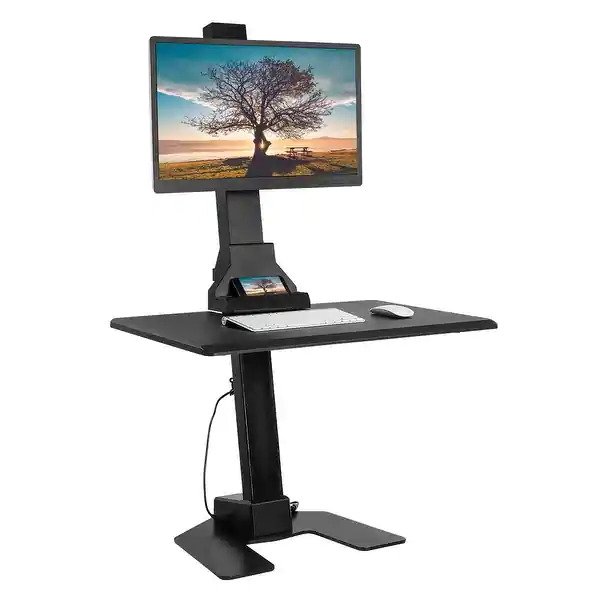 Post & Base standing desk converters typically offer a single, sturdy post to mount your monitors on along with an attached keyboard platform.
They sit freestanding on your existing desk and you won't have to worry about the noise some electric desk risers make when it's being adjusted. You also won't need desk clamps with these unlike some other types require to make sure your desk riser stays put without sliding off the surface.
These also usually have great monitor adjustability so you can angle your monitor at any direction you're comfortable in.
Hover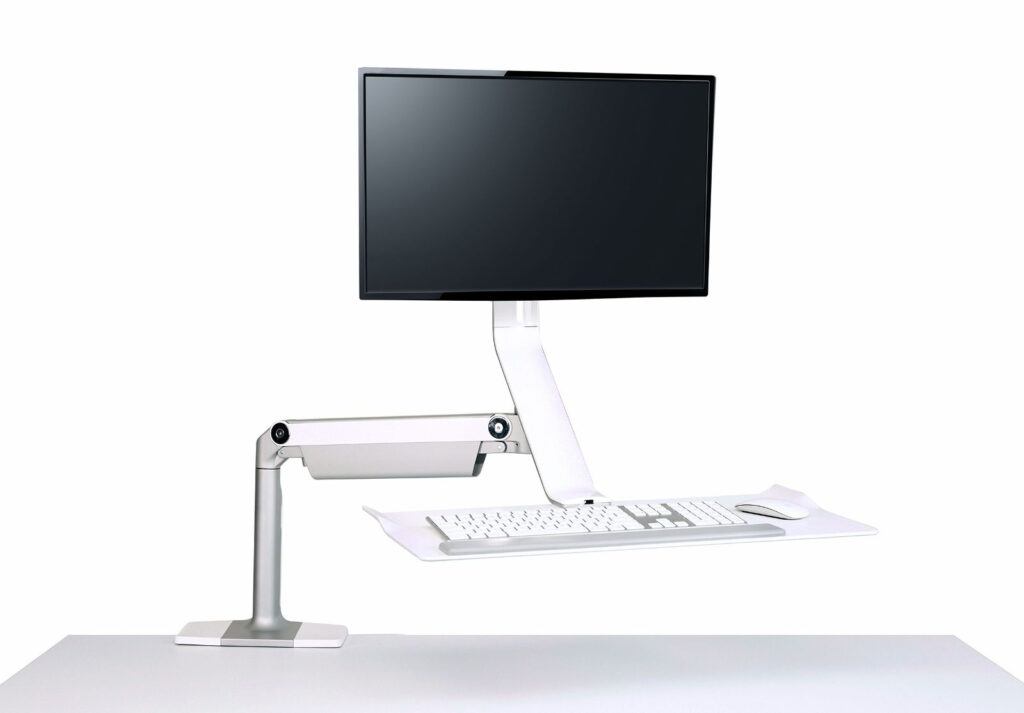 Hover, or also known as floating arm, are great for people who want to save up a lot on workspace.
They're also the most flexible and most elegant-looking type of standing desk converters. You just mount your monitor and place your keyboard on the attached tray. At the same, they're also the most expensive.
But if you have the budget and don't mind having a less spacious keyboard tray, this one might be a great option for you.
Corner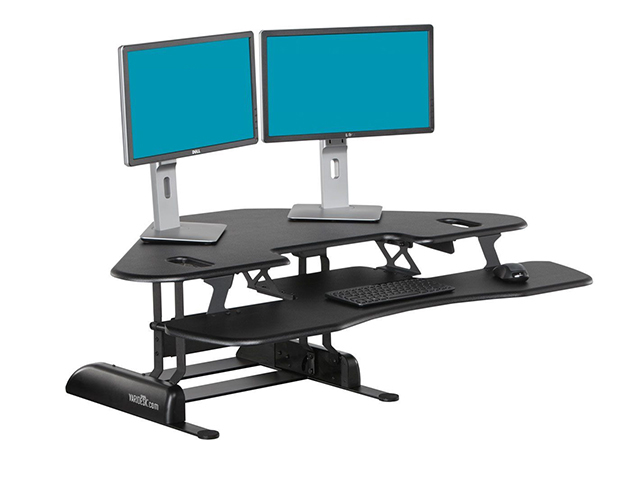 Corner types are not much different in comparison to other types in this list like the Z-lift, X-lift, or the electric one.
The only thing a corner type of standing desk converter has different is they have a "curved" work surface. Which allows for a more ergonomic experience and a spacious work surface for it users.
Check out our list of the Best Adjustable Desk Risers For 2021 Here.
What You Need To Consider
Now that you know the different types of adjustable desk risers, here are some tips before you finally make your purchase:
Height Adjustment Settings
Whether you're short or tall, height settings are an important thing to consider before investing in an adjustable desk riser. Finding the most suitable desk riser for your height will overall affect your experience with the standing desk converter.
I doubt anyone would want a desk riser that raises too high or too short for their height level. So find one that matches your height and gives you a comfortable experience.
Build Quality
In terms of build quality, you would want to make sure you get a unit that is stable and is sturdy enough to accommodate all your work equipment without wobbling, shaking, or slipping. That would be such a disaster if it were to happen, right?
Work Surface Area & Keyboard Tray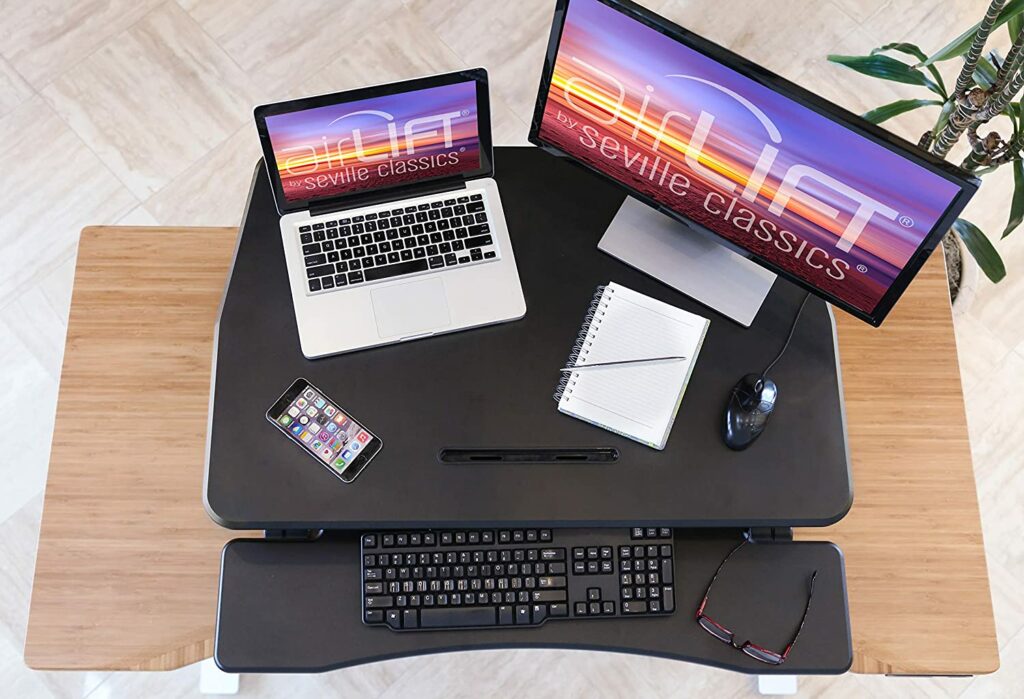 Speaking of making sure that your work equipment is accommodated, most desk risers nowadays can easily support dual-monitor systems and your standard keyboard and mouse.
But if you require more space, a lot of manufacturers also produce bigger workstations that allow a more spacious work surface to hold all your peripherals.
Weight Capacity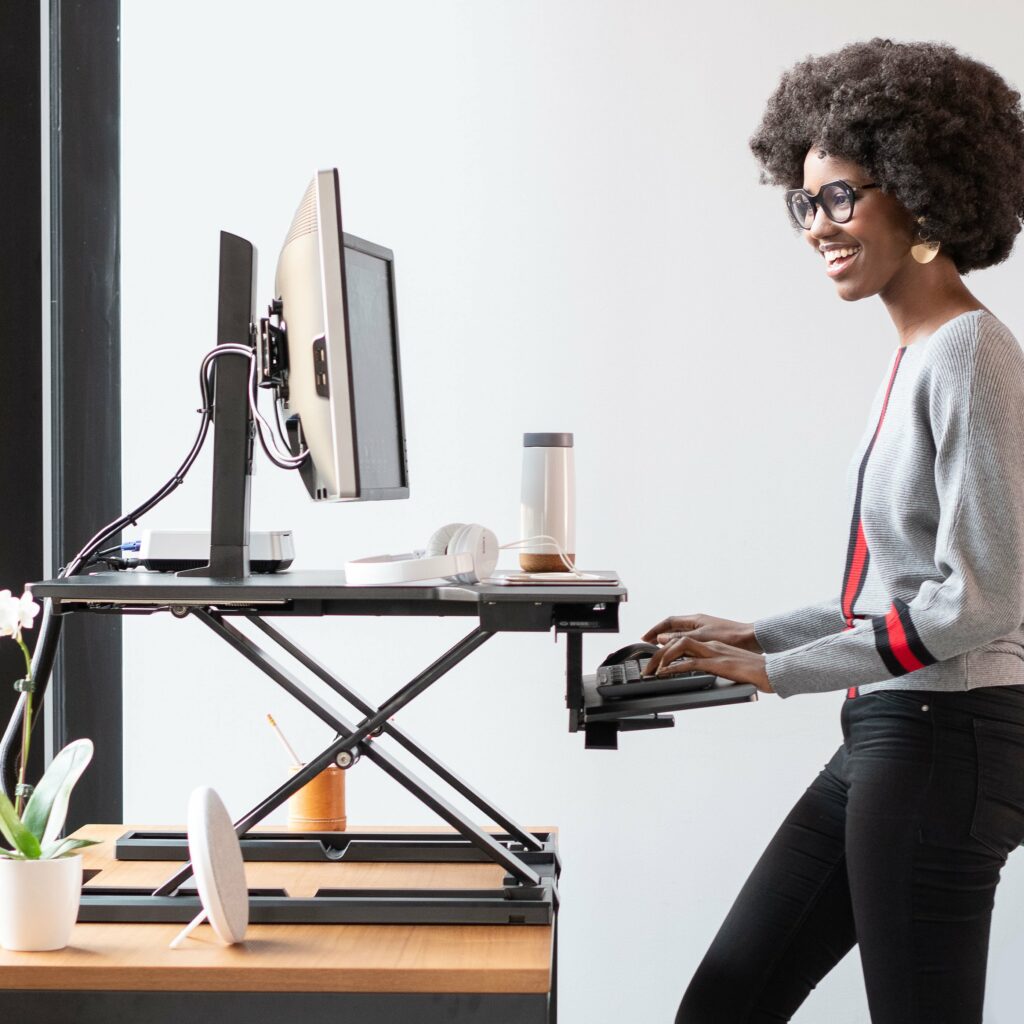 The standard weight capacity of mid-sized desk risers are usually around 33 pounds of weight. But if you're working on a heavier load, it's best to opt for something that has a higher weight capacity to make sure your desk riser doesn't fail in the middle of your working hours.
Price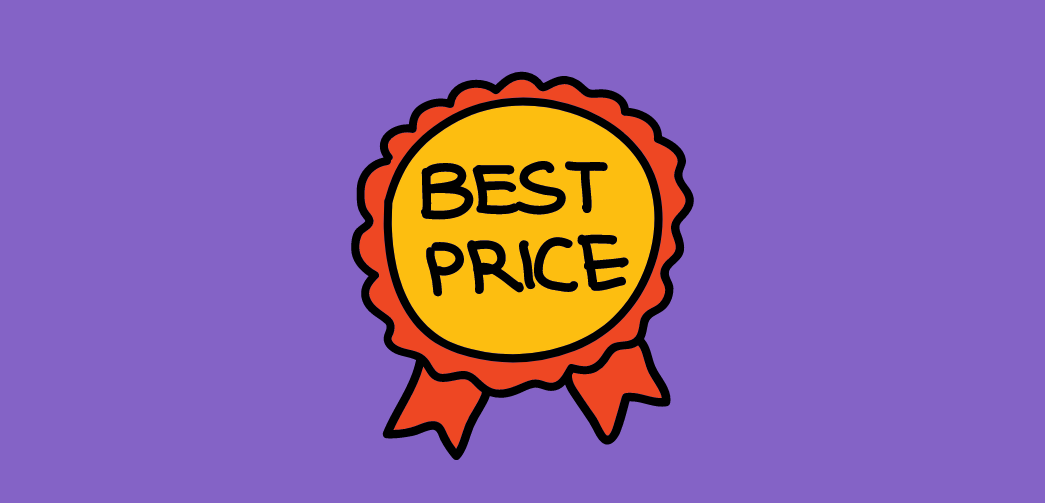 A standing desk converter's price range varies a lot and it really depends on what type you're going for. They can range from anywhere between less than a hundred dollars or go up to a thousand dollars. It's up to you how much you're willing to spend.
Manually-adjusted desk risers are usually a lot cheaper than electric ones or the hover types too.
Conclusion
As I've said before, investing in a standing desk converter is not only an investment in your office but also an investment in your health.
So I do believe adjustable desk risers are a great addition to your home or to your office. Not only it promotes better productivity at work, but it also improves your overall wellbeing by reducing the risk of heart-related diseases, bad posture, and other negative effects prolonged sitting brings.
I hope this buyer's guide was able to help you out in choosing the best standing desk converter for you.
Recommended reading for you:
Best Adjustable Desk Risers 2021: Level Up Your Office
The Top 10 Best Standing Desks 2021: Working From Home Has Never Been This Comfortable!
The FEZIBO Standing Desk Converter Review: Ergo-Friendly & Affordable!
The Seville Classics AirLIFT Workstation Review: An Effortless Way To Take Your Office To New Heights!
Flexispot 35 Black Stand Up Desks Workstation: Why You Need One
Get Fitter With VariDesk Pro Plus 36 Standing Desk
Halter ED 258 Height Adjustable Sit Stand Desk – A Healthier Lifestyle