You can probably tell by now that I love standing desks. The VARIDESK Pro Plus 36 Adjustable Sit Stand Computer Desk is no exception. It's beautiful, practical, pro-health and I'm here to tell you why you need one.
Why it's worth investing in a standing desk
Regularly sitting at your desk for many hours isn't good for your body. Recent studies suggest that does habit could be linked to a bigger risk of heart disease and diabetes.
The issue with sitting for long periods is that you are hardly burning any calories and you are more likely to pile on the pounds. For most of us, working at a desk is a requirement. Out of all the research that I have done online, investing in a standing desk has been the most viable option to counteract sedentary desk sitting.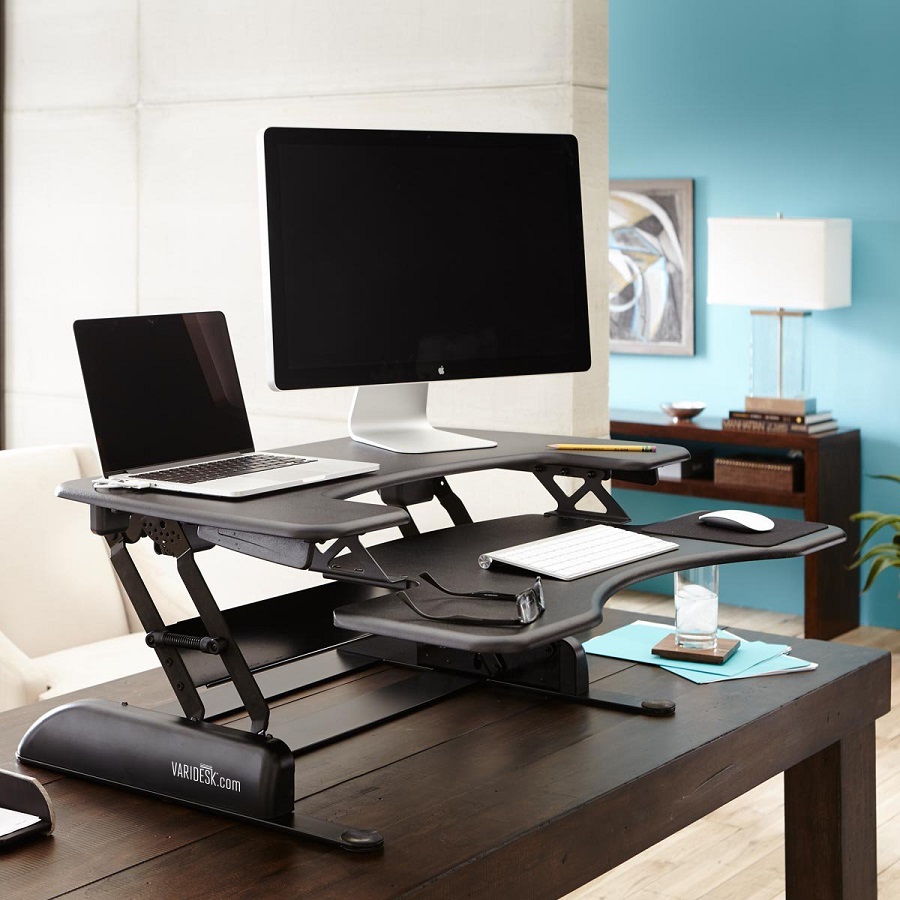 I rave about my standing workstation to the point that it annoys my colleagues. But it's all for a good reason. A sedentary lifestyle nearly disabled me. I began experiencing pain in my left foot every time I attempted to take a walk, even if it was at a leisurely pace.
The health experts told me that I needed to start standing and walking regularly to strengthen my foot or else it would just get worse. I knew that my lifestyle needed to change.
At this point, I knew nothing about standing desks and as soon as I discovered the contraption it made so much sense to get one. Your reasons for investing in a sit-stand desk might not be as extreme as mine but why wait until you have a health issue before getting one?
Thankfully, I've managed to reverse the effects of sedentary sitting but it meant changing some bad habits. The first step was to invest in a standing workstation and everything else fell into place from then on.
When you start using your stand up desk you'll want to take it in stages. It wouldn't be realistic or wise to jump straight into the deep end i.e. Change from sitting all day to standing all day. It's advisable to take it in stages.
Maybe start with 15 minutes of standing in every hour, then increase it to 30 minutes after a few days. This will give your legs and feet time to adapt. Your determination will pay off and very soon you should be able to stand throughout the day.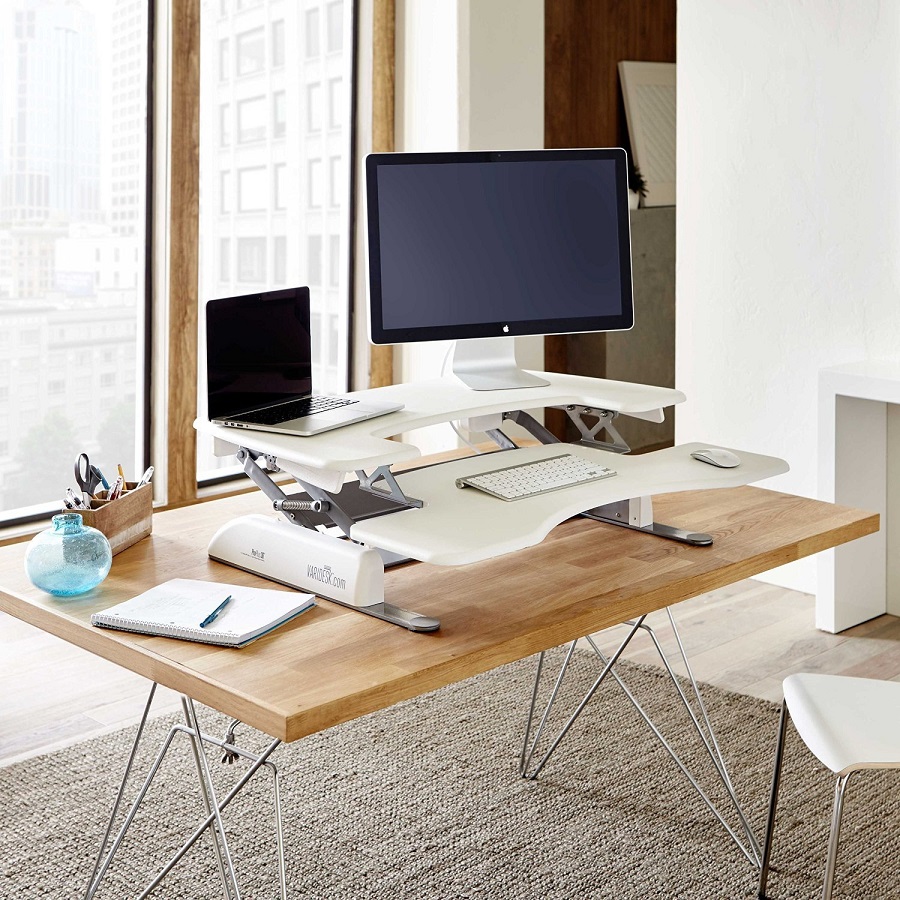 VARIDESK was one of the first brands to introduce height adjustable computer workstations to the mass market. It's not surprising to see just how popular their products are.
Check out the latest prices for the VARIDESK Pro Plus 36 here
The office workforce is becoming increasingly health-conscious and realising that more can be done to improve sedentary sitting. I am a big advocate of standing whilst working at my desk and can attest to its health benefits.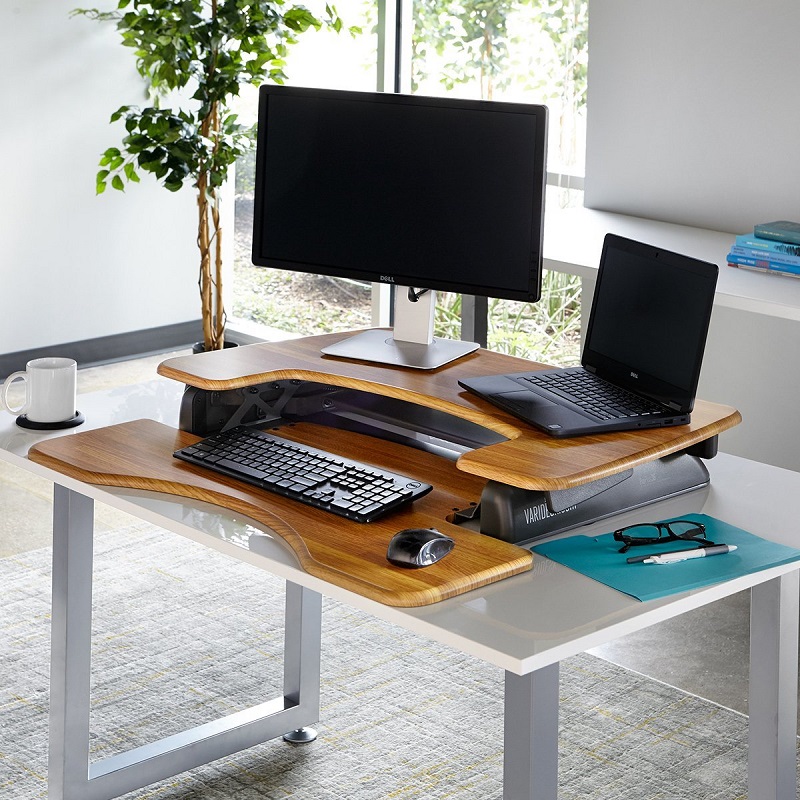 Functionality
The VARIDESK Pro Plus 36 standing desk ticks the boxes and meets every expectation required from a height-adjustable workstation. The multifunctional design provides the option of using one or two monitors. There's plenty of space to house a complete office setup.
The split level deck features an upper level for monitors and laptops, the lower level is a keyboard and mouse tray. Both surfaces have ample space for computer equipment, accessories, office stationery and most importantly a hot or cold drink- standing at your desk is thirsty work. lol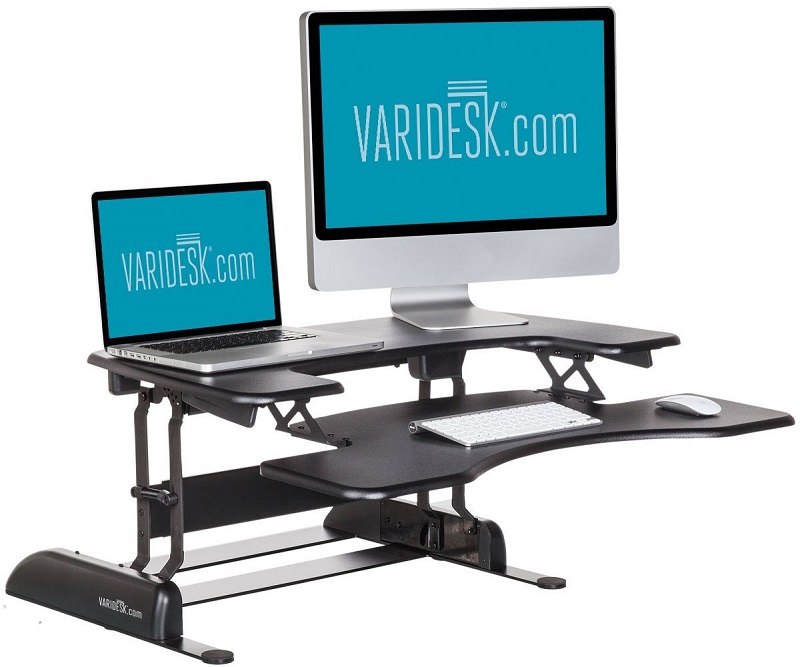 You can adjust the desk height between 11 different levels to find your perfect standing position. Unlike other sit stand desks, the Pro Plus 36 doesn't wobble during height adjustment or when extended to its highest position.
The lifting contraption is spring-loaded and can effortlessly move a load of up to 35 Ibs (15.8 kilos) in a matter of seconds. Transitioning from sitting to standing and vice versa has been made convenient and quick to ensure that it doesn't affect your train of thought whilst working.
What I like about VARIDESK is that they always come completely assembled. You won't receive a flat packed desk that takes half a day to put together. Phew!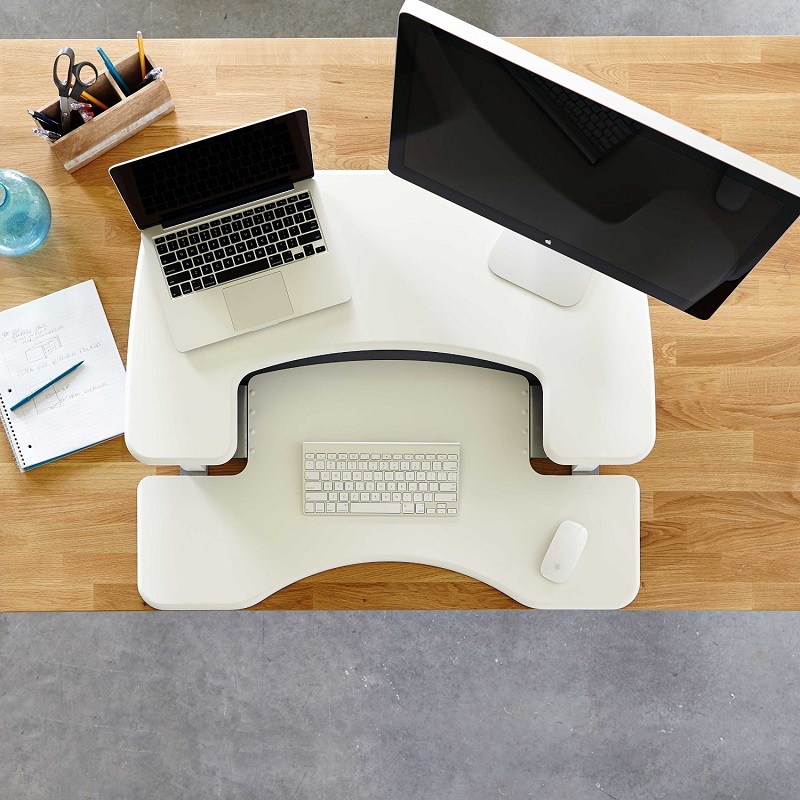 I would recommend that you get someone to assist you to prop it onto you primary office desk to avoid injury, damaging or dropping the sit stand desk. Make sure that the supporting desk is stable and sturdy, for safety and optimal usage.
Another good suggestion is to use a cable tidy or at least secure the computer cable to avoid them getting caught in between the lifting mechanism during height adjustment. There's nothing else you need to worry about. It's the easiest setup and shouldn't take you longer than 15 minutes.
Colour Options
The Popular Pro Plus 36 is supplied in four different colours- black, white, butcher block and dark wood. With such a great choice of colours is it easy to seamlessly blend it with your existing table or work desk.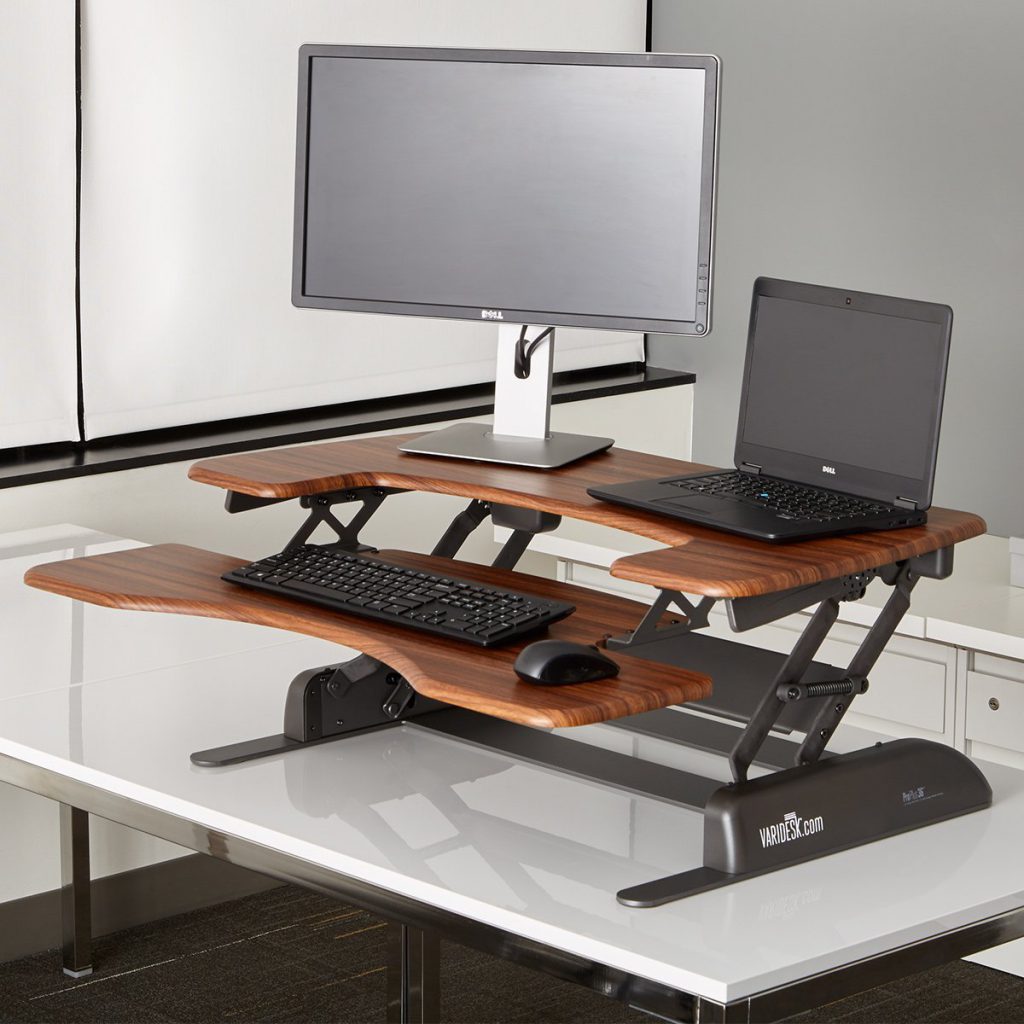 PROS:
The split level design provides plenty of space for large monitors and laptops. My two 27″ inch monitors sat on the surface with no issues.
The lower tray has space for a full-sized keyboard, mouse, wrist supports and any other small accessories you might need.
It comes fully assembled straight out the box.
It sits on top of your existing work desk or table without any additional setup required.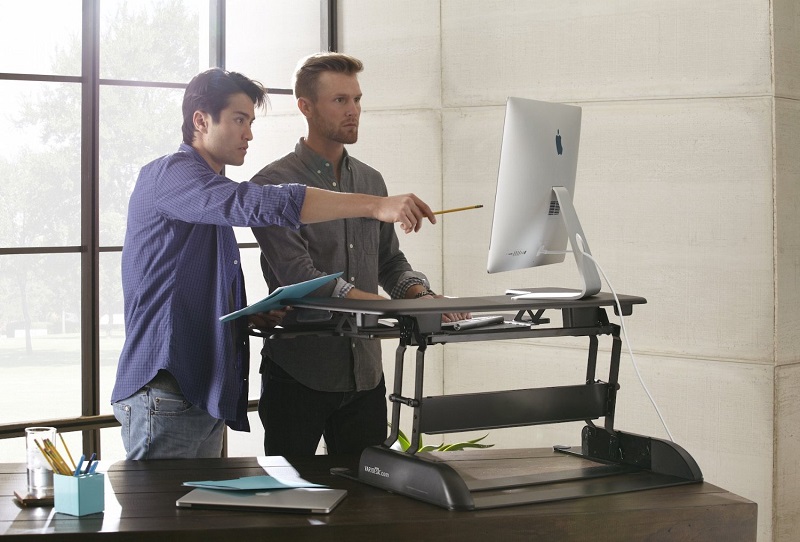 CONS:
If the weight of your computer equipment is close to the 35Ibs maximum threshold, you might find it slightly harder to squeeze the handles to adjust the height.
The standing desk has a large footprint and is not ideal for smaller work areas.
Tired Legs
Standing for long periods can tire your legs especially if you're working on a hard floor such as laminate, tiled floors or a thin carpet. It's advised to buy an ergonomic standing desk mat to disperse the pressure in your legs and feet from standing for hours. After a bit of
After a bit of research, I found the Topo desk mat which gives great all-day support. It stops your legs and feet from feeling fatigued and ensures that they're comfortable throughout the day.
The last thing you want after using you're standing desk is for your legs to feel like they can't do anything else because you've been stood for a long time. This is where an anti-fatigue mat comes into its own. It's a great investment to complement your stand up desk.
Where to buy one- click here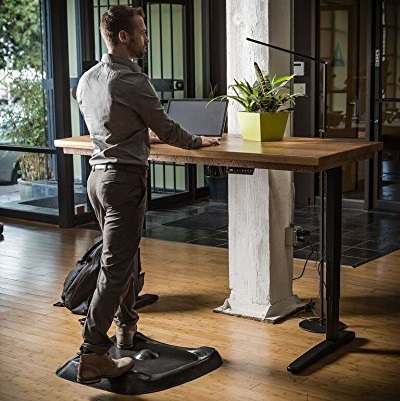 ---
Product Dimensions:
Product weight: 52.15 lbs.
Dimensions (Weighted Base): 30″(W) x 24″(D)
Dimensions (Flat): 4.5″(H) x 36″(W) x 29.75″(D)
Dimensions (Extended): 17.5″(H) x 36″(W) x 41.75″(D)
Extension Height: 17.5″ (Display Surface) & 14″ (Keyboard Deck)
Work surface measures: 36″(W) x 29.75″(D) (Display Surface & Keyboard Deck)
Keyboard deck measures: 36″(W) x 14.25″(D)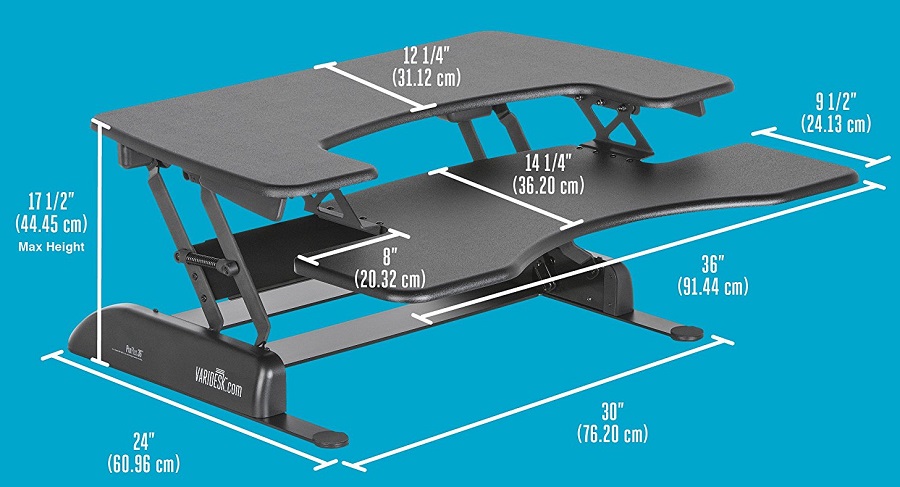 Product Rating: 9.6 / 10  ★★★★★★★★★☆
Where to Buy the VARIDESK Pro Plus 36
Check out the latest prices for the VARIDESK Pro Plus 36 here
Conclusion
Well done for deciding that you need a standing desk in your life. If you're thinking of buying the VARIDESK Pro Plus 36 then you're setting yourself up for good times ahead and the well-being benefits that accompany it. It's one of the most popular height-adjustable workstations at the moment. It will transform your health and reduce common ailments associated with a sedentary routine.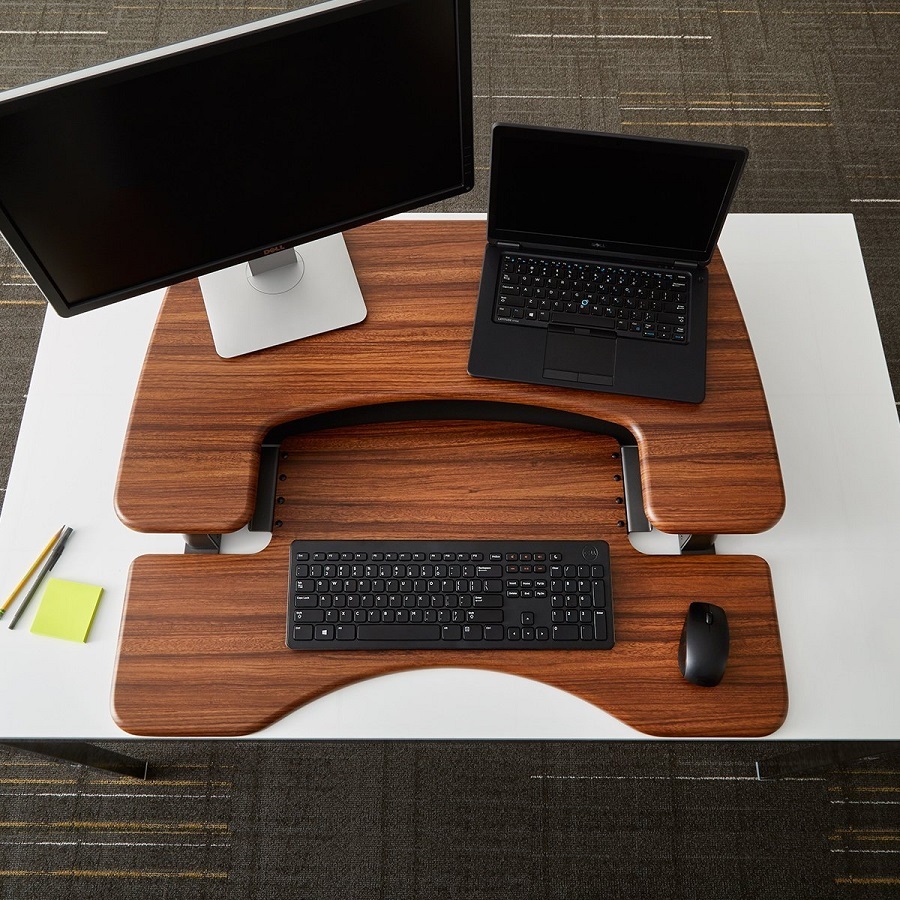 The desk provides the space and flexibility required for you to get on with your work without any compromises plus the great range of colours available mean that you can blend it onto your existing office desk without it looking out of place.
If you're considering getting the VARIDESK Pro Plus 36 or have recently purchased one I'd love to hear from you. Please get in touch using the comments section below. Thanks for reading