Standing desk converters or adjustable desk risers are a great alternative to actual standing desks for many reasons. In comparison, they're more portable, weigh a lot less, don't take up too much space, and won't completely render your previous desk useless. Enter the FEZIBO Standing Desk Converter.
In this review, I'll be discussing why this particular standing desk converter is a great choice. Especially for people who are looking to upgrade their offices to the next level. No pun intended.
So if you're someone who wants to do exactly that, just keep on reading and you'll find out why the FEZIBO Standing Desk Converter is for you.
See Where The FEZIBO Standing Desk Converter Ranks In Our List Of The Best Adjustable Desk Risers For 2021.
Overview of the FEZIBO Standing Desk Converter
If you're new to the world of standing desks and desk risers, most likely you've seen the FEZIBO Standing Desk Converter on Amazon. After all, it's one of the first places we go to when looking up new products.
You must have also noticed that it's one of Amazon's choices for a standing desk converter. And it's not popular for no reason too.
This particular adjustable desk riser is manufactured by FEZIBO. A company that specializes in creating impressive home office equipment while empowering and utilizing their employees' full potential. In turn, they're able to provide ergonomic solutions to every furnishing so you can be as comfortable working from home as you can be.
They promote a healthier workspace for everyone through their brand and by providing reliable home office equipment that is meant to last for many years to come.
Moving on to the actual product, the brand delivers on its promises and does it quite well. This is probably due to the fact that they take every customer feedback and put it into consideration when creating their products.
Aside from providing ergonomic relief, this standing desk converter has a spacious design that can comfortably fit your dual monitor system, your keyboard, and other work peripherals or essentials you might need. All the while, allowing you to seamlessly transition from sitting to standing while you work.
Specifications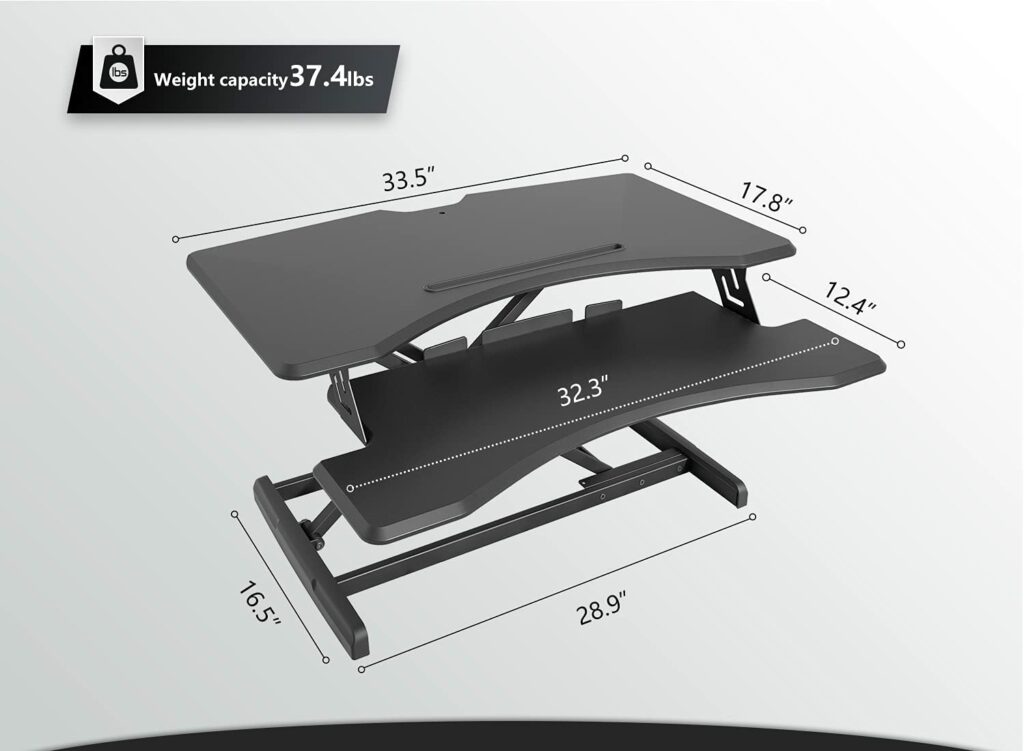 Size/Variant of The Reviewed Product: 34 inches.
Product Weight: 37.48 lbs
Dimensions: 32.6 x 17.8 x 33 inches LxWxH
Surface Dimensions: 33.5″ W x 17.8″ D
Keyboard Tray Dimensions: 32.3″W x 12.4″ D
Height Range: 4.5 inches – 19.3 inches
Weight Capacity: 28.6 lbs
Desk Size Options: 30 inches, 34 inches, 37 inches, 42 inches
Material: Engineered Wood
Type: Gas Spring, X-Lift
Colors: Black, White, Dark Wood, and Rustic Brown
Here's an installation guide on how to set up your FEZIBO Standing Desk Converter:
What I Love About The FEZIBO Stand Up Desk Converter
Great Adjustable Height Settings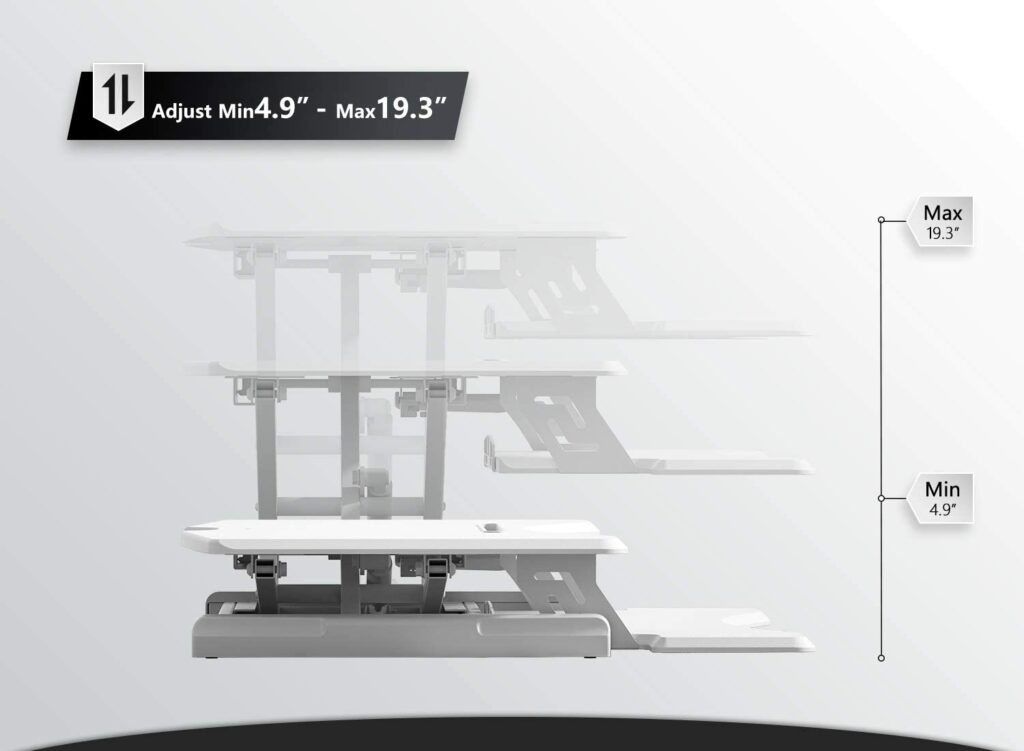 Whether you're on the taller side of the spectrum, or the shorter side you'll surely be glad to know that this unit can comfortably adjust from 4.5 inches of height to 19.3 inches. Meaning, it can easily accommodate any person of height without any worries at all.
As a result, you won't have to worry about leaning down, straining your back, or your eyes just to get to eye level with your monitors. With such a flexible desk riser, your comfortability is assured along with the improvement of your posture.
Effortless and Smooth Adjustability
If you're already familiar with standing desk converters, I'm sure you're also aware of how some desk risers take a bit of muscle and effort to adjust, whether it be raising the unit or lowering it. Which I know can be quite tiring especially when you're still on the job.
But you'd be happy to know that the same issue doesn't apply to the FEZIBO Stand Up Desk at all.
Thanks to its gas spring mechanism, you can easily transition from sitting to standing with just a light squeeze of its small handles. In addition, the steel structure and pneumatic cylinder in the design help you to have a more smooth and simple experience in adjusting the height settings.
Thoughtful Design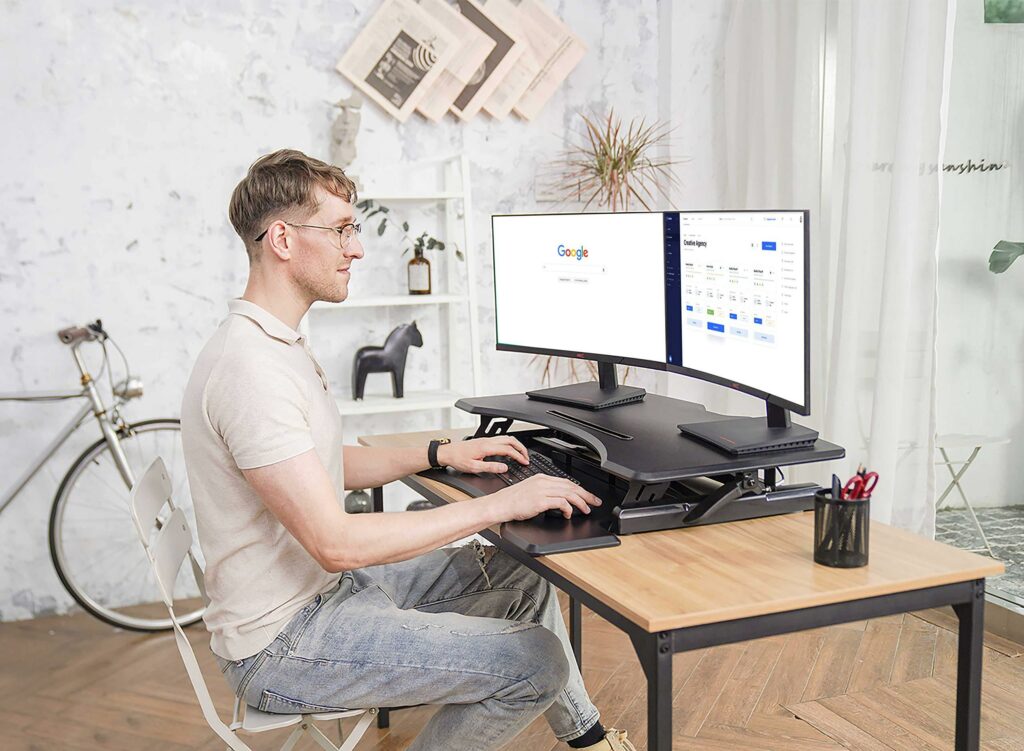 Because FEZIBO heavily relies on customer feedback in order to make such great products, they're constantly listening to their users on how to further improve their standing desks.
Along with enough research, they were able to create a design that takes away the risk of any dangerous pinch points when you adjust the FEZIBO Stand Up Desk Converter.
Usually with X-lift types of adjustable desk risers, you always have to concern yourself about being careful of pinch points when using these units. Fortunately, FEZIBO is one step ahead of us and added in a posture curve and a rowing lift instead. This also provides minimal impact on your back.
Additionally, when you're opting to sit down while you work, you won't have to hunch over your desk as the keyboard tray juts forward just enough to make your overall working space comfortable.
Impressive Stability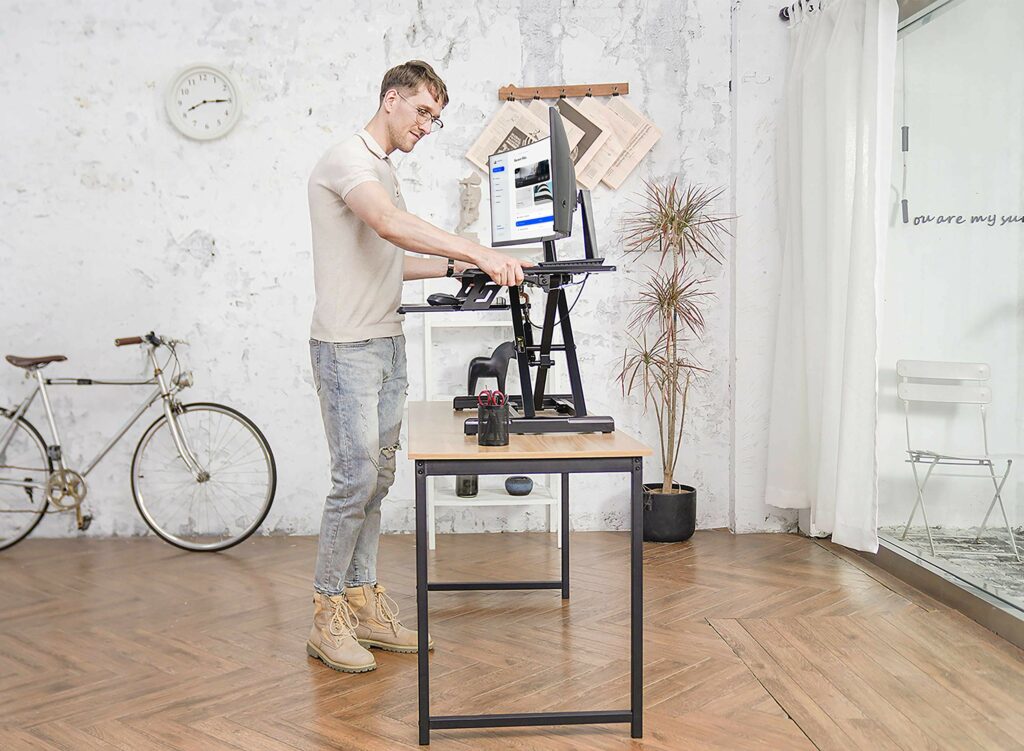 When it comes to stability, the FEZIBO Stand Up Desk Converter ticks that box vey well too.
Put in its maximum height settings, it can handle the two monitors and other work equipment without a fuss. There is little to no shaking or sliding at all. So if you're worried about your items slipping off, there will be none of that in this unit here.
You'll be assured that your workstation will stay in place. Of course, keep in mind that this adjustable desk riser can only hold up to 28.6 lbs of weight. Anything more than that, you're going to definitely feel some wobbles.
Color Options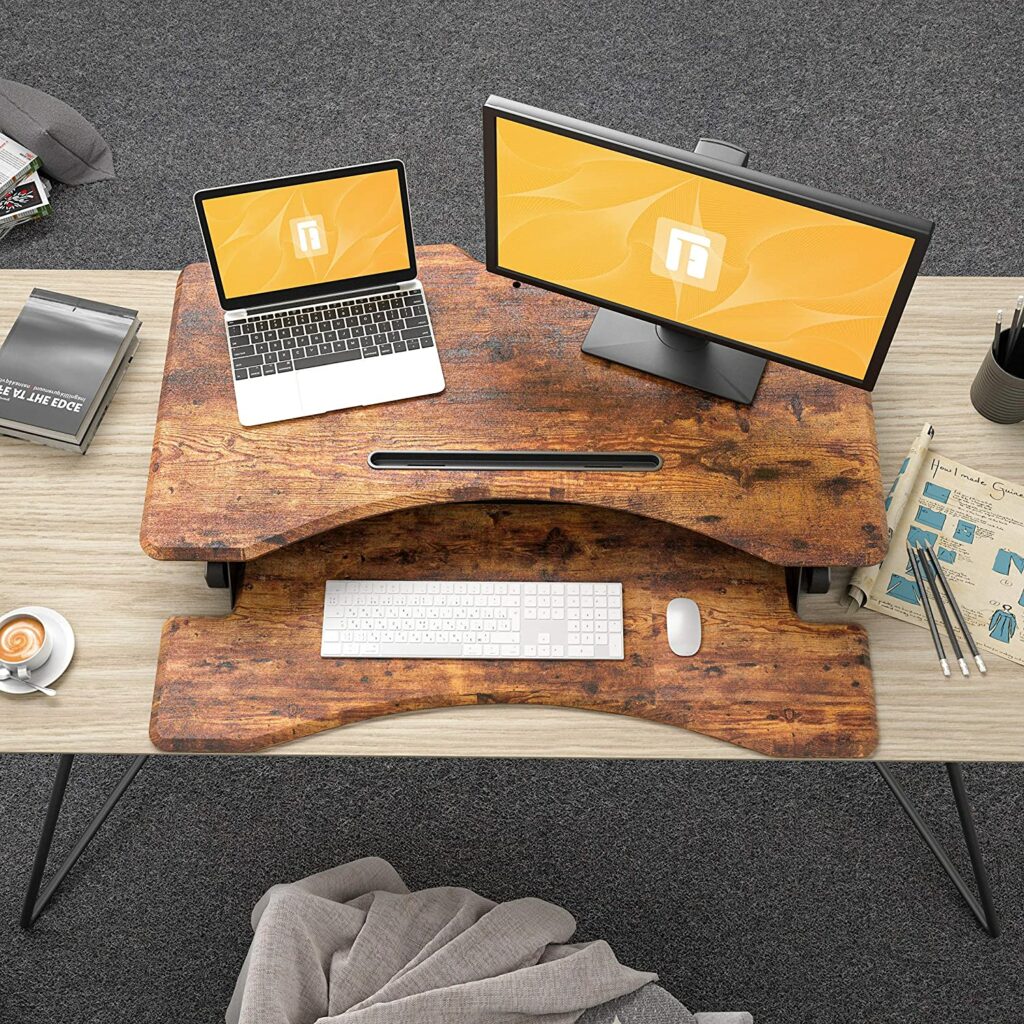 I understand if you tell me you're tired of seeing the same old, black, and chunky standing desk converter. Because I am, too. It's not too much to ask for some variety from these brands, right?
Thankfully, FEZIBO has heard our prayers and has given us a few different colors to choose from. Aside from the classic black, you can also opt for the white, dark wood, and rustic brown variants of this unit. These colorways definitely add some uniqueness compared to other brands that usually just go for solid colors.
Personally, I really love the dark wood option as well as the white one. They both just look so sleek and clean and provides a nice break from the standard black finish we always see all the time.
If you want to check out other stand-up desk converters, click here for our list of the Best Adjustable Desk Risers For 2021.
Great Value For Its Price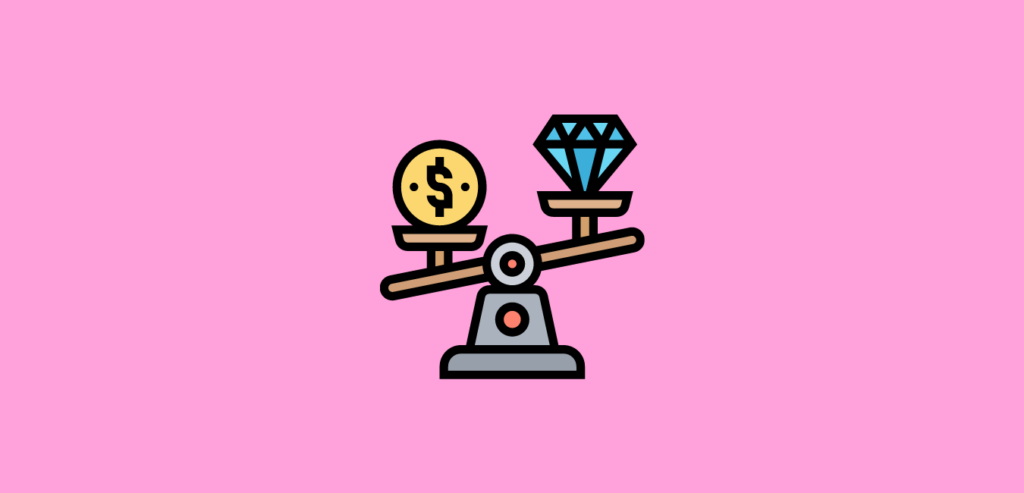 One of the reasons the FEZIBO Standing Desk Converter is so popular in the market right now is mainly due to how affordable it is.
If you look at other types of adjustable desk risers, you'll find a lot of them cost more than $200, while this particular unit goes for a lot less. Sure, the FEZIBO Stand Up Desk Converter isn't as high-tech or stands out aesthetically, but it's intuitive, ergonomic, and does the job.
For most people, including me, that's more than enough. It does what it claims and delivers pretty solid performance while having certain advantages that other standing desk converters in its range fail to include.
Customer Service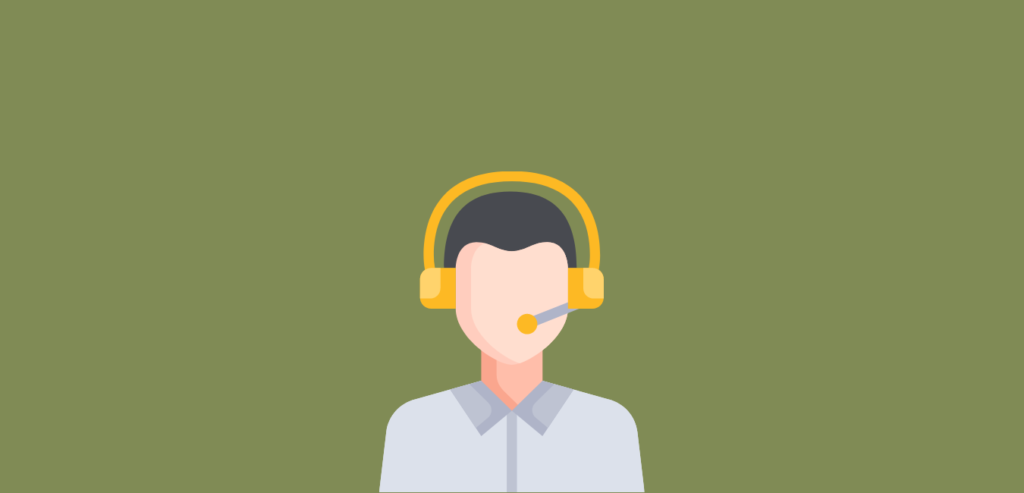 While this standing desk converter's performance is truly impressive and knocks everything out of the park, it does suffer from faulty products being delivered from time to time.
And I understand experiencing things like this can be a nightmare for some. Especially when you're so busy and always have such little time to handle them. Not to mention, some manufacturers have lousy customer service and takes forever to replace your product.
Fortunately for FEZIBO, their customer support is incredible and actually very responsive to their users' concerns. In times of customers receiving a defective unit, they are quick to replace them without a hassle.
My Least Favorite Thing
Assembly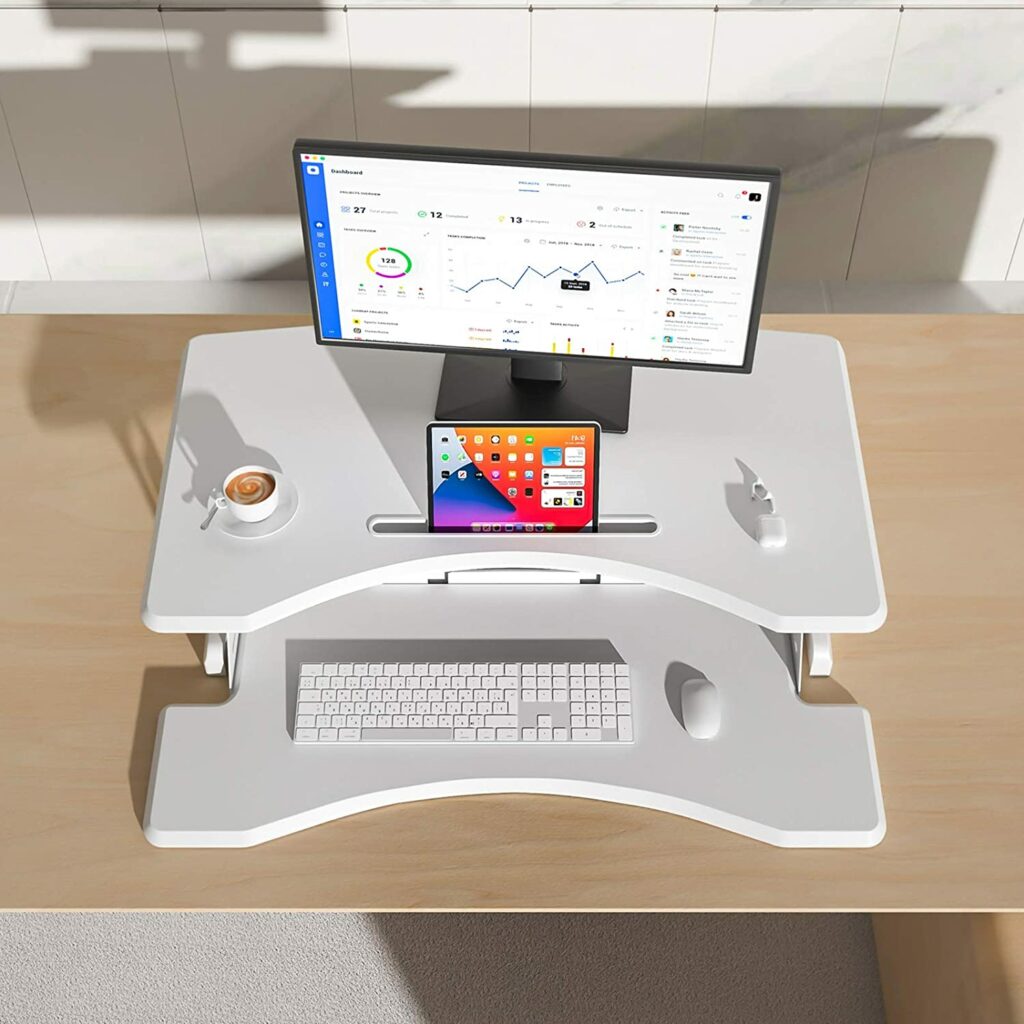 As you know by now, I pretty much suck when it comes to setting up any kind of device or unit. I'm just not that great at following instructions, I guess. So it was pretty disheartening when I realized how much attention to detail I needed to set up the FEZIBO Standing Desk Converter.
If you're someone like me, be prepared to learn the quirks of this adjustable desk riser and set aside some time as it might take a while.
But this shouldn't pose a problem to people who are pretty handy when assembling standing desk converters.
The Good & The Bad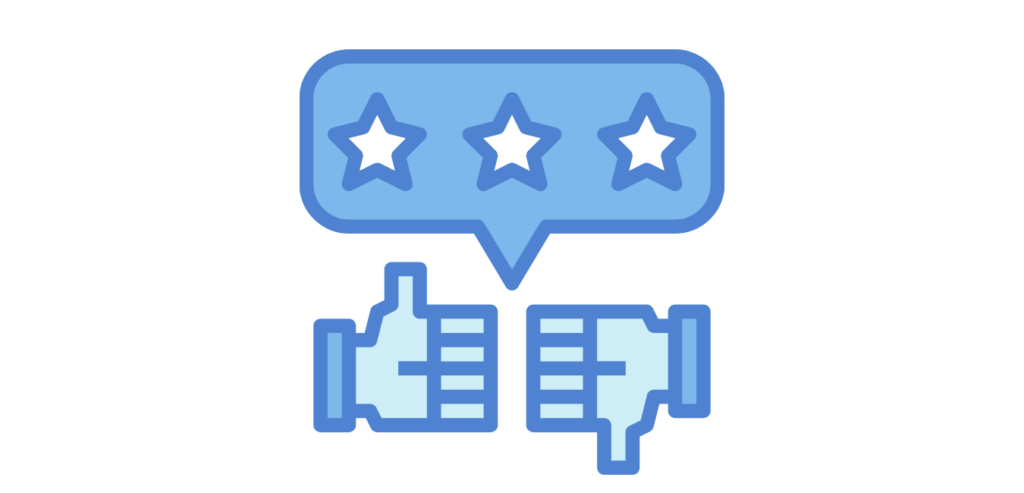 Here's a narrowed down list of the pros and cons of the FEZIBO Standing Desk Converter.
Pros
Spacious design that can easily accommodate dual monitors.
Sturdy and durable build with minimal to no shaking at all when in use.
Budget-friendly.
The gas spring mechanism allows for an effortless transition from sitting to standing as you work.
The range of the adjustable height settings can also accommodate taller people.
Great design with multiple colors to choose from.
Amazing customer service.
Cons
Assembly needs more attention to detail to set up.
Some reviews have stated they received a faulty product.
Mediocre weight capacity.
Final Verdict: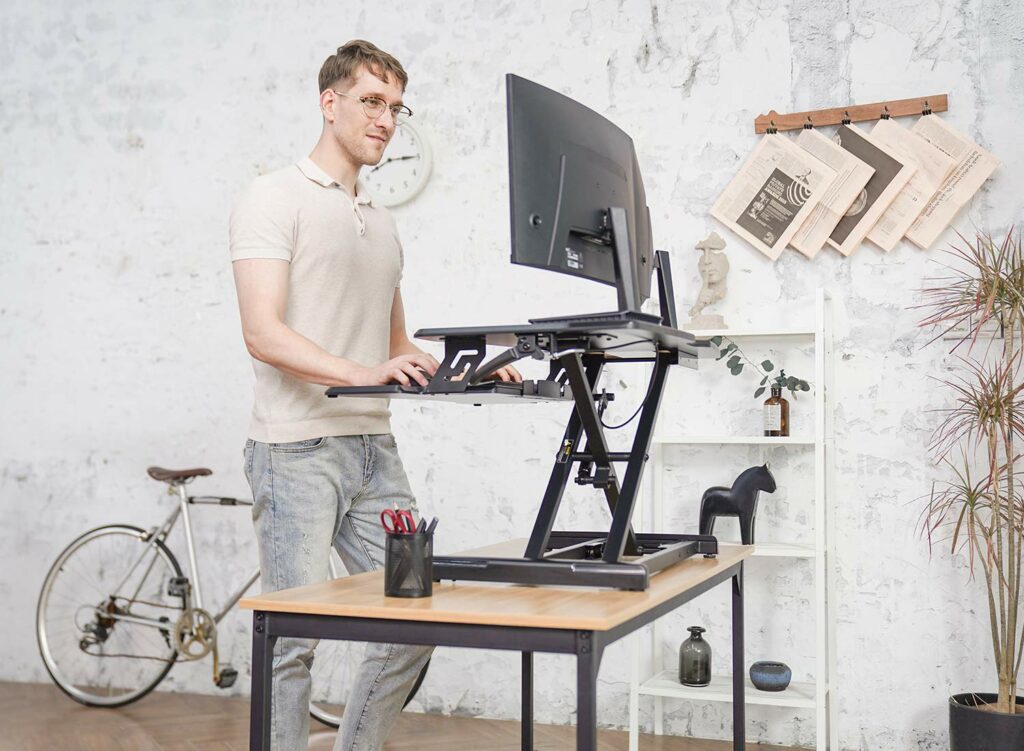 Overall, I really like the FEZIBO Standing Desk Converter.
It's affordable but doesn't cut corners in terms of quality. It delivers well on its claims, it's reliable, they have outstanding customer service, and I find it a very solid performing X-lift standing desk converter.
If this review wasn't able to convince you, just head on to Amazon and the reviews under this product will surely impress you!
Do you already own a standing desk converter? Let me know about your insight and experiences in the comments section below!
Recommended reading for you:
Best Adjustable Desk Risers 2021: Level Up Your Office
The Top 10 Best Standing Desks 2021: Working From Home Has Never Been This Comfortable!
Your Helpful Buyer's Guide To The Best Standing Desk Converter For 2021
The Seville Classics AirLIFT Workstation Review: An Effortless Way To Take Your Office To New Heights!
Flexispot 35 Black Stand Up Desks Workstation: Why You Need One
Get Fitter With VariDesk Pro Plus 36 Standing Desk
Halter ED 258 Height Adjustable Sit Stand Desk – A Healthier Lifestyle