Let me cut to the chase. The Seville Classics AirLIFT Workstation is a great and affordable standing desk converter that rises to the occasion. Whether for work or for leisure, it's a solid unit that allows you to smoothly transition from sitting to standing without putting in a lot of effort.
If you've been working from home for quite a while now, chances are, you've been sitting while working for extended periods of time. Obviously, that's not a good thing.
Each day, more and more people are discovering the negative effects of sitting for long hours throughout the day. Thankfully, standing desks and height-adjustable desk risers are so in demand and available to us right now.
This gives us an option to alternate between standing and sitting which can highly improve our overall health and reduce the risk of heart-related diseases, weight gain, and bad posture.
But enough of that, let's move on to the actual review of the Seville Classics AirLIFT Workstation and how this height adjustable desk riser can ergonomically improve your work space.
Check Out Where The Seville Classics AirLIFT Workstation Ranks In Our List Of The Best Adjustable Desk Risers For 2021.
Overview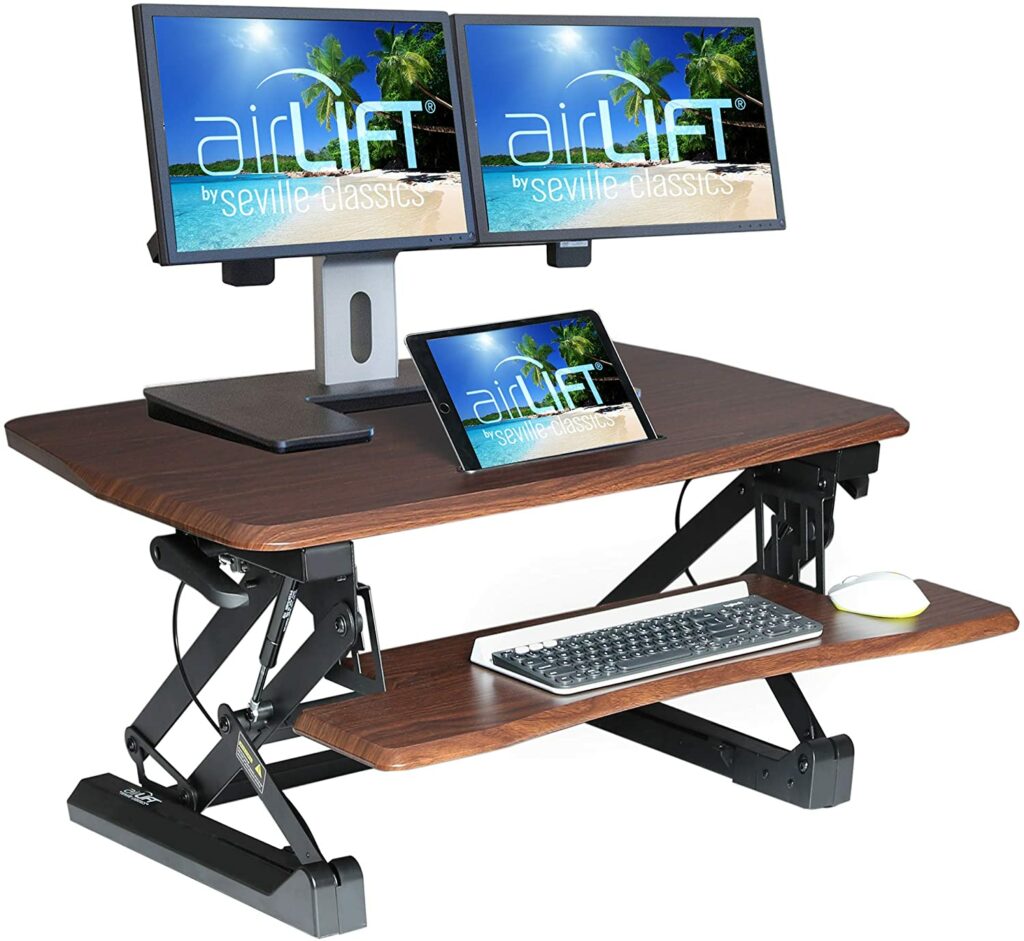 If you've been on the hunt for a reasonably priced standing desk converter that performs well and has a wide range of adjustable height settings, then you're on the right page.
Seville Classics brings you their own variation of an adjustable desk riser with an "airLIFT" system which allows their users to manually adjust its height settings without any fuss.
If you're not new or already familiar with the world of standing desks and height-adjustable desk risers, you know all too well how some units from other manufacturers can be a pain in the backside when having to adjust them. Some need quite the muscle to raise or lower. And some just need a lot of effort to be put in.
This can be especially disappointing since standing desk converters are supposed to bring us more comfort, not more work.
That's why Seville Classic's variant of a standing desk converter is such a refreshing change thanks to their unique airLIFT system.
Aside from that particular feature, Seville Classic's standing desk converter also offers you a stable standing desk experience. You can easily adjust the height settings with no hassle at all in your preferred comfort level. If that's not enough, it comes with a pretty affordable price tag too!
Features & Specifications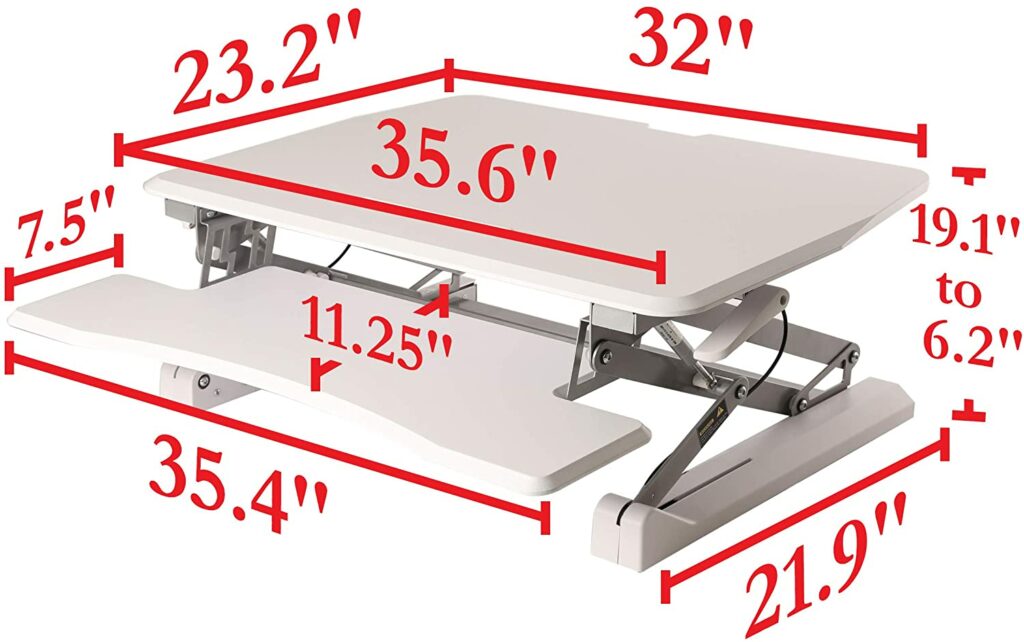 Size/Variant Of The Product Reviewed: 36 inches.
Product Weight: 50 lbs.
Dimensions: 35.4 inches x 35.8 inches x 19.7 inches
Surface Dimensions: 35.43 inches x 23.23 inches x 0.59 inches (thick)
Keyboard Tray Dimensions: 35.43 inches x 12.60 inches x 0.59 inches (thick)
Height Range: 6.2 inches to 19.1 inches
Weight Capacity: 33 lbs.
Desk Size Options: 30 inches, 36 inches, 43 inches, 47 inches.
Material: Wood, Plastic, and Metal (Steel frame)
Type: Z-lift, gas spring
Colors: Walnut, White, and Black
What You Get In The Box:
Zip-ties (2)
AIRLIFT™ Desk (1)
Tray (1)
Brackets (2)
Wire clip (1)
Screws (6)
Allen wrench (1)
Check out Seville Classics' video about their Height Adjustable Stand Up Desk airLIFT Workstation below.
What I Love About The Seville Classics AirLIFT Workstation
AirLIFT Design
As I've already mentioned previously, the airLIFT system in Seville Classics' standing desk converter is one of the main reasons this unit stands out amongst its competitors.
With the use of this unique mechanism, you can easily adjust the height settings of the standing desk converter according to your comfort level without having to use a lot of strength.
All you need to do is squeeze both airLIFT levers to raise your desk at your preferred height.
Additionally, due to the pneumatic height adjustment, the desk can move as quickly as you do. Giving you maximum efficiency especially when you need a lot of work done. The desk itself will adjust vertically inside its own footprint, which significantly takes up less space around your office.
Solid Performance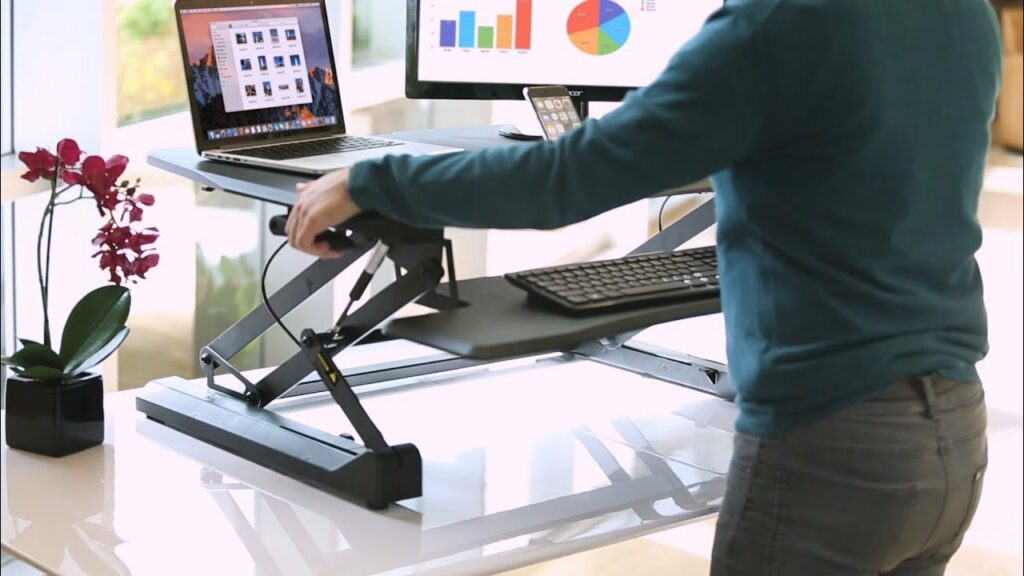 When it comes to performance, the Seville Classics' airLIFT workstation doesn't lag behind either.
Made with high-quality and a heavy-duty steel frame, this unit offers a great deal of durability and stability even when used in its maximum height settings. You'll experience no wobbling, shaking, or sliding when you put it under its maximum weight capacity.
The 33-lb weight load limit is evenly distributed throughout the surface area which largely contributes to its impressive stability.
So whether you're using it in a sitting position or standing, the desk feels very sturdy and is built to last for years.
Spacious Work Surface Area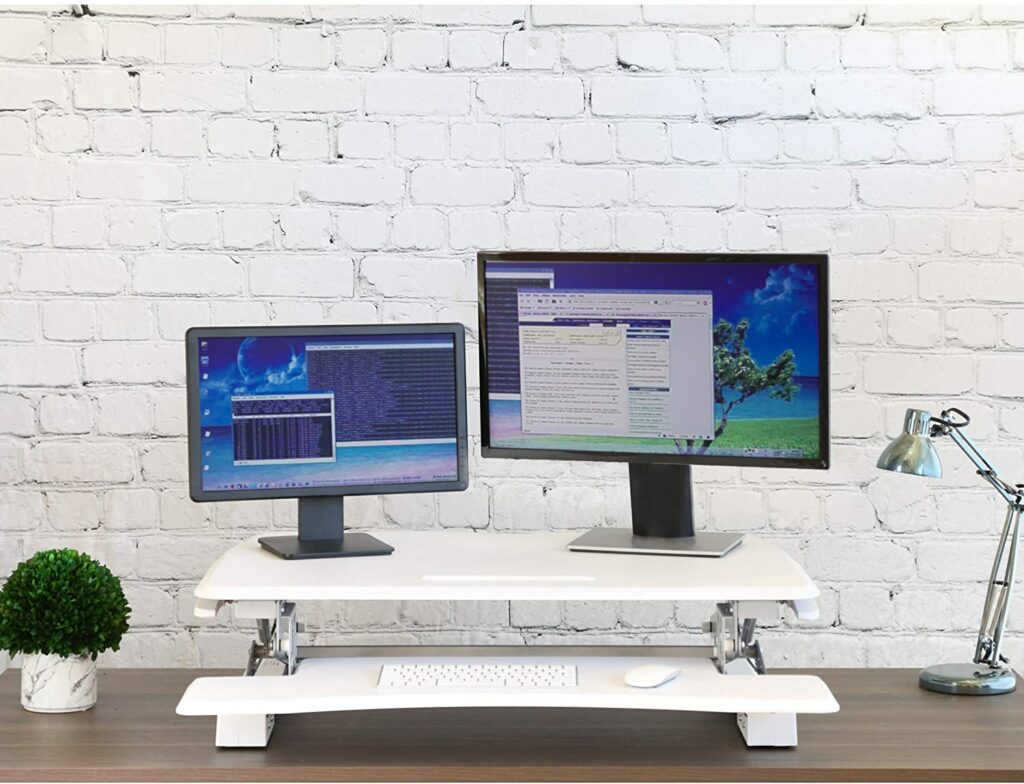 Another noteworthy feature of this particular adjustable desk riser is its spacious work platform. It can conveniently accommodate dual-monitor systems or a monitor and laptop combination. Apart from that, you still get plenty of room to place other work equipment or peripherals you might need.
Speaking of peripherals, you also get a built-in slot for your smartphones or tablets on the desk itself. Which can be pretty handy. This is perfect for you if you constantly need to be near your phone or just need an additional gadget like a tablet on hand whether it be for personal or work purposes.
A Wide Range Of Height Adjustable Settings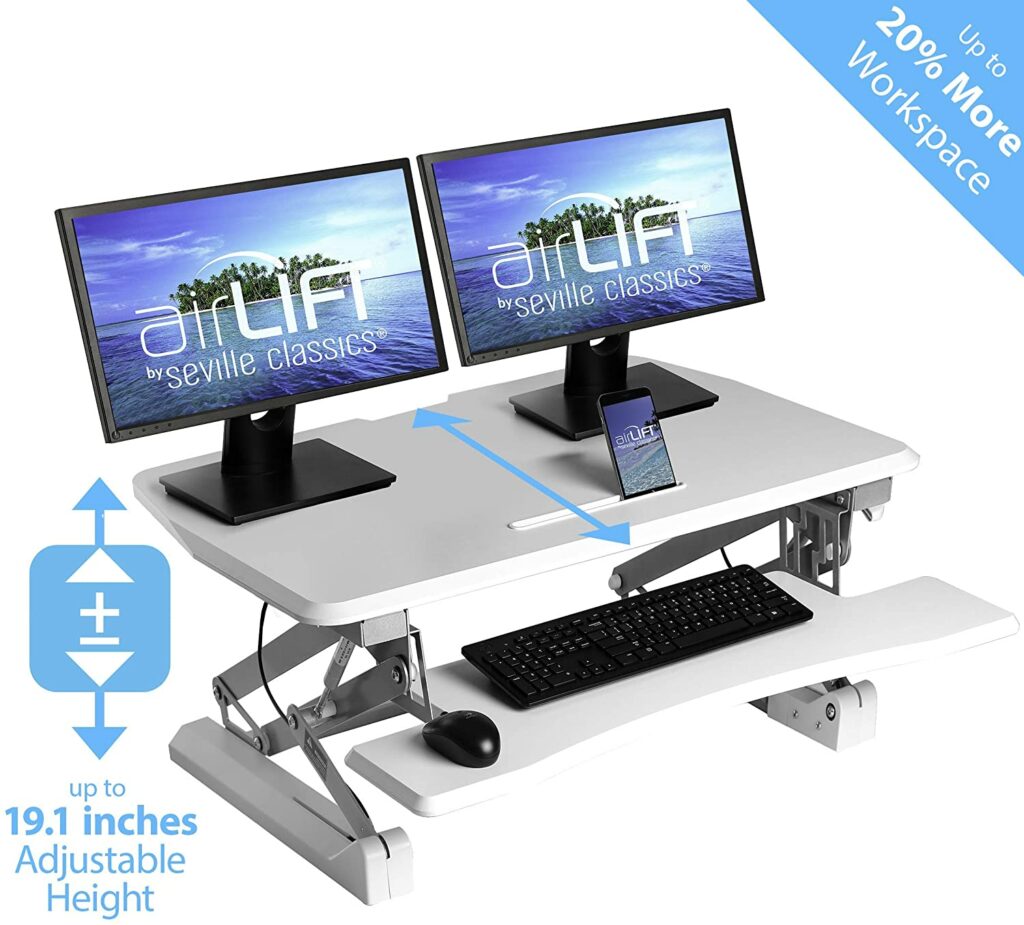 Whether you're taller or shorter, you're going to absolutely love the wide range of adjustable height settings in the Seville Classics AirLIFT Workstation.
With the help of the airLIFT levers, you can easily adjust this desk riser from a mere 6.2 inches to 19.1 inches of height. That's a lot of height!
So if you're on the taller side of the spectrum, you won't have to worry about leaning down or straining your back just to get to eye level with your monitors. In turn, you also get to improve your posture.
No Assembly Required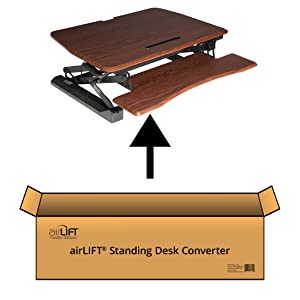 This unit is one of the few standing desk converters that gets delivered to your home already assembled.
So if you have no time to set up or assemble an adjustable desk riser on your own, this is a great desk to consider. It's also suitable for people like me who are not as great at doing DIY stuff even when there's an instruction manual to follow.
It's a huge bonus to me that I can just take this unit out of the box and have it ready for use in a jiffy.
If you would like to check out other standing desk converters, click here to read our list of the Best Adjustable Desk Risers For 2021.
My Least Favorite Things
Keyboard Tray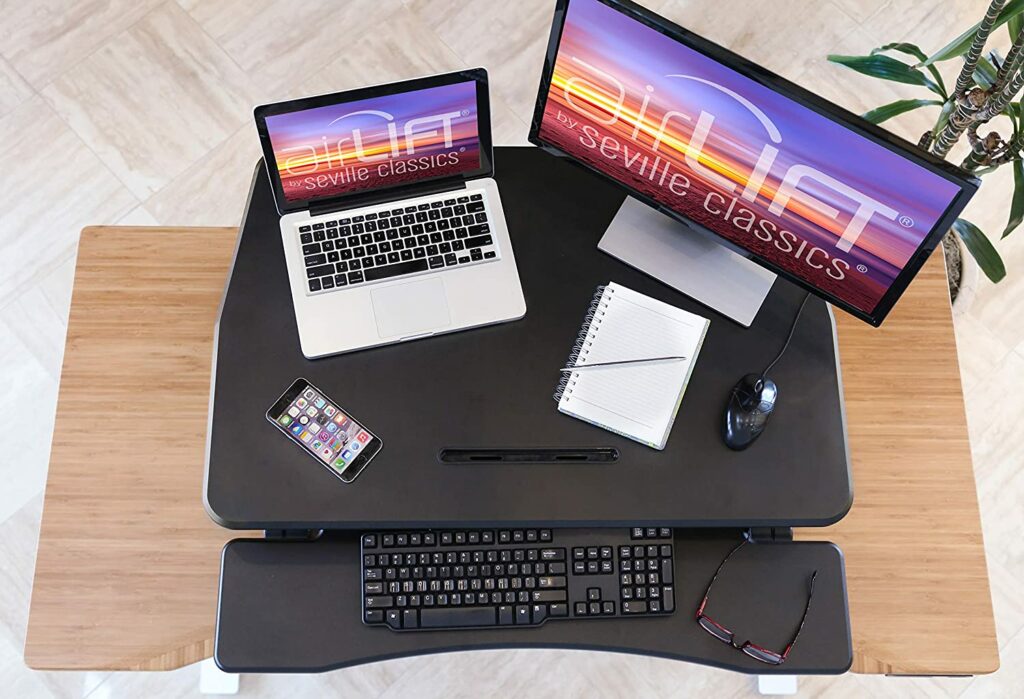 The first drawback of the Seville Classics AirLIFT Workstation is its keyboard tray.
Many standing desk converters from other manufacturers allow their keyboard trays to be versatile enough so you can tilt them in different directions and angles for maximum comfort. However, this unit does not do that which is fairly disappointing.
If it's any consolation, the keyboard tray is detachable. So you're free to get rid of it if it's not in use so you can save up on workspace. Then just lock it back in if you're going to use it again.
Too Tall For Sitting Height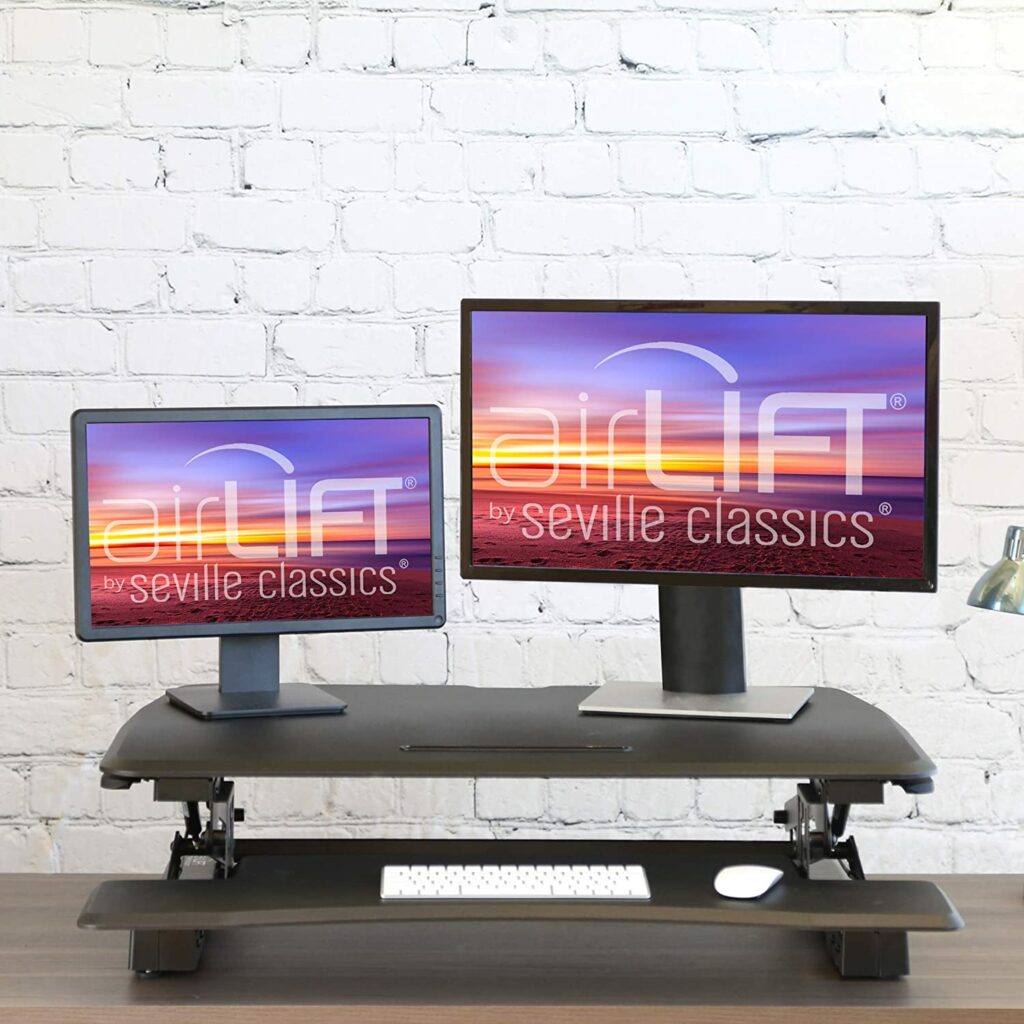 Another disadvantage is that this standing desk converter can be quite uncomfortable when you're using it at sitting height.
Taller people might not see this as a problem, but shorter people will definitely notice this. So take note of this before making any purchases.
The Good & The Bad
Here's a narrowed down list of the pros and cons of the Seville Classics AirLIFT Workstation.
Pros
There's a built-in slot for your smartphone and tablet.
Great warranty coverage. You get 3 years of warranty from the manufacturer, protecting you against original defects in material or workmanship under normal home or office use for the duration of the coverage period.
The airLIFT system allows for a smooth and seamless transition from sitting to standing while you work.
Different colors to choose from. If you're tired of seeing the same, old black standing desk converters, this unit has a white and walnut variant.
Budget-friendly.
Cons
The sitting height can be too tall for people who have shorter heights.
The keyboard tray is not as adjustable. You can only detach it, but no tilting to different angles.
The keyboard tray's surface area is also fairly small compared to other standing desk converters. It can only accommodate the standard keyboard size with little room left for your mouse.
Final Verdict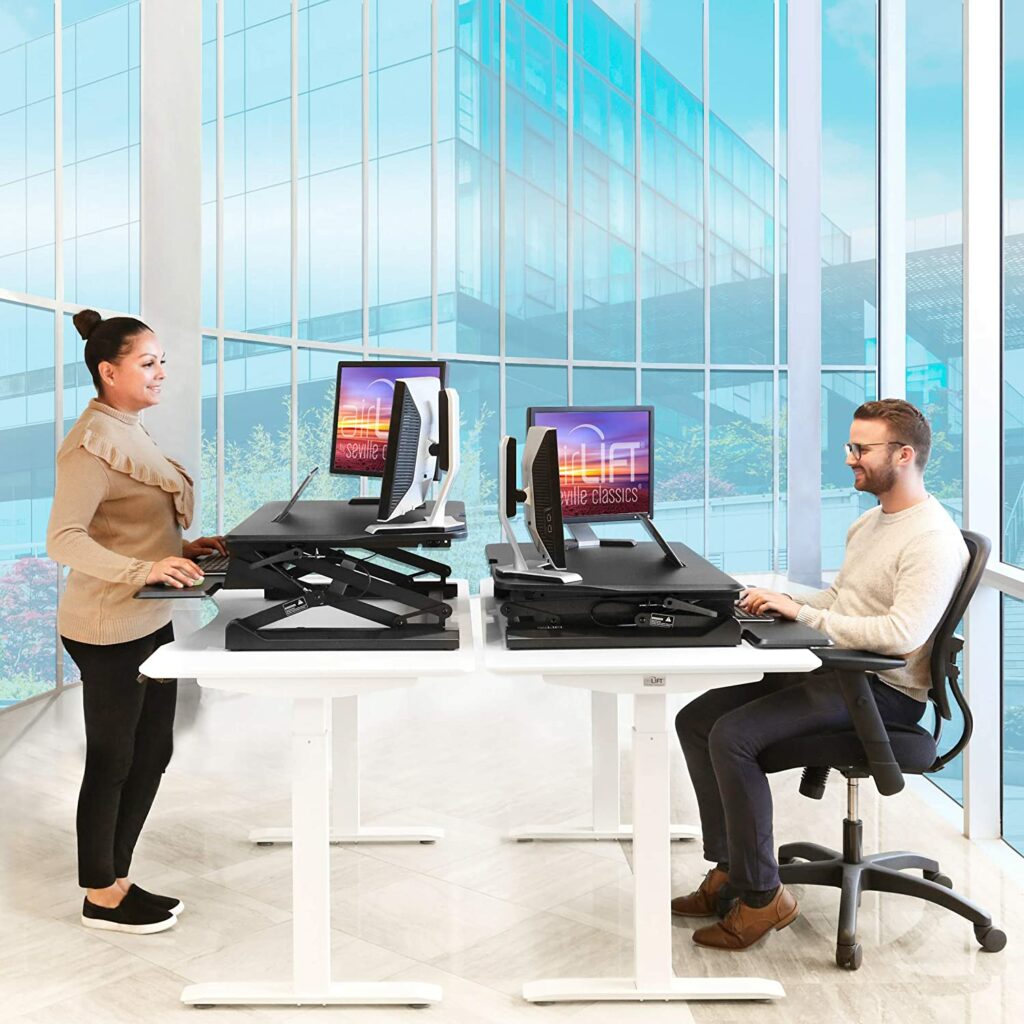 All in all, the Seville Classics AirLIFT Workstation works well and is perfectly suitable for anyone looking for a sturdy Z-lift standing desk converter you can manually adjust without a fuss.
In comparison to other competitors in its range, it stands out mainly because of the airLIFT mechanism. Which I find really reliable as I don't have to exert a lot of effort in raising or lowering the desk whenever I need to adjust it.
Its main drawbacks, however, are its keyboard tray and that it is still pretty high even in a default sitting positing. The keyboard tray isn't as versatile and you can only opt to detach it when not in use. So that lack of function takes away some points when it comes to being ergo-friendly.
Meanwhile the desk can seem pretty uncomfortable for shorter people when you're using it while sitting down. Keep in mind, I'm only 160cm or 5'3 in feet. So I am pretty short and I've read reviews where people taller than me experiencing the same uncomfortability.
Though this disadvantage could also be possible due to using low-leveled chairs. But if you're a lot taller, there shouldn't be any problem at all.
Do you already own a Seville Classics AirLIFT Workstation? Let me know in the comments section below what you think and how your experiences are!
Recommended reading for you:
Best Adjustable Desk Risers 2021: Level Up Your Office
The Top 10 Best Standing Desks 2021: Working From Home Has Never Been This Comfortable!
Your Helpful Buyer's Guide To The Best Standing Desk Converter For 2021
The FEZIBO Standing Desk Converter Review: Ergo-Friendly & Affordable!
Flexispot 35 Black Stand Up Desks Workstation: Why You Need One
Get Fitter With VariDesk Pro Plus 36 Standing Desk
Halter ED 258 Height Adjustable Sit Stand Desk – A Healthier Lifestyle