Today I'm excited to be looking at the Flexispot 35″ Black Stand Up Desks Workstation. If like me, you spend hours sat down at your desk you probably need to consider a sit-stand desk. Not only will it improve your posture and daily movement but it has potential health benefits.
Healthier Lifestyle
Using a sit stand up desk promotes a healthier lifestyle by helping your body to stretch out and prevents unnecessary weight gained during long periods of inactivity whilst sat at your desk.
I overheard a colleague describe sitting for hours as the new form of smoking. Most of us work at our desk all day and when we get back home probably spend more screen time sat down. As more people have become health conscious standing desks have become a viable solution to maintain movement and avoid a sedentary lifestyle. I have lost over 10 kgs of weight in half a year just from using a sit stand desk.
Working with a Sit Stand Desk
One of the reasons why I enjoy using a standing desk is because I find that it actually increases my productivity. I try to stand as often as possible to keep my body alert and mobile. Initially, it was a weird sensation to stand and type at the same time but you would be surprised at how quick your body gets used to it and starts to enjoy transiting from a sitting to standing position.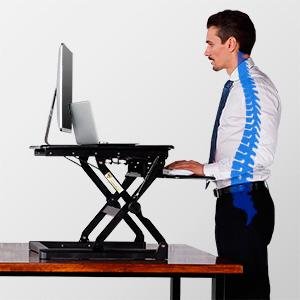 Do you have back problems caused by desk work? This might be a solution.
If you're looking for a sit stand desk that you can use at home or even in the office, the Flexispot 35″ standing desk is an awesome option.
Flexispot 35″ Design
When you initially unbox the Flexispot 35″ you will notice that it's not heavy at all. The keyboard tray is conveniently wider than the trays found on competing products. That is definitely a huge plus as it will accommodate a great range of positions and you won't struggle to place any size keyboard or Mouse onto the tray.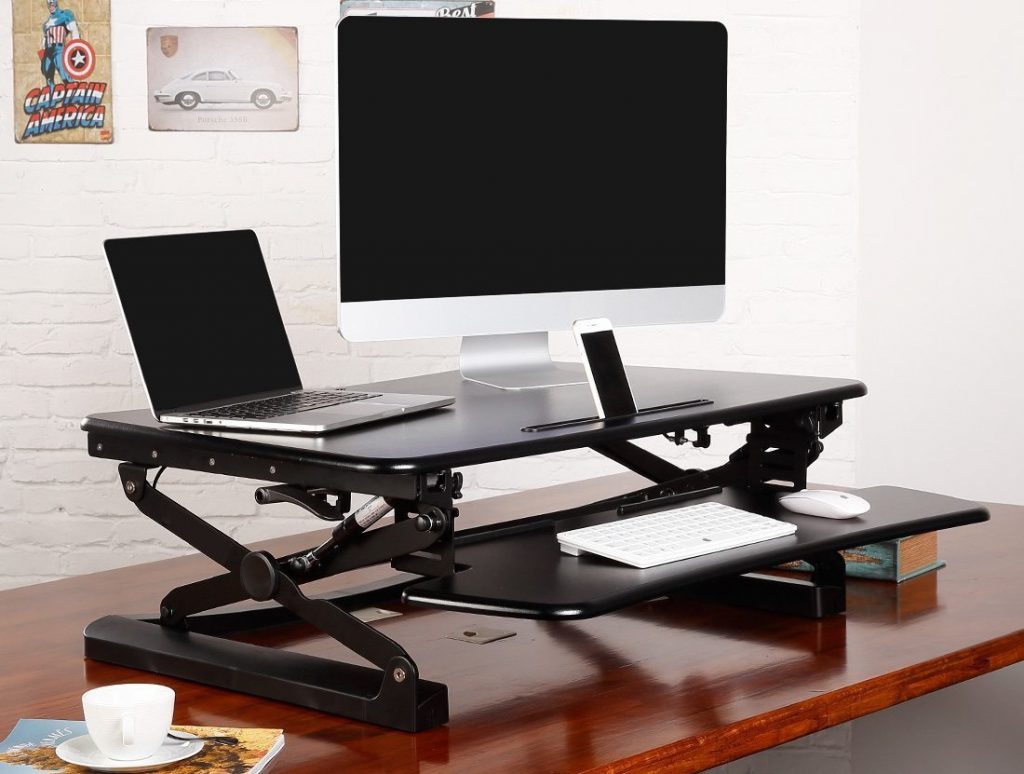 Ensure that you carefully follow the assembly instructions especially when screwing the parts together. The Flexispot desk sits on top of your standard computer desk and has smooth curved edges. You are provided with decorative clips that have Flexispot branding on them.
Once the desk is assembled it's easy to lift onto your standard computer desk and it is adjusted using two levers that are found at the front corners (of the desk) closest to you.
Height Adjustment
Adjusting the Flexispot desk to suit your height takes mere seconds. It's truly a beautiful addition to your home or work office. The gas spring hovering system provides smooth adjustment when you are ready to stand up or sit back down. Your monitor remains firmly in positioned to the desk during adjustment.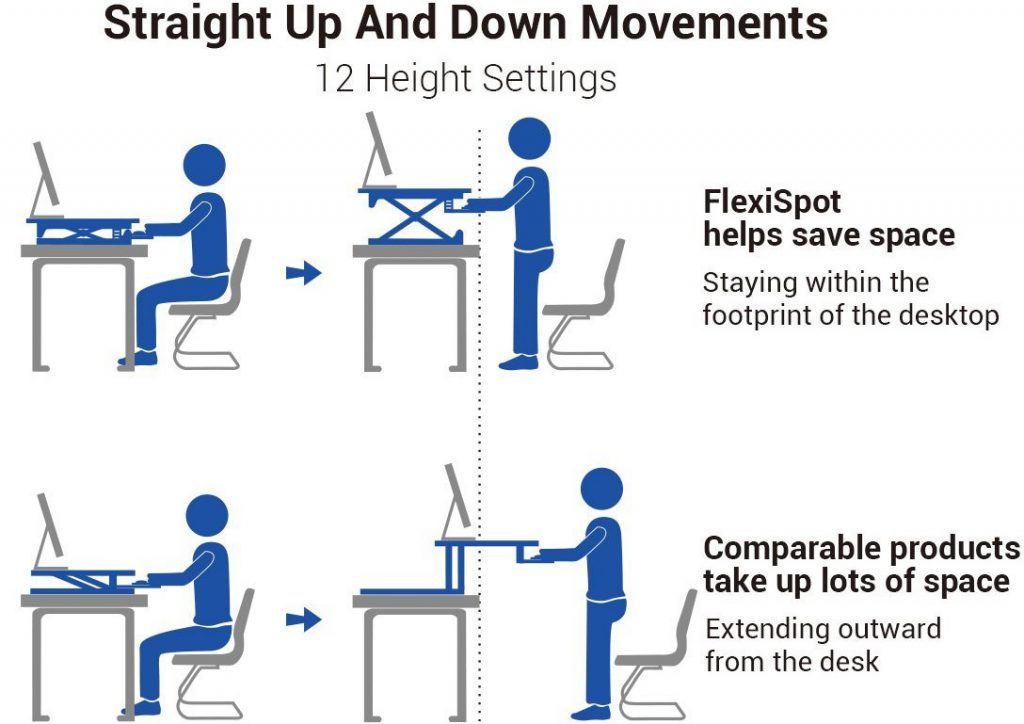 The quality of the parts and materials used are extremely robust, which assures me that the Flexispot sit-stand desk won't break anytime soon. After setting up the desk, placing a monitor, keyboard, speakers and mouse is fairly straightforward.
Top tip: To make setup easier I used cable managers to keep things tidy.
Hidden Feature
The Flexispot 35″ includes a groove to hold your tablet or smartphone. You would be surprised how much you end up using it, plus it stops you from hunching your head down and causing unnecessary strain on your neck.
This option allows you to multitask i.e. You could be working on your main monitor whilst responding to an email on your tablet/ smartphone. These subtle features are what puts Flexisport ahead of the competition. You'd be surprised how much you end up using that groove.

Sitting Position
We know it's a standing desk but what about when you want to sit down? When the desk is reclined all the way down it provides a workable sitting position although you might need to adjust your chair to align yourself with the monitor height.
I use a 32-inch monitor as my main screen and it sits on top of the desk with plenty of room to spare. When I sat down, I found my perfect sitting position in less than a minute of a few adjustments.
The Perks of owning a FlexiSpot 35″ sit stand desk
The FlexiSpot 35″ features a gas spring hovering system that provides flawless adjustment whenever required. Your computer and it's peripherals will remain firmly fixed to the desk when the height is adjusted.
The desk has a generous work surface and keyboard tray which will accommodate most, if not all, computers. There's enough room on the desk for office accessories such as docking stations, USB dongles, speakers, web cams and whatever else you might need.
The desk also allows enough space between your eyes and the monitor for you to read from a comfortable distance.
Best of all, the desk can be adjusted between 12 different height levels. FlexiSpot has thought about everything to do with your height, posture and the ergonomics of working at a desk for long periods whilst promoting a healthy lifestyle.
Modern-day office working is a major contributor to a sedentary lifestyle. Most of us don't notice that we've been sat down for hours at a desk. A sit stand desk will make you conscious of this and lets you move from sitting to standing without needing to move around any other parts of your office or main desk. It's truly remarkable to have such an option at your disposal.
The high-quality materials used to make this standing desk means that it can support a generous weight of up to 15.8kgs. The company has tested the FlexiSpot standing desk vigorously for stable movement and balance.
Product Rating: 9.4/10

★★★★★★★★★

☆
Where Can You Buy FlexiSpot 35″ sit stand desk
Check out the latest prices by clicking here
Product Specifications
Maximum load weight capacity: 35 lbs
Product weight: 50.6 lbs
Dimensions (Weighted Base): 31″(W) x 22.3″(D)
Dimensions (Flat): 5.9″(H) x 35″(W) x 31.5 "(D)
Dimensions (Extended): 19.7″(H) x 35″(W) x 31.5″(D)
Extension Height: 19.7″ (Footprint Surface) & 14.2 " (Keyboard Tray)
Work surface measures: 35″(W) x 31.5″(D) (Display Surface & Keyboard Tray)
Keyboard tray measures: 35″(W) x 12.2″(D) (Middle) & 7.9″ (D) (Both wings)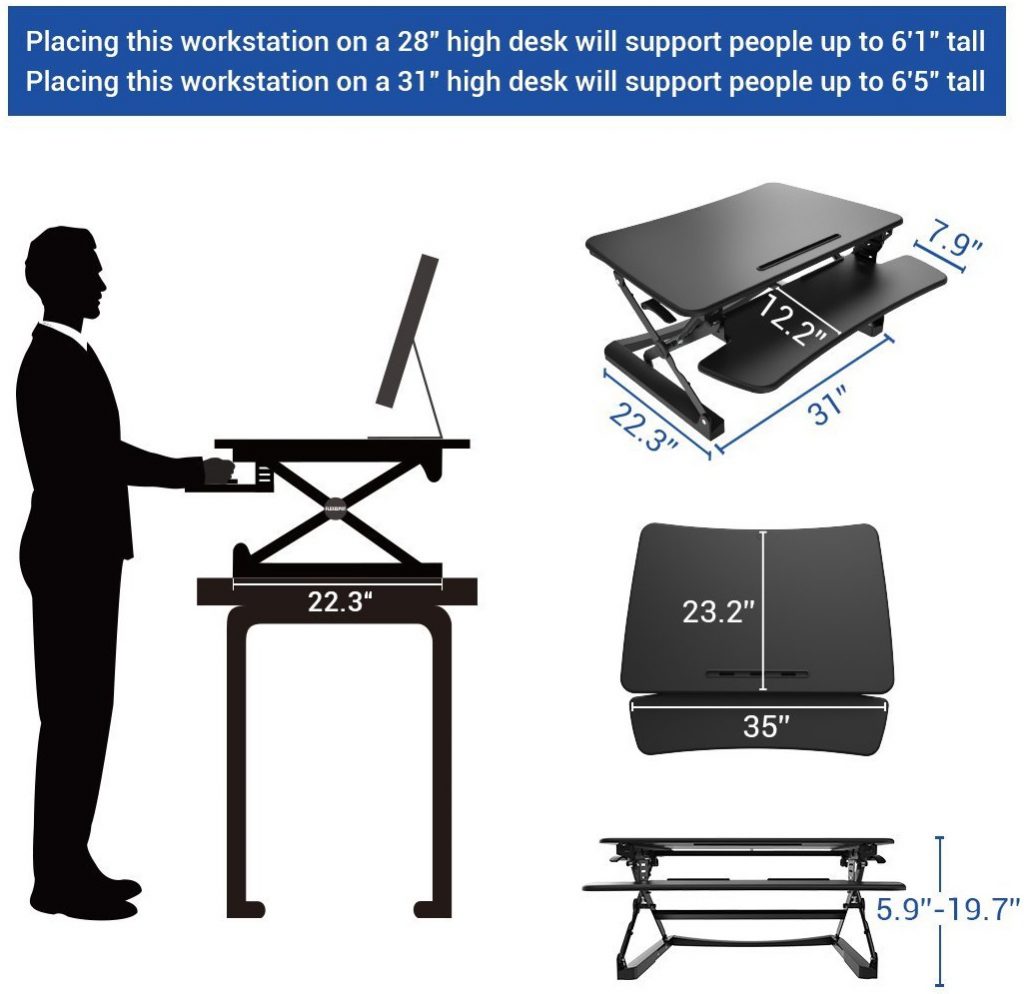 Customer Feedback
Overall The Flexispot 35″ sit stand desk has been received very favourably by the majority buyers. The desk has enjoyed plenty of positive reviews owing to its high quality and smooth lifting system that is incredibly easy to use. If you are looking for a strong sit stand desk that will last you many years and allow you to work comfortably whilst keeping fit, then you have found the perfect desk for the job.
If you are considering a Flexispot 35″ sit standing desk or already own, please drop a note with in the comments section below. Let's all stand together.