It's here! The Halter ED 258 Height Adjustable Sit Stand Desk is changing the way we work at our computer desks. It's not unusual for most of us to be sat at a desk for more than 7 hours and only taking the occasional break to stretch our legs. This is not enough.
Alarming Research
Recent studies are now describing sitting at your desk, with limited movement, is similar to smoking a whole packet of cigarettes. If a sedentary lifestyle is been described to smoking then surely something needs to change. This is why adjustable standing desks are fast becoming a popular option in the office and at home.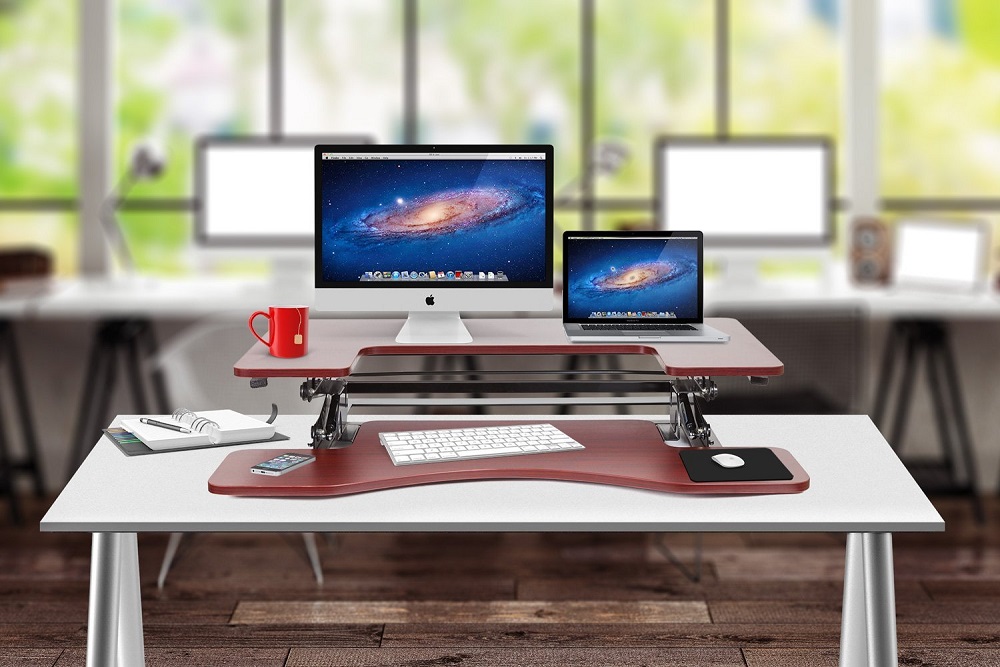 The Halter ED 258 sit stand workstation is engineered to address health-related issues associated with sedentary sitting. I can't begin to describe the benefits my standing desk has made to my posture, back problems and relieving the Strain on my neck.
I'll be honest, standing whilst working is a strange sensation the first time you do it. But like any change of habit, it's amazing to see just how quick your body adjusts to it.
Standing as often as possible has health benefits because it improves circulation and movement. It keeps you alert and naturally improves your productivity. The problem with sitting for long periods is that doing so over a long period will allow your body to get used to restricted mobility. Let me briefly explain my experience.
How a Sedentary Lifestyle Affected My Health 
I've worked in an office for over 15 years and during this time I never considered the harm that I was unknowingly causing my body whilst sat for hours at my desk. Not so long ago I started experiencing a dull pain in my left foot every time I worked a short distance. This was also accompanied by recurrent back pain.
My doctor explained that I needed to start moderately exercising my legs to get them used to walking further (than from the car park to the office). At this point, I knew that I needed to change or else I would soon need a walking stick in my mid-30s.
I began strengthening my legs by walking longer and standing as often as possible during the day.  I did a tonne of research until I found out about the health benefits of sit stand desks. It made sense to get one given my career choice, sat down all day. I needed to buy a standing workstation- because if I didn't get the opportunity to go walking I would still get the benefits of standing.
Not only have I lost weight from my newly adopted standing stints but the pain in my foot has vanished. My posture is a lot better and standing has worked wonders for my back. I never considered how much of a positive impact getting up from my bottom would make.
Benefits of the Halter ED-258 Workstation
The Halter ED-258 is a height-adjustable desktop that can easily integrate into most office setups either in the workplace or at home. It can adjust to different height levels in a matter of seconds and is suitable for most heights. It does make a slight noise when raising or lowering but considering it only takes a few seconds to adjust, I doubt this would cause complaints.
Better posture improves comfort when working at your desk and reduces the chances of suffering from a bad back. The convenience of making quick height changes allows you to slowly adapt to standing by using it for short periods and slowly acclimatise.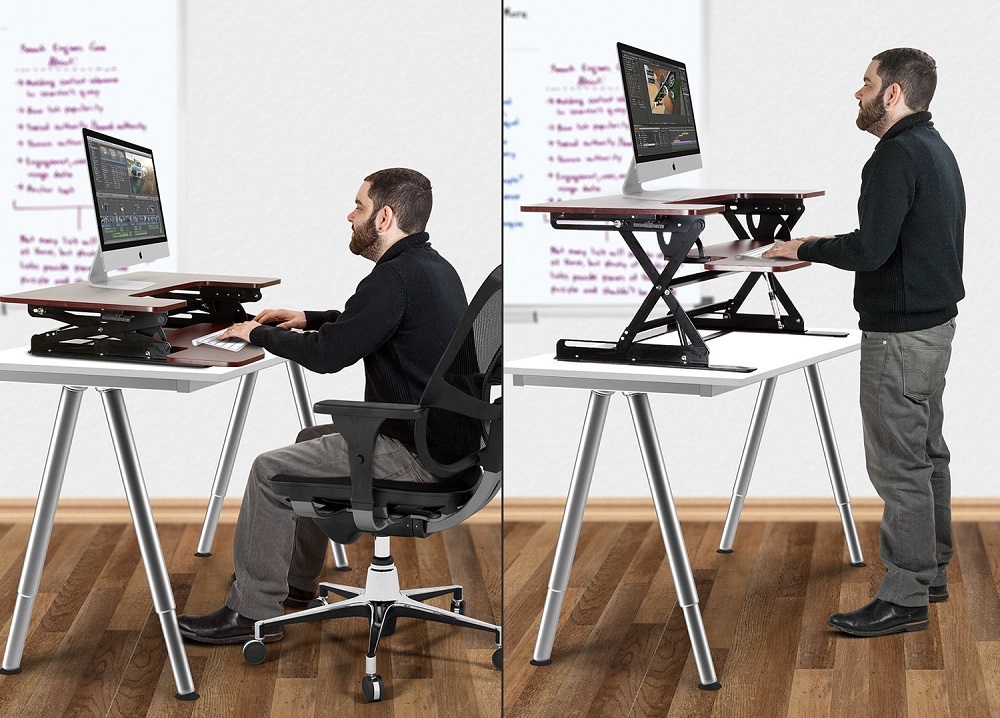 To change the height just squeeze the handles at each side and move the desk up or down until you find your perfect position. To set the desk at the desired height just to let go of the handles and it will remain fixed in place. That's all there is to it.
Unlike rival standing desks, the Halter ED 258 feels very stable regardless of the height. Stretch it to its tallest position and it remains firmly fixed to your office desk or table with no wobbling whatsoever.
Find the best prices for the Halter ED-258 by Clicking Here
One Size Fits All
The Halter ED-258 is suitable for most office configurations thanks to the space-saving design. At the base of the workstation are 2 legs that sit on top of your office desk or a table. The Halter sit stand desk is not very heavy but I would suggest 2 people lifting it onto the table when setting it up.
Desk equipment 
The workstation comfortably accommodates a full-sized keyboard, mouse and wrist support for both. There's ample space for computer speakers, webcams and stationery.
The desk has room to fit two monitors if required. Laptop users won't struggle to fit equipment, there's even room for a docking station.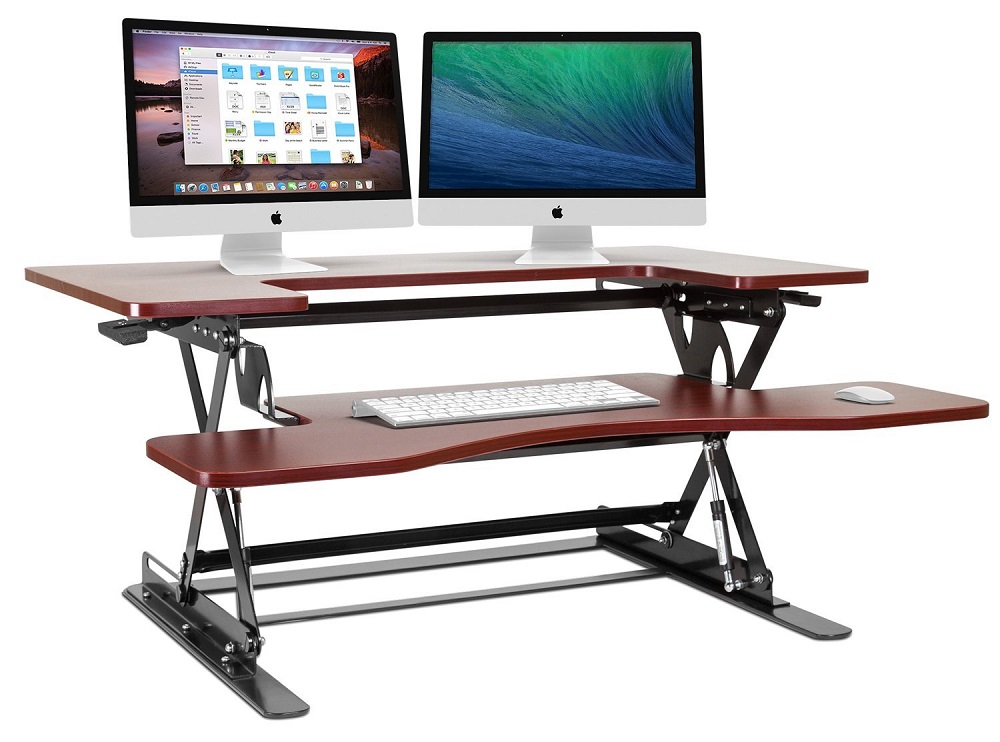 Colours options
The standard colour for the Halter ED-258 is brown but can now purchase it in black or white as well. I've noticed questions from various customers asking whether one colour is a better option than the other. The different colours do not affect the desk's performance or height adjustment, they each perform equally. It's up to you which colour you prefer.
Is the Halter ED-258 Affordable?
The Halter sit stand desk costs less than $240. At that price point, it is less than half the cost of comparable products such as Ergotron or Varidesk. The lower price doesn't compromise on the desk's quality or mechanics. If you're currency shopping around for a sit stand desk and not sure which one to get, I would definitely recommend this workstation. It's a stylish and practical product that will be a talking point in your office. Be prepared to answer lots of questions from curious onlookers.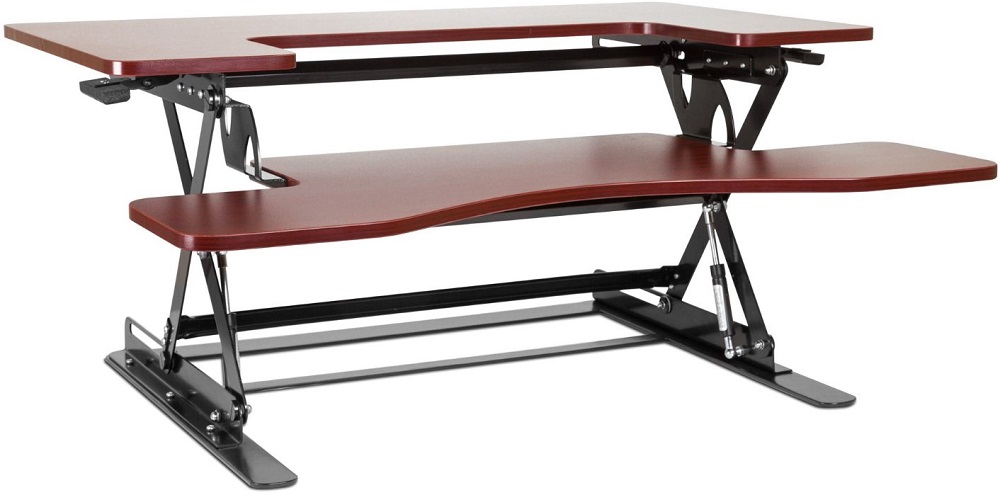 Foot Fatigue
Yes, standing for hours on end can tire your legs especially if you're working on a hard floor. It's recommended to get a standing desk mat that will disperse the pressure from standing for long periods. A great supporting mat for the job is the Topo desk mat, it will prevent your legs from hurting and is so effective that you can go for additional walks during your break or after work without feeling fatigued. It might not be an immediate requirement if you're planning to stand only for short periods, but certainly, as you build it up you should invest in an anti-fatigue mat. Where to buy one- click here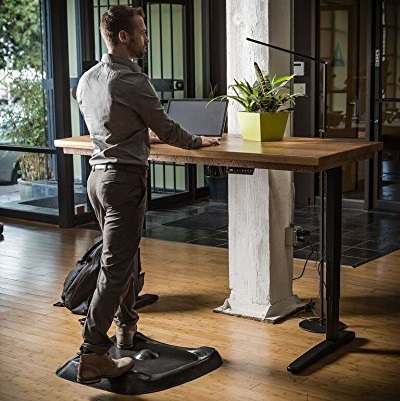 Customer reviews
I'm not surprised to see that the Halter ED-258 standing desk has received plenty of strong positive reviews. The brand has considered every function required from the most demanding desk worker and everything in between. It costs half the price of its competitors but provides the same high quality. This is an awesome workstation and one of the best-reviewed products on this site.
Are you thinking of joining the standing workforce? Or maybe you like the idea of standing when working/ browsing in your home office? Don't let a sedentary lifestyle contribute to long-term health issues. Get your standing desk today.
Product rating: 8.5/10  

★★★★★★★★

☆
☆
Where to buy The Halter ED-258:
Find the best prices for the Halter ED-258 by Clicking Here
Product Specs & Dimensions
Model: ED-258
Desktop Length: 905mm (35.6 inches)
Desktop width: 517mm (20.4 inches)
Keyboard desktop length: 905mm (35.6 inches)
Keyboard desktop width: 430mm (16.9 inches)
Desktop adjustment: 410mm (16.14 inches) (Max height)
Desktop weight: 21.44kg (47.3 lbs)
Desktop maximum load: 20kg (44.1 lbs)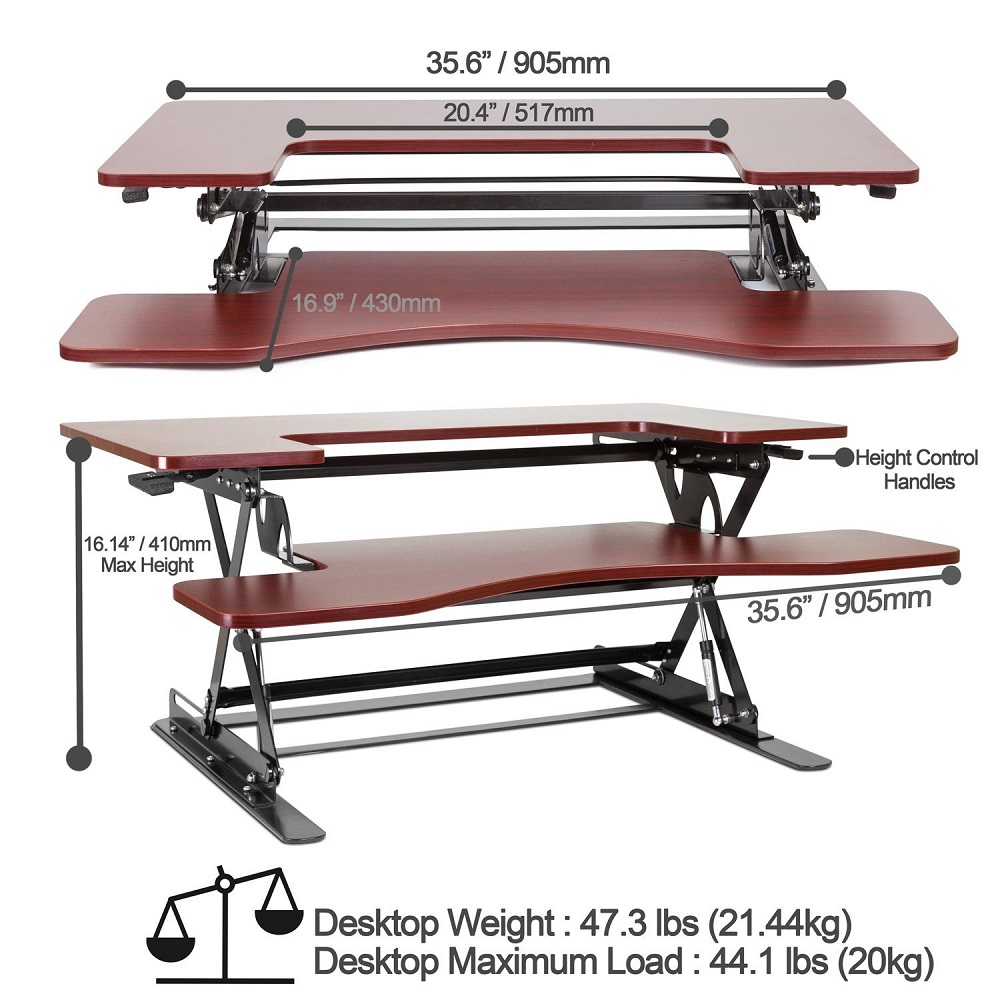 1 Year Warranty
The Halter ED-258 is covered by a 1 Year Limited Warranty.