If you're already familiar with portable Bluetooth speakers, I'm pretty sure you have heard of JBL in one way or another. For quite some time now, JBL has a proven track record of producing the best quality speakers and headphones in the industry, and the JBL Flip 5 is no exception to that.
JBL's latest iteration of their Flip line is a no-frills, all-purpose speaker you can carry around with you anytime and anywhere. Whether it be for partying, camping, picnicking, or just for singing in the shower and all over your house, the Flip 5 can amp up any music-listening session with ease.
For quite some time, the Flip 4 had been one of my go-to Bluetooth speakers for casual use. I'm not really one for parties or gatherings, mind you. So most of the time, I just use my Bluetooth speakers whenever I'm doing chores or relaxing on my own. But enough about me. You're here for the Flip 5.
Just how great exactly is this portable Bluetooth speaker is?
Let's find out what the fuss is all about surrounding the Flip 5 in our dedicated review below.
See Where The JBL Flip 5 Ranks In Our List Of The Best Bluetooth Speakers For The Shower 2021.
Overview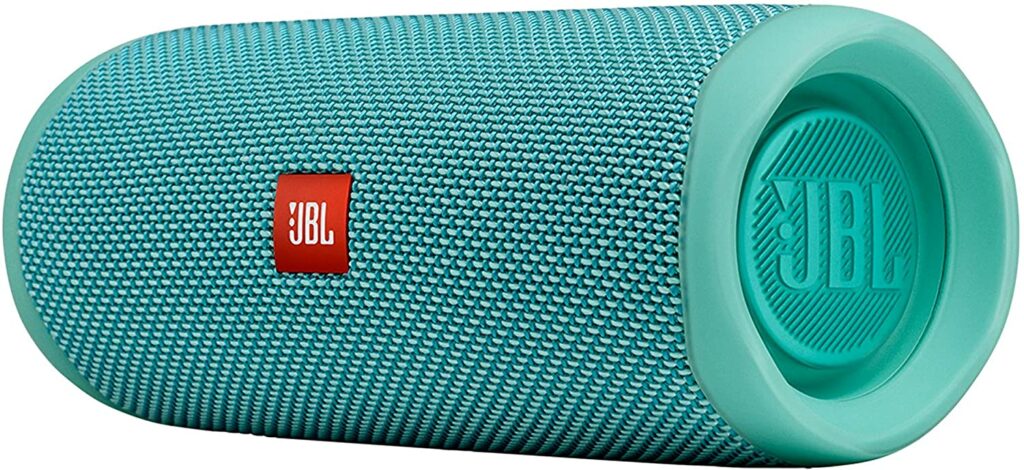 Usually, when a brand releases a new product into the market, it's often equipped with better specs and improved features than the unit that came before it. So imagine my surprise when I found out that the JBL Flip 5 arrived with less features than its predecessor, the Flip 4.
Just like anyone else who was anticipating JBL's latest Flip model, I wondered a lot about why they decided to go down this route and completely removed the AUX input. Personally, it's a bit of a setback and I always believed it's better to have that option than not.
Aside from the removal of the AUX input, there isn't much of an improvement in terms of battery life with the Flip 5 compared to the Flip 4. JBL still maintained 12 hours of playtime with this iteration. However, it is really nice that they are now using USB-C for charging.
This kind of port helps in decreasing the charging time to just 2.5 hours to get your speaker fully charged. That's an hour quicker than the Flip 4's charging time even though the Flip 5's battery is much bigger in comparison. To specify, the Flip 5 has 4800mAh, while the Flip 4 has only 3000mAh.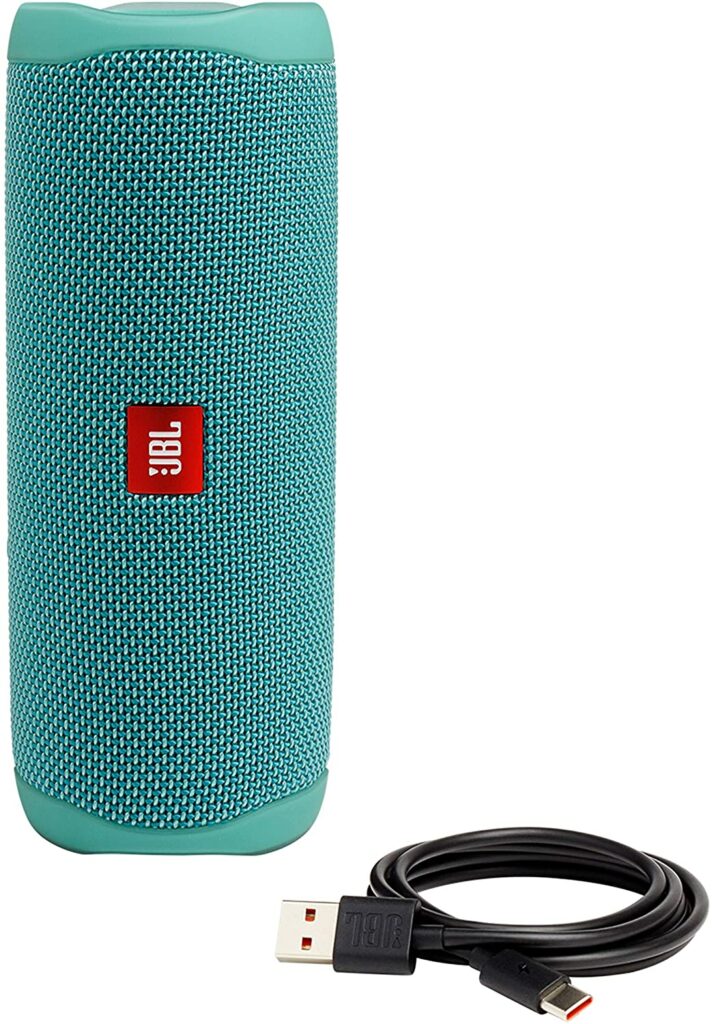 Despite those little setbacks, the Flip 5 is still a pretty solid Bluetooth speaker and I would still highly recommend this to anyone asking.
Sporting a cylinder shape and with the size almost the same as a regular thermal flask, the Flip 5 is very easy to take with you anywhere you go. It's pretty lightweight and only actually weighs half a kilo. So I doubt this will cause a strain in your bag.
When it comes to performance, there's really no doubting JBL's prowess. They are one of the leading brands for that very reason. The Flip 5 delivers punchy, clear, and crisp sounds while being able to handle bass-heavy tracks with ease and without any kind of distortion in quality.
For its price, you are definitely getting every bang for your buck.
Who Needs The Flip 5?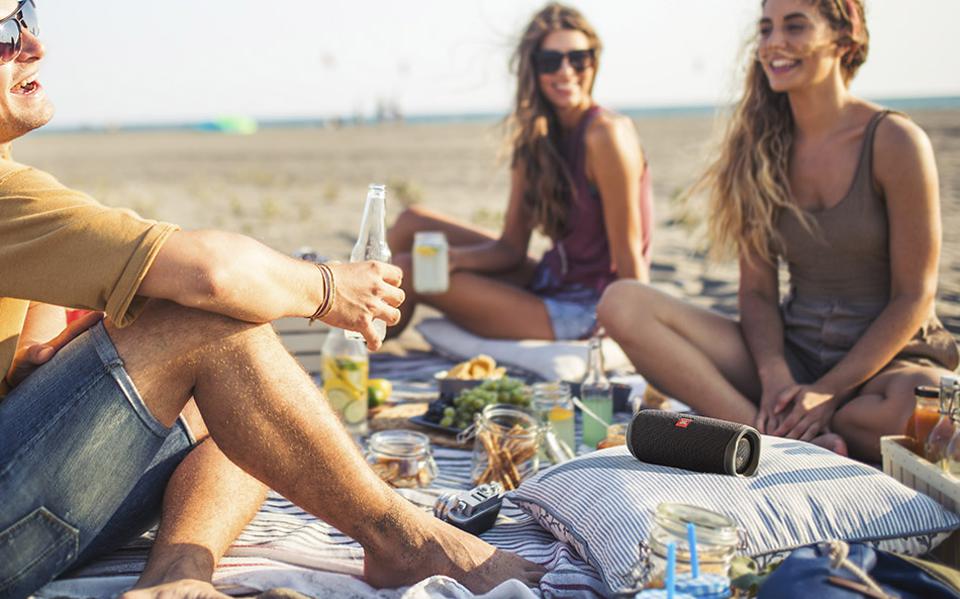 Like any other product you can find in the market, there will always be a target audience for certain kinds of items. While some of you may think that portable Bluetooth speakers are one in the same and all serve the same purpose, you're correct to an extent.
It's best to note that not all speakers are built equally. Many of them differ quite a lot in terms of sound quality, durability, battery life and so much more. So this begs the question: for who is the JBL Flip 5 made for?
After some thorough research, the Flip 5 is the best option for you if you: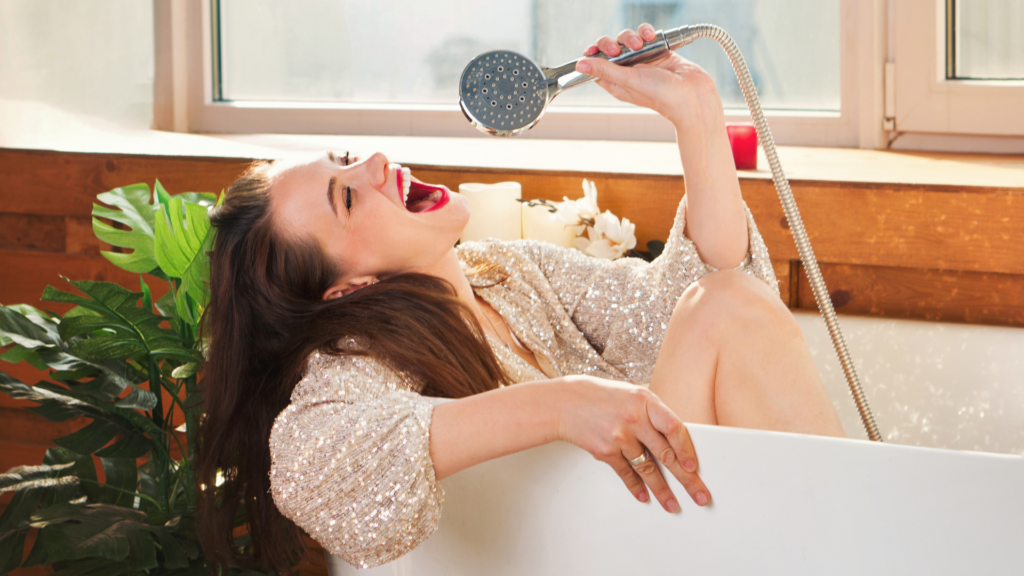 With the Flip 5's IPX7 rating, you're all covered when it comes to waterproofing your portable Bluetooth speaker. You can take this with you in your daily rinses or pampering sessions without worrying about causing any damage. Now you can sing your heart out and have your own concerts in the bathroom!
2. Are buying your first portable Bluetooth speaker.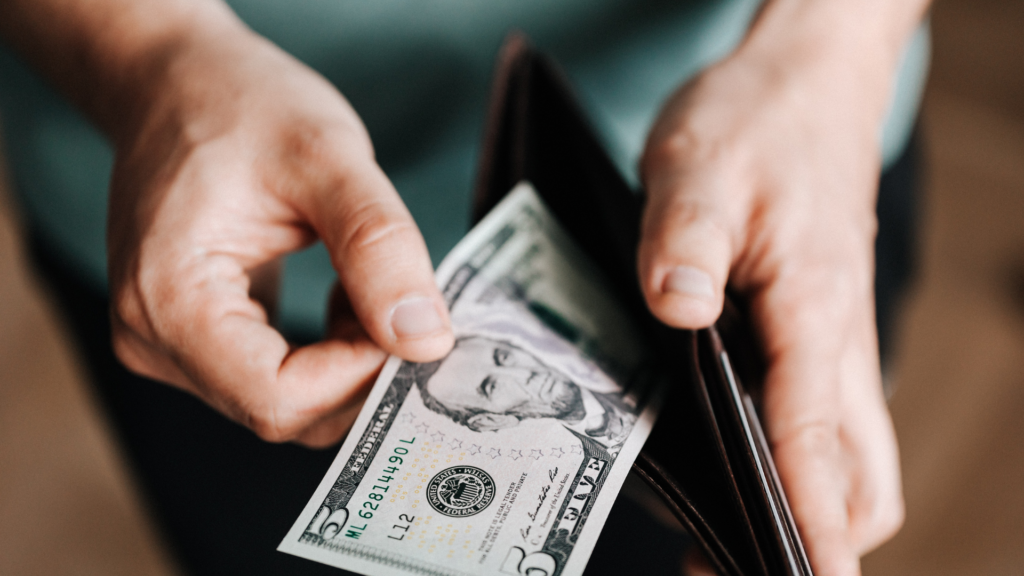 The Flip 5 is very suitable for people who are looking to invest in their first-ever portable Bluetooth speaker. It's great for beginners as this doesn't have a lot of confusing features. The playback controls are quite specific along with the on/off switch and the Bluetooth button.
Overall, the Flip 5 does its job well and covers all the basics while providing you with one of the best quality sounds in the market. With a pretty affordable mid-range price and the quality you're getting, it's definitely worth every penny.
3. Love social activities.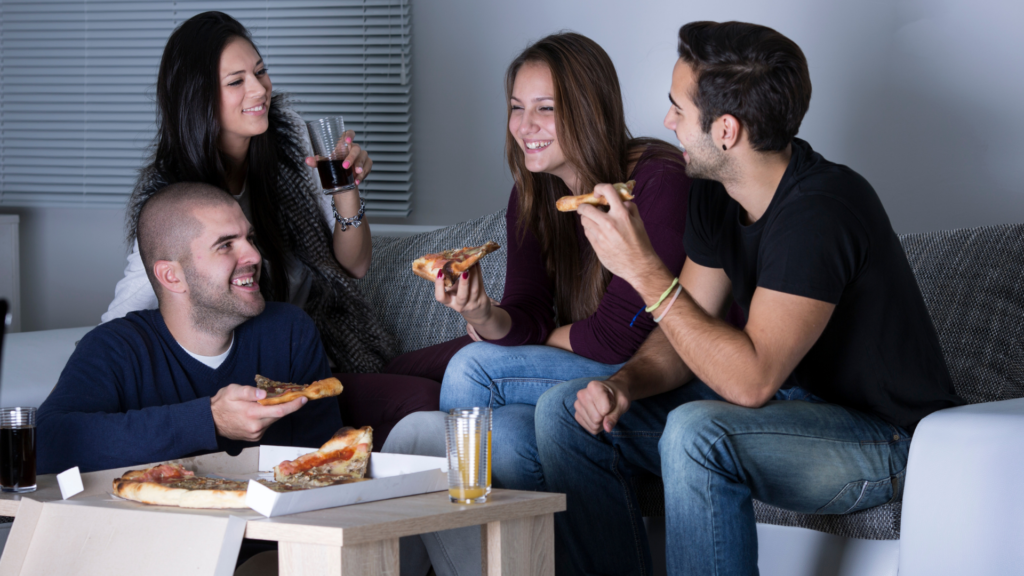 Let's face it, no social activity can ever be complete without the accompaniment of music. Without music, social gatherings can become dull and awkward. So if you love organizing parties, picnics, or any kind of social gatherings, you might want to take a look at the JBL Flip 5.
With the "PartyBoost" option, you can easily pair up other JBL speakers that have the same feature to amplify your tracks and create a bigger and bolder sound.
Features & Specifications
Dimensions: 3.64 x 3.6 x 8.5 inches
Item Weight: 1.2 pounds or 540 grams.
Bluetooth: Yes.
Wi-Fi: No.
Voice Assistance: No.
Speakerphone: No.
Battery-powered: Yes.
Batteries Used: 1 Lithium Polymer batteries
Battery Life: 12 hours of playtime. This varies by volume level and audio content.
Charging Time: 2.5 hours for a full charge.
Waterproof: Yes, for up to 1 meter of water for 30 minutes.
Dustproof: No.
Sandproof: No.
IP Rating: IPX7.
Warranty: To know this product's warranty, you'll need to directly contact their customer support team.
Click here for the user guide.
Check out JBL's preview of the Flip 5 below!
Interest in looking for other portable Bluetooth speakers? Check out our top recommendations for you here.
What I Love About The JBL Flip 5
Loud & Solid Performance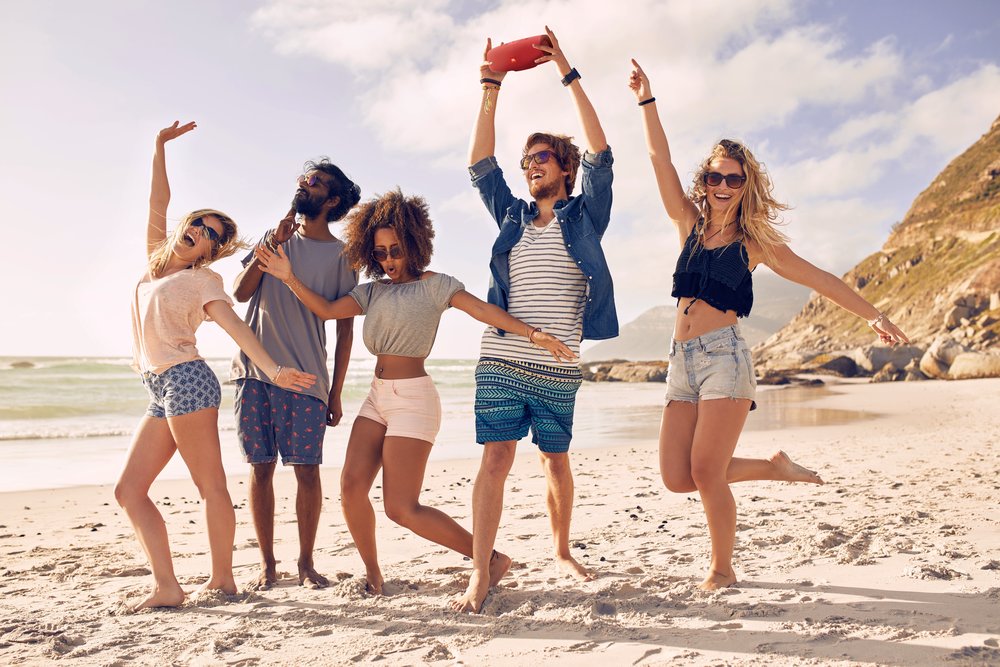 JBL has remained on top of its game for many years now and that's because they only continue to pump out products that are terrific in quality with each passing time.
No surprise here when the Flip 5 have inherited those same factors (or what I call "JBL's signature sound") and was able to deliver an impressive performance. You get very crisp and clear highs and will hear no distortions of any kind once you play tracks that are more bass-heavy.
I found my music-listening experience with the Flip 5 overall pleasant. The sound quality I got was rich and cohesive with just enough texture and definition.
Rugged & Durable Design
If you're looking to bring your Flip 5 to the outdoors, you'll have no problem with this portable speaker in terms of durability. I think the same thing can be said to almost every JBL speaker, actually. Aside from high-quality sounds, JBL is also the go-to if you want a device that will last you for several years.
JBL is known for their products' toughness, especially with their Bluetooth speakers. The Flip 5 is encased in a thick, durable fabric to survive any minor accidents.
With the IPX7 rating on the Flip 5, your device is 100% protected from any kind of water-related incidents. This speaker will still continue to work even when fully submerged below 1 meter of water for 30 minutes.
Affordability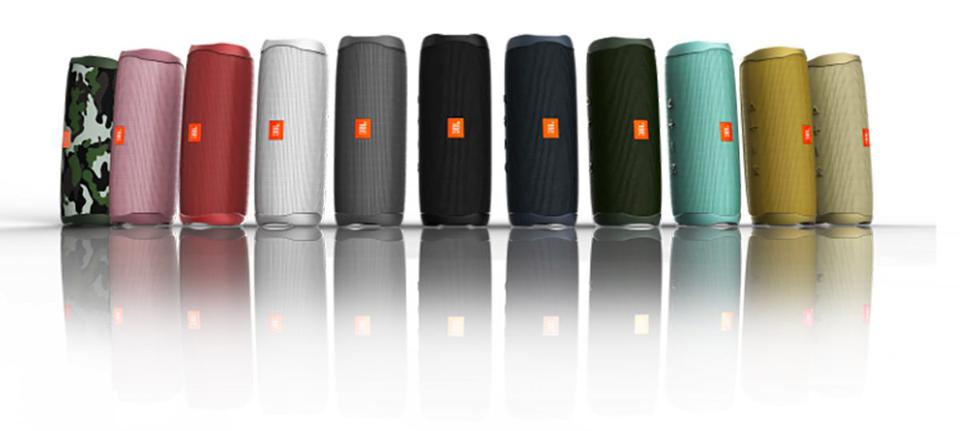 Personally, I think that the Flip 5 has a pretty competitive price for the quality it delivers. Especially when you compare it to more premium brands.
While the Flip 5 is admittedly not the cheapest portable Bluetooth speaker you can find, it is still great for its value when you take into account what you're getting from this speaker.
My Least Favorite Thing About The Flip 5

No Speakerphone Or AUX Input
Much to my disappointment, the Flip 5 doesn't have a built-in mic or speakerphone to let you take your calls and also completely removed the AUX input. Even though the Flip 4 was equipped with the latter feature.
For some of you, these are probably not too big of a deal and that's fine. As we head further in the future, the more we get accustomed to wireless products anyway.
So I guess JBL was thinking of the same thing and had foregone the AUX input.
Doesn't Support Voice Assistance
Speaking of the future, you would think JBL would at least equip the Flip 5 with voice assistance. But alas, that did not happen.
I think having a voice assistance feature would've made a whole difference with this model and put it miles ahead of other competitors in the same range.
Perhaps, the next iteration would have voice assistance. But we'll cross that bridge once it's here.
In A Nutshell
Let's dive into my narrowed down list of the good and the bad with the Flip 5.
Pros
Easy to use and beginner-friendly.
Has USB-C charging.
Great value for its price.
High-quality sound and performance.
IPX7 rating makes it perfect for pool parties and other outdoor activities.
Wide range of colors to choose from.
Cons
Uses Bluetooth 4.2 only.
No speakerphone, built-in mic, Wi-Fi connectivity, AUX input, or support for voice assistance.
You can find better alternatives in the market if you want high-tech features.
Final Verdict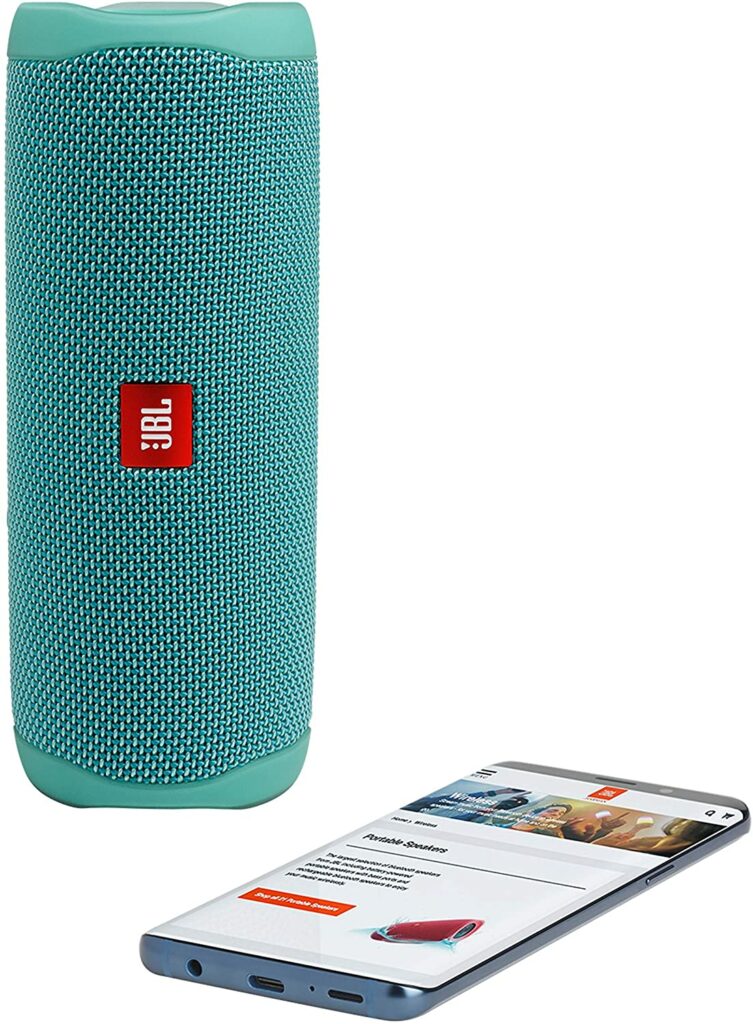 All in all, I think the Flip 5 is a pretty straightforward, portable Bluetooth speaker.
There are no frills, no high-tech or gimmicky features, just an unparalleled performance of impressive sound quality for your everyday use. If you don't mind its simplicity, then you'll absolutely enjoy this product.
Do you already own the JBL Flip or planning to buy one? Let me know what you think about this portable Bluetooth speaker in the comments section below. I'd love to hear your insights!
Recommended reading for you:
The Best Bluetooth Speakers For The Shower 2021: Sing-Along & Make Your Showers More Fun!
The Best Bluetooth Speakers For Camping This 2021: Which One Is The Best For You?
The Ultimate Ears Wonderboom 2 Review: The Life-Proof Bluetooth Speaker You Need