Affiliate Disclosure: I am grateful to be of service and to bring you content free of charge. In order to do this, please note that when you click links and purchase items, in most cases I receive referral commissions. Eventually, I may earn enough to buy a beer or two.
I get what you're thinking after reading this article's title: Best Bluetooth Speakers For Camping? In the middle of a pandemic? It seems like a crazy idea at first too, but after giving it some thought, going somewhere secluded and far from congested cities for a few days is most likely the best way to practice social distancing. 
Jokes aside, if you're someone who likes to spend time alone in the great outdoors or be accompanied by friends and family, a portable Bluetooth speaker is a great thing to have so we can always enjoy ourselves with a bit of music wherever we go.
With that in mind, finding the best Bluetooth speakers for camping can be quite overwhelming as there seems to be a never-ending supply of them constantly being released in the market. Apart from that, there's also a lot to consider before finally making the purchase such as battery life, portability, sound quality, and affordability just to name a few. The great thing is there are so many variants of Bluetooth speakers out there that you'll never run out of choices and you're sure to find something that will perfectly suit your needs.
So to help you with that decision and in no particular order, I've come up with a list below of the best Bluetooth speakers for camping this 2021.
---
1. JBL FLIP 5: Great Volume, Great Value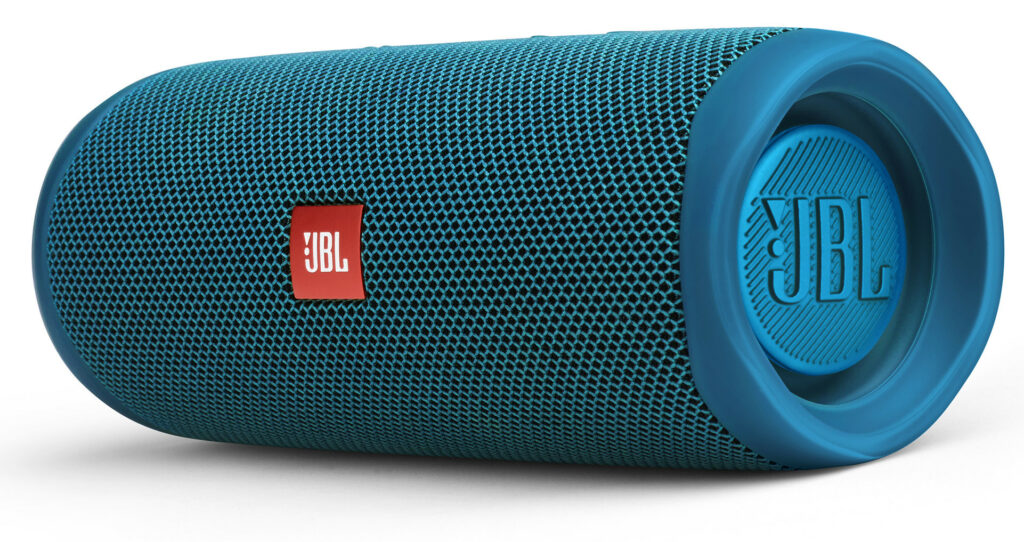 It's no secret that JBL produces some of the best portable Bluetooth speakers in the market as their whole lineup usually comes with an IPX7 rating, making it perfect for outdoor use. Among the multiple variants of portable speakers JBL offers, the Flip 5 is my top choice for its clear and crisp audio, deep bass, and loud volume. It's an amazing quality speaker with even greater value.
While excelling in its sound quality and portability, the Flip 5 also did not cut corners when it comes to battery life, boasting 12 hours of continuous, audio playtime in one, single charge. Keep in mind, when being in full volume, you can only get up to 8-9 hours of playtime. Either way, that surely is more than enough time to enjoy music or podcasts throughout the day whether you're hiking up a mountain or partying in the middle of a forest.
Speaking of camping activities, you won't ever have to worry about exposing this particular speaker to water as it is also waterproof and will continue playing even when submerged under 1 meter of water for up to 30 minutes.
Another feature of the JBL Flip 5 that is worthy of mention is its "PartyBoost" feature. This feature allows you to pair up two JBL PartyBoost-compatible speakers for a bigger and louder sound.

Moving on to design, JBL surely knows how to give us variety. While the cylinder seems to be a classic JBL shape, The Flip 5 includes 11 color variants to choose from. So if you're picky with aesthetics like me, this Bluetooth speaker will have something for your taste. 
Rating: 9.5 out of 10.
Where Can I Buy The JBL Flip 5?
---
2. ULTIMATE EARS WONDERBOOM 2: A Personal Favorite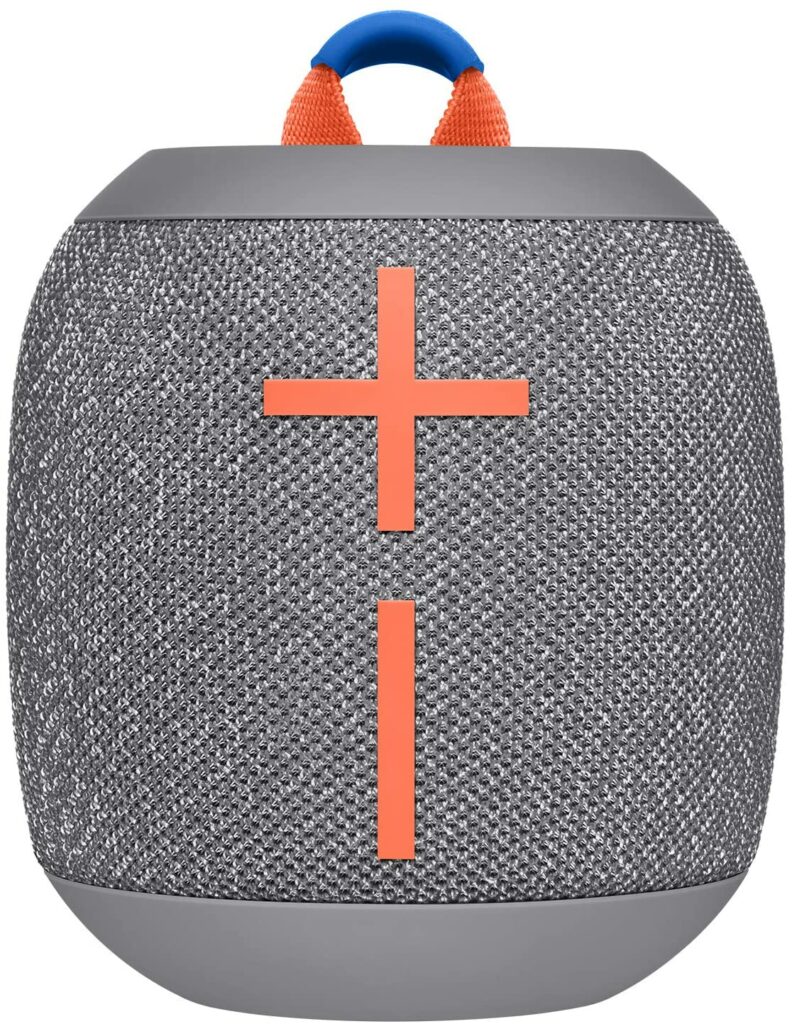 When it comes to portability, the Ultimate Ears Wonderboom 2 takes the cake and packs more than just a punch. 
The Wonderboom 2 is a personal favorite of mine because I absolutely adore its small size yet amazing audio power. I also prefer its softball shape to the tube shape of other Bluetooth speakers sport. I find this the most convenient to bring along in all my adventures in the great outdoors, never taking up too much space in my bag. 
Small But Terrible…In The Best Way
Despite its portable size, this little Bluetooth speaker can last up to 13 hours of playtime, exceeding the JBL Flip 5's 12-hour battery claim. Additionally, according to JimsReviewRoom from Youtube, he was able to get more than 14 hours of battery life with the Wonderboom 2 if the volume is kept at 50%. So that's something to take note of if you're someone who likes to listen to music for long periods without having to turn the volume all the way up.
If you'd like to get an idea how this Bluetooth speaker sounds like, you can check out Ultimate Ears' official video about the Wonderboom 2 below.
With a rating of IP67, the Wonderboom 2 can probably stand the test of time. With a rugged exterior, it is completely dust and sand proof, drop-proof, and waterproof. Gone are the days I have to stress about accidentally dropping my Bluetooth speakers on the ground or a river as the sturdy material will help protect the speaker or just let it float through the surface of the water without taking any damage. It's just perfect for anyone who likes to listen to music or podcasts while doing more rigorous and extreme activities during their camping trips.
But what makes the Wonderboom 2 ideal for camping is its Outdoor Boost button located beneath the speaker which gives me an even better audio quality for outdoor listening.
While it's not a dealbreaker, the Wonderboom 2, unfortunately, does not support a type-c USB port, making it not so future-proof. So if you're someone who's left the past behind and has embraced the type-c USB ports for all your devices, then this is something to keep in mind before purchasing the Wonderboom 2.
Rating: 9 out of 10.
Where Can I Buy The Ultimate Ears Wonderboom 2?
---
3. ULTIMATE EARS BOOM 3: The Popular Choice

Another product from Ultimate Ears, the Boom 3 is also a popular and ideal choice for a Bluetooth speaker to bring along camping. Originally released way back in 2013, it has since then undergone three revisions with the Boom 3 being their latest release. 
Compared to the JBL Flip 5 and the Wonderboom 2, the Boom 3 costs a few more bucks but not without more pros than the former. So if you have more money allotted in your budget to spare, I would recommend giving this Bluetooth speaker a try.
With the Boom 3, you get a loud and immersive 360° sound with accurate bass. On the other hand, while the manufacturer claims I can get up to 15 hours of playtime with a single charge, it only gets up to 12 hours using just 50% of its volume. Nevertheless, it's still an impressive product and performs better than other mainstream Bluetooth speakers in the market.
When it comes to aesthetics, the Boom 3 doesn't fail with its rugged design and incorporates a variety of two-tone color options that is certain to catch your eye.
Just like the Wonderboom 2, the Boom 3 also has a rating of IP67 making it great and durable for any kind of travel and outdoor activity. This will surely last some of the roughest and wildest activities you have planned out for in your next camping trip.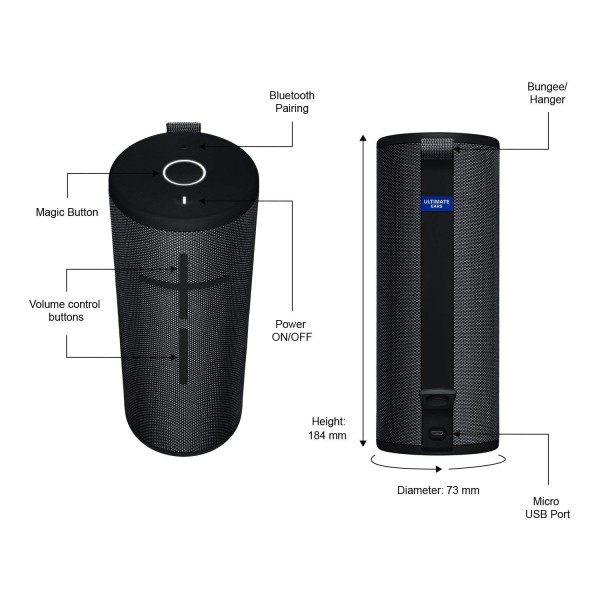 The Boom 3 also has this feature they call the "magic button". It seemed like an exciting feature when I first heard of it, but in actuality, their magic button is really just a multi-functional button that controls the playback of your sounds.
With the same gripe as I have with the Wonderboom 2, the Boom 3 also doesn't support a USB-C port.
Rating: 8.5 out of 10.
Where Can I Buy The Ultimate Ears Boom 3?
---
4. ANKER SOUNDCORE FLARE 2: Best For Camping With Friends and Outdoor Parties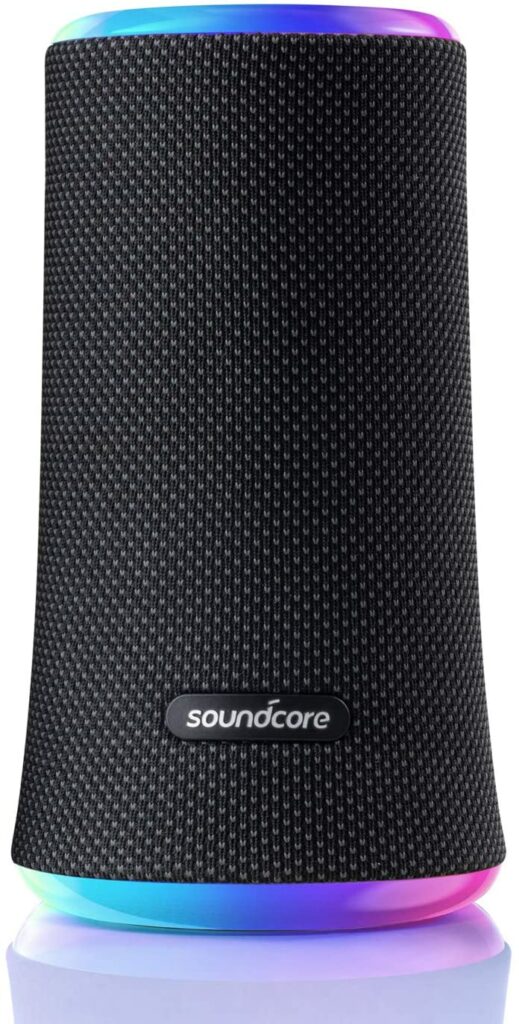 The Anker Soundcore Flare 2 is a staple among parties due to its fun RGB lights, but it's also definitely a solid Bluetooth speaker for camping as well.
Being one of the more budget-friendly options in this list, the Soundcore Flare 2 certainly did not sacrifice any great qualities I look for in a portable Bluetooth speaker for camping to make this well-built product. Priced at less than $70 on Amazon, it has an IPX7 rating making it a 100% protected from complete submersion in water, a powerful 360° sound, double light rings with multiple exciting light modes to choose from, 12 hours of playtime, and a unique PartyCast Technology.

What's so great about the Soundcore Flare 2's PartyCast Technology is that you can sync up not just one, but up to 100+ Flare 2 portable Bluetooth speakers seamlessly and without much of a hassle! 
Linus Tech Tips from Youtube was able to test out this feature by linking up 100+ Flare 2 Bluetooth speakers around his house without any fail. The devices connected flawlessly and before you know it, he had his own self-made state-of-the-art surround sound system in the house.
If you're planning to party with every living creature inhabiting the great outdoors and want to bring more than a hundred portable speakers during your trip, then the Anker Soundcore Flare 2 is definitely up your alley.
Rating: 8 out of 10.
Where Can I Buy The Anker Soundcore Flare 2?
---
5. JBL CHARGE 4: With Power Comes With Great Responsibility
If you don't mind sacrificing a bit of portability for power and bigger sounds, then the JBL Charge 4 might be the perfect fit for you.
It's not the lightest Bluetooth speaker to carry around when I'm out camping but it doesn't disappoint when it comes to audio quality and power. Of course, a bigger-sized speaker will usually mean it will excel a whole lot more in the volume department compared to the more compact Bluetooth speakers in this list, making it so perfect for camping as I'm able to clearly hear the crisp sounds of the music I'm playing while I sit back and relax in the middle of nowhere.
Packed with a whopping 20 hours of audio playtime with a single charge, you'll surely be able to enjoy your music for a whole day without interruption.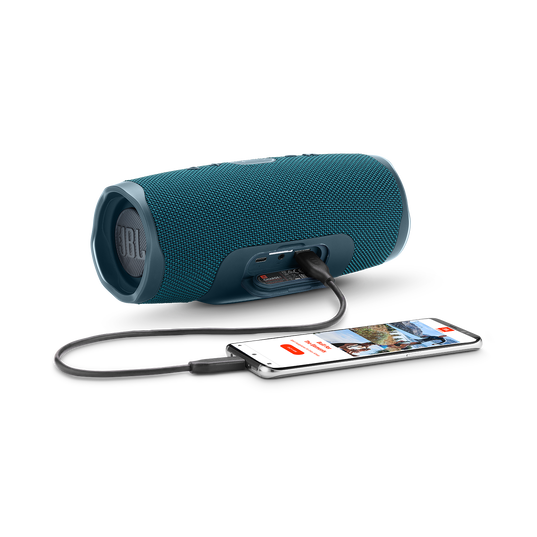 What makes the JBL Charge 4 shine is that it comes with its own power bank. While I normally stay away from using my phone too much when I'm out camping, it's still a necessity as my phone is the source of my music and podcasts that I enjoy listening to. 
So that being said, it's a huge advantage that the JBL Charge 4 has a built-in power bank. It comes in handy for emergencies and I would never have to worry about my phone's battery dying in the middle of my music-listening sessions in the great outdoors.
Like the other Bluetooth speakers JBL has in their lineup, the Charge 4 is no different when it comes to having an IPX7 rating, making it suitable for camping and other outdoor activities that may involve water. No more worrying about sudden rainfall and getting my speaker drenched when I'm camping!
Rating: 8.5 out of 10.
Where Can I Buy The JBL Charge 4?
---
6. ULTIMATE EARS HYPERBOOM: The Bigger, The Better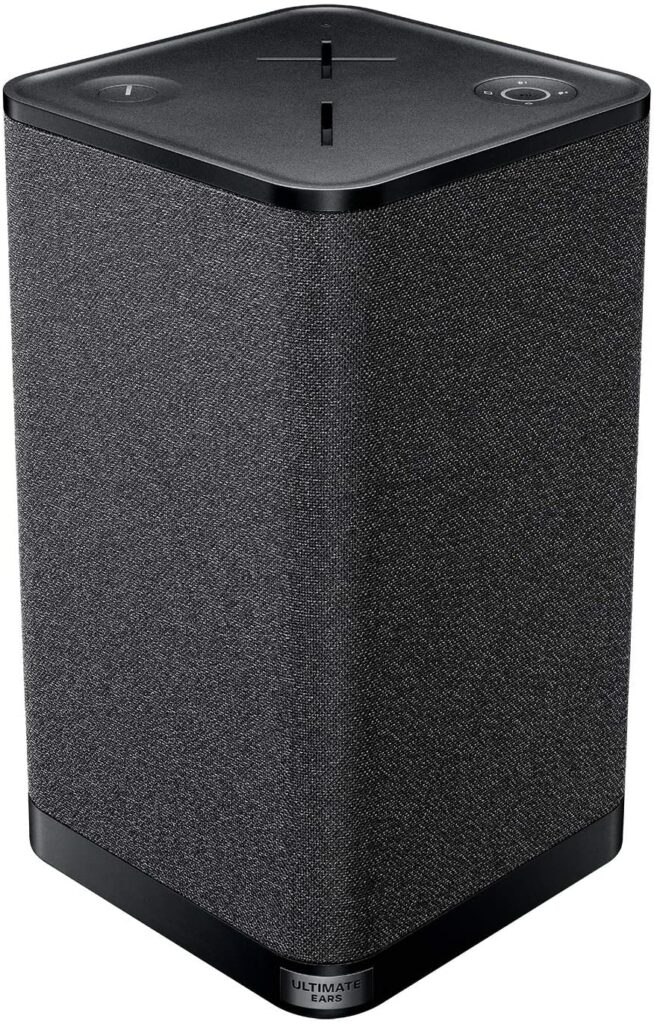 Coming in at under $400, the Ultimate Ears Hyperboom claims to be the best portable Bluetooth speaker in its price range and I think I would have to agree with them
While it's obviously not the most portable speaker on this list and most likely one of the heavyweights of the bunch, the Hyperboom delivers well on its claims and goes a lot further than other Bluetooth speakers in the same size range. It has a powerful sound and booming bass which I certainly feel in my chest down to my toes once I start rocking out to songs with strong bass lines.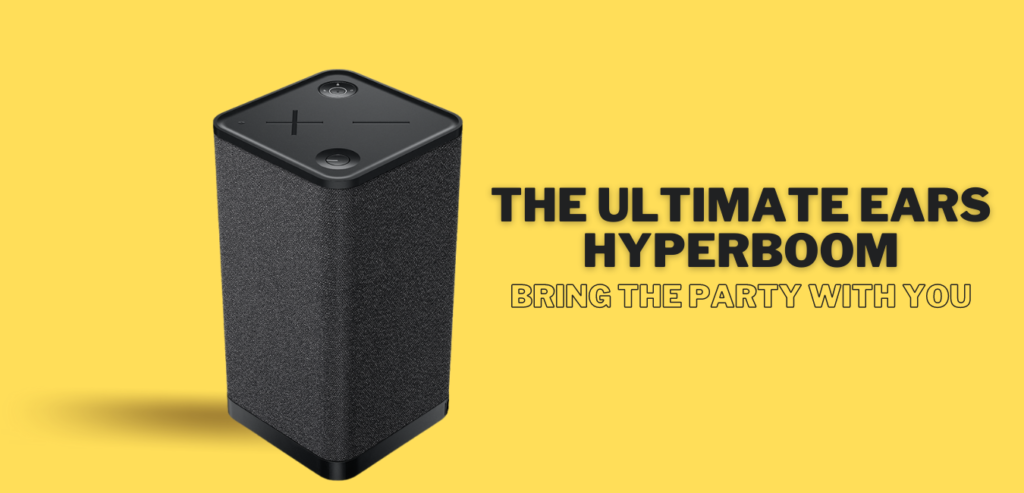 Keep in mind, this Bluetooth speaker is also more suitable for camping trips that you go with huge groups of friends where outdoor parties are more likely to occur. So if you're the type to go on such camping trips, the Hyperboom will have no problem filling the great outdoors with loud music that lasts throughout the night with its 24-hour battery life as camping parties happen.
You also don't have to worry about distance as the Hyperboom still continues to play music without a problem even when the connected phone is as far as a hundred feet from the speaker itself. So feel free to dance around your camping site. 
With an IPX4 rating, the Hyperboom has no problems against accidental spills and small splashes of water. Do note that this Bluetooth speaker won't be ideal for activities that might include complete submersion in the water.
Other features of the Hyperboom include having multiple buttons for different functions such as the auxiliary and optical options along with the basic volume, Bluetooth, and power buttons. Thankfully, this also comes with a strap that makes handling a speaker this size much easier.
Rating: 8 out of 10.
Where Can I buy The Ultimate Ears Hyperboom?
---
7. JBL CLIP 4: The Ultra-Portable Speaker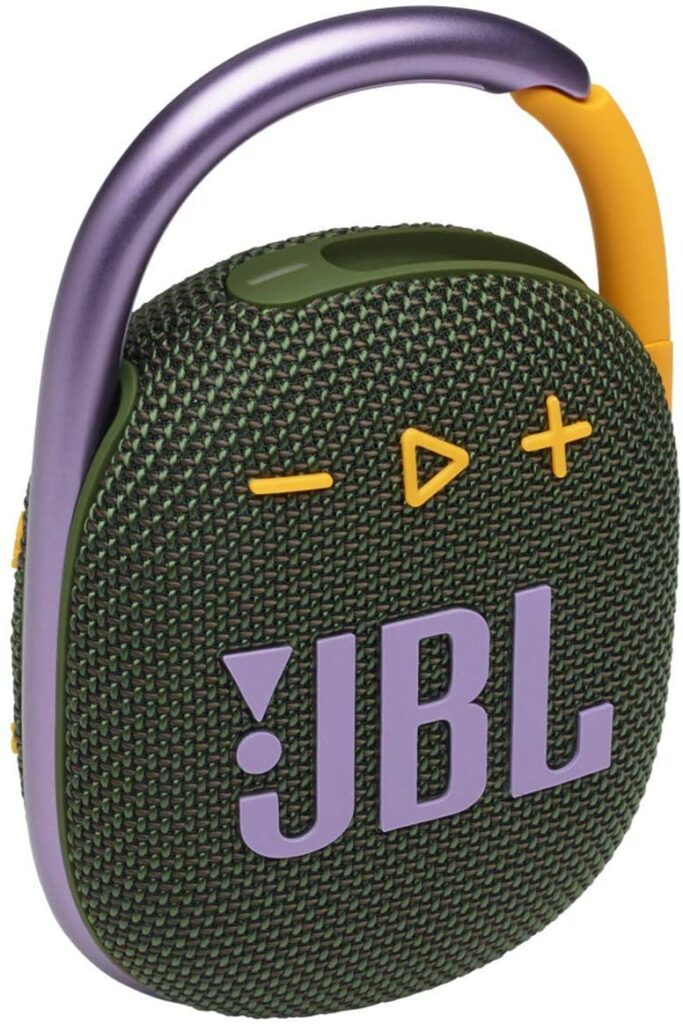 If what you're looking for is a pocket-sized Bluetooth speaker that you can just easily clip and hang around your backpack or belt or any other camping gear you have as you venture out in the great outdoors, JBL has a wide array of ultra-portable Bluetooth speakers to pick from. 
This is where the JBL Clip 4 comes in.
Priced at around $70, the JBL Clip 4 is a solid option for people who just want to casually listen to music or podcasts for short periods during their camping trips without their devices taking extra space in their bags. 
Even for its tiny size, the Clip 4 is not to be easily underestimated. It is running with a 5-watt speaker and a battery life of 10 hours which is something I already considered great if you're not one to stay up all night or spend all day sitting at your campsite just listening to your Bluetooth speaker.
Like other JBL portable speakers, the Clip 4 also has a variety of buttons for different sorts of functions such as a play/pause button and the volume controls which are located on the upper part of the speaker, just right on top of the big JBL logo at the front. As you make your way to the lower part of the device, you'll find the Bluetooth pairing button and the power button beside it.
With a rating of IP67, this tiny speaker is basically life-proof. So if you're planning on trekking up a river or doing other extreme outdoor activities, this device won't take any damage and you won't have any problems carrying the Clip 4 around may it rain or shine.
More Colors, More Fun!
In addition to great sound quality, I find the JBL Clip 4 made a huge step up from its predecessors when it comes to design. The Clip 4 also offers a great selection of stylish and bold colorways that will surely catch your eye. So if you are a fan of colorful Bluetooth speakers that have loud colors as loud as their sound and are fairly easy to carry around, then you might want to consider adding this to your cart before your next camping trip.
Rating: 7.5 Out Of 10.
Where Can I Buy The JBL Clip 4?
---
8. MARSHALL EMBERTON: You Can Never Go Wrong With A Classic
While the Marshall lineup is in the pricier end than most of the Bluetooth speakers on this list, the audio quality you'll get from the Marshall Emberton is certainly worth every penny. If you're willing to spend around $150 for a portable Bluetooth speaker, then the Emberton is definitely something to keep in mind.
The Marshall Emberton is actually one of the more portable and durable variants in the whole Marshall lineup while maintaining a sleek, stylish, and classic design that's true to the Marshall brand. To me, it's just an overall good-looking portable Bluetooth speaker with a strong build quality that doesn't lose its premium feel.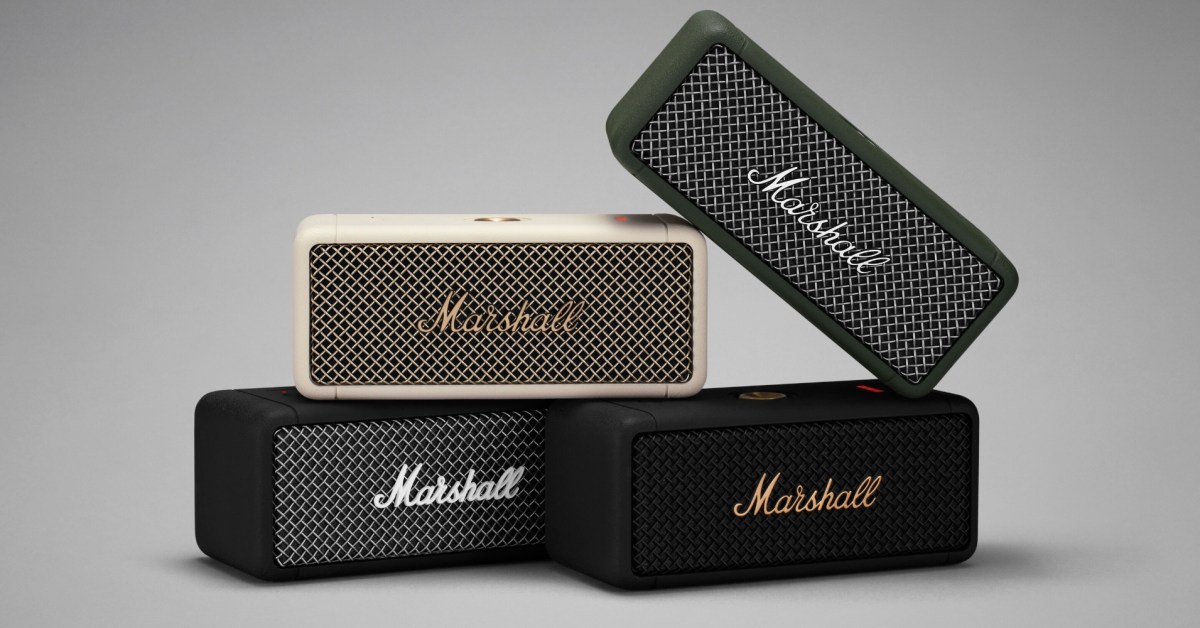 If the classic black color is not enough for you, they also released a cream and a forest colorway for you to choose from.
With a water-resistant build and an IPX7 rating, I can easily stuff this in my backpack and be on my way to the mountains without having to worry about the speaker not surviving the trip. It's important to keep it in mind though that the Emberton doesn't float, so be careful when dropping this speaker in bodies of water.
Using a 21 W speaker and True Stereophonic, a unique sound feature that's exclusive to Marshall, you can be rest assured this portable Bluetooth speaker will deliver an exceptional sound quality that's rich, clear, and loud for all your music-listening sessions, easily outperforming other Bluetooth speakers at the same price range.
Rating: 9 out of 10.
Where Can I Buy The Marshall Emberton?
---
9. CAMBRIDGE SOUNDWORKS OONTZ ANGLE 3 ULTRA: An Underrated Find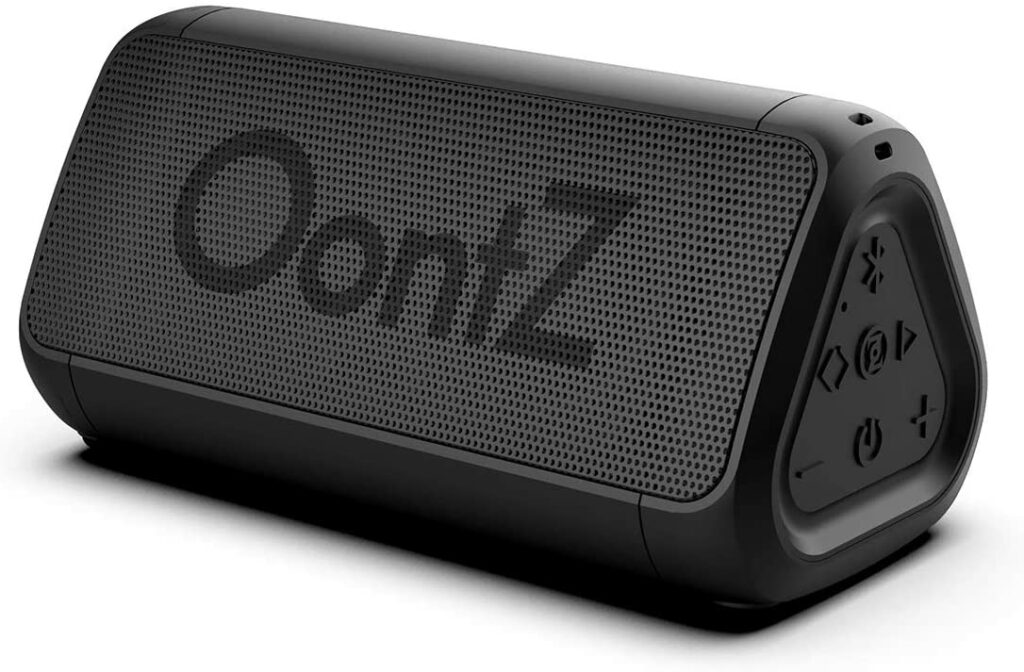 Powerful sound? Check. Budget-friendly? Check. Bluetooth  Water-resistant? Check. Great battery life for continuous audio playtime? Check.
Meet the Cambridge Soundworks OontZ Angle 3 Ultra. This portable Bluetooth speaker is one of the best deals you can get if you're on a tight budget and looking for a powerful yet portable speaker to bring along with you on your camping trip.
What's the catch?
Don't be fooled by its $40 price tag, the OontZ Angle 3 Ultra did not cut any corners when it comes to packing some pretty solid specs such as an IPX7 rating making it a hundred percent waterproof, a 100-foot Bluetooth range, a built-in microphone for personal phone calls, an AUX port for connecting non-Bluetooth devices, and a 14-watt speaker while having a continuous playtime of up to 20 hours.
While the built-in microphone feature is a nice option to have, like other Bluetooth speakers that have this same feature, the quality of the mic can be so-so. I would still prefer just using my phone rather than putting it on speakerphone with the OontZ Angle 3 Ultra.
As for its performance, the OontZ Angle 3 Ultra delivers well with clear and high-quality stereo sounds and rich, booming bass.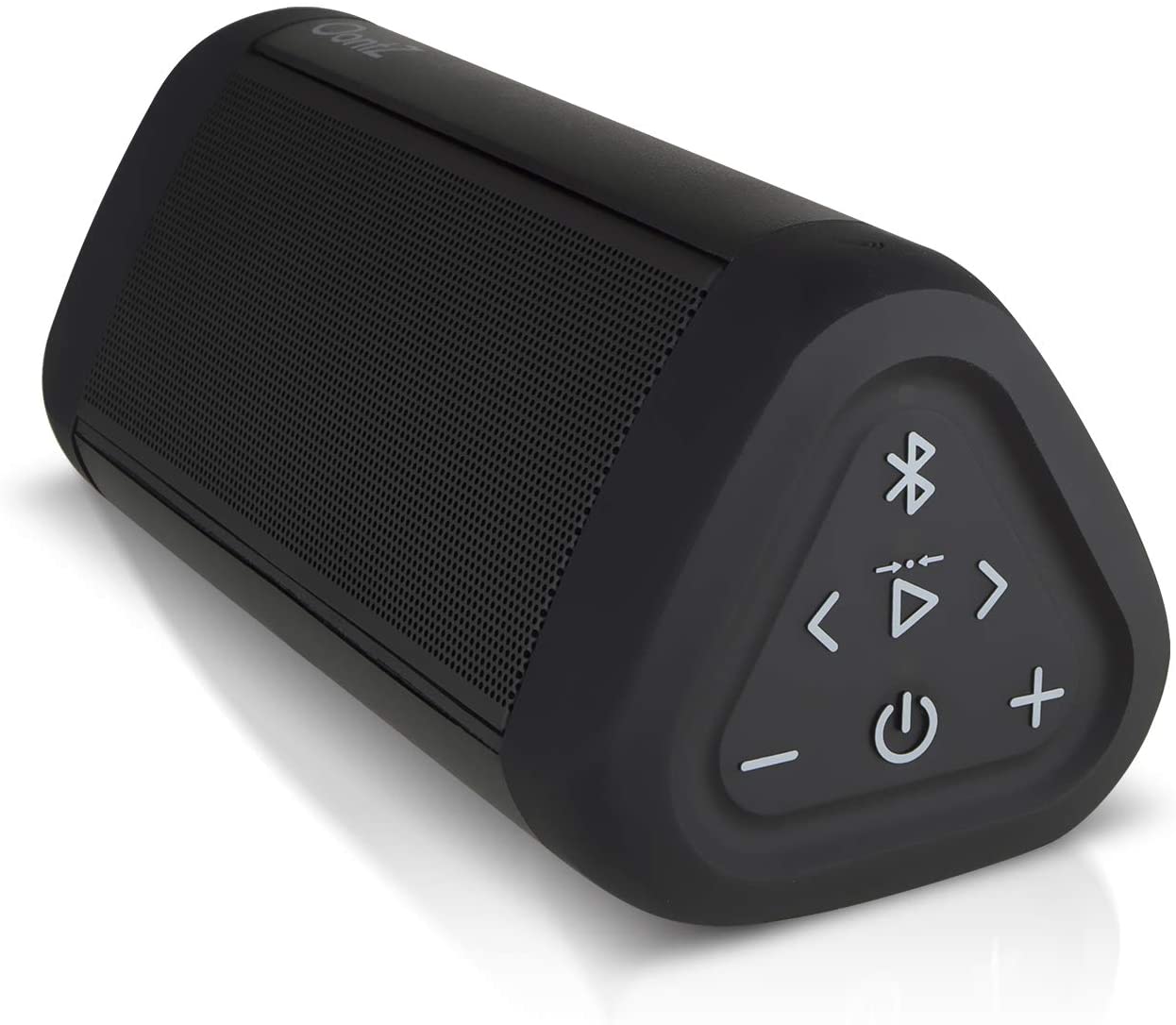 When it comes to design, however, the Oontz Angle 3 Ultra doesn't stand out a lot and there are much more attractive options in the market, but I'd have to still give it an A for effort for at least giving us variety and offering a nice selection of different colors to choose from including a special Coca-Cola edition.
To sum it all up, you're getting the best value while spending the least amount of money on a medium-sized Bluetooth speaker without sacrificing any of the critical features you'll ever need from other brands of portable Bluetooth speakers. You really can't go wrong with getting yourself an OontZ Angle 3 Ultra. It's durable, delivers solid sound quality, and will last you a good amount of time. 
Keeping these in mind, you'll realize there's not a lot of difference when comparing the OontZ Angle 3 Ultra to other more mainstream portable Bluetooth speakers on the market and this list. 
Rating: 8 out of 10.
Where Can I Buy The OontZ Angle 3 Ultra?
---
10. ANKER SOUNDCORE MOTION BOOM: A Bigger Sound At An Affordable Price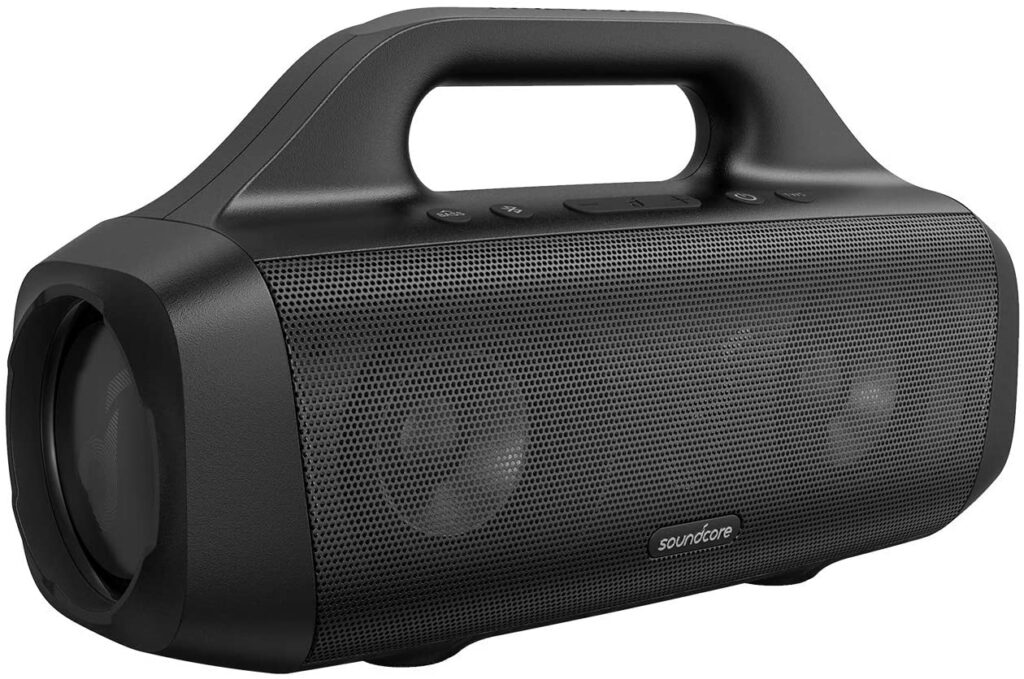 Priced just below a hundred bucks, the Anker Soundcore Motion Boom is one of the best options out there in the market for a speaker this size without compromising quality. Some would even argue it's the perfect dupe for the JBL Boombox or the JBL Xtreme 3.
Claiming a 24-hour playtime with its battery life, I can actually get around 21-22 hours of continuous audio playtime with this speaker when using it in max volume. That's still quite an impressive feat as some of the more mainstream speakers in the market tend to lose more hours when their volumes are cranked up to higher levels.
The Good And The Bad
Aesthetic-wise, the Anker Soundcore Motion Boom is pretty straightforward and plain. It only has one color option which is a completely black exterior. So if you're looking for more colorful options, checking out brands like JBL and Ultimate Ears might be a better fit for you. On the bright side, the Anker Soundcore Motion Boom is completely waterproof and has a built-in handle making it easier to carry around on camping trips without having to worry about the amount of space it could take up in my bag.
On the upper side of the Anker Soundcore Motion Boom, you'll be able to see a variety of buttons that allows you to control the portable speaker. This includes the power button, the volume controls, the Bluetooth button, a multifunctional button for navigating your music and taking phone calls to put on speakerphone, a bass-boosting button, and a TWS mode button which stands for True Wireless Stereo mode. This particular control will let you pair up the device with another Soundcore Motion Boom.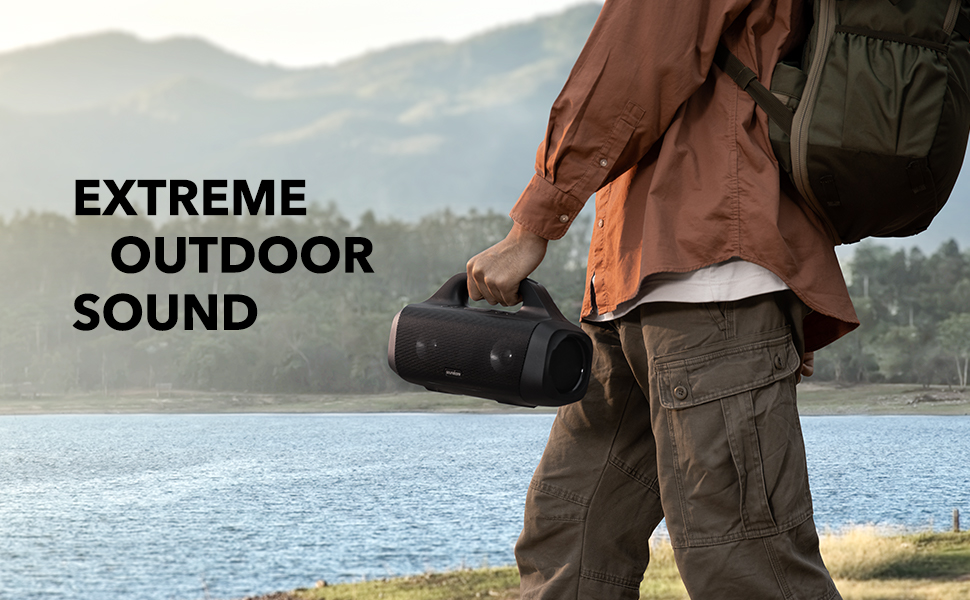 Now moving on to the most important part, the sound quality. At such an incredibly low price, you get a really clean and loud sound along with a nice bass. You'll be able to hear the vocals of any song you choose to play without experiencing distortion when played in its highest volume.
With such an affordable price tag, the Anker Soundcore Motion Boom is an overall impressive product that competes well with other high-priced products. It's perfect for people who don't want to splurge on pricier Bluetooth speakers in the same range as the Anker Soundcore Motion Boom.
Rating: 8.5 out of 10.
Where can I buy the Anker Soundcore Motion Boom?
---
Before You Checkout…
As you make your way to Amazon to click on that checkout button, here are some last friendly reminders for you which you can use as a quick buyer's guide:
If you're on a budget but you're looking for a Bluetooth speaker that doesn't compromise sound quality, any of the Anker Soundcore lineups and the Cambridge Soundworks OontZ Angle 3 in this list are great options for anyone who doesn't want to drop a lot of money for a Bluetooth speaker.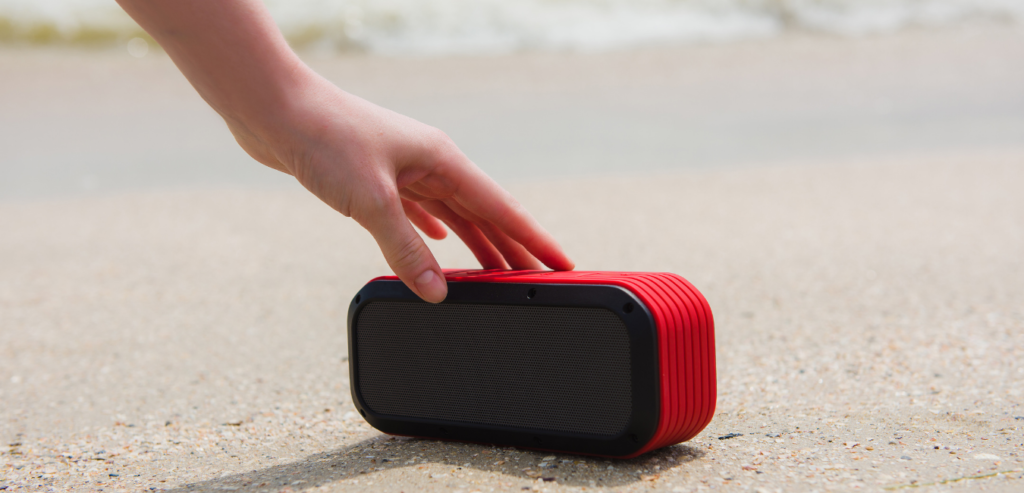 For that premium option, the Marshall Emberton is the perfect choice for you. Its timeless and sleek design will never go out of style while still enjoying a very durable product.
And if you're someone who likes to get the party started when you're in the great outdoors and don't mind carrying around a heavier Bluetooth speaker, then maybe try looking into the bigger speakers here such as the JBL Charge 4, Anker Soundcore Motion Boom, and the Ultimate Ears Hyperboom.
If portability is what you're looking for, you can't go wrong with the JBL Clip 4. 
As for my top picks and recommendations, it would certainly be the Ultimate Ears Wonderboom 2 and the JBL Flip 5. They're both very portable to carry everywhere and perfect for casual listeners like me who don't always crank up the volume and listen to music throughout the day. They both have great sound qualities and deliver perfectly what they claim in their respective ads without breaking the bank. Having multiple color options to choose from is also a great bonus in my opinion.
---
Conclusion
Overall, I can say every Bluetooth speaker I've put on this list is perfectly suited for camping and other outdoor activities that may come up in mind. While taking so much into consideration such as the device's durability, sound quality, battery life, design, price, etc., every brand and model definitely has its own pros and cons as well as certain unique features that are exclusive to them and make them stand out from the other portable Bluetooth speakers in the market. When it comes down to it, it's really all up to your preferences when deciding which one you think will suit your lifestyle the most.
I can only hope that this list was informative enough for you to make a smart purchase.
So this concludes our list of the 10 Best Bluetooth Speakers For Camping This 2021. Whether you're on the hunt for a Bluetooth speaker that doesn't break the bank or a more premium choice, something more portable, or doesn't mind bringing the extra weight, I hope this list has helped you decide which speaker you'll take with you for your next camping trip this year!
If you have other suggestions or queries or just want to share your experience with portable Bluetooth speakers, feel free to leave your comments below.
---
Recommended For You: