As fitness wearables continue to rise in popularity and the demand for them just keeps soaring, you'll find there's no shortage of fitness trackers to choose from. So in this dedicated review, let's take a closer look at the Garmin Vivosmart HR+ and how well it holds up on its own in a sea of competing smartwatches and fitness trackers.
See Where The Garmin Vivosmart HR+ Ranks In Our List Of The Best Fitness Trackers With GPS This 2021.
Overview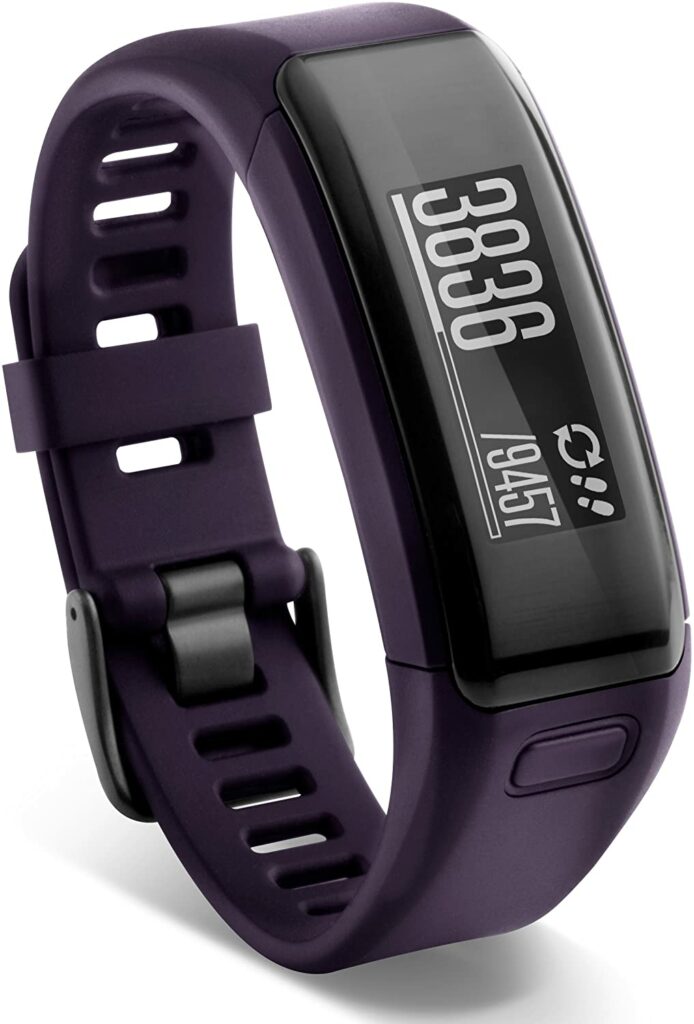 If you've been a fitness fanatic or enthusiast for quite some time now, I'm pretty sure you've heard of the brand, Garmin. If by some chance you're unaware of them, they're actually one of the leading and most popular brands when it comes to fitness trackers and wearables. So rest assured you can count on their products to be reliable.
The Vivosmart HR+ is not an exception to that rule.
While far from being perfect, this particular wearable is undoubtedly still packed with some great features that would be well-suited for a lot of you. Especially if you're the type of individual who loves outdoor activities that go beyond the usual running, jogging, or walking.
Coming with its own built-in GPS, you no longer have to constantly fetch your phone to check your statistics. The GPS also helps so much when it comes to tracking and providing more accurate data regarding your stats and outdoor-related fitness activities.
In terms of durability, the Vivosmart HR+'s rugged design is pretty much built to withstand the conditions of any outdoor environment and perfect for people with active lifestyles. Yes, that includes underwater activities as well. This wearable has a 5 ATM water rating.
Aside from those terrific features, you're also getting 24/7 heart monitoring, step tracking, as well as activity and sleep monitoring in one wearable.
Features & Specifications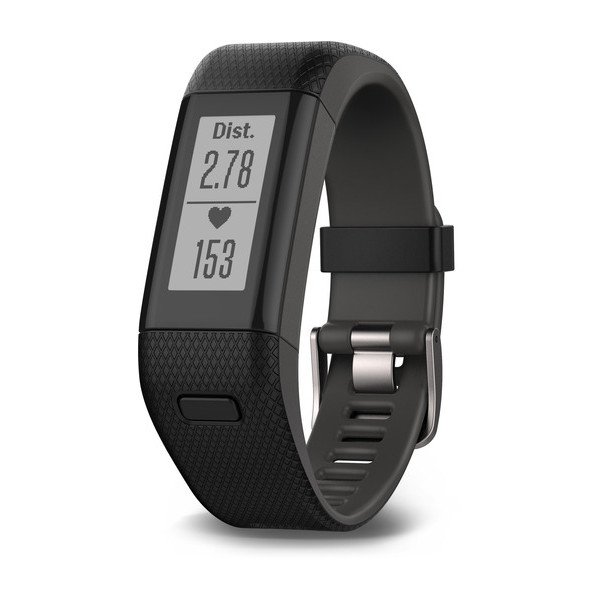 Product Dimensions: 2.5 x 0.83 x 0.48 inches, 1.12 ounces.
Manufacturer / Brand: Garmin.
Screen Size: 2 inches.
Operating System: Garmin OS.
Band Width: 21 milliliters.
Band Material: Rubber.
Batteries Used: 1 Lithium Polymer battery used.
Battery Life: Lasts up to 5 days, depending on use.
Wireless Connectivity: Bluetooth and GPS.
Compatibility: iOS and Android.
Interface Output: Monochrome touchscreen display.
Waterproof: Yes, with a 5 ATM water rating.
Heart Monitoring: Yes, with 24/7 heart monitoring.
Sleep Tracking: Yes.
Colors: Black, purple, and blue.
Extra Features: Fitness Tracker, Email, Messages, Social Media, Calendar, Pedometer, Time Display, Sleep Monitor, Phone, Alarm, Elevation Tracker, Heart Rate Monitor, Music Player.
Check out Garmin's preview of the Vivosmart HR+ below!
What We Love About The Garmin Vivosmart HR+
Built-In GPS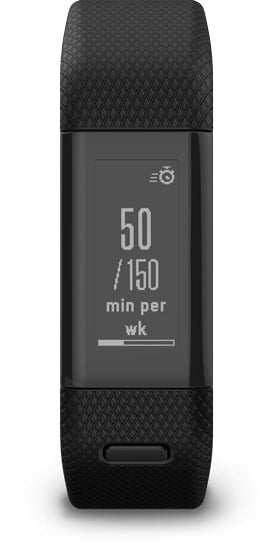 The built-in GPS the Vivosmart HR+ is equipped is probably the most important thing in this wearable.
Any fitness enthusiast out there who has been stuck with a fitness tracker that did not offer this feature knows exactly how much of a pain in the backside it is to constantly pick up your phone just to check your fitness data. Sometimes, our wearables don't even offer this feature at all even when connected to a smartphone.
Luckily for us, more and more brands have been putting out products with built-in GPS. The Vivosmart HR+ is one of them.
Now with this significant feature involved, getting the most accurate data on our location, distance, speed, and pace has never been better. Devices that don't have GPS tend to rely on an estimated distance based on your step lengths which by now you know can sometimes provide inaccurate results.
Fitness And Activity Tracking
Aside from the built-in GPS, the Vivosmart HR+ truly shines in terms of fitness and activity tracking. As I've said before, if you love outdoor activities for reaching your fitness goals then you'll love this device just as much. This certain wearable has a wide set of features to offer you.
The 24/7 heart rate monitoring will keep tabs on your heart rate on a daily basis. It will also use data regarding your resting heart rate to show any indications of improvement on your health or possible underlying problems you need to check into.
The Vivosmart HR+ also has step tracking which conveniently reminds you that it is time for fitness activities when you've been a little sedentary for a certain period of time.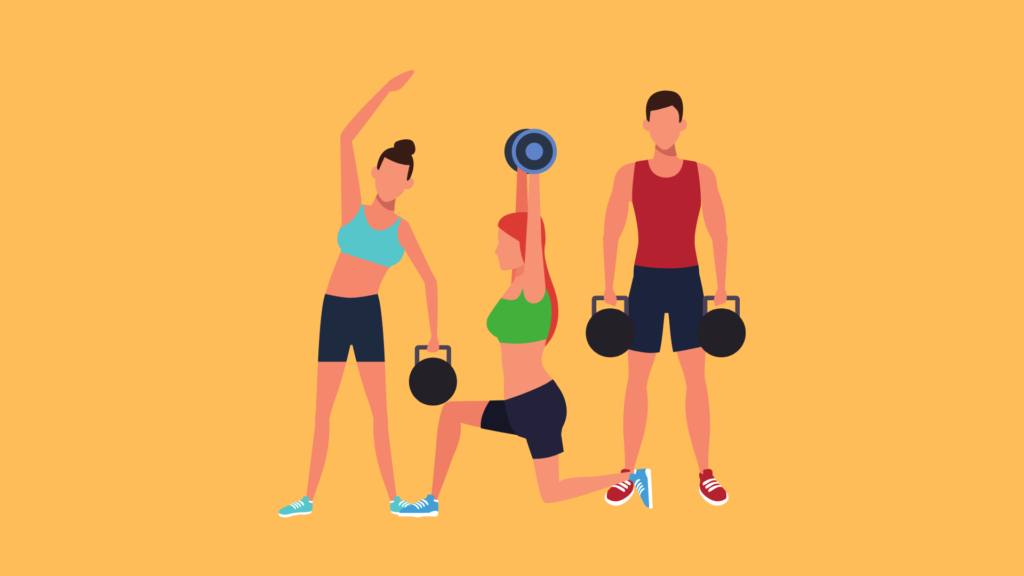 On your first time, Garmin will have a set goal prepared for you, but not to worry. You can also customize the frequency of these reminders based on your preference within the Garmin app. In addition, this feature also provides you with data on how active you've been throughout the day.
As for sleep monitoring, your sleep data will be automatically tracked and recorded in the Garmin Connect app. So you'll know your usual bedtime and how regularly you've been sleeping on time, as well as other sleeping habits. Even your nighttime bathroom breaks are saved in your data too!
Rugged Design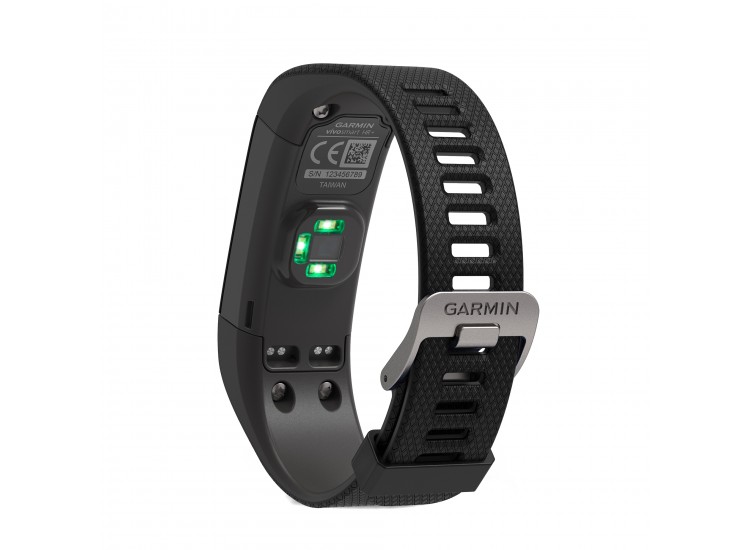 The rugged and slim design of the Vivosmart HR+ assures its users that it's built for comfort and functionality.
With a simple and minimalist band, this particular fitness tracker offers a compact form factor around your wrist that is measuring about 20mm wide across, a thickness of around 13mm through the main body, before slimming into the strap.
The Vivosmart HR+ also uses a rubber body with a textured outer finish while the inside remains smooth. It's pretty comfortable to wear overall but do keep in mind that the strap tends to run on the thicker and chunkier side. So people with smaller wrist sizes than average might find this a little awkward around their wrists.
On another note, this wearable is meant to fit snugly around the wrist. This is to ensure that the optical heart rate sensor on the back of the display detects your heart beats accurately without being disturbed by too much movement.
Notifications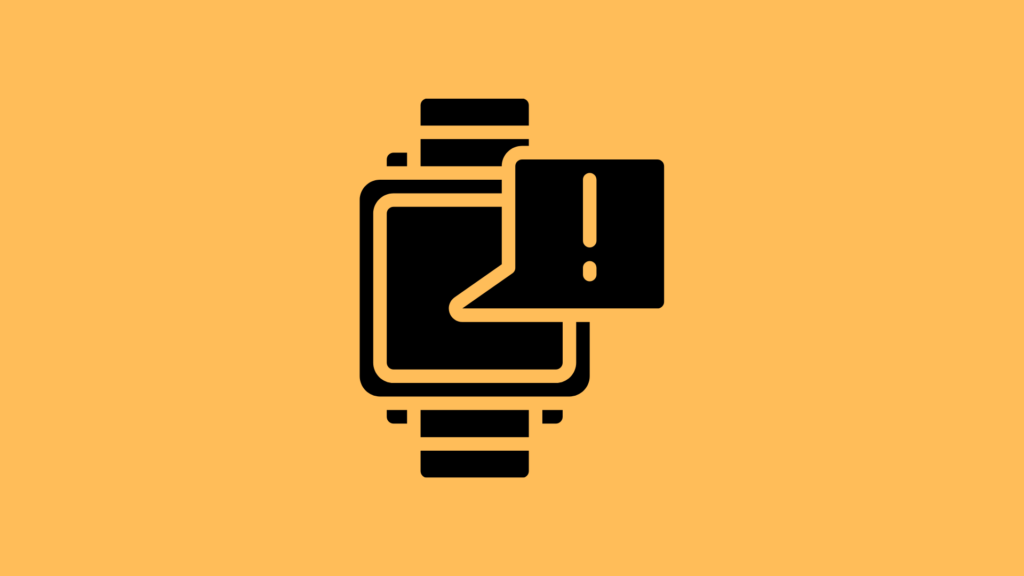 Apart from the amazing fitness-related functions the Vivosmart HR+ has, it can also provide you with notifications that you get from your smartphone. This means you'll be alerted in real-time of incoming calls and text messages without having to reach for your phone when your hands are currently preoccupied.
Personally, the narrow screen of the Vivosmart HR+ can sometimes feel a little too cramped to read notifications comfortably, but it's better than nothing.
Want to check out other fitness trackers from different brands? Click here for our top recommendations!
Our Least Favorite Thing
Basic Design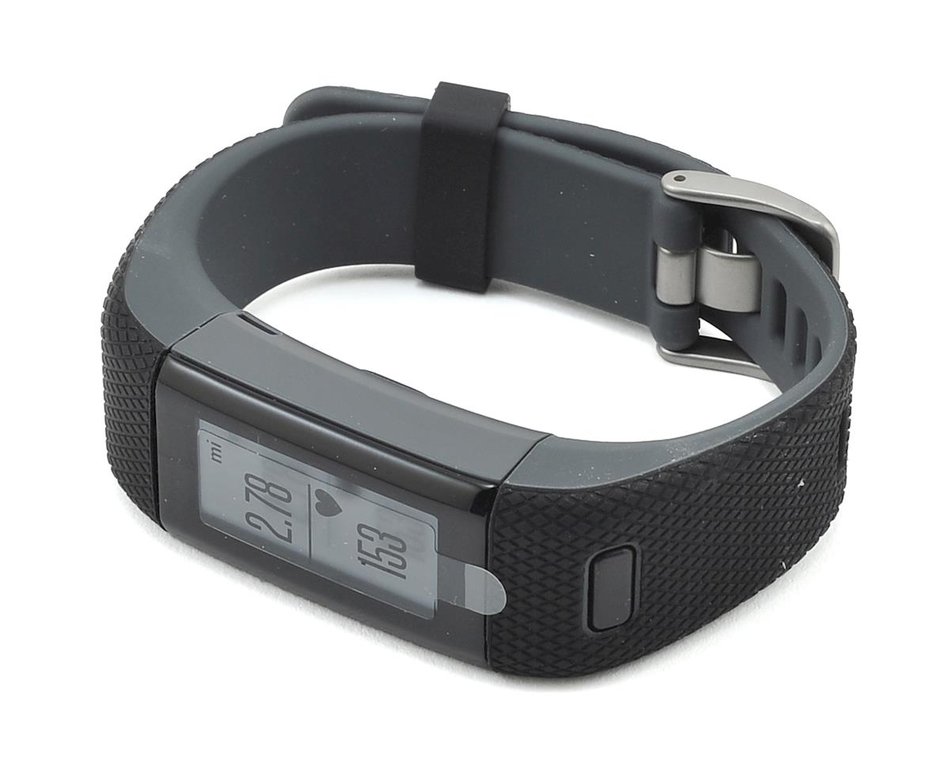 I know I complimented the Vivosmart HR+'s rugged design just earlier. But that doesn't mean I don't have any critiques over it as well. In terms of the design's functionality, there are no complaints. However, for aesthetics? It is pretty basic, especially when you've seen the likes of Apple and Samsung's wearables.
While the design of the Vivosmart HR+ may not be a big deal for some of you, it still plays an important factor for others. As more brands come out with more unique and eye-catching designs, you can't help but make comparisons.
Overall, this fitness tracker doesn't offer the prettiest-looking device in the market. It would have been great if Garmin allowed or gave us the option of interchangeable or customizable bands on the Vivosmart HR+. That would have been a huge plus. But if you prioritize substance over aesthetics, then this wearable is certainly for you.
Monochrome Touchscreen Display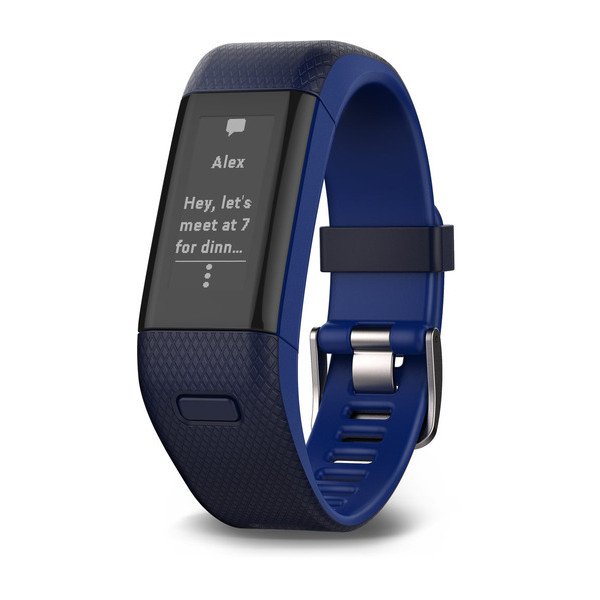 Just like my qualms with the Fitbit Charge 4, the monochrome display on the Vivosmart HR+ can be a huge downside. For some of you, this isn't much of a huge deal, and might actually prefer this type of display. But I just find the overall grayscale display quite boring to be frank.
It feels like they just took one, tiny step from the traditional digital wristwatches we are all familiar with and added fitness tracking features.
Not to mention, the monochrome tends to become almost hard to read or non-existent when you're outside. Especially on sunnier days. If you're in a room under harsh and bright lighting, the same issue occurs as well.
So if you encounter these same problems, let's hope the next iteration of the Vivosmart HR+ has a colored screen. Or if you feel this is a deal breaker, you'd be better off with searching for smartwatches or fitness trackers that actually have colored screens.
In A Nutshell
Here's a narrowed down list of the good and the bad with the Vivosmart HR+.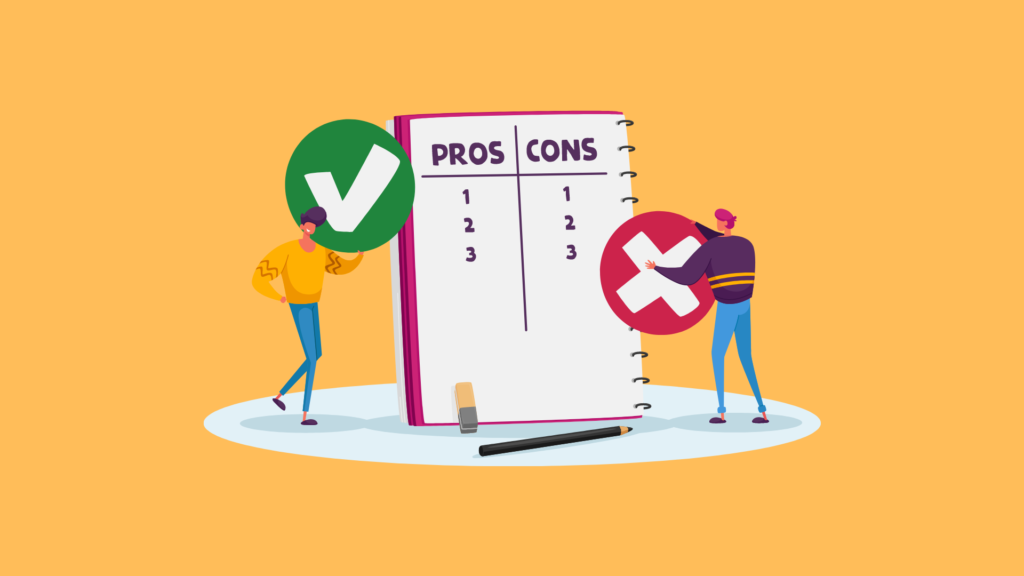 Pros
Decent 5-day battery life in a single charge depending on your usage.
Terrific fitness tracking features.
Built-in GPS allows for more accurate fitness tracking.
The ideal wearable for dedicated runners and fitness enthusiasts who love outdoor activities.
Waterproof and rugged design makes the wearable durable.
The rugged style might be suitable for people who like that kind of design.
Attractive mid-range price point.
Cons
The overall design and style of the wearable are somewhat pretty basic.
No interchangeable or customizable bands.
The monochrome screen can be improved.
Final Verdict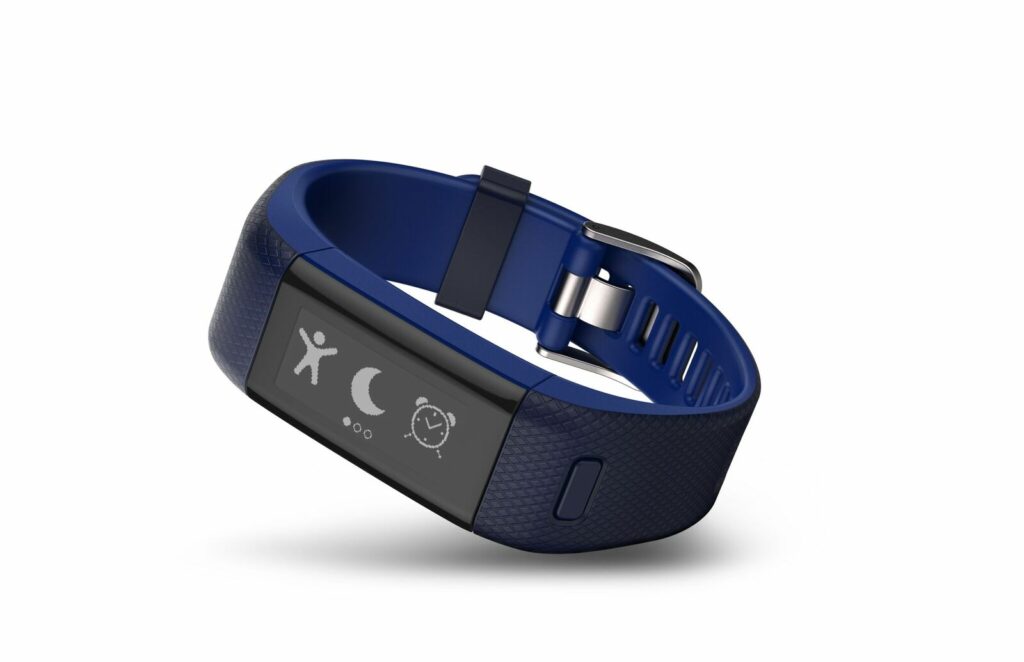 Overall, the Garmin Vivosmart HR+ is a wearable that is worth checking out and considering. Especially if you're someone who loves outdoor workouts or activities besides the usual running and walking. It provides the right set of features for anyone who wants a wearable that can keep up with their active lifestyles.
Do you already own the Garmin Vivosmart HR+? Or are you still contemplating getting yourself one? Let me know what your thoughts and experiences are with this device in the comments section below! I'd love to hear your insights!
Recommended reading for you:
The Best Fitness Trackers With GPS For 2021: Stay On Track With Your Health
Your Quick Guide To Buying Fitness Trackers With GPS 2021
The Best Smartwatches For Nurses 2021: Stay Healthy With These Wearables
The Fitbit Charge 4 Review: Your New Bestfriend To A Healthier Lifestyle
The Apple Watch Series 6 Review: Is It The Best Choice For You?
The Samsung Galaxy Watch 3 Review: Is It The Best Android Smartwatch?