Shortened daylight hours and the change of seasons tend to have varying effects on people. For some, the colder months can mean a drop in their energy, being more prone to mood swings, etc. While to others, these effects can be a lot more serious.
This is where SAD Light Therapy Lamps come in. After researching multiple light therapy lamps in the market, I'm here to tell you why the Carex Day-Light Sky Bright Light Therapy Lamp is one of the best for people with SAD.
If you're unfamiliar with the term SAD, it's an abbreviation for Seasonal Affective Disorder. According to experts, SAD is identified as a form of depression. Its symptoms usually occurring during the colder months of fall and winter. Symptoms can vary from feelings of sadness, loss of interest or energy, to difficulty in functioning or concentrating on your day-to-day activities. There's a lot more that goes into it and if you feel like you experience such symptoms, seeking a professional is highly suggested. While SAD lamps can be bought by anyone, it's good to keep in mind that light therapy lamps are best used under the advice of a medical expert.
When winter arrives and you start to feel your SAD symptoms taking their course, using a light therapy lamp is sure to help you out on those darker days. With various SAD lamps currently out in the market, I'm here to tell you why the Carex Day-Light Sky is the best choice for anyone coming down with the winter blues.
If you'd like to check out other SAD light therapy lamps, read our list of The Best SAD Light Therapy Lamps 2021 here and see where the Carex Day-Light Sky ranks!
What Is The Carex Day-Light Sky And How Does It Work?
Made by Carex Health Brands, the Carex Day-Light Sky Bright Light Therapy Lamp is a light therapy lamp made to ease the symptoms of SAD such as fatigue, loss of energy, mood swings, feelings or thoughts of sadness, and many more.
This light therapy device has the recommended 10,000 LUX by researchers and clinicians in order to replicate natural sunlight. This gives you optimal bright light therapy. Additionally, it gives you two lighting options: the full 10,000 LUX settings for light therapy sessions or the ambient option with 5,000 LUX for a softer light. The Day-Light Sky is also made of Hi-impact polycarbonate with the lens filtering 99.3% of harmful UV rays. This keeps your eyes and skin well protected.
The Carex Day-Light Sky Bright Light Therapy Lamp uses a glare-free and flicker-free LED that evenly distributes light for optimum sessions of light therapy. It's made of high-efficiency LED diodes which eliminate flicker that comes with ordinary fluorescent fixtures. It's best used for 20-30 minutes every morning to get your mood up when you've just started your day.
Compensating for its non-adjustable legs, the Day-Light Sky's head can be moved in different angles depending on where you're comfortable. On the side of the lamp's arm, you'll find large chrome pushbuttons. This is where you'll also see the light head to adjust the height and angle. When you push this button, the lamp will be locked into place and won't move. At the base, a toggle switch is located that allows you to switch turn off the device, or change between the 10,000 LUC and 5,000 LUX.
In case you're finding difficulty in setting up this light therapy lamp, here's a complete user guide and an instructional video provided by Carex Health Brands themselves on how to build the Carex Day-Light Sky properly.
See Where The Carex Day-Light Sky Bright Light Therapy Lamp Ranks In Our List Of The Best SAD Light Therapy Lamps 2021.
Pros
The Day-Light Sky excels in a lot of things that make it stand out from every other SAD lamp you see in the market. I've listed them below:
Design
A noteworthy feature to point out from the Carex Day-Light Sky Bright Light Therapy Lamp is its smart design.
If you have gone through Amazon's list of light therapy lamps, you'll see there is a variety of shapes and sizes. Some manufacturers have their products shaped like a square or a circle. There are light therapy lamps that rest on top of your desk, directing the light right in front of your face. Some have their lights a little too small. Some even sacrifice their light intensities to make their products more portable. The list is endless. But this is where the Day-Light Sky shines the brightest.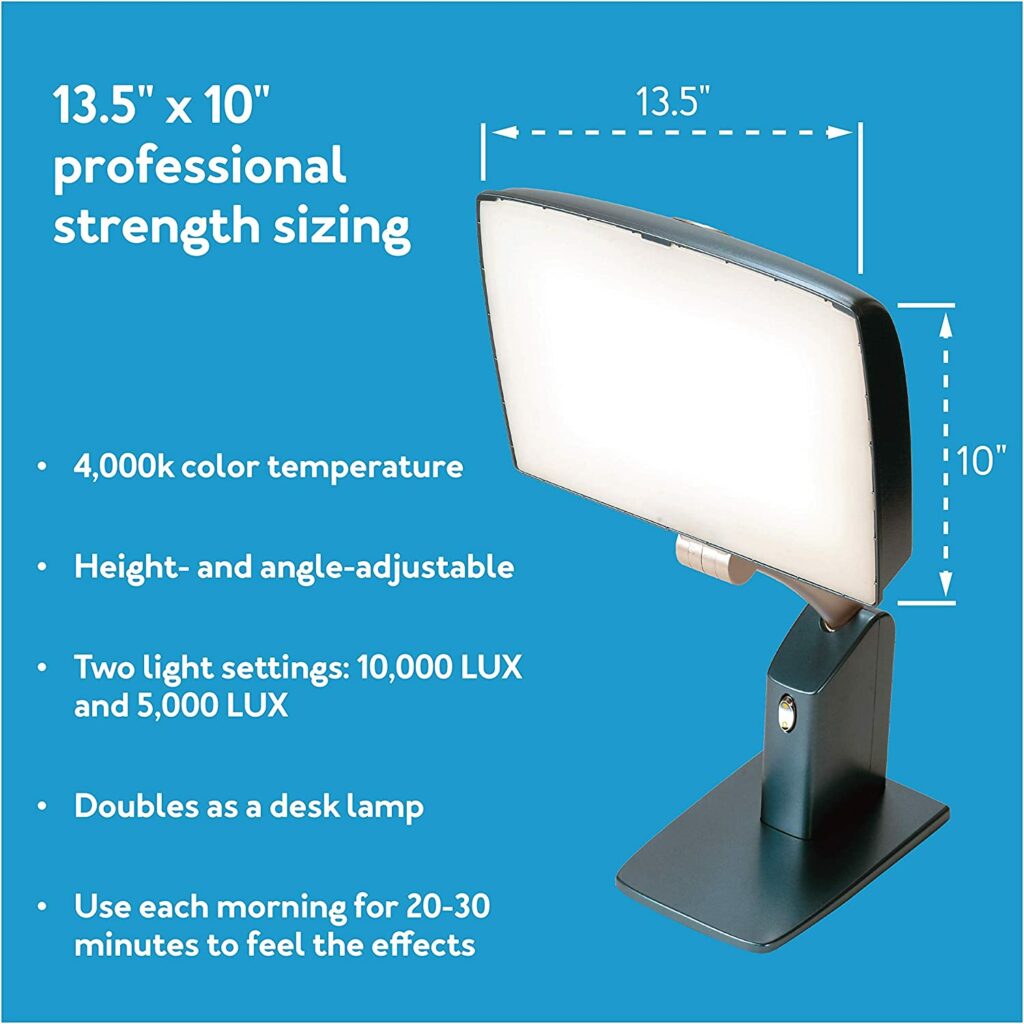 The Day-Light Sky is designed to perfectly mimic outdoor light or natural sunlight. It's designed in a way that the light enters your eyes from above, exactly how the sun is like during the sunnier seasons. This is considered to be the most beneficial and optimum positioning during light therapy sessions.
In addition, the lamp's ability to pivot in different angles and directions gives you enough versatility to either use it for work or light therapy sessions.
Overall, I find the design fairly contemporary. It fits perfectly in any office or indoor setting as well. It's sturdy and well-built. It's not too bold or loud or too medical device-looking. Despite its size, I find it quite discreet and can pass off as a traditional lamp rather than a medical instrument sitting on your house.
Light
Aside from the Day-Light Sky's ergonomic design, its light quality and performance are just as impressive.
This light therapy lamp is glare-free and has zero-flicker. I've also mentioned before that it has two light settings. The 10,000 LUX gives you the optimal effect during light therapy sessions. While the 5,000 LUX provides more ambient light for a casual setting.
The Day-Light Sky's light quality combined with its design can also be perfect for crafting or detail-oriented work. Rest assured that you won't experience any headaches from this device as it also includes a diffuser cover to help soften the light. That way, it won't be too bright to cause any problems for you.
Distance
The Day-Light Sky's field of light is huge. You actually get up to 12 inches of distance from its 10,000 LUX of light. It gives a comfortable enough distance to move around without losing light.
While it still falls 4 inches short of the recommended minimum distance, I find the Day-Light Sky's field of light already generous. Compared to other light therapy lamps, some only give you 6 inches or even 2 inches of distance. So the Day-Light Sky still delivers well on this aspect.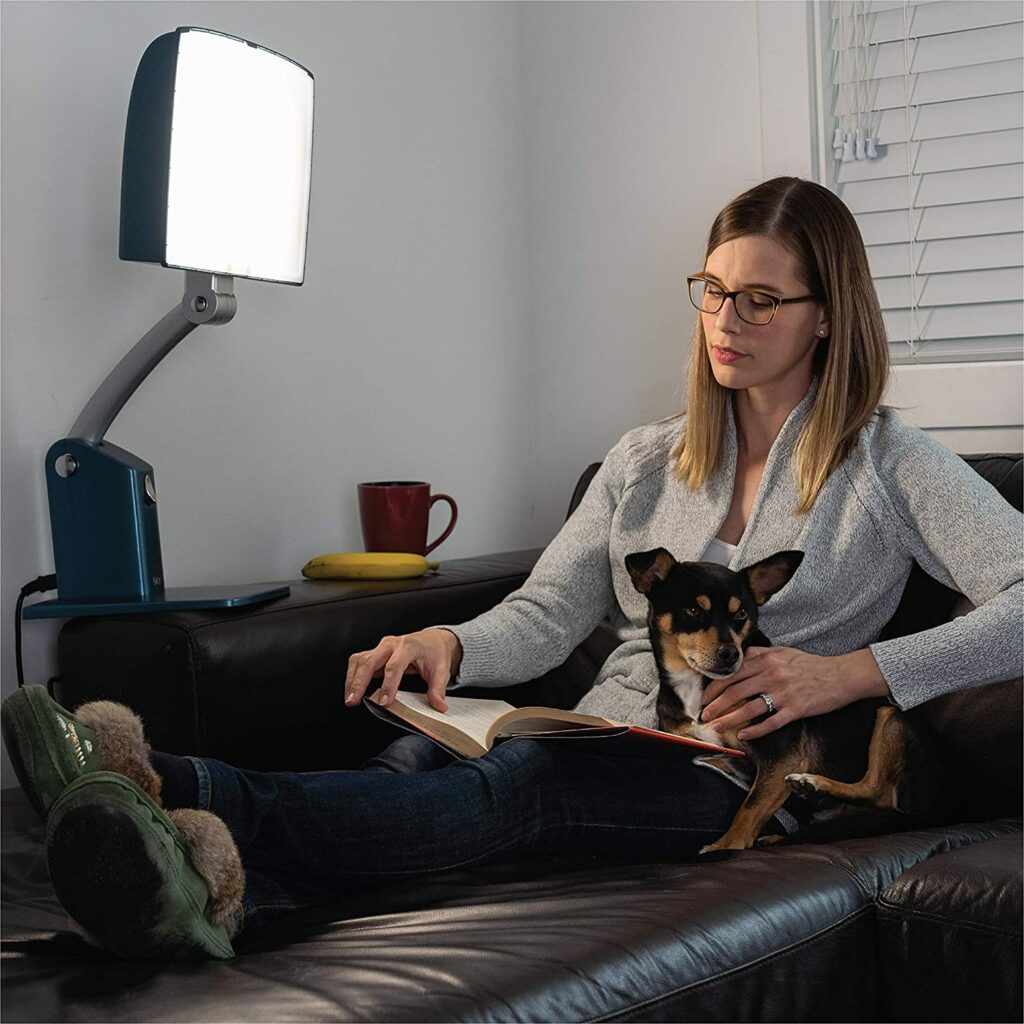 Cons
No product is perfect and the Day-Light Sky is no exception. Though admittedly, it was quite difficult to find flaws on the Day-Light Sky. Some of these I don't mind at all, but it's definitely something to keep in mind in case they might be potential deal-breakers for you.
Size
If you're concerned with heavy and large products, then the Day-Light Sky's size might pose a problem. Its unit is definitely not the most portable or has the lightest design in the market. In fact, it might even be one of the largest.
For reference, the Day-Light Sky's product dimensions are as follows: 13.75 x 10.5 x 27.25 inches; 8.2 Pounds.
So if you're thinking of putting the Day-Light Sky on top of your work desk, be ready that it's going to take up a lot of space. This will potentially make working uncomfortable for you. If the lamp is placed behind your monitor, you might find it difficult to feel the effects of the light as you'll be out of its range already.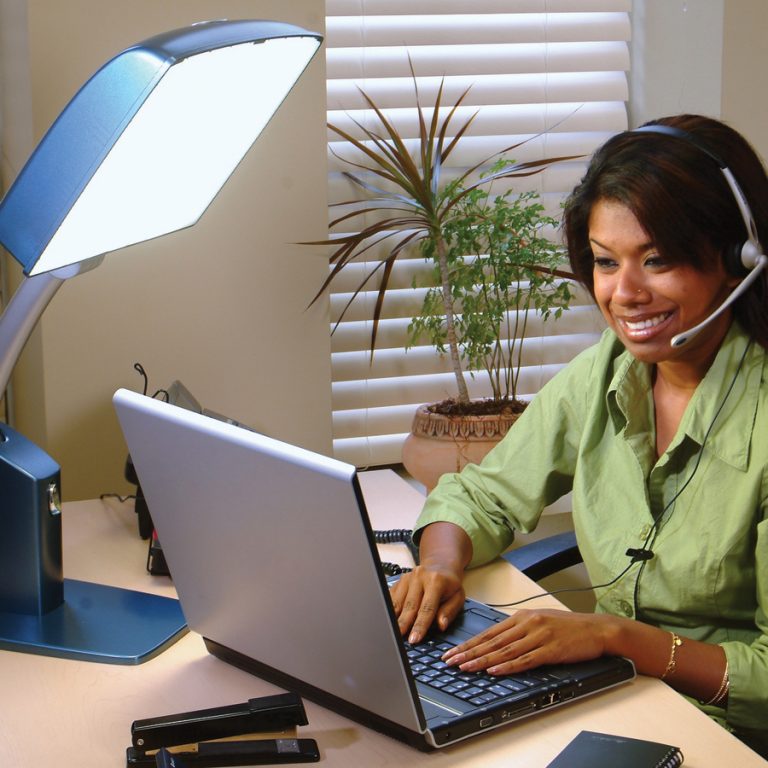 Bulb Replacements
Because the Day-Light Sky uses fluorescent bulbs, you're going to have to replace them from time to time. Though they are rated for 8,000 hours, the light intensity does degrade over time. So you're not always going to get as much brightness as you did during the first time of use.
If you're someone iffy with this kind of feature, you can try looking for light therapy lamps that use LED lights instead.
Timer Function
As we progress with technology and gadgets, we kind of lean more to items that automatically do things for us. Sadly, this cannot be expected with the Day-Light Sky.
A lot of light therapy lamps already offer automatic timer functions where the device turns off once the session is over, but this doesn't apply to the Day-Light Sky. Instead, you have one button for switching between different modes of lighting and for turning it on/off.
Personally, I don't see this as a huge deal breaker, but adding an automatic timer would have been definitely nice. Saves me the effort of having to use a separate timer!
Color
This is most likely just me nitpicking, but I'm quite fussy when it comes to colors. Especially when they are devices that will be out on display in my house.
I've mentioned previously that the Day-Light Sky has a fairly contemporary design. While it fits in perfectly in almost any interior, it can come off a little bit too plain for me. You only get one color option, which the manufacturer describes as teal blue. I don't mind the blue at all, but different color options would have been a great plus for me.
My Final Verdict
In conclusion, the Carex Day-Light Sky checks the criteria I have when it comes to being effective and safe. It delivers well on the therapeutic aspect and produces high-quality light, it's well-built and just overall topnotch.
In addition, it's cheaper compared to its competitors in the market. For under $200, The Day-Light Sky packs a lot of power and generally has positive feedback from people who have bought and used it. They have stated it gave them almost instant effects, relieving them of their winter blues, and left them with a more positive outlook during the winter season. Overall, this lamp makes a great alternative to the lack of daylight hours we get once the colder seasons arrive.
Have you gotten yourself a Carex Day-Light Sky light therapy lamp yet? Comment down below and let me know how your experience was!
Recommended reading for you:
Brighten Up Your Spirit With The Best SAD Light Therapy Lamps 2021.
Keeping Your Winter Blues Away: A Guide On Choosing The Best Light Therapy Lamp For You.