If you have ever found yourself feeling down or moody more than usual during the colder and darker months of the year, it is possible that you may have Seasonal Affective Disorder or better known as SAD. If that's the case, then this article is made just for you. To help ease those symptoms, I've come up with a list of the Best SAD Light Therapy Lamps 2021.
Affiliate Disclosure: I am grateful to be of service and to bring you content free of charge. In order to do this, please note that when you click links and purchase items, in most cases I receive referral commissions. Eventually, I may earn enough to buy a beer or two.
Check Out Our Buyer's Guide On Choosing The Best Light Therapy Lamp For You.
What is SAD exactly?
For those who are not familiar, SAD is a type of depression that is related to the change of seasons. According to the American Psychiatric Association, people who experience these tend to have mood changes and symptoms akin to depression during the colder seasons when there is less sunlight, which usually improves on the arrival of spring.
SAD has also been linked to a biochemical imbalance in the brain which is caused by shorter hours of daylight and less sunlight during the winter. As the seasons change, people who have SAD experience a shift in their circadian rhythm (also known as our biological internal clocks) which causes disruption on their daily schedules or overall difficulty with keeping up on their daily activities. 
Will a SAD Light Therapy Lamp help?
Now moving on to the main topic of our article, a SAD Light Therapy Lamp is known for easing those SAD symptoms. It helps to provide extra light to make up for those shortened daylight hours during the winter. 
Don't get me wrong, these lamps are not miracle workers. They're not going to magically cure SAD and make it go away for good but it has been found effective in improving one's mood according to the NHS.
So if you're looking to combat those winter blues, then you might just find some of the best SAD Light Therapy Lamps of 2021 below.
---
1. Carex Day-Light Sky Bright Light Therapy Lamp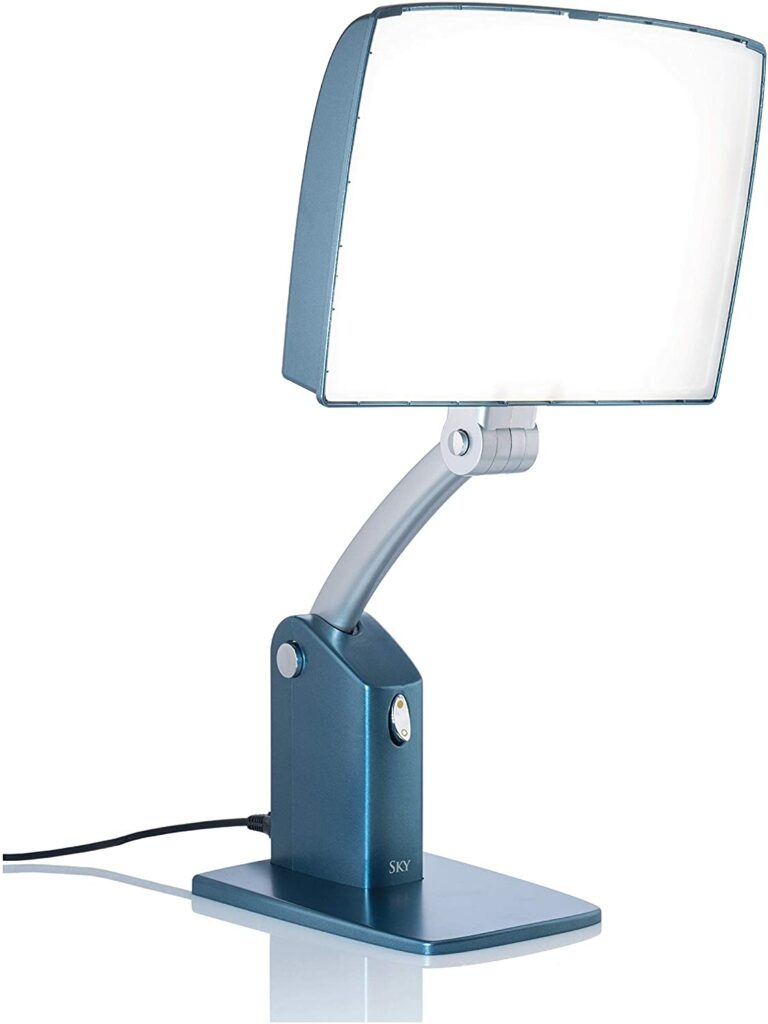 Made by Carex Health Brands, the Carex Day-Light Sky Bright Light Therapy Lamp is an LED lightbox made to combat a lot of sleeping concerns. Such as fatigue, low energy, and circadian sleep disorders. 
It's one of the largest SAD light therapy lamps in the market that delivers the recommended 10,000 LUX light therapy to keep your SAD at bay. You also get to have two brightness options: one set provides you high brightness with the 10,000 LUX for therapy sessions while the other light setting gives a softer light perfect for any kind of situation.
This particular lightbox has a glare-free and flicker-free LED. This evenly distributes light made of Hi-impact polycarbonate with the lens filtering 100% of harmful UV rays. This light therapy lamp also meets the standards for safe sun lamp therapy and full-spectrum light therapy.
What Makes The Day-Light Sky So Great?
When making this list, I decided to place this at the top as it was my best pick for the best SAD Light Therapy Lamp for 2021 due to a number of things. It has great coverage, doesn't overheat, is adjustable, and is much more affordable compared to the other SAD lamps you might find in this article. If you're looking for light therapy lamps with more intensity in their brightness, there are definitely a lot of those in the market which will be covered in this list as well. But the Carex Day-Light Sky Bright Light Therapy Lamp is good for beginners and anyone who just started venturing into SAD lamps.
According to Carex, their Day-Light Sky Bright Light Therapy Lamp is best for people who feel mild to moderate symptoms of SAD such as sleep issues, fatigue, irregular mood swings, etc. This device can help relieve those symptoms, brightening up your mood and increasing your energy.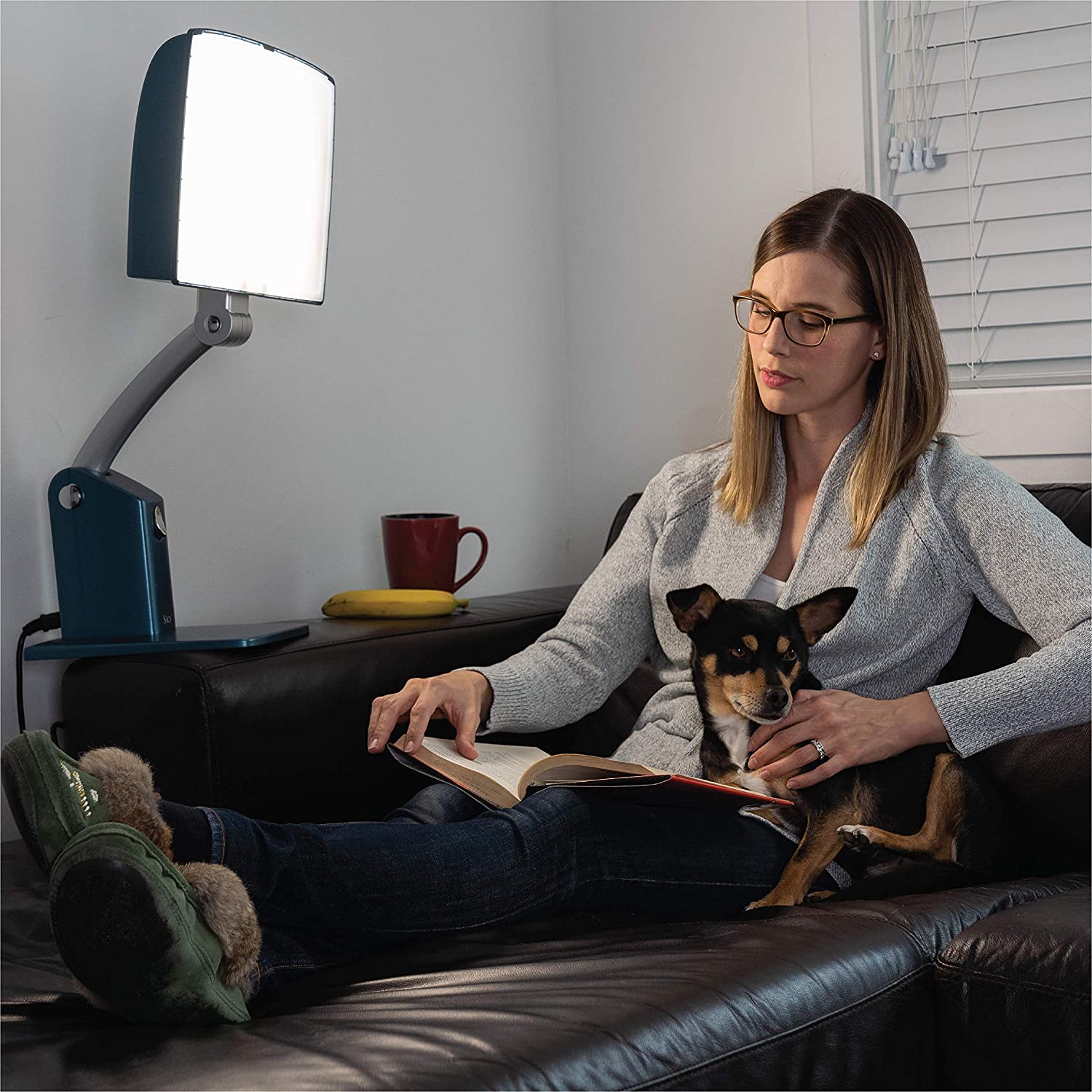 Impressive Coverage
Another impressive feature of the Day-Light Sky is its reach. This light therapy lamp is still 4 inches short of the recommended minimum distance for a comfortable session, only reaching 12 inches with its 10,000 LUX. But keep in mind that the lamps with the same 10,000 LUX have an average reach of 6 inches. Meanwhile, several other lamps only reach 2 inches.
Additionally, you can also still sit at a more comfortable distance from the Day-Light Sky. You'll still benefit from light therapy without the maximum 10,000 LUX of light.
This is enough to put the Day-Light Sky's performance on top of our Best SAD Light Therapy Lamps 2021.
So if you're still a little iffy and a little unsure about light therapy lamps, this is a great SAD lamp to start with. So you can see for yourself if these kinds of lamps will improve your Seasonal Affective Disorder. It's beginner-friendly, has great coverage, and has solid brightness.
Rating: 9.5 out of 10.
Where Can I Buy The Carex Day-Light Sky Bright Light Therapy Lamp?
---
2. Northern Light Technologies Boxelite
Northern Light Technologies is probably one of the most preferred and popular brands when it comes to producing the best SAD light therapy lamps in the market. So it's no surprise that their products will eventually find their way on my list. 
Like the Carex Day-Light Sky, the Northern Light Technologies Boxelite has a 10,000 LUX of light that's UV-blocked and powerful glare-free fluorescent bulbs that offer a bright and comfortable diffused light designed to mimic sunlight. Due to its large screen, the Boxelite's 10,000 LUX of light is able to reach a distance of 14 inches, perfect for people who find the average 6 inches too close for comfort. 
The Boxelite also comes in with a durable metal casing, a long, sturdy cable, and a stand in case you'd like to have it placed on a stand instead of a table.
Brighter Days Ahead With The Boxelite
With the Boxelite, you're sure to feel immediate changes in your mood. Almost like you just stepped out of the house and had a walk in the sun. While it's nothing drastic, the boost of spirit and energy is there. It became more and more noticeable the more the Boxelite was used. I would even describe the light therapy sessions akin to a face looking up onto the sun, just basking in its light.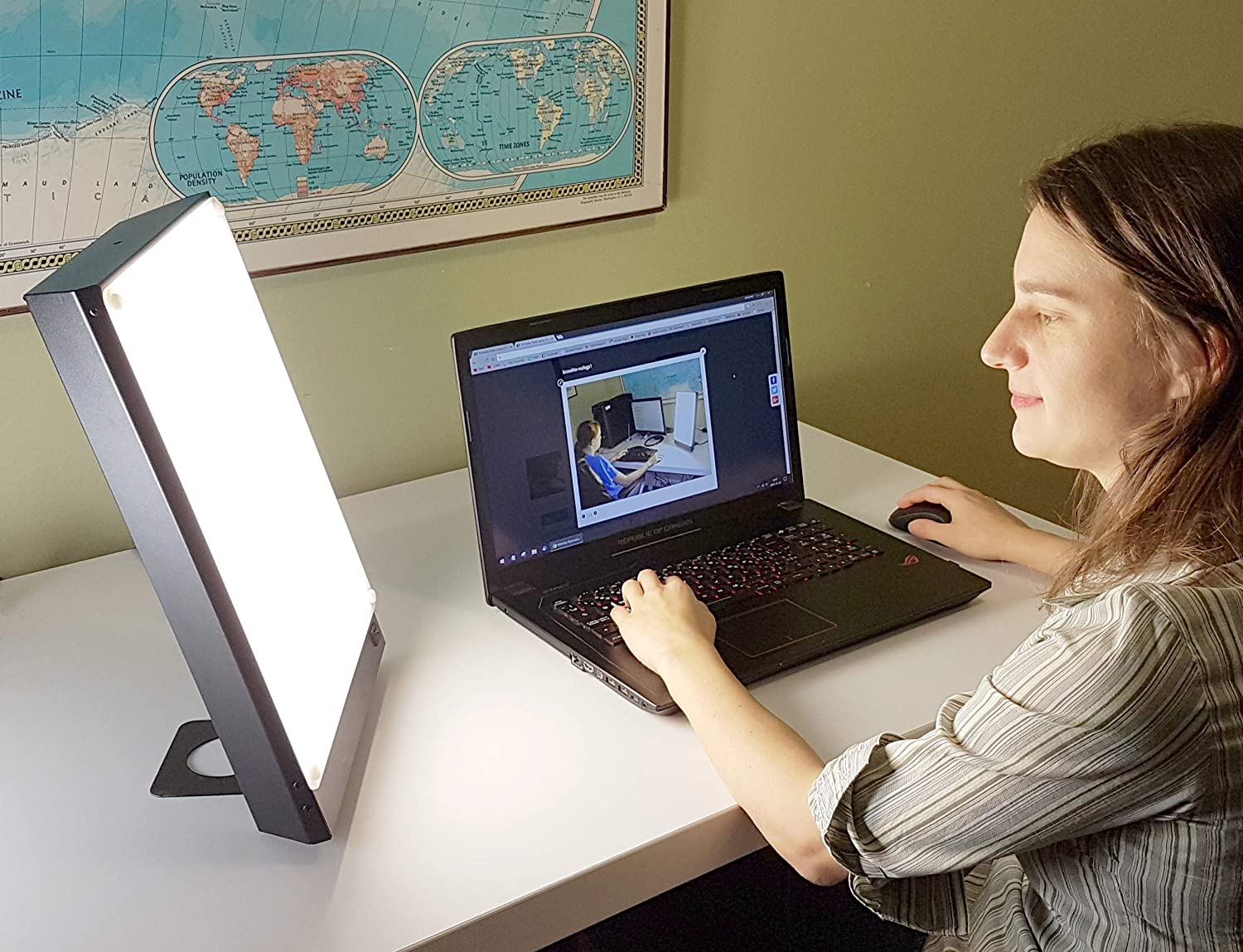 It's quite odd to think how artificial light can replicate sunlight and I agree. Nothing does beat the feeling of the actual warmth of sunlight. After all, we all need some Vitamin D to keep our bodies healthy. But the Boxelite is definitely as close as it gets. It provides an easy and quick fix for anyone who has SAD during the winter season.
Size Matters
I think my only gripe with the Boxelite is that it actually a lot bulkier and heavier than it looks especially in the pictures. It's not a very huge difference, but keep in mind that's it not the most portable device to carry around. The great thing about it though is how sturdy it feels. 
Rating: 9 Out of 10.
Where Can I Buy The Northern Lights Technologies Boxelite?
---
3. Lumie BodyClock Active 250 Wake-Up Light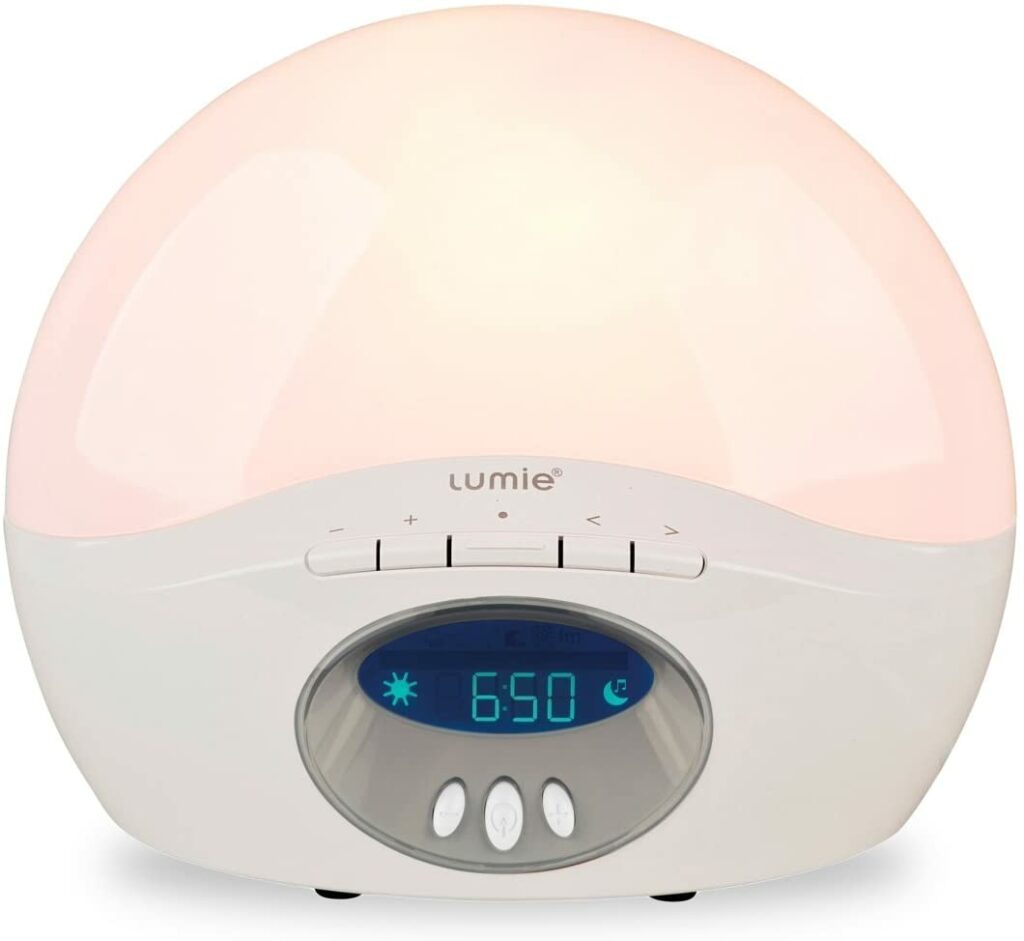 A little different from the previous products mentioned here, the Lumie BodyClock Active 250 Wake-Up Light is a bedside alarm clock that simulates a natural and gradual sunrise. It's perfect for people who have difficulty in sleeping or suffer from circadian sleep disorders. 
This alarm clock helps you wake up naturally by simulating sunrise that gradually brightens over 15, 20, 30, 45, 60, or 90 minutes; completely customizable for you.
Rise and Shine Or Say Goodnight With The Lumie BodyClock
With the Lumie BodyClock, there's a lot of exciting features that really make me look forward to starting my day then winding down once nighttime comes.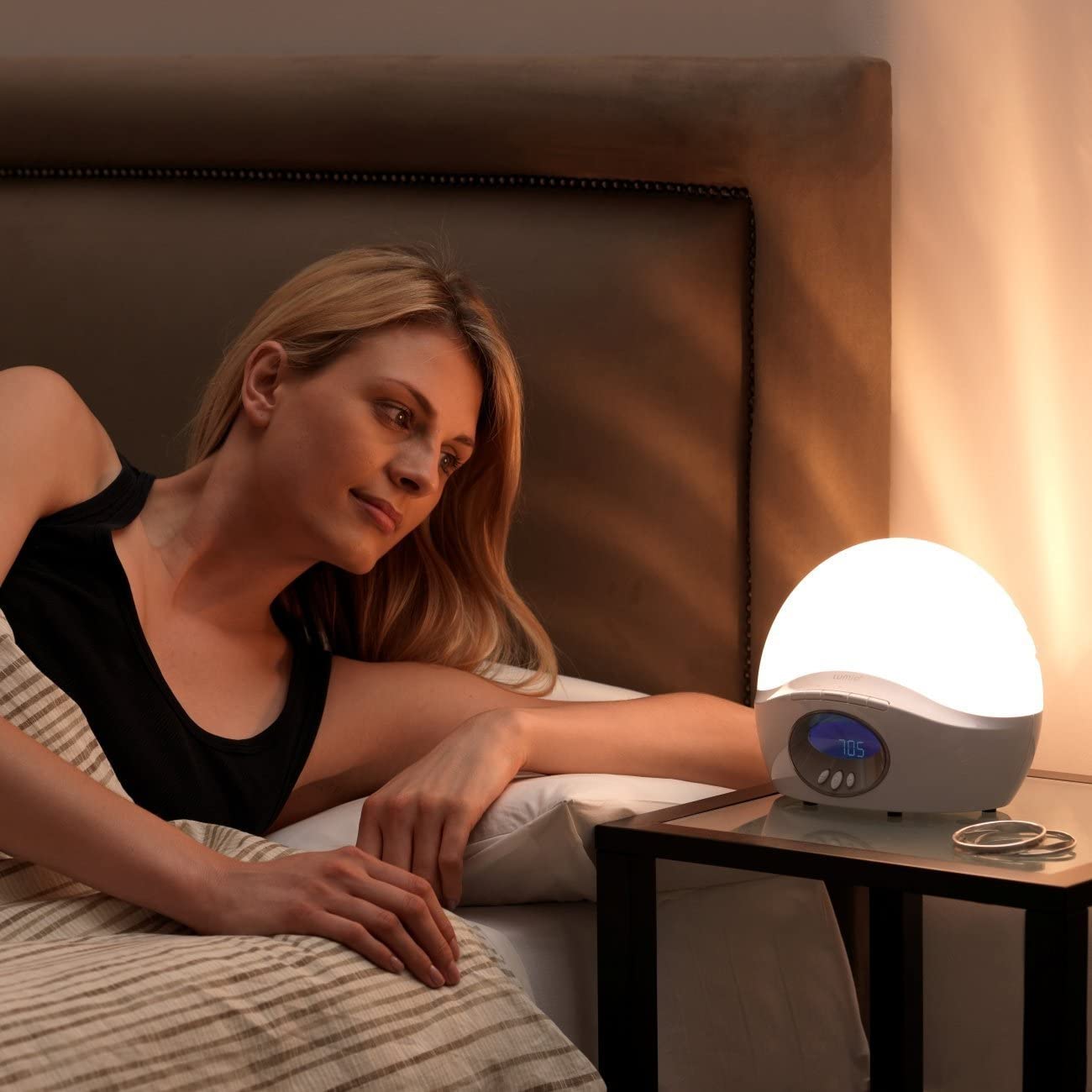 When setting the alarm for the morning, you can choose whether you'd like to wake up with a dawn chorus or a rooster's call. There's also the option of an FM radio and six other different sound effects. If you think you set your alarm a little too early or just simply not ready to wake up yet, you can easily tap the snooze button.
If you have trouble sleeping at night, the Lumie BodyClock includes a sunset feature that will help you unwind and be ready for bed. Aside from morning sounds, you also get nighttime sounds like wave sounds or white noises to help you lull to sleep. If you don't like sleeping in total darkness, this clock also acts as a nightlight and has a convenient dimmable bedside lighting.
Benefits and Downsides
When it comes to a healthy lifestyle, a regular and healthy sleep schedule is often overlooked. Studies even show that it is one of the most common yet frequently overlooked health problems. People with sleep disorders or who suffer from wakefulness are often hindered, having their health adversely affected.
This kind of thing gets even worse once the winter season is here. As the colder season arrives, many people feel less productive and lacking in energy as the months bring shorter hours of sunlight, which is a natural signal for our bodies to know that it's time to wake up.
If you're one of these people, the Lumie BodyClock into your lifestyle might just be what you need. While you're asleep, the Lumie BodyClock gradually lights up, mimicking the sunrise, and prompts your body to reduce the production of sleep hormones such as melatonin and increase the levels of hormones like cortisol that help you wake up and start your day.
On the other hand, if you're looking for a SAD lamp with more intensity in light, the Lumie BodyClock might not work for you as it only ranges in illuminance from 100 to 300 LUX. It's best to pair it with a SAD Lamp that has around 10,000 LUX of light for optimum effects.
Rating: 8 out of 10.
Where Can I Buy The Lumie BodyClock Active 250 Wake-Up Light?
---
4. Northern Lights 10,000 LUX Light Therapy Desk Lamp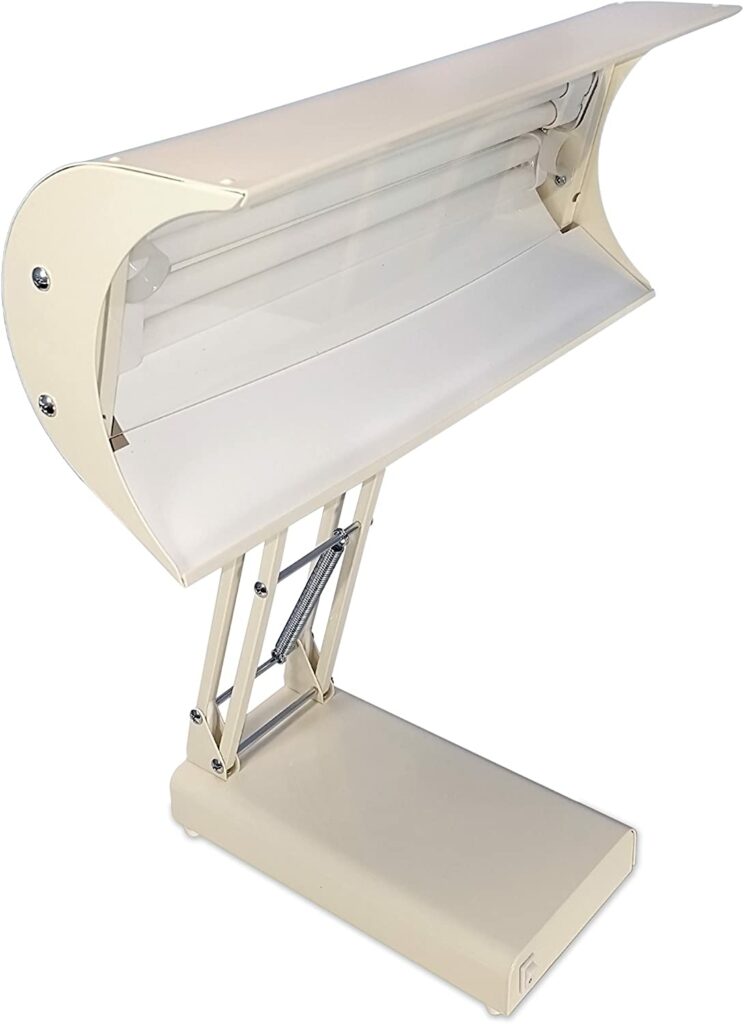 A personal favorite of mine is the Northern Lights 10000 LUX Light Therapy Desk Lamp. It's also another impressive product from Northern Lights Technologies.
As a huge bookworm, I genuinely appreciate how this Light Therapy Lamp is shaped perfectly for a desk lamp. Whenever the colder season arrives, I'd always feel less energetic in doing things and that includes reading. But with this particular light therapy lamp, I can easily go on for hours with my nose between several books as it compensates for the lack of sunlight. 
Powerful and Well-Built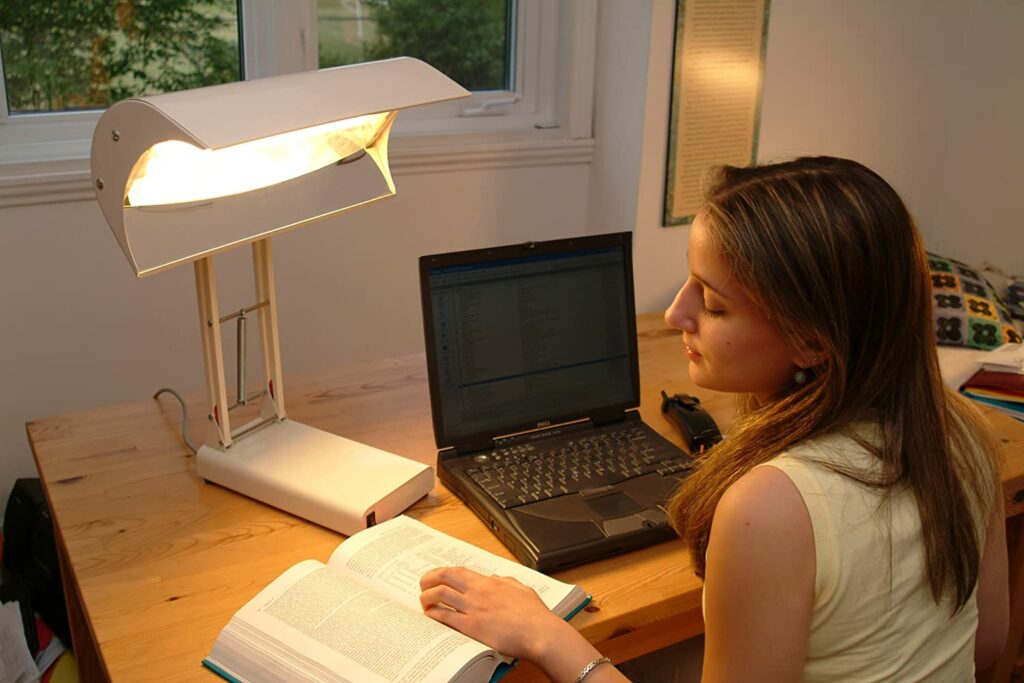 One feature of the Northern Lights 10,000 LUX Light Therapy Desk Lamp that really stands out is how it can reach up to 18 inches of distance with its 10000 LUX of light, surpassing every other light therapy lamp in this list and giving you enough comfortable space from the desk lamp itself. 
Aside from providing bright, therapeutic light, this desk lamp runs on electronically powered ballasts which assure reliable performance with guaranteed no flickers and no hums as well as having UV-blocking. Its adjustable design also allows you to customize the height and the angle at which the light will be shining. It's easy to rotate around and change the light's direction as it is not one shape, unlike other SAD lamps, giving me more freedom to move around without losing my light.
While the desk lamp can be quite heavy, it compensates for how well-made and sturdy it feels. It will provide long term performance without having to change or make any replacements whatsoever for the years to come. Since it's built like an actual desk lamp, it's safe to say it'll be staying on my table where I'll be doing most of my work so I will always have access to my light whenever I please.
Rating: 8.5 out of 10.
Where Can I Buy The Northern Lights 10,000 LUX Light Therapy Desk Lamp?
---
5. Flamingo 10,000 LUX Bright Light Therapy Floor Lamp
If you prefer floor lamps over SAD lamps that you have to sit on your desk then the Flamingo 10,000 LUX Bright Light Therapy Floor Lamp might be perfect for you. 
The Flamingo Light Therapy Floor Lamp stands at 4-feet tall and just as the name suggests, offers a 10,000 LUX that are full spectrum with protective UV coating. Personally, I think it's perfect for placing in the living room to replace your standard floor lamp. It will almost feel like you have sunlight right in the comfort of your home.
Portability + Maximum Comfort
The Flamingo Bright Light Therapy Floor Lamp is definitely a stand-out in this list due to its unique design. Among the sea of desk lamps, you get this free-standing and somewhat portable floor lamp. But I find that's what makes this light therapy lamp so great. 
Having this type of light therapy lamp means it's much more versatile and easier to carry around. Despite it being taller, the long neck of the Flamingo bright light therapy floor lamp makes it convenient to move around the house without having to worry about the body accidentally burning me. Usually, with desk lamps or other lights you have to place on your desk, they get too hot to carry from room to room but you don't experience the same problem with the Flamingo. Just be careful in handling it so the head doesn't hit any hard, solid surfaces!
In addition, this floor lamp is also pretty easy to assemble as long as you follow the instructions provided. It's just a matter of screwing all the parts together. It's fool-proof and before you know it, you'll have the Flamingo with you all over the house. Additionally, I find the Flamingo can also double as a great home decor to my home.
According to the manufacturers, it's best to start with 2 minutes of exposure a day when using the lamp. Try out different distances first until you establish which you'll be comfortable with. Then gradually over the course of a 2-week period, you can lengthen your exposure and shorten your distance with the floor light until you reach your desired light therapy minutes.
Rating: 8.5 out of 10.
Where Can I Get The Flamingo 10,000 LUX Bright Light Therapy Floor Lamp?
---
6. Philips GoLite BLU Energy Light Therapy Lamp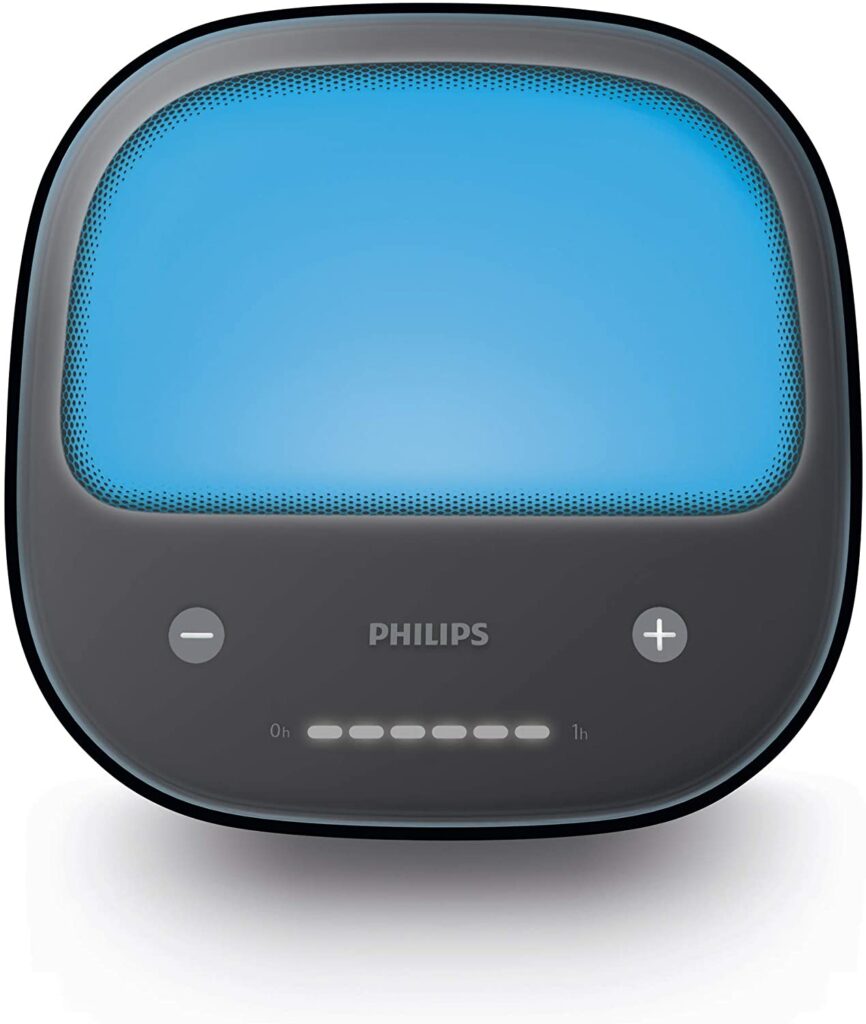 If portability is your main priority in finding the perfect SAD light therapy lamp, then I will highly recommend you check out the Philips GoLite BLU Energy Light Therapy Lamp. It has a five (5) light intensity settings to choose from and uses a UV-free light making it completely safe for your eyes and skin.
I have to say it's one of my favorites from this list as well. I find the blue light coming from this tiny light therapy lamp really great in improving my mood during the colder months of the year. More importantly, it's tiny enough that I can put it and carry anywhere I'm comfortable. Imagine it's like having a mini sun in your backpack!
No More Winter Blues With the Philips GoLite BLU Energy Light Therapy Lamp
Normally, the standard for SAD light therapy lamps to be effective they have to have 10,000 LUX of light in order to mimic the natural sunlight. However, the GoLite BLU only produces 200 LUX of light. For some, this is a huge con. Which is understandable. The point of getting a light therapy lamp is to compensate for the lack of sunlight during the winter season. So if you're looking for light therapy lamp with more intensity, then the GoLite BLU might not work for you.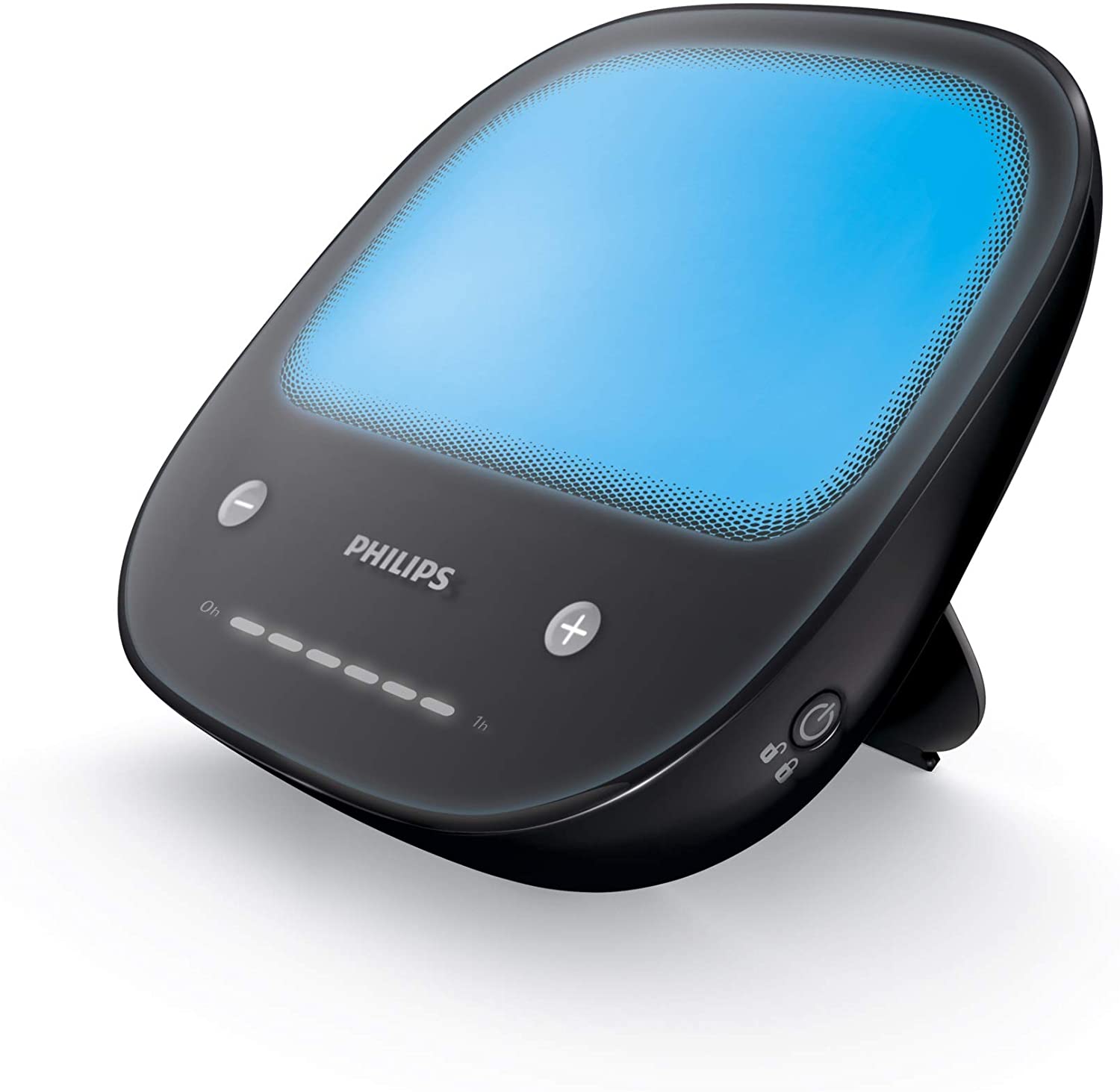 On the other hand, I find the blue light so efficient in improving my mood that I don't mind the lowered brightness in this tiny device. To me, it mimics a sunny blue sky more than the actual sunlight other light therapy lamps go for.
According to a study, people who received blue light therapy has been found to have a significant improvement on the depression scale. There were also improvements found in sleep disturbance, fatigue, concentration, restlessness, and irritability. While it's not a cure-all, I can certainly say I feel more or less the same effects and improvements upon using the Philips GoLite BLU Energy Light Therapy Lamp.
Rating: 7.5 out of 10.
Where Can I Buy The Philips GoLite BLU Energy Light Therapy Lamp?
---
7. Sunrise Sensations – DayBright Light Therapy Lamp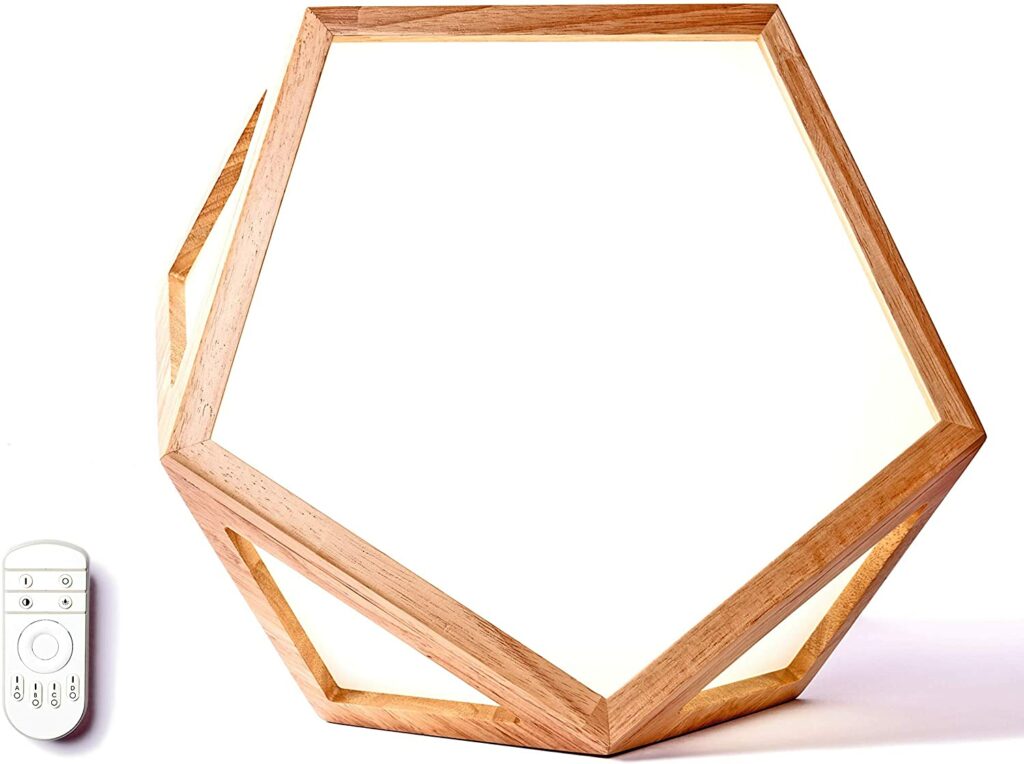 If I were to pick the best-looking light therapy lamp from this list, the Sunrise Sensations DayBright Light Therapy Lamp would be my top choice. Besides looking stylish, this is also a solid pick for a great SAD light therapy lamp.
The DayBright Light Therapy Lamp has everything you need: 10,000 LUX of light that's warm, fully adjustable, and remote-controlled, and UV-free LED technology that gives full-spectrum light with optimal effect on your circadian rhythm.
When Style and Functionality Collide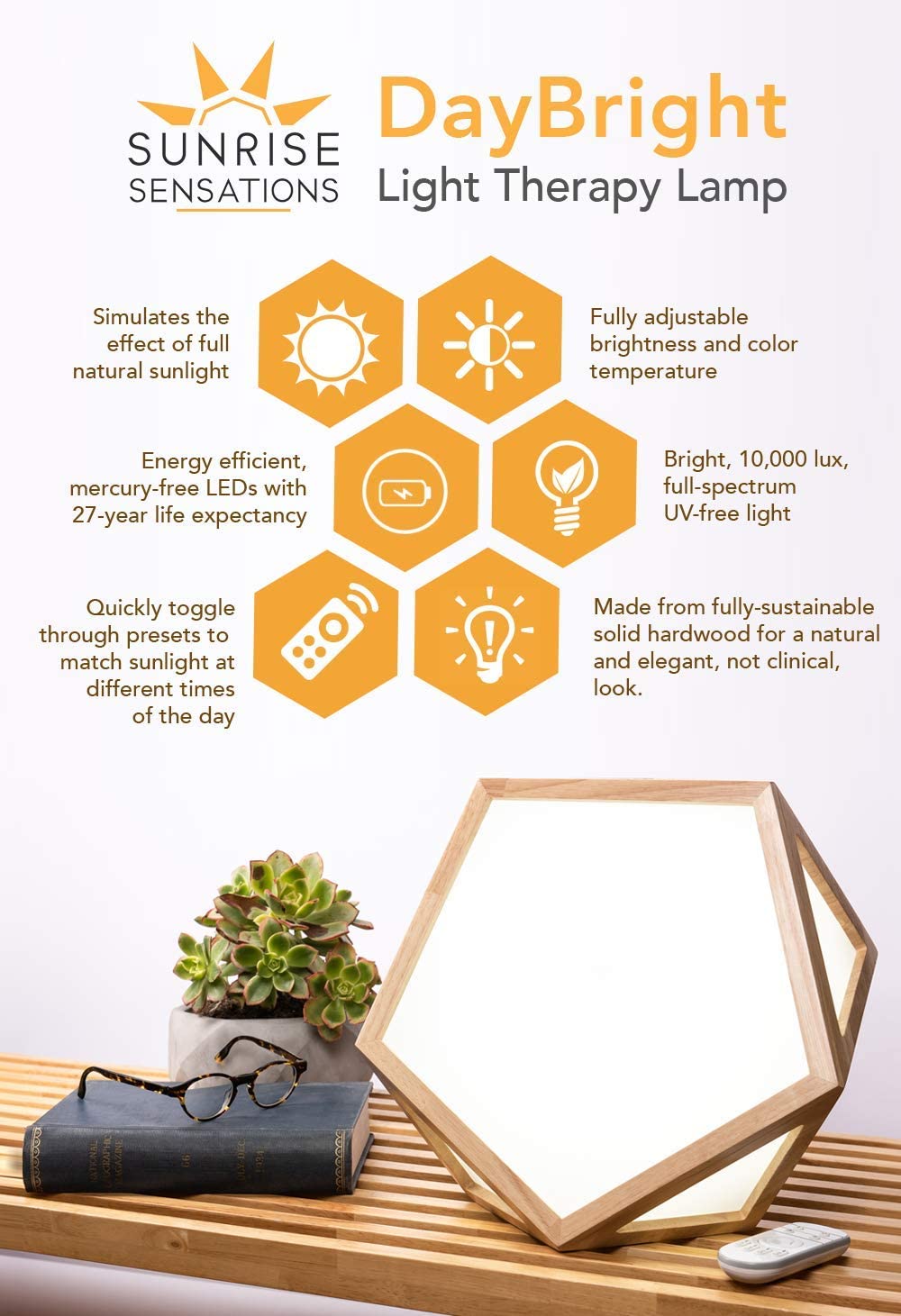 Aside from DayBright Light Therapy Lamp's unique shape, being made of natural and sustainable rubberwood makes it stand out so much more from the rest of this list. The design itself compliments any part of the house it could be placed in, giving it a more modern feel and your room an instant upgrade. 
The remote control is another stand-out feature of the DayBright Light Therapy Lamp, allowing you to adjust the brightness and the color warmth settings depending on your comfort level. The remote also allows you to toggle easily between presets to match the sunlight throughout the day. 
I've seen reviews wherein the remote can be quite unresponsive but Sunrise Sensations' warranty lets you replace this easily.
So if you're looking to relieve yourself of those winter blues and at the same time want to add a stylish piece in your room, the Sunrise Sensations DayBright Light Therapy Lamp is the perfect pick to make a statement.
Rating: 8.5 out of 10.
Where Can I Buy The Sunrise Sensations DayBright Light Therapy Lamp?
---
8. Luminette 3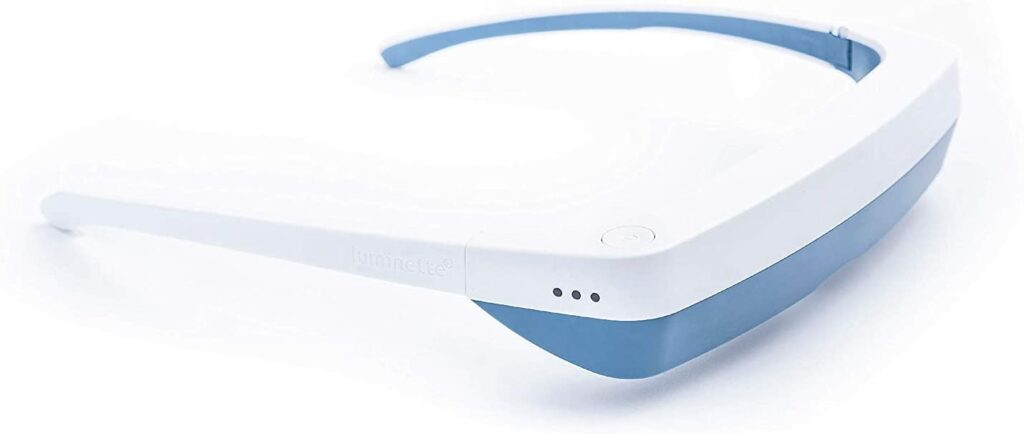 If you're looking for something out-of-the-box and want to expand your choices from the traditional light therapy lamps, perhaps the Luminette-3 would be something more in your league.
The Luminette-3 claims to be the world's first light therapy glasses, which I do find quite innovative. It's comfortable to wear, easy to bring anywhere, and because of the patented illumination system, the Luminette-3 provides ideal exposure without hindering your sight. So if you wear glasses or contact lenses you don't have to worry about the Luminette-3 affecting your vision or your comfort. 
Works Just As Good As Your Traditional Light Therapy Lamps
While wearing the Luminette-3 may take some time getting used to, I find there's you get a lot of benefits that you can't find in a traditional SAD lamp. 
The Luminette-3 emits a blue-enriched white light, equivalent to the standard 10,000 LUX lamps in the market. You also get 3 intensity settings for maximum comfortability throughout the day. You also get 10 sessions in one full charge with the Luminette-3 shutting down automatically after each 30-minute session. This makes sure that you don't over exceed the recommended wear time for these light therapy glasses.
According to European standards, if possible risks are your concern, the Luminette-3 has been certified "zero-risk" and has been safely used by over 100,000 people since 2006.
Being able to move around and having the flexibility to not change my routine throughout the day is one of the best things about the Luminette-3. I don't have to dedicate 30 minutes or so of my time just sitting around on my couch or bed waiting to feel the effects of my light therapy lamps. With the Luminette-3, I can easily do both tasks simultaneously. I can work or engage in my favorite hobbies while I get my mood lifted with the Luminette-3.
The only downside of these light therapy glasses is that it requires regular charging. It can be troublesome especially if you're in serious need of light therapy during that exact moment. So it's best to make sure that your Luminette-3 is always charged and running.
If you're someone with an active lifestyle, the Luminette-3 might just be the one for you.
Check Out My Complete Review Of The Luminette 3 Here.
Rating: 8 out of 10.
Where Can I Buy The Luminette-3?
---
What To Look For In A SAD Light Therapy Lamp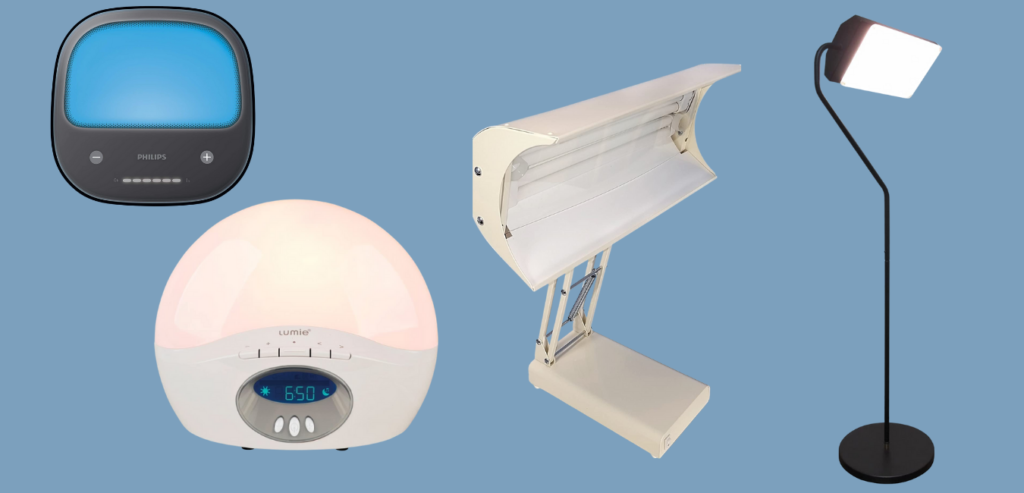 As my article comes to a conclusion, keep in mind that there's a lot that goes into when one is considering buying a SAD light therapy lamp. So here are some brief pointers:
Types Of Light
Remember that the purpose of looking for a SAD light therapy lamp is to replace the sunlight you're lacking during the winter season. That being said, knowing what type of light you need is perhaps the most important feature you need to look for when looking for SAD light therapy lamps. From my research, standard lamps carry 10,000 LUX of light to mimic natural sunlight. Aside from that, the light of your SAD lamp should be either full or broad spectrum. Another type of light is blue light, which is said to be the most significant area of the spectrum as it helps the improvement of one's mood. But keep in mind, blue light tends to be smaller and more effective at a lower brightness.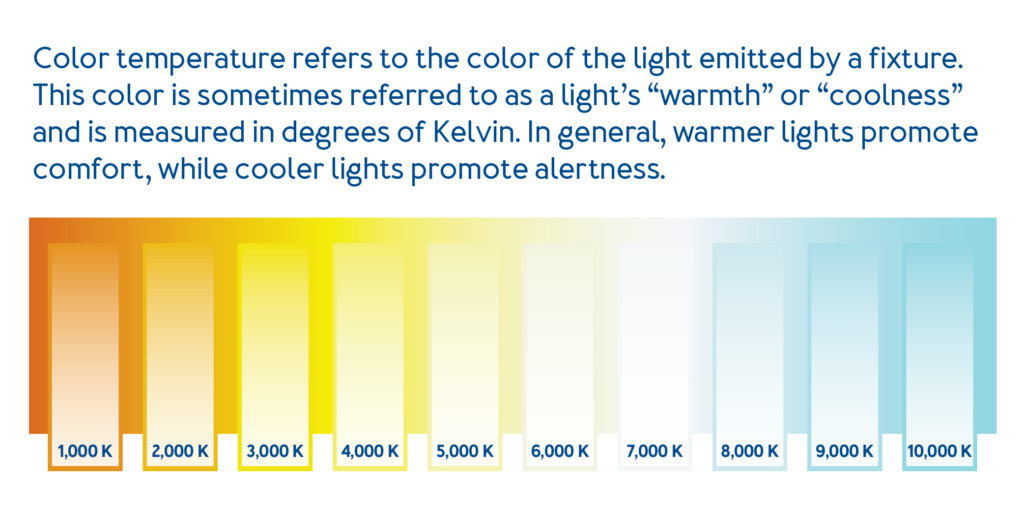 Price
It's no surprise that affordability is one of the main deciding factors for us consumers when it comes to making a purchase. A lot of SAD Light Therapy Lamps don't come in cheap either especially if we're looking for something of great quality and great for its value. When we're investing a lot of money on a SAD lamp, we want to make sure we get our money's worth and that it does its work in improving our overall mood and health. At the same time, you also have to put into consideration that some light therapy lamps that are on the pricier end can last a lot more in the long run than the cheaper ones in the market as their materials might be sturdier and perform longer or better.
Comfortability
One of the main reasons we look for light therapy lamps is to provide us better comfort during the winter seasons where our Seasonal Affective Disorders are on an all-time high. So making sure that we get a light therapy lamp that gives us the exact comfort we need is important. You have to take into account how many inches can you distance yourself from the lamp without losing too much light. Does the light get too hot? Are the lights flicker-free? Are the lights adjustable for any situation? Ask yourself these questions before adding the device to your cart.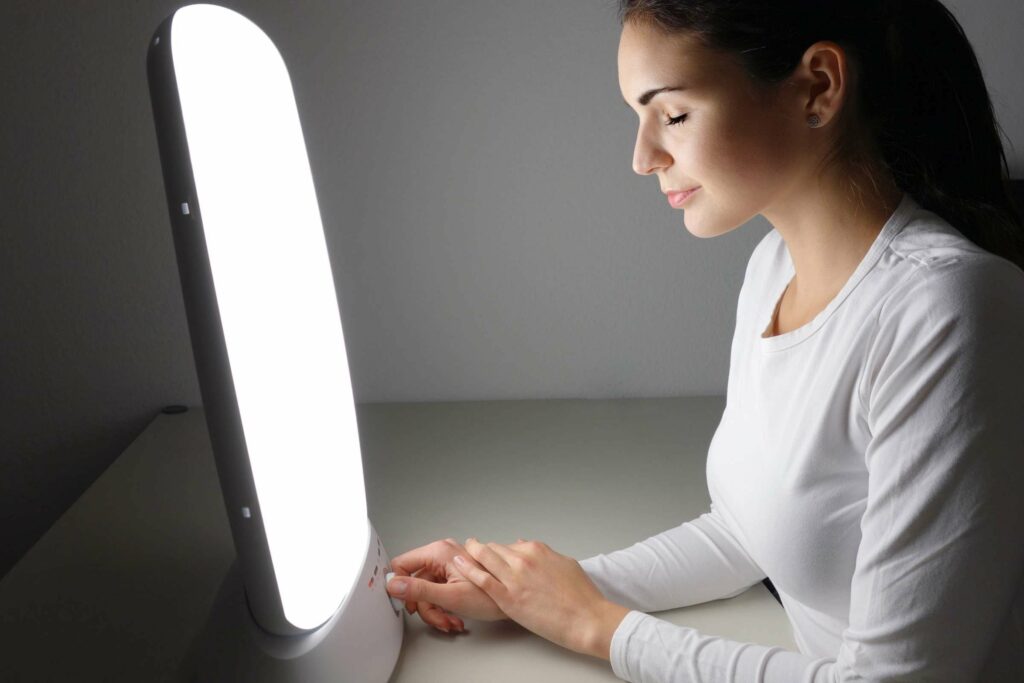 Portability
SAD light therapy lamps come in all shapes and sizes, so make it a priority to know which size and weight of the light therapy lamp you're comfortable with, especially if you plan on carrying it with you around the house.
Warranty
When purchasing a SAD lamp, make sure to check on a manufacturer's site thoroughly how their warranty and even customer service is like. Some companies can have great products but severely lack when it comes to their warranties. Some companies can be quite unresponsive which makes replacing defective products such a hassle. So make sure to check that you'll be taken care of in the event you get a product you're unsatisfied with.
---
Conclusion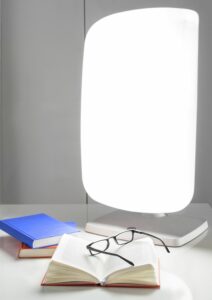 To a lot of people, SAD is a very serious issue that heavily impacts their productivity, relationships, and their whole life in general. So these SAD lamps really do play an important role in improving their health and helping them function properly again.
To sum it up, finding the best SAD light therapy lamps will have a significant and positive effect on people that experience Seasonal Affective Disorder during the colder seasons, and these light therapy devices greatly relieve them of their symptoms. 
If you're one of them, you no longer have to endure those cold and dark winter days once you've got yourself a light therapy lamp. Remember that it all comes down to your preference and what works for you. A certain light therapy lamp might work for you but not for another. So I hope my list has given you plenty of options on which SAD lamp to go for.
If you already own a SAD light therapy lamp, let me know about your insight and experiences below.
Recommended reading for you:
Keeping Your Winter Blues Away: A Guide On Choosing The Best Light Therapy Lamp For You
Get Brighter Days With The Carex Day-Light Sky: A Review On One Of The Best Light Therapy Lamps