Review of my Top Rated Fitness Trackers
After reviewing a number of fitness trackers, the most common question I get asked is which one is the best? Every sports brand seems to be making its own version of the highly prized accessory so choosing one can be a bit daunting if you don't know what you're looking for. I'm not surprised I get asked the question all the time.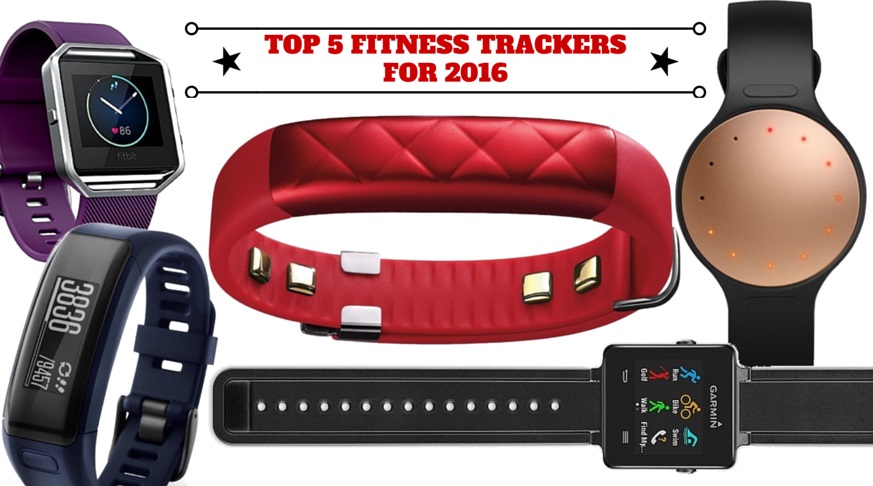 The perfect tracker will depend on your activity schedule or fitness program. Do you need one that simply counts your steps throughout the day or maybe one that gives you an advanced analysis of your sleeping patterns? 
I've previously put together a list of my top 3 activity trackers but times have moved on since then and an update was long overdue so here it is; a quick summary of the top 5 fitness trackers for 2016.
#1. Garmin Vivoactive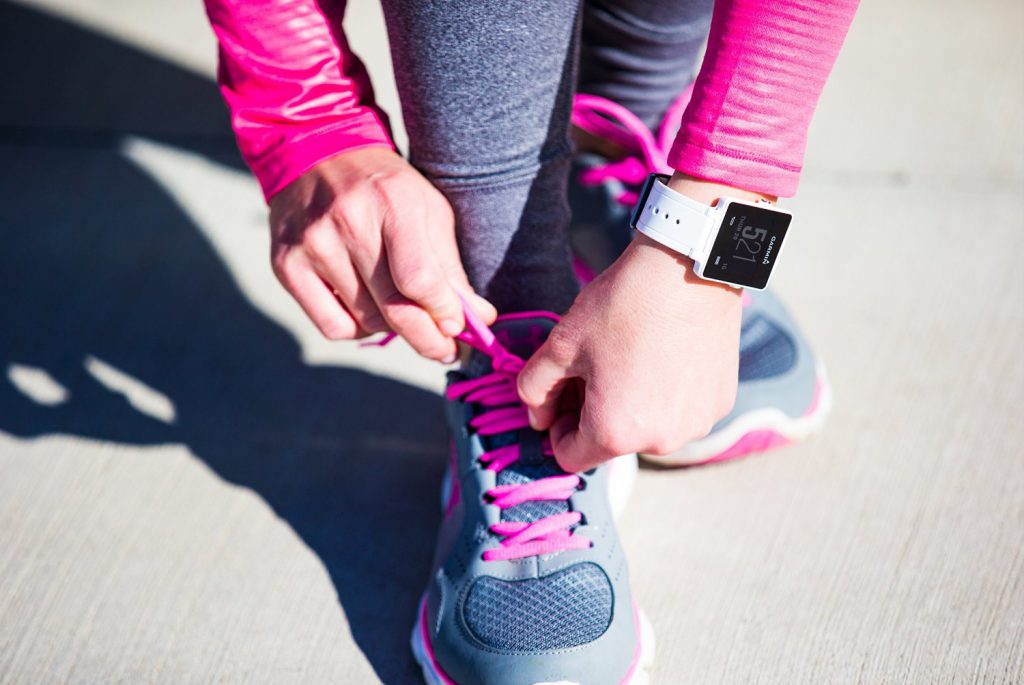 The top of my list is the Garmin Vivoactive. The advantage that this tracker has over the rest is the inbuilt GPS to accurately track your runs, walks, swimming and cycling. It operates independently without needing your smartphone for GPS.
This all-round fitness tracker covers most, if not all, types of sport and fitness training. Usually, a fitness watch that incorporates GPS functionality would only be geared for distance activities such as running or cycling.

The Vivoactive addresses the above issue by making it possible to track everything from weight lifting sessions to Golfing and everything in between. Call it a one-size-fits-all. I also like that it's priced competitively and connects seamlessly to Garmin Connect, this is a must-have accessory.   
The 3-week battery life (with 10 hours of GPS tracking) is insanely impressively and trumps most of the rival fitness trackers. 
Watch The Video Below To See How To Use the Built-In Activity Apps: 
Device Features



Vivoactive has a high-resolution colour touchscreen display- with virtually no glare in direct sunlight.

It comes with built-in GPS to accurately track running, cycling and walking distances.

Various onboard apps for activities like biking, golfing, swimming and activity tracking that lets you view your performance stats directly from the watch display (no need to use your smartphone).

It's Waterproof and popular with swimmers. 

Vivoactive can sync with your smartphone (if required) to subtly vibrate and display smart notifications for text messages, calls, emails and calendar meetings/birthdays. It also provides notifications from social media and other 3rd party apps.




The Battery life lasts up to 3 weeks in watch/activity tracking mode or up to 10 hours if the GPS is turned on.

You can download cool watch faces, widgets and apps for free from the Garmin Connect IQ Store.

#2. Garmin Vivosmart HR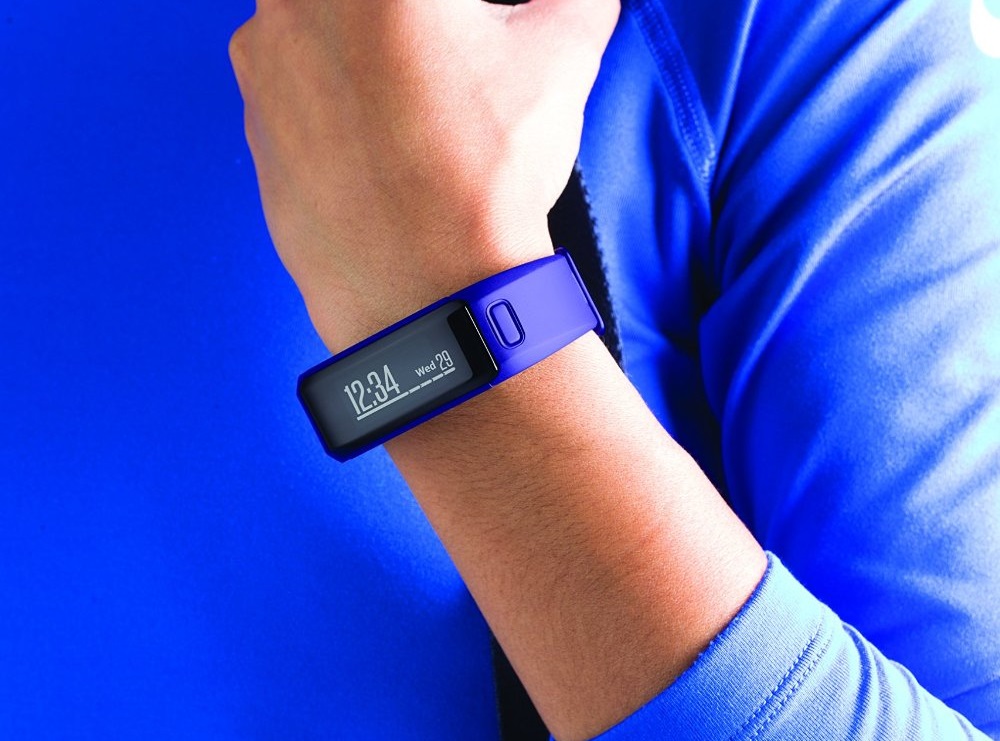 Next on my list of top-rated fitness trackers is the Garmin Vivosmart HR. Garmin has cleverly begun to use optical technology in a majority of its running devices, so it was only a matter of time before a heart rate (HR) monitoring activity tracker would be introduced.
The Garmin Vivosmart pushes the boundaries by using the added HR feature alongside its clever notification system meaning that this device highly favoured and one of the best selling trackers at the moment. Similar to the Vivoactive, it's competitive price means that you are getting good value for a worthy investment.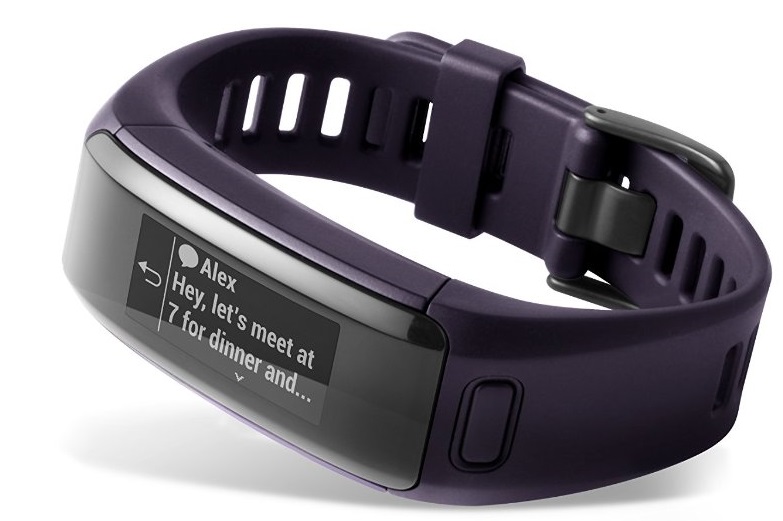 Vivosmart accurately tracks your daily steps, sleeping patterns, your resting heart rate (to progressively measure how fit you are) and provides useful smart notifications. The activity data displayed through the Garmin app is thorough and shows progress in a format that's easy to understand. The Vivosmart comes highly recommended. 
Device Features
Tracks your steps throughout the day and monitors your sleep.




Heart Rate (HR) Monitoring 24/7.

Smart Notifications, synced from a smartphone, for incoming calls, text messages, social media updates, gaming, music all provided through the watch display and vibration alerts.


Wrist-based heart rate tracking to give you accurate data of the calories you've burnt.

Intensity Training to compare your progress against fitness activity goals recommended by leading health organisations.

The watch displays information on your heart rate, calories, distance, floors climbed and time of day.
#3. Fitbit Blaze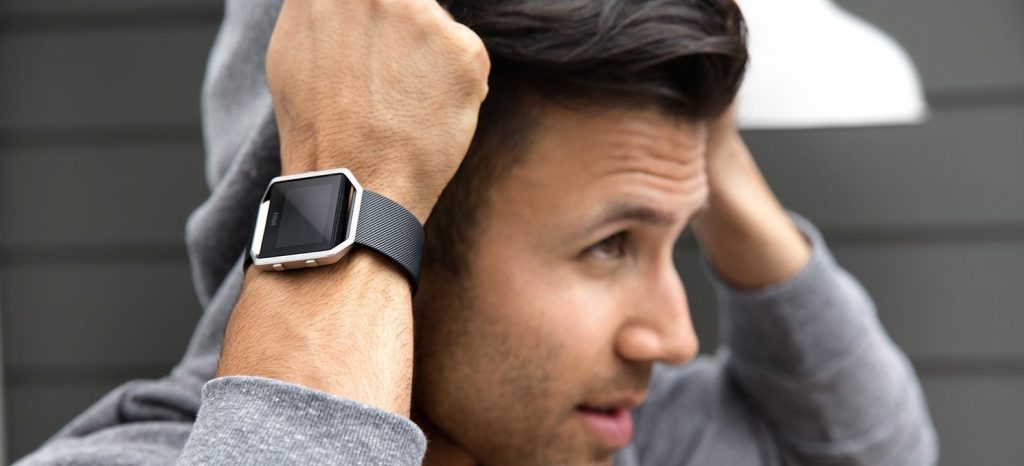 Third on the list of top-rated fitness trackers is the Fitbit Blaze which is Fitbit's premium-looking activity tracker and certainly the best looking one of the bunch. 
A much-needed colour display is an update to the Fitbit Surge's monochrome look which is starting to feel a bit dated. The simple software makes it easy for newbies to get comfortable using the tracker but still provides great comprehensive fitness activity info.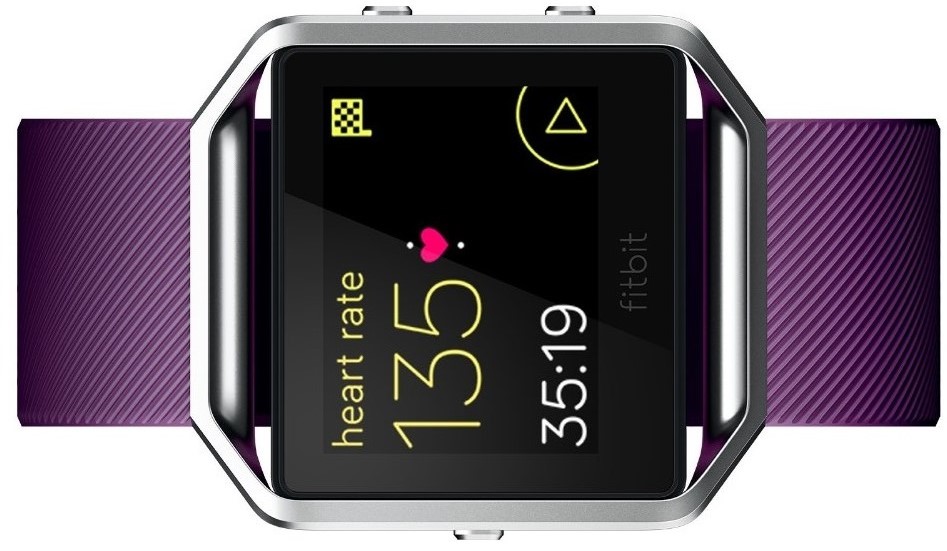 If you've used the Fitbit Charge HR you will be quite familiar with the features on Fitbit Blaze, the main differences are that the Blaze has an OLED screen, improved notifications and exercise guides.   
You have the ability to track burnt calories, daily steps, time spent being active, sleep quality and the number of stairs climbed. The built-in heart rate monitor can track exercises like running and cycling but you will need your smartphone's GPS to track distance using the "Connect GPS" feature.
The included FitStar is a clever workout system which presents 3 guided sessions that pop up on the display to give you a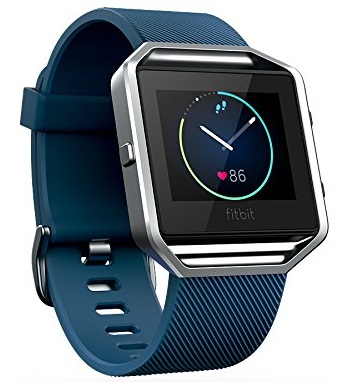 structured workout whenever required-
warm-up/down

7 Minute Workout

10 Minute Abs.
Device Features
It can monitors sleeping patterns.

It tracks calories burnt, daily steps, distance (through phone's GPS), floors climbed and your active minutes.

The Fitbit Blaze provides continuous, wrist-based (HR) heart rate monitoring.

Easy to understand heart rate zones for fast exercise updates during workouts.

It has a multi-sport tracking function to track running, cardio exercises, cross-training, cycling and much more.

You can automatically record exercise sessions to your dashboard with the "SmartTrack" feature.
The "Connected GPS" feature tracks your routes (Using your phone's GPS) and shows running stats like pace and duration on display.
Start a FitStar workout on your wrist and receive step-by-step instructions to make sure you complete each exercise properly.
The video below shows how you can Track Your Workouts with Multi-Sport Modes:
Read my Full Review of the Fitbit Blaze Here and check out what it can do.
Cheapest place to Buy
US: Check current prices on Amazon.com   


UK: Check current prices on Amazon.co.uk 

#4. Misfit Shine 2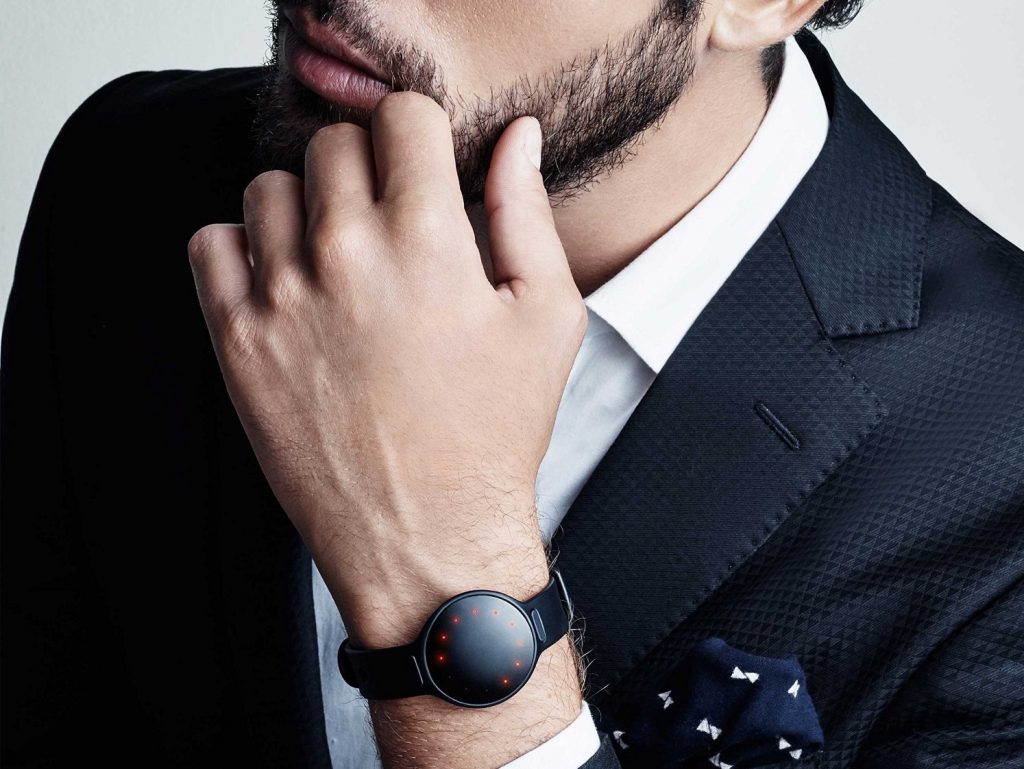 The Misfit brand first introduced the Shine 4 years ago. They showed us that an activity tracker didn't need to look tacky. The Shine felt every bit premium and additionally came with clever ways to interact. The design was and still is, beautifully, unique and minimalist.
The Shine 2 has kept true to the above but now includes some upgrades that have been welcomed with open arms. A redesigned action clip that holds the watch firm in place during any workout along with vibration alerts and smartphone notifications. The battery life lasts a whopping 6 months and sucker punches all the other activity trackers on this list.
The watch provides the closest accuracy to GPS tracking and comes within 0.1 km of a GPS-enabled device. Not bad at all. Plus it's a cool looking device- nothing else comes close!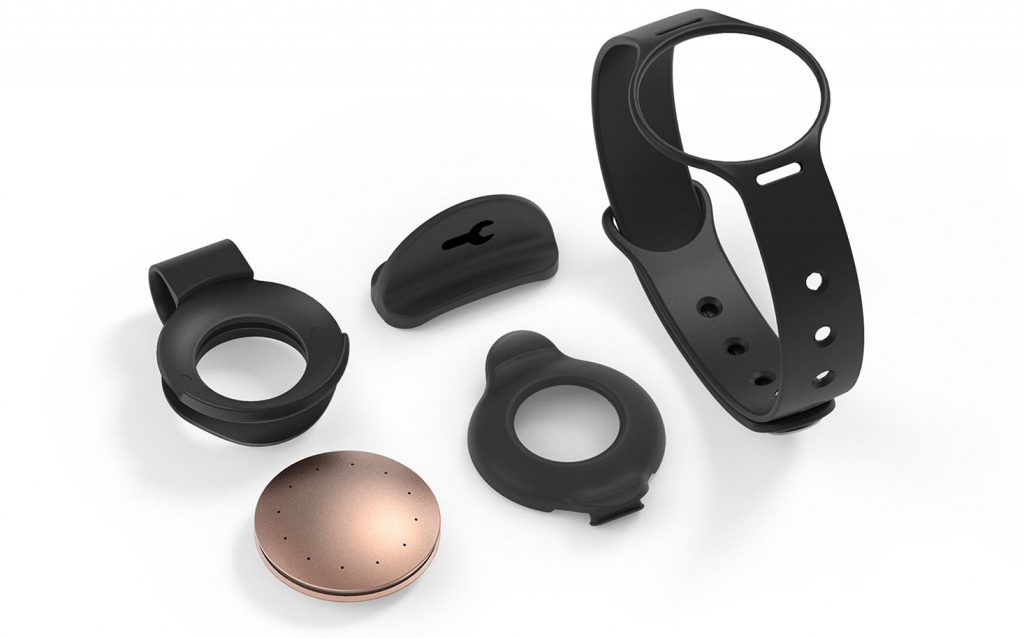 See The Shine 2's Awesome Features in the Video Below:
Device Features
Daily step tracking and 

sleep monitoring.

The Shine 2 sends smartphone notifications so you don't miss important calls.

The watch is water-resistant to 50 meters and is great for swimmers that want to track their swimming sessions.

Tracks calories burnt, distance travelled, other activities and automatically monitors the length and quality of your sleep.

It includes vibration alerts, 12 tri-colour LEDs and capacitive touch.

The Shine 2 provides clever new ways to interact and motivate you to improve your fitness goals and health.

It's built using aircraft-grade aluminum. Wow, I'm sold!

The watch has a minimalist and modular design.

The battery is replaceable and lasts a staggering 6 months.

Includes a new sports-orientated action clip that holds the Shine 2 in place during any fitness exercise.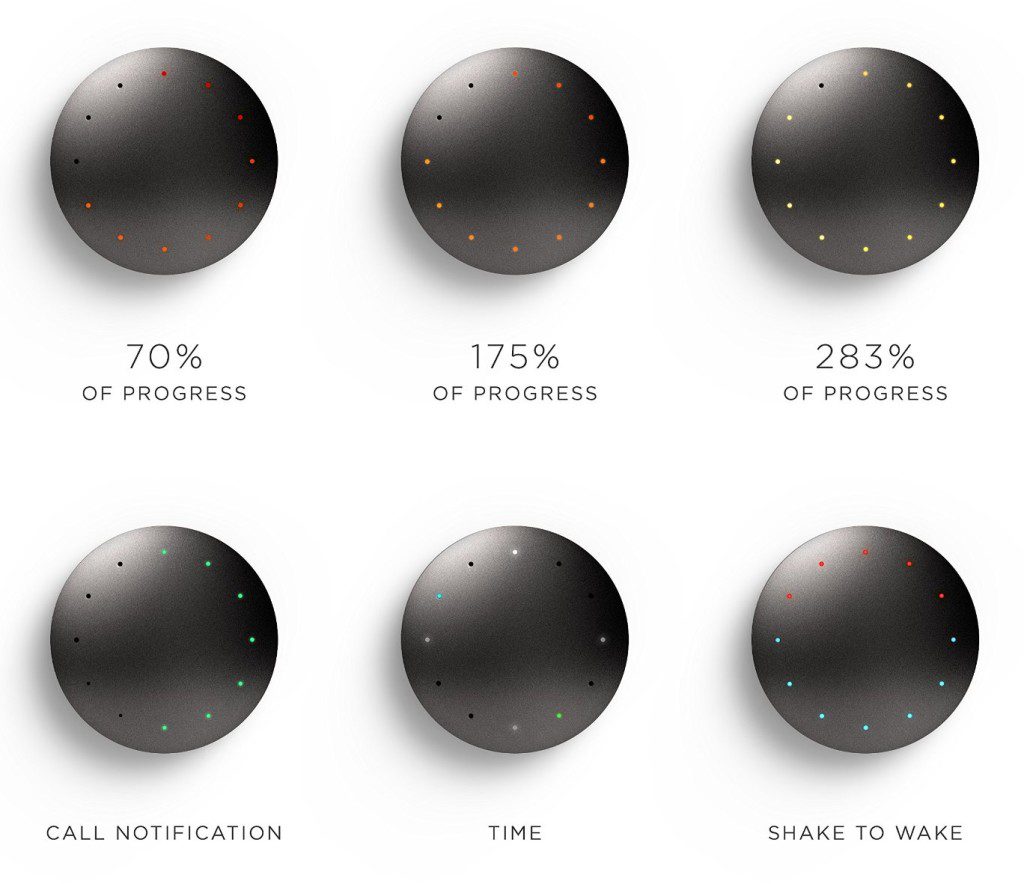 US: Check current prices on Amazon.com   


UK: Check current prices on Amazon.co.uk 

#5. Jawbone UP3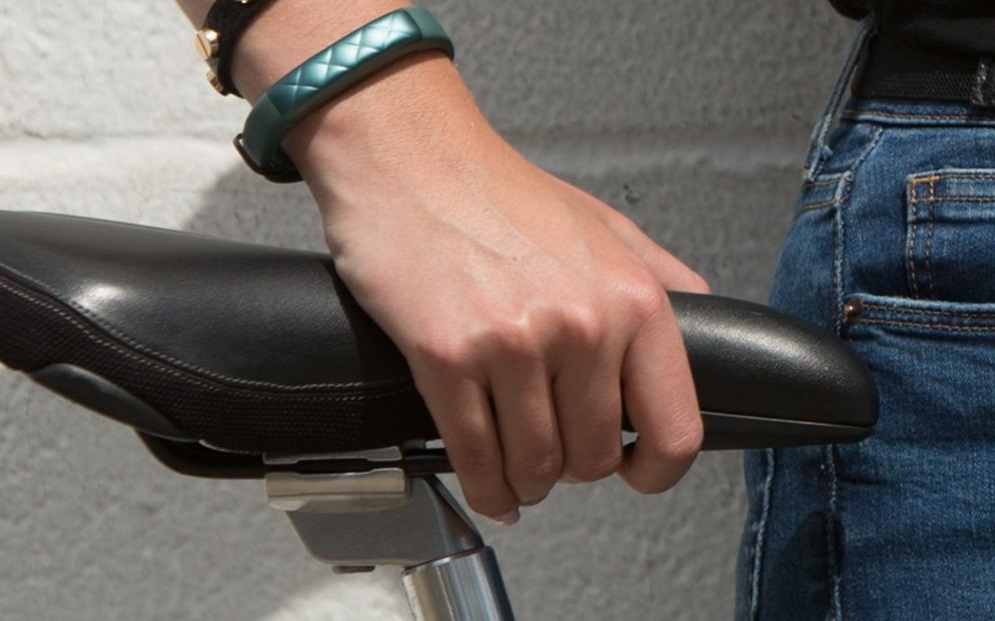 We have arrived at the last tracker on my list. The Jawbone Up3 has arguably the best sleep tracking function over any other activity tracker. It's important for those looking to improve their sleeping pattern and want to see how their daily activities and diet affects their sleep.     
The Up3 is a compact looking thing and very light when compared to other fitness trackers- you hardly notice that it's around your wrist.  
Its compact size doesn't mean it's inferior. It provides great tracking for running, cycling, gym workouts and doesn't compromise in these areas when benchmarked to other fitness trackers.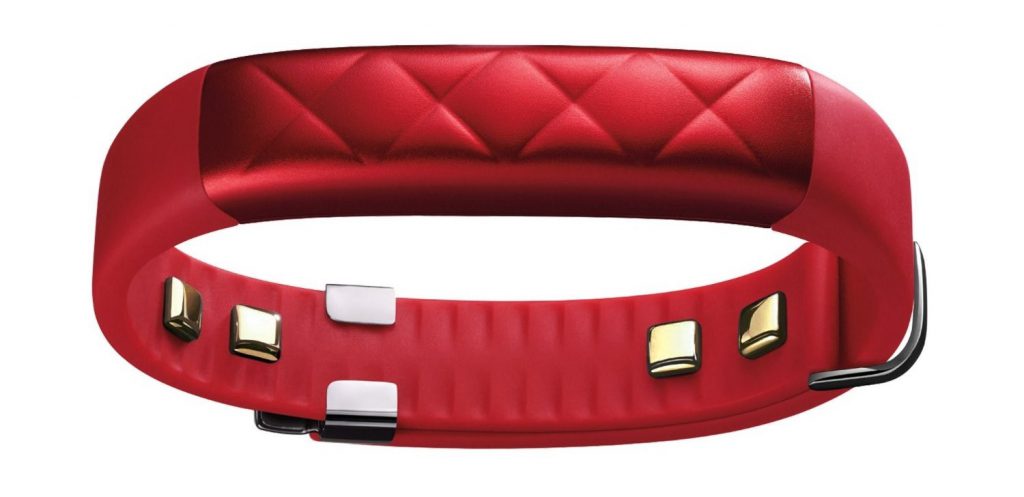 The Jawbone companion smartphone app is a joy to use and on par with the likes of the Fitbit app. It's presented well- not only does it show you useful data, but it also provides handy tips on how to improve your health and lifestyle based on your activity patterns. It can sync with 3rd party apps (like the Apple health app) and incorporate the additional info into your overall stats. It's a clever app and compliments the Jawbone's ethos of simplicity and usefulness.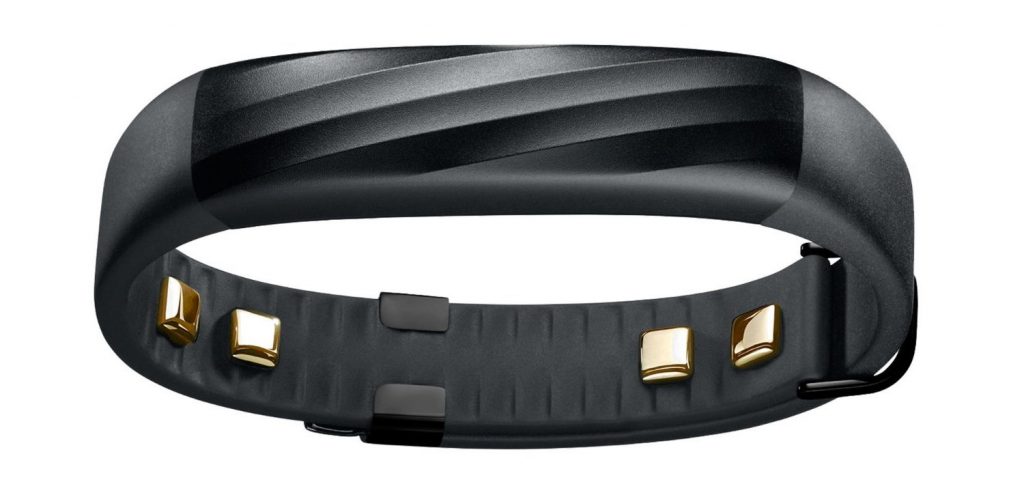 The advanced automatic sleep tracking means that the Up3 provides market-leading analysis of your nap time. This is made possible by the tracker's ability to monitor your bpm (beats per minute), respiration rate and body temperature. This combination of analysis allows it to give you your REM, Light Sleep and Deep Sleep stats.
Device Features:
Personalized guidance from the "Smart Coach" feature 

Multi-sensor to improved Heart Rate (HR) monitoring (resting and passive).

Tracks running, cycling, daily steps and more.

Advanced sleep tracking and analysis to monitor REM, Light Sleep and Deep sleep.

Food logging and food score.

Smart Alarm to silently wake you.

It can monitor your Heart Health.

7-day battery life.

"Smart Alert" feature if you've been idle for too long 
US: Check current prices on Amazon.com   


UK: Check current prices on Amazon.co.uk 

If you're considering buying any of the above fitness trackers or already own one please leave your comments in the section below. I'd love to hear your experiences training with these trackers. Thanks for reading my review of the top-rated fitness trackers for 2016.