I'm happy to present to you the Fitbit Blaze fitness tracker watch review because the new range of wearables from Fitbit is doing away with the plastic look that we are used to seeing and have introduced a more premium looking activity tracker.
The brand has gone from strength to strength over the past few years and has established itself as a strong player in amongst fitness wearables- they have certainly made their mark and continue to do so with the new Fitbit Blaze tracker.
Feature-wise Fitbit has included more functionality, we'll get into all this further down. The new blaze watch is already popular in the running community and I've spotted many gym-goers sporting it proudly during gruelling kettlebell squats and spinning classes. Feel the burn! 
Product Review: Fitbit Blaze Fitness Tracker Watch
Colours Available: Black, Blue, Plum
Guarantee: 1-year Limited Warranty
Product Rating: 8 out of 10 ★★★★★★★★☆☆
Watch Design
Fitbit has made it even easier to customise the new range but this time the main element is that the wristbands can differentiate it between a sports watch and a functional everyday watch that you could wear on social occasions.
The Fitbit Blaze has a square design encased in a steel frame that has a swappable plastic strap. The straps can be swapped for stylish ones to suit different occasions.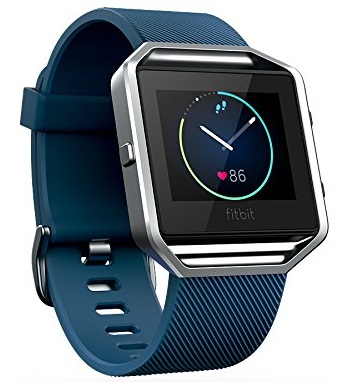 The Blaze is an upgrade to previous models such as the Fitbit Surge. It has a slim profile and feels very light when you have it on.
It's comfortable enough to wear throughout the day as you would with a normal watch. The square screen measure 1.25 inches and powers a 16 colour touchscreen display.
You can select features directly from the screen and the watch has 3 buttons on the side. 1 on the left and the other 2 on the right to help select options when it's not possible to do so on the screen with your sweaty hands. To conserve energy the screen turns off when it's not in use.
The video below shows just how versatile the Fitbit Blaze is for both working out and socialising:
Watch Features
If you have used the Fitbit Charge HR you will be quite familiar with the features on the Fitbit Blaze fitness tracker watch, the main differences are that the Blaze has an OLED screen, improved notifications and exercise guides.   
You have the ability to track burnt calories, daily steps, time spent being active, sleep quality and the number of stairs climbed. The built-in heart rate monitor can track exercises like running and cycling but you will need your smartphone to help with the GPS to track distance (more on this further down).
FitStar is a clever workout system which presents 3 guided sessions that pop up on the display to give you a structured workout whenever required-
warm-up/down

7 Minute Workout

10 Minute Abs.
My Top alternative choice for 2016: Polar A360 full Review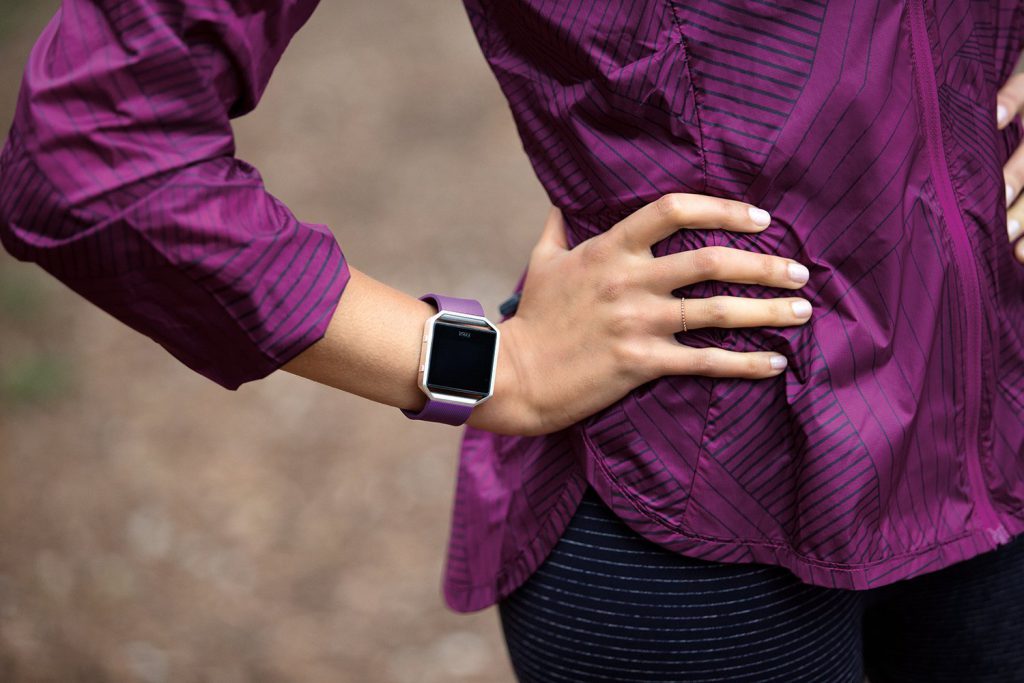 The fitness settings are thorough and would satisfy any newbie or anyone improving their training program and looking for a premium fitness tracker.
As mentioned earlier, a slight setback is that the watch doesn't come with GPS but Fitbit has made it possible to link the Blaze tracker with your smartphone and use the GPS on your phone via a feature called Connected GPS. 
I usually take my phone with me to listen to music whilst running so this isn't really a big issue for me. A silent alarm is another handy feature that uses vibrations to gently get you out of bed instead of an annoying alarm sound.   
The video below shows how you can Track Your Workouts with Multi-Sport Modes:
Activity Tracking

 
The Fitbit Blaze tracker has plenty of options for different exercises including cycling, weight training, running, treadmills, kettlebell training, the list goes on. The tracker can also recognize your chosen exercise without you having to tell it. Neat!
The exercises record your heart rate via the sensor and exercise time to calculate calories burnt, additionally, the outdoor running and cycling activities use Connected GPS (via your smartphone) to accurately record distance and speed.     
Sleep tracking on the Fitbit Blaze is very accurate and it also logs your midnight trips to the toilet. Although it's accurate, it's still very basic compared to rival activity trackers.
The sleep charts just show sleep, restlessness and wake whereas other products provide further sleep analysis (if that's your thing) such as estimating deep sleep, light sleep and REM.
Heart Rate (HR) Monitor
Optical heart monitoring is accurate but it isn't as good as a chest strap( this is standard across all fitness trackers).
If you're going to be doing regular High-Intensity Interval Training (HIIT) then you're better off buying a tracker with a chest strap like the Garmin Vivosmart. The Blaze isn't compatible with ANT+ or Bluetooth chest straps.
The watch accurately tracks your Resting Heart Rate- a way to measure improvements in your fitness.
The optical heart rate monitor maps your different workouts and gives useful accurate calorie burn information from your workout sessions or daily activities.  
The video below shows how you can track your heart rate:
The Fitbit Blaze is a perfect entry-level fitness tracker for newbies and those looking at improving their fitness regime. Advanced trainers looking for specific zone training should consider the Garmin Vivosmart.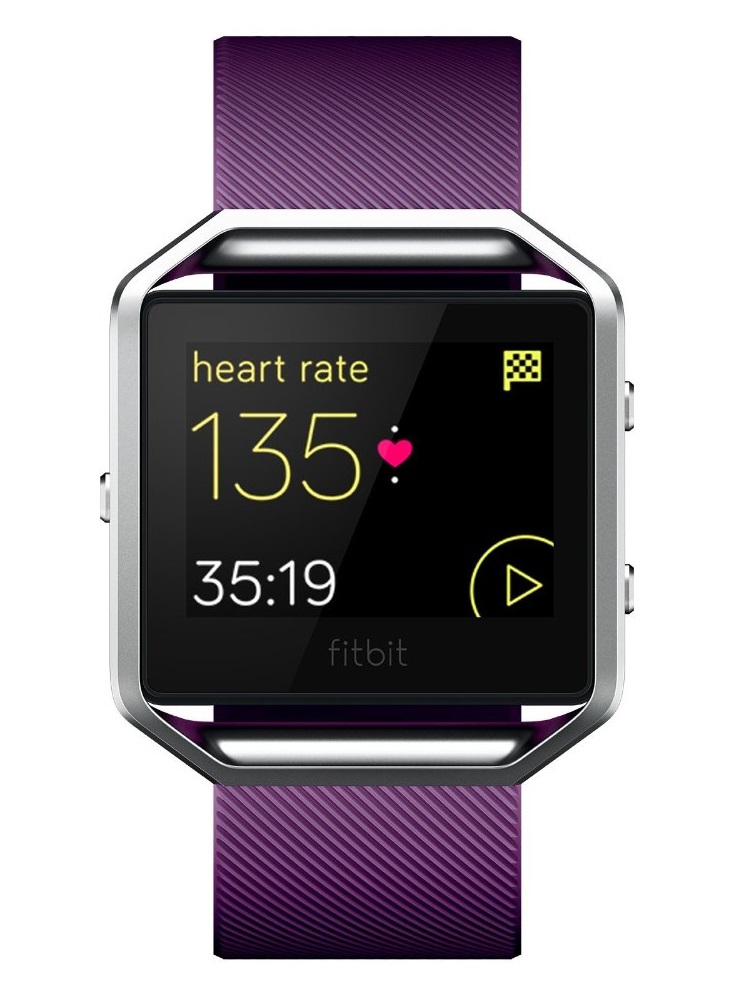 Notifications
The watch can display text messages and incoming calls but not for 3rd party apps (except for WhatsApp which worked okay on the Fitbit Blaze).
The notifications don't always show up even when the connection between the watch and phone is fine. Fitbit will need to sort this in an upcoming software update.
Fitbit will be soon changing how vibration alerts are received on the wrist but ultimately I think this option should be added for the user to choose the level of notifications rather than Fitbit making it the same for all its watches.
The Fitbit app
The Fitbit Blaze fitness tracker uses the same app as the rest of the other Fitbit product range. I would say this is a good thing because the app itself is easy to use, designed very well and is a great environment loaded with various challenges and trophies to be earned to keep workouts fun.   
The app shows activities for the different days of the week and you are able to tap on a specific activity for a deeper analysis. For example if you tap on calories burnt you can look at your calorie output over time and sort by day, week or month and make comparisons.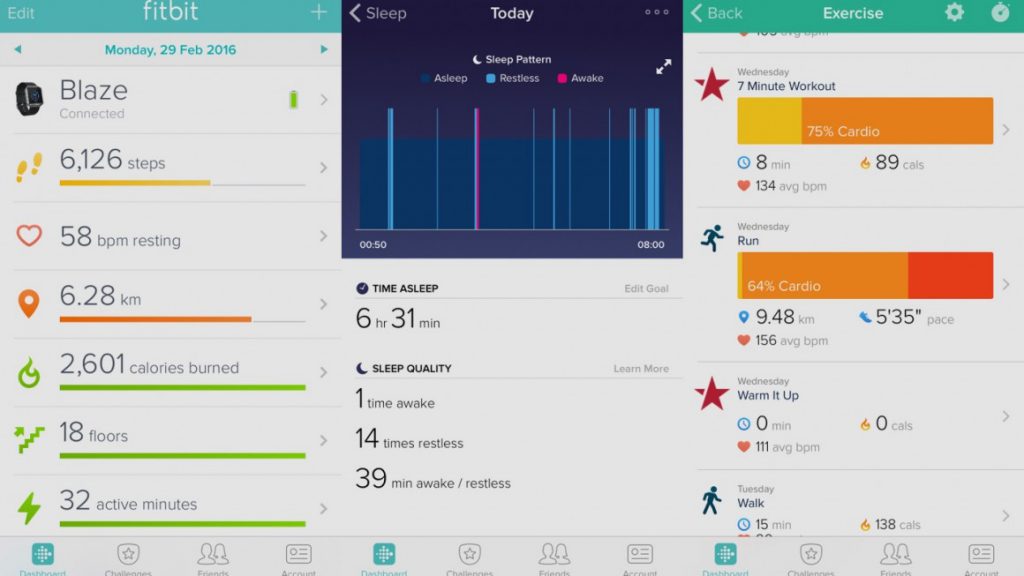 The heart rate score is a very good measurement because it shows your resting heart rate over a period of time. As you become fitter the curve will show a downward trend.  
The Fitbit app is one of the best apps amongst its peers. It's very simple to use and understand but provides enough activity data without overloading you. The app syncs seamlessly between the Fitbit Blaze and your smartphone without any connection issues.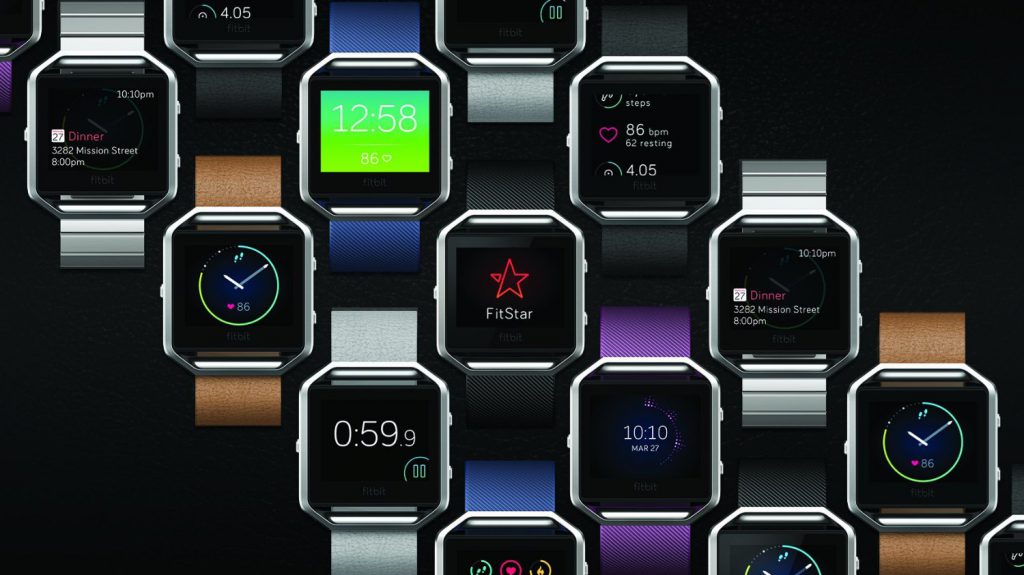 Battery life 
Fitbit official battery times are pitched at 5 days usage which was accurate given the watch's slim profile, constant notifications, bright OLED display, activity tracking and 3 workouts within 5 days- I would say this is a very strong point for the Fitbit Blaze as nobody wants their battery to die mid-way through a workout. Well done!     
Waterproofing
The watch does Not come with waterproof expect for basic water resistance. Make sure you take it off before jumping into the bath and definitely no swimming with the watch. 
US: Check current prices on Amazon.com   


UK: Check current prices on Amazon.co.uk 

If you're considering buying the Fitbit Blaze or already own one please leave your comments in the section below. I'd love to hear your experiences training with the watch. Thanks for reading my Fitbit Blaze fitness tracker watch review