Bose soundlink mini bluetooth wireless portable speaker review
A BIG thing in a small package…
The Bose soundlink mini Bluetooth portable speaker is the little brother to the Soundlink 3 but isn't little on sound. This small speaker can throw out impressive sound and does so very effectively.
---
Product: Bose Soundlink Mini bluetooth wireless portable speaker
Price:  $179.99 (retail)
Cheapest place to buy: Amazon.com
Colour options: White 
Product Dimensions: 2.3 x 7.1 x 2 inches ; 1.5 pounds
Guarantee: 1 year limited warranty 
Jay's Expert rating: 8 out of 10 ★★★★★★★★
---
My initial thoughts when I opened up the package and unboxed the wireless speaker, were that the speaker was much smaller than I expected and wasn't sure whether it would deliver the awesome Bose acoustics and I'm used to hearing (more on this later). The speaker was very easy to set up with my iPhone and iPad, all that was required was a 'one-time' Bluetooth pairing of the devices to speaker and it would remember for the next time.
Having used several Bose products before, my expectations for the speaker were very high. The small size and lower price brackets made me doubt whether the speaker would live up to Bose quality experience.

Generally, Bose's previous home audio speakers have been a slight disappointment mainly because products such as the Wave systems and iPod docks were overpriced, had redundant features and were outperformed by the competition who offered better alternatives at a fraction of the cost.
Having used the Bose soundlink mini extensively I'm pleasantly surprised at how well it performs compared to other premium speakers such as the Beats Pill, Jawbone Jambox, JBL Charge etc. Bose seems to have listened and addressed all the above issues and produced a speaker which ticks all the boxes i.e. very reasonably priced (thanks Bose) and no unnecessary features.

The focus here was quality, affordability and simplicity which all account for a wireless speaker that ranks high by gadget standards.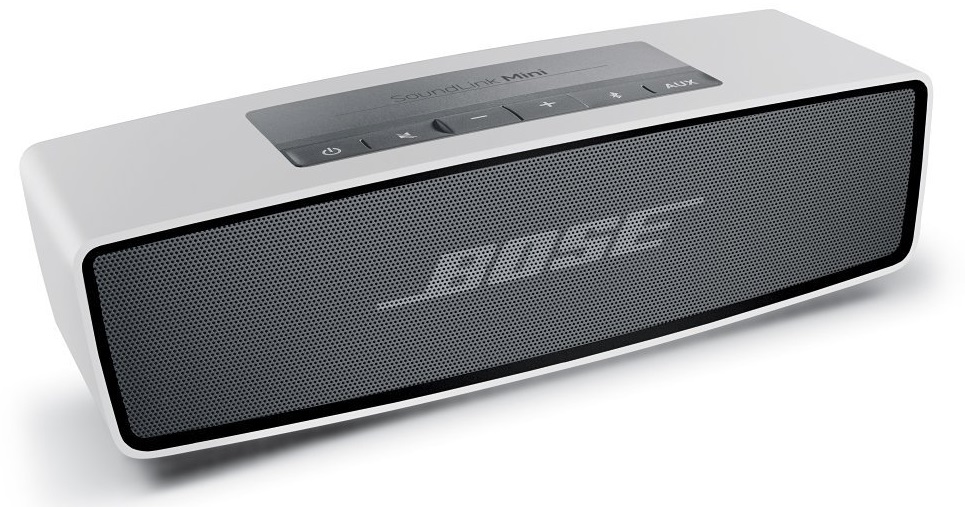 Quality and flexibility
As mentioned above I was surprised at the small size of the Soundlink mini when I unpacked them from the box. The box also contained some cables, a charging cradle (big surprise!!) and instruction leaflets. The speaker felt very light but sturdy.

Bose really went to extra lengths with the build quality by using an aluminium casing for the speaker rather than plastic material. The Volume, Power, Bluetooth, Aux and Mute buttons were made from rubber which was very responsive when pressed.
Despite the small nature of the speaker, I felt assured that it could handle being moved between rooms and to take on long journeys which is exactly what I did (more on this below).

On top of the main charging cable, Bose also included a charging cradle that the speaker neatly sits on top of when the battery needs juicing up. This is very unusual for Bose to include a charging stand that they would usually charge extra for but it's a welcome surprise and another step in the right direction. The small speaker size has the advantage that it's extremely portable and can be carried using one hand.
Sound Quality
Having described the possible scenarios that the Soundlink mini can be used in, I want to delve a bit deeper into the intricacies of the sound that the speaker produces. Surprisingly, for a speaker so small, the entire music range could be heard and this is something I would expect from much larger sound systems. There is slight distortion if you turn up the volume too high, otherwise at a normal level the audio is very clear.

The audio projection is second to none and can easily fill a room. The speaker entertained me whilst preparing meals and was even used when I hosted a dinner with friends who kept asking where the music was coming from as they couldn't see the speakers neatly hidden on top of the fridge. The guests commented at how impressed they were that the small speaker could fill out a large room.

I also took the speaker with me for a picnic by the beach and the sound was delivered effortlessly amongst a group of 10 people. The flexibility of being able to use the speaker in most social situations was a big bonus. In my opinion, this speaker performs just as good as the previous Wave system that I've previously tested which was more expensive and didn't have the wireless flexibility.

Other features 
The speaker contains a rechargeable battery that lasts up to 7 hours on a single charge. In my experience using the speaker, the battery comfortably reached the stated 7 hours on a normal volume setting. I didn't need to worry about charging the speaker for most of my day and the handy charging cradle made the process easy.
If you need to check the battery level you can press and hold the power button to turn the indicator light back on. It will indicated either green (70%), yellow (20%-70%) or red (20%) battery life remaining.

The Bluetooth connectivity and transmission is flawless. I never experienced any glitches, sound delays or loss of sound during my entire time testing the speaker. As mentioned above, pairing of the speaker with Bluetooth devices is extremely simple and straightforward.
The speaker can remember up to 6 Bluetooth devices once paired. Setting up the Soundlink mini to other devices such as ultrabooks or MacBooks was very simple and allowed the speaker to be used to play sound for t.v. shows, movies, video games on top of music.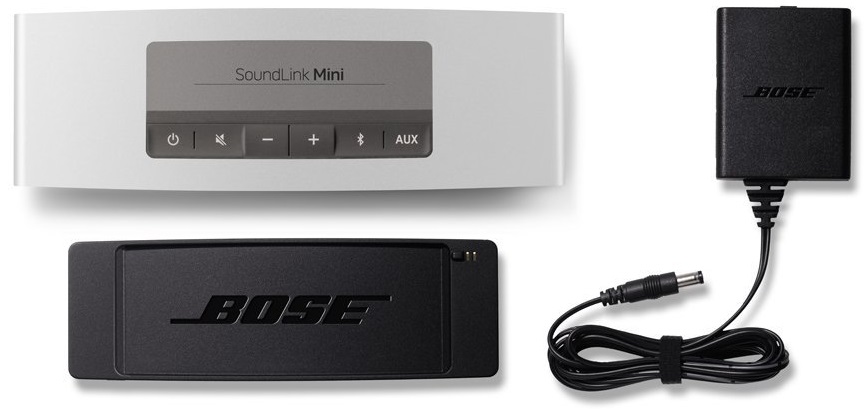 Pros:
Solid build quality.

Charging cradle is provided.

Easy setup and remembers up to 6 devices previously paired.

Sound quality is brilliant.




– Good bass and separation
Cons:
Can't be used as a speaker phone to take calls.

Cover is not included and costs more.
The final say
If you're still wondering whether this is the right speaker for you I can assure you that you'll find it very difficult to find any faults or bad points with the Soundlink mini. It gives you the freedom to carry your music anywhere that you wish, doesn't require any lengthy setups or cables connecting, the audio and build quality are among the best I've tested so far.
This is one of best portable wireless speakers for the money. It's range of uses and flexibility makes it a good addition to any household and is a gadget that will give you many years of audio pleasure and convenience. 
Do you own a Soundlink mini or are considering buying one? Feel free to leave your comments below.