Is the Apple iWatch Device worth the price or just another expensive accessory?
In today's review, I'll be going through the Apple iWatch device features that I've tested extensively and will be giving my expert opinion whether the watch is worth the price tag or if you should be looking elsewhere.
Product Review: Apple iWatch Device
Watch Styles: Apple 'Watch',  Apple Watch 'Sport',  Apple Watch 'Edition'
Guarantee: 1-year Limited Warranty (hardware repair coverage)
Product Rating: 9 out of 10 ★★★★★★★★★☆
Apple Watch Product Review
The Apple iWatch is Apple's first smartwatch and the company has done a good job at creating a stylish watch that packs a lot of technology. The watch is actually lighter than it looks and smaller than I thought it would be (so far, so good). Bear in mind that the watch isn't designed for android phones but instead it's tailored for use with an iPhone 5 or later models. 
Here's a brief overview of the watch's basic functions which will naturally be extended by apps as they come onto the market-
It can send text or voice messages and make phone calls. Accurate timekeeping that changes automatically depending on what part of the world you are located.

The watch vibrates to give you a gentle 'nudge' on the wrist when you receive a text, email or notification on your iPhone.  The watch's display won't light up until you raise your wrist to see what kind of notification you've received. If you keep looking, the watch shows all the message details, lets you reply and even suggests a reply. (this was very useful)

It has a sensor to record your heart rate and transfers the data to the Health app on the iPhone.

It measured my daily physical activity, such as, how often I stood up, how far I walked or ran, and most importantly the number of calories I burnt.
It used the above fitness data and provided me with daily/weekly updates on my fitness progress (and when I needed to get my backside off the couch).


I was able to choose between different watch faces and could select between an analogue or digital clock face.

The sample that I tested came with a Sport Band that could be configured for either S/M or M/L length and can be easily changed for another watch strap. There's a wide selection of straps available including leather straps, woven stainless steel mesh, stainless steel link bracelets.

Apple's virtual personal assistant, Siri, can be used on the watch to pencil calendar events, set reminders and even send text messages (I used this function many times and it worked a treat).
This Watch Can be Styled PLENTY!
Apple has provided a choice of 3 styles of the watch at different price points: Apple 'Sport' (the cheapest), Apple Watch' and Apple 'Edition' (the most expensive). Bear in mind that all 3 models have the same technical specs inside them, have an option of two different sizes (38mm or 42mm), and extra watch straps can be brought if required.
Apple 'Sport'
The glass on the face is called Ion-X glass and is tough, but not as scratch-proof as the hard sapphire crystal found on the more expensive models. The 'sport' is encased in an anodised aluminium case in either space grey or silver.
The watch strap is made from synthetic rubber that felt comfortable and seems hard-wearing. Apple has done a good job at designing a simple 'click' system to easily slide out and change the straps. The 'Sport' watch weighs between 62g-72g depending on the size and strap.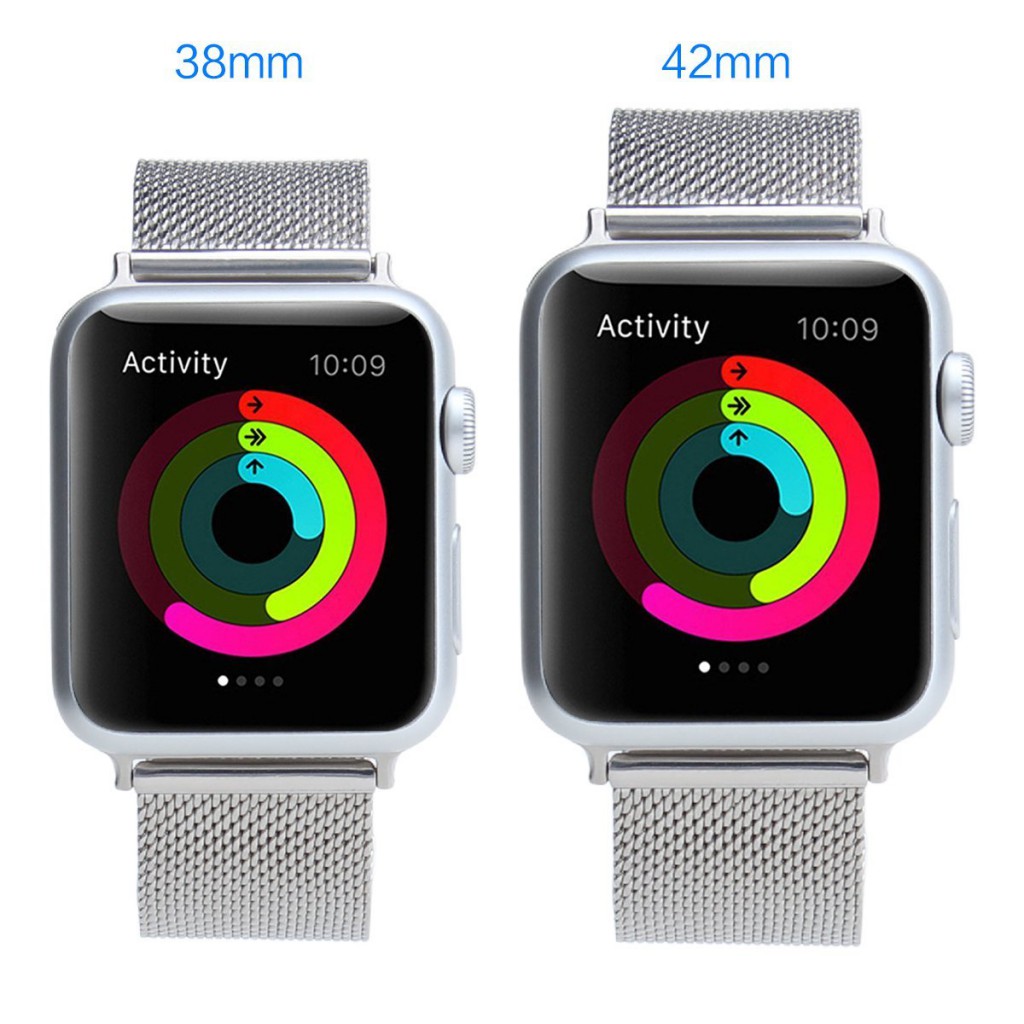 Apple 'Watch'
This model costs more than the 'Sport' and is encased in cold-forged stainless steel that can either be a space black finish or shiny chrome. The 'Watch' weighs between 56g-105g depending on the size and strap.
Apple  'Edition'
If you have deep pockets, this model is the costliest option and is made from 18 Karat gold. Again, the specs are exactly the same as the cheaper models and the only difference is that this model is made from gold. You can choose between the 18 karats rose gold case or 18 karats yellow gold case.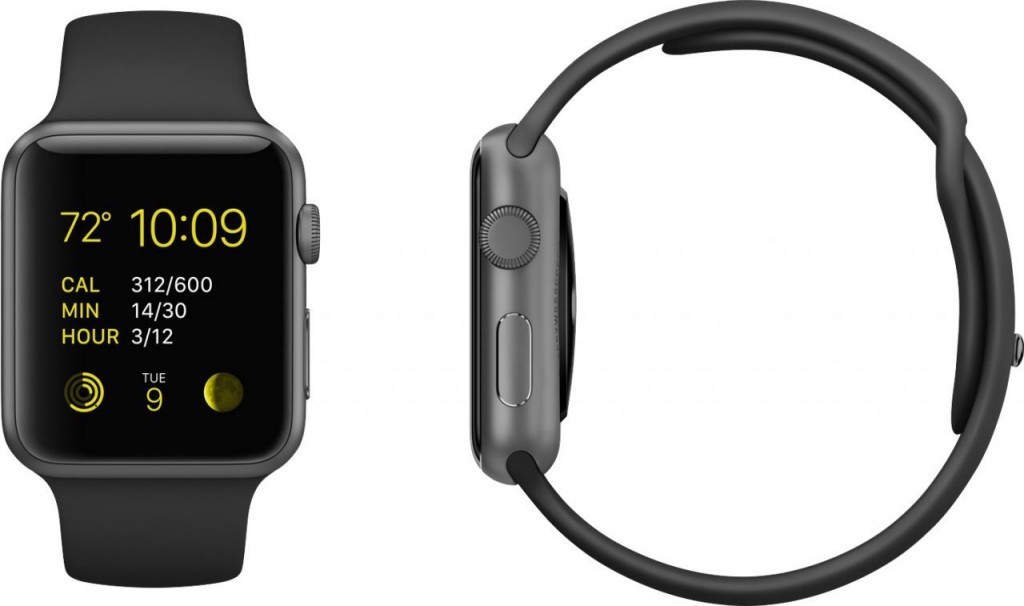 Hardware Features
There's no denying that the apple watch is truly stunning and stylish. The screen is brightly lit and there's hardly any glare in direct sunlight. Behind the watch, you'll find 4 glass circles which contain the sensors for the heart rate monitor.
A dial can be found on the right-hand side of the watch and is called the 'digital crown' which makes it easy to scroll through lists or zoom in and out of photos and acts as a home button. There's also another button on the side which works together with the 'digital crown' to access frequently used contacts.
The watch also has a clever inductive charging system that uses magnets to link it to the charger. The Apple Watch is water-resistant but not water-proof.  It can be worn in the shower with no problems but please DON'T go on diving expeditions with it.
Apps and Software
The main display shows the date and time by default but can be configured to display additional information such as the weather forecast, upcoming appointments or activity updates. A simple tap of the digital crown brought up a list of my apps and I was able to easily move around the screen using my finger. 
Whilst a lot of functions are on the watch itself, most apps are controlled by the iPhone (including the order in which they appear).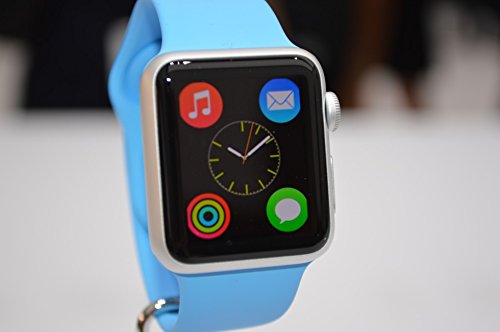 If you swipe up, the watch displays a number of custom selected cards with information that can include real-time travel information, weather, or activity updates. If you swipe down from the top, the watch will show notifications such as emails, missed calls, or texts. 
Appointments / Calendar
This is very handy indeed, I was able to organise my meetings and events by simply pressing and holding the digital crown to bring up the personal assistant, Siri, to record and schedule my meetings.
All I needed to tell Siri was what, when and where. For example "Schedule a meeting with Tom at 12pm on Tuesday". Then tap to confirm, and the rest is magic! The watch will give a gentle vibration 'nudge' 15 minutes prior to the meeting.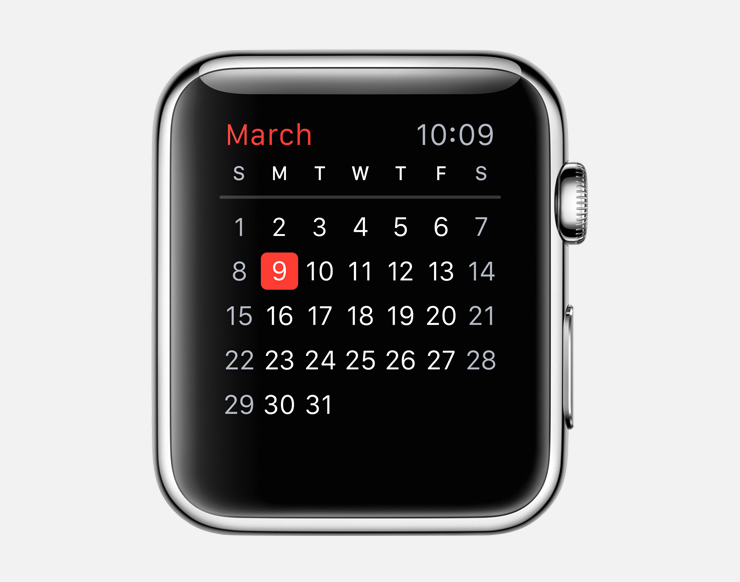 Battery Life
The battery life was not an issue and gave a full day of usage with no problems.  At the end of the day, I would normally have about 40% remaining even with constant use.  It takes around 2.5 hours to fully recharge and will need charging every night if you are a heavy user.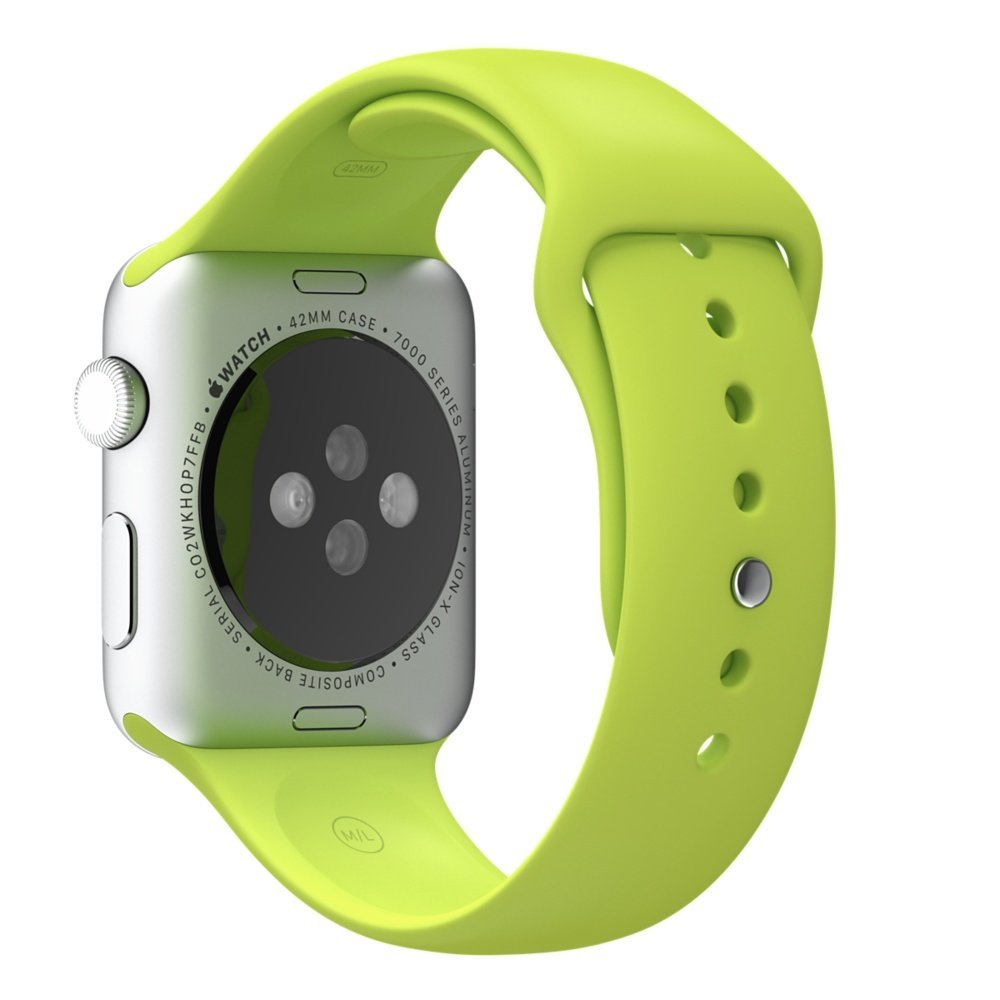 Messages and Phone calls
As mentioned earlier, when you receive an email or message you can use the apple watch instead of the iPhone to respond with preset lists of messages such as "I'm running late", "I'll call you later"  which you can add using the iPhone.
You can also create new text messages or emails, using Siri, and the side button to select your contacts, or you can phone them from the watch, (via the iPhone).
Using Siri to dictate a message was definitely the best feature on the watch as it saved me time by not having to manually type things that I would normally have to on a phone.
The calling feature was also impressive, as the person on the other end couldn't tell that I was using the watch instead of my phone although it was a bit hard to hear them.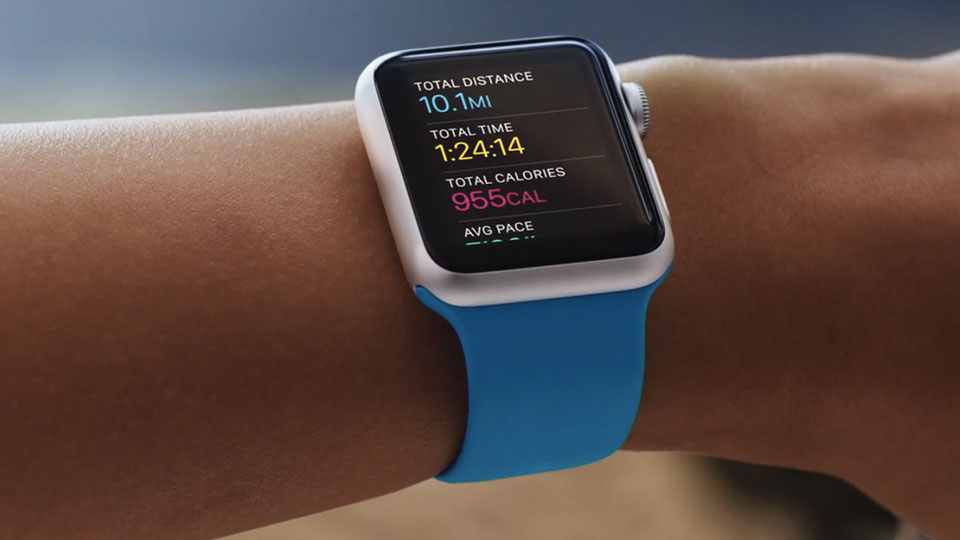 Health App
I found the Health App to be a very useful feature and probably the one that I used the most. It's easy to use and the Apple Watch doesn't rely on the iPhone to display activity information such as steps, distance, calories burnt or heart rate.
This can all be shown on the watch display. Setting goals was simple and fun- I was able to set a daily target to walk a certain distance or exercise for a set period, and the watch would occasionally remind me if I was idle for too long. The goals were shown as a circular graph that would increase as I progressed during my day.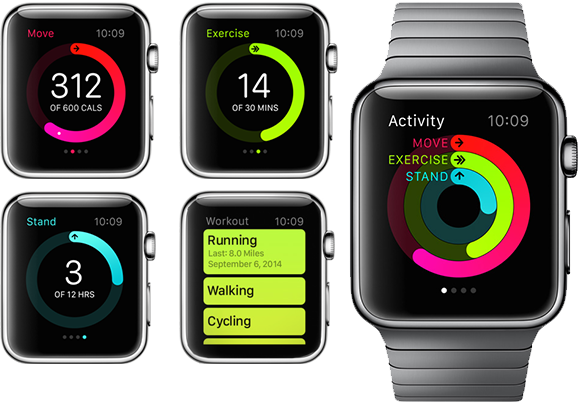 Apple Pay
Apple pay allowed me to make payments using the watch. Double-clicking the side button brought up Apple Pay, I was then able to authenticate myself with my iPhone and swipe the watch against a terminal to make payments. The authentication will remain as long as you don't remove the watch from your wrist,  re-authenticating is easy enough though.
Cons
Some 'non-official' apps can be slow to load.

Top-end model is somewhat pricey.

The watch can't monitor sleep patterns (this might come along in future software updates). 
Frequently Asked Questions
Question: How is the battery life?
Answer: The official battery life is 18 hours, but I found that the watch comfortable surpassed this before going into power saving mode, at which point it would only display the time and shut down down all other functions. 
Question: Can the straps be used on any of the watch models?
Answer: Absolutely. There are many other straps available from the Apple store, and it's really simple to change the straps. Click here for cheaper alternatives on Amazon.
Question: Can the apple watch be used with left-handed people?
Answer: Yes.  You can specify whether your left or right-handed when pairing the watch with your iPhone. The watch will cleverly flip the display so you can have the digital crown in the correct place.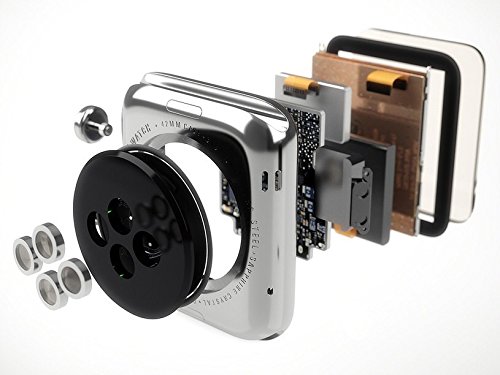 Question: Can the watch work on its own?
Answer: The watch can't work by itself. It has to be paired with an iPhone 5, 5S, 5C or 6. Many of the watch's functions such as making calls or sending texts rely on the iPhone.
Question: Can I still operate the watch if my iPhone runs out of battery?
Answer: Yes you will be able to use the normal functions and tell time. You will be able to track your fitness and sync the details with your iPhone later,  if you've already authenticated yourself you can use Apple Pay to make purchases, you can also listen to any music stored on the 2Gb onboard storage.
Question: Does the watch come with a warranty?
Answer: Apple provides 90 Days support along with a 12-month warranty. The warranty can be extended with AppleCare+ which provides up to 2 years warranty and 2 incidents of accidental damage cover but is subject to a minimum fee.
Question: Is the watch a good fitness tracker?
Answer: Yes, the watch uses the GPS on the iPhone to record routes and is also equipped with an accelerometer which tracks steps. Activity displays your daily progress towards exercise goals. Workout shows more detailed info for time and calories burnt and tracking pace during a fitness session.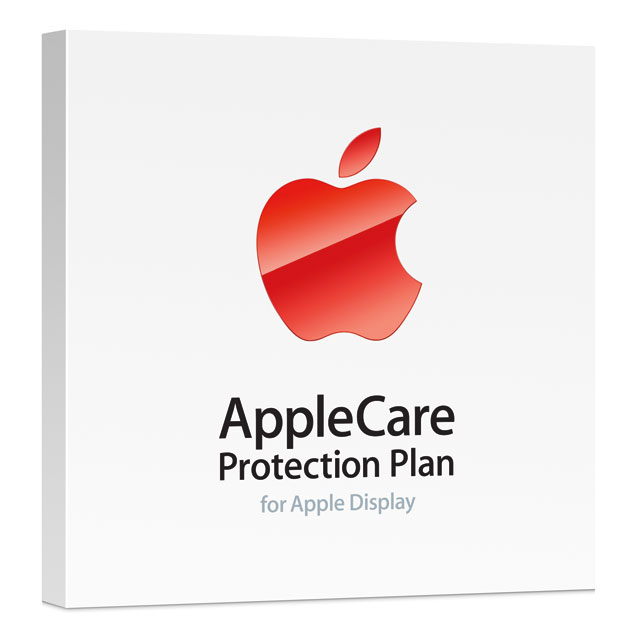 My Final Say
Overall, The Apple Watch is a wonderfully designed addition to the apple family. Its certainly one of the best smartwatches that I've tested and is a great companion for the iPhone. Although the watch doesn't work independently of the iPhone,  it has many similar features and has eliminated the need to constantly look at it. Just like all Apple devices, its ground-breaking, stylish and one of my favourites. 
Cheapest Place To Buy The Apple Watch
Purchase it on Amazon.com

Please feel free to leave your comments below and let me know your experiences with the apple watch or if you're considering buying one. Thanks for reading!