Here is a quick summary of the Sarlar VR Headset and why you need to buy one. From the onset, you can see that the headset is made from high-quality material. The straps are velcro and totally adjustable for any size head. My head is quite large and it fits comfortably. It's padded very well around the edges to avoid pressure on the forehead and nose.
The headset comes with adjustable lenses. If you wear glasses you might not need to, provided that you have low prescription glasses. You can adjust the individual lens to suit your focus. Further adjustments can be made at the bottom of the headset, where you'll find buttons to control the spacing of the lenses between the eyes. This reduces double vision particularly if you have a smaller head.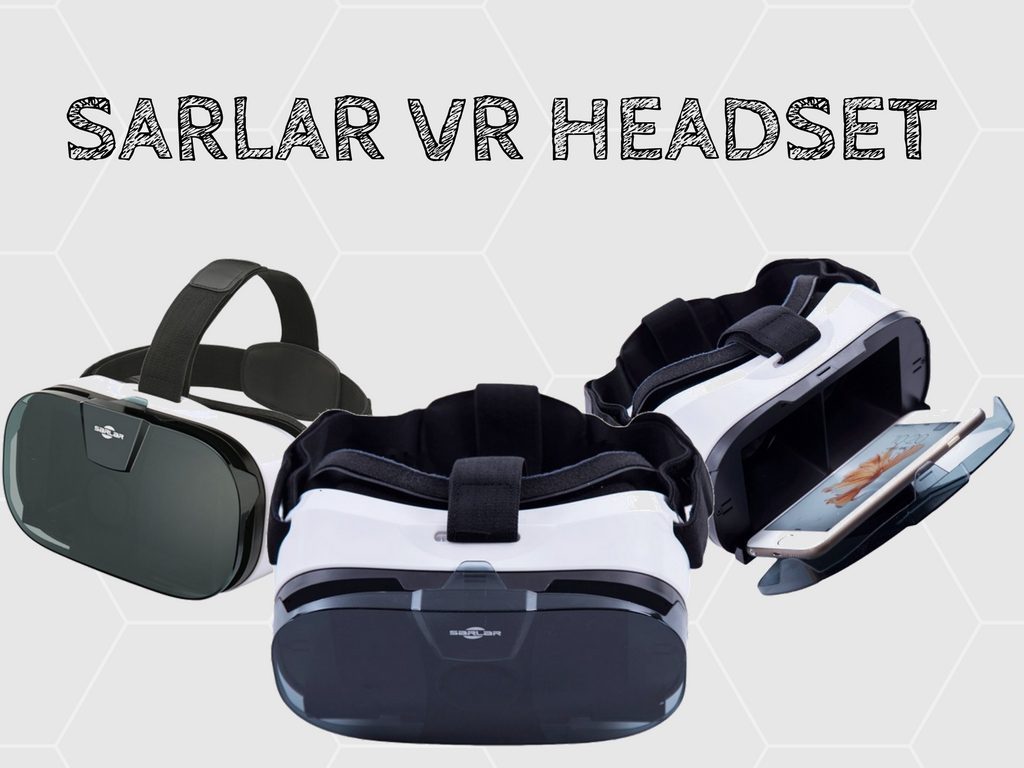 On the inside, you'll find a foam pad to hold your smartphone firmly in place, unlike alternative headsets which have suction cups for smooth back covers, this might be a problem if your phone has a rough back cover. The foam pad does away with the guesswork and holds your phone in position regardless of the type of cover on your phone.
It comes with an additional guard which blocks the light out and incorporates some bars that you can slide to hold your phone in place depending on its size. The biggest selling point about the Sarlar VR Headset is that it's compatible with almost any smartphone currently available.
Responsiveness
I demoed the Sarlar headset on the VR Rollercoaster app and man was this thing awesome! The virtual reality was fluid and totally immersive. The rollercoaster ride was almost as good as the real thing. It's so convincing, I might skip my trip to the theme park this year. Why bother with riding the Fury 325 when you have this?
Light Leakage
There's a slight bit of light leakage just below the nose and to the sides of the eyes but this is only noticeable if you were looking for it. It's very minimal and wouldn't discourage me from buying the Sarlar VR Headset.
Prescription Glasses
As mentioned earlier, you can use the Sarlar VR without glasses thanks to its adjustable lens focus. But if you wear high prescription glasses you can keep them on when playing on the headset. I wear prescription glasses with a standard frame, and these were okay. I didn't experience any sort of discomfort during usage. One of the lens features is described as an aspheric lens design to increase comfort.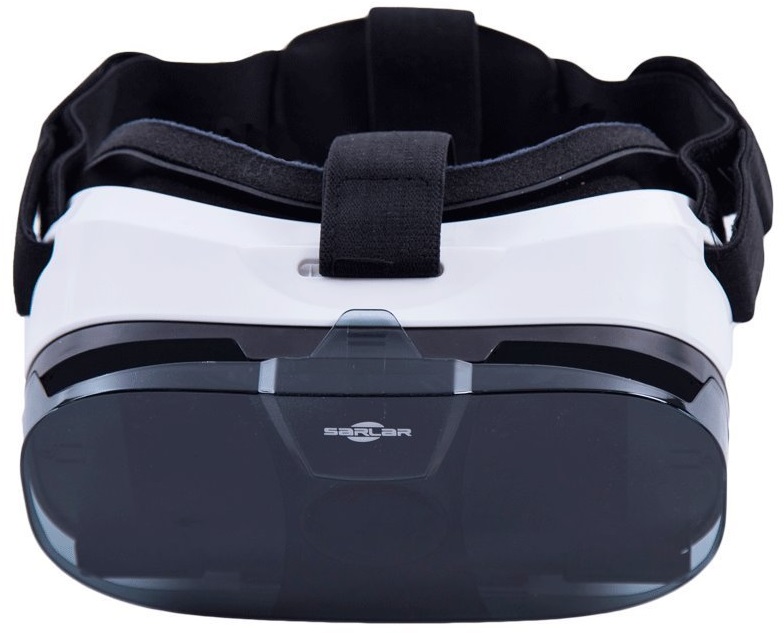 Comfort
Although the padding around the edges is extremely comfortable it has a tendency of getting warm after extended usage. You can work up a sweat whilst inside the headset, just make sure you have a face cloth nearby or turn on the air conditioning.
The velcro straps sit comfortably over your head and are fully adjustable to the shape of your head. Once you find your perfect position, the headset will sit securely for as long as desired.
The Sarlar VR is much lighter than it looks. After a while you forget that it's there- just don't get up and start walking into things.
In comparison to cardboard headsets the Sarlar VR yes definitely an upgrade. The lens focus will give you a beautifully clear image which makes all the difference to your virtual experience. In fact, after this review, I'm going to put them back on.
Cost
One of the reasons why the Sarlar VR Headset is so popular is because it feels premium but costs nowhere near what you would pay for high-end models such as the HTC hive or Oculus Rift. In fact, you can buy a Sarlar VR Headset for less than $30 which is insanely cheap compared to a $500 – $600 premium headset. Save yourself some money and get the same virtual reality experience.
Apps
The Sarlar VR can fit almost any smartphone meaning that you have access to a huge range of apps available on Google Play stores and apple store. It will even work with Microsoft phones. There's plenty of immersive content and videos to download that can be found on Netflix and Hulu.
Don't forget to play great games such as hang gliding, VR crazy swing, 3D Space Station, Galaxy and Jurassic land. The list of games is endless. Just don't get lost in the virtual world or else you might never find your way back. Mwa ha ha ha.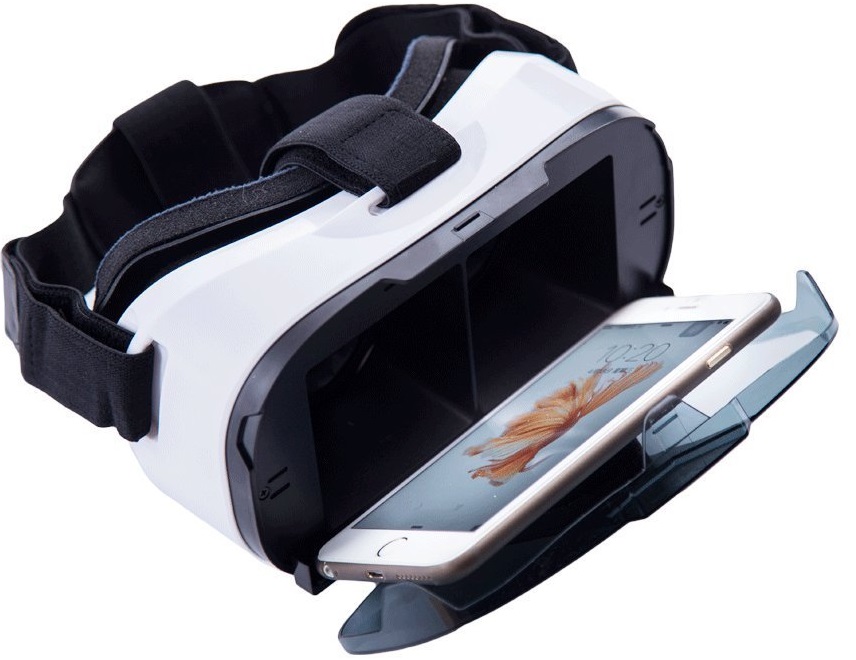 If you've not used virtual reality before, the Sarlar VR is a great inexpensive way to experience it without forking out large sums of cash. You won't be disappointed.
Navigation
Unfortunately, the headset does not have navigation buttons found on other models. If you are an Android user, a quick fix to this problem is to buy a Bluetooth remote to control the phone.  These are cheap and readily available.
---
| | |
| --- | --- |
| PROS: | CONS: |
| An inexpensive Introduction to Virtual Reality | Can get warm if worn for long periods |
| Lenses are adjustable | Slight light leakage |
| Compatible with almost any smartphone | No control buttons |
| Solid frame built from durable materials | |
| Comfortable to wear | |
| Can be used with prescription glasses on | |
Where can I Buy The Sarlar VR Headset:
Find great prices on Amazon.com
Product Rating: 8.5/10
Product Specification:
Dimensions: 194 x 117 x 127mm
Material: ABS+ environmental polycarbonate
Lens: anti-distortion and aspherical optical design
Field Of  Vision: 102 degrees
Colour: White / Black
Compatible Phones: iOS, Android, Microsoft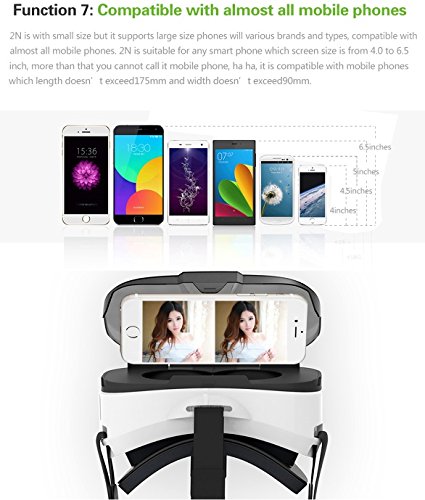 Conclusion
It's no surprise that the headset has enjoyed very strong customer reviews. It's easy to use and the aspheric lens design ensures that the frame fits perfectly every time. The Sarlar VR is noticeably better than Google cardboard glasses but amazingly doesn't cost much more.
The high demand for VR headsets means that manufacturers are producing them in much better quality and the Sarlar VR is no exception. So strap yourself in and enjoy the virtual ride. Just remember to remain seated to avoid walking into a wall.
Are you considering buying the Sarlar VR headset or do you already own one? Do you have google cardboard glasses and if so, how do they compare?
Check out our List of the 10 Best VR Headsets for Smartphones