Usually, when we think of smartwatches, wellness is prioritized over activity. This is seen apparently through the likes of the Apple Watch Series and the Samsung Galaxy Watches. But today, let's dive into our dedicated Fitbit Versa 3 review to see how it performs and if it's the right smartwatch for you.
See Where The Fitbit Versa 3 Ranks In Our List OF The Best Fitness Trackers For Seniors This 2021.
The Fitbit Versa 3 – Overview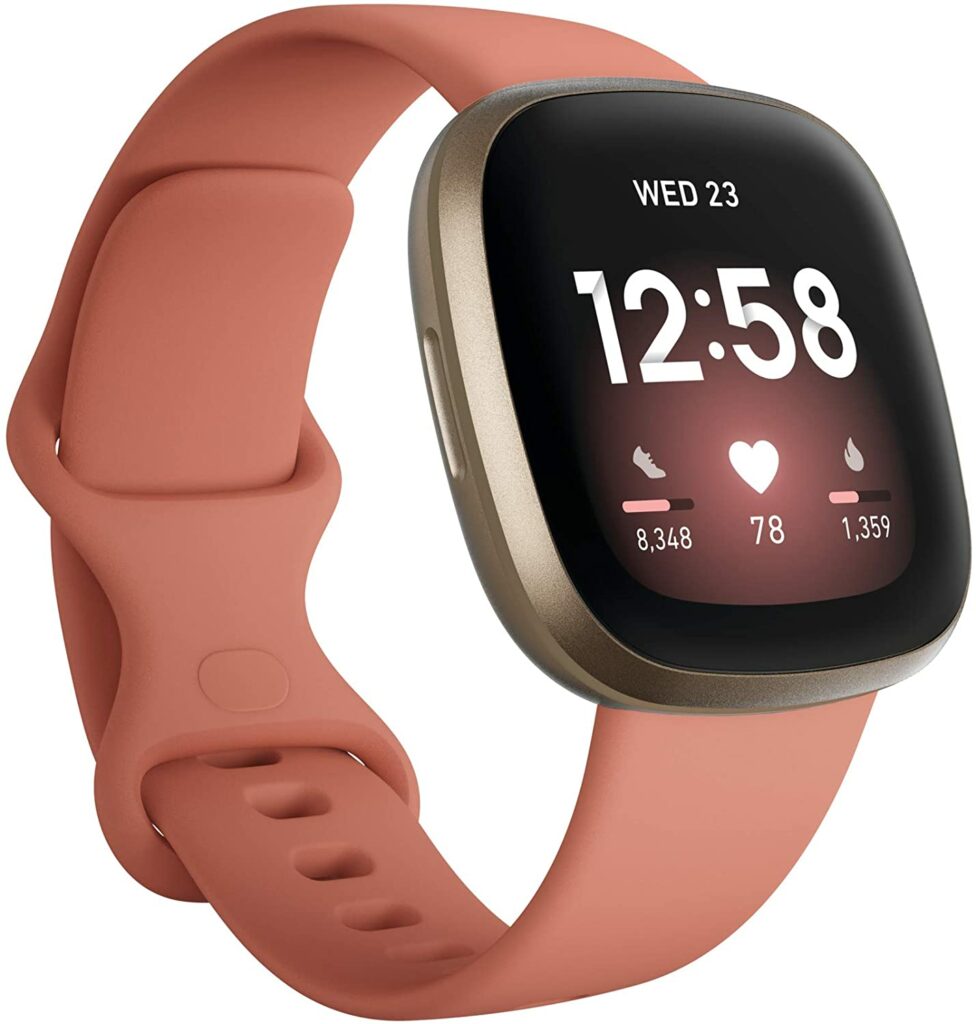 Fitbit needs no introduction when it comes to the fitness tracker and smartwatch industry. In fact, they're one of the first companies to ever introduce such a successful and well-loved lineup of fitness trackers in the market right now. As of writing, they are leading and pioneering the fitness wearables industry.
With so much competition in the market with big players like Apple and Samsung joining in, that's not an easy feat. While the previously mentioned brands are great in their own right, Fitbit seems to remain at the top as they continue to release the best wearables (and for a fraction of the price!) you can get your hands on right now.
That's why without further ado, let's get straight into our Fitbit Versa 3 review.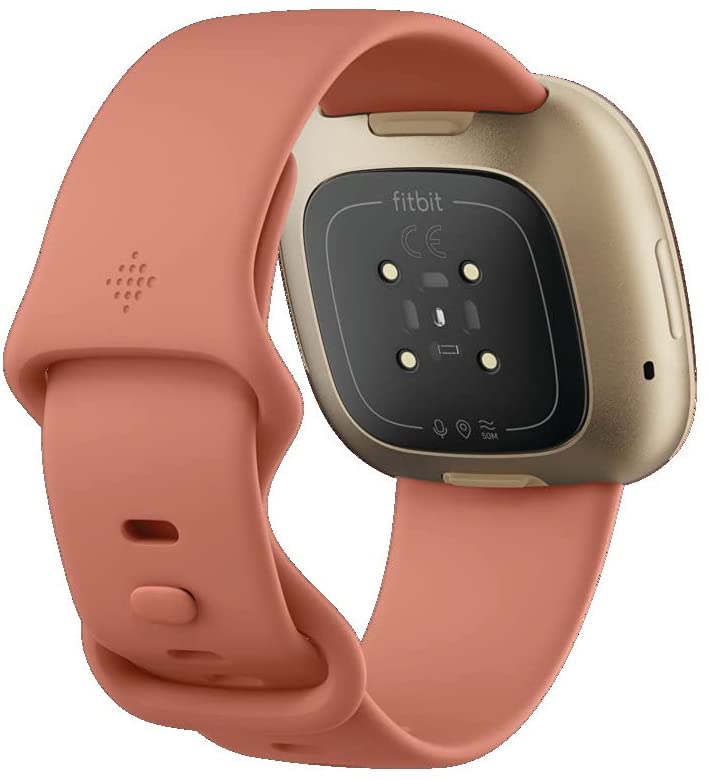 The Versa 3 vs. Previous Iterations
Now in its third generation, the Versa 3 is a solid and impressive model that is built upon the features we all know and love from its predecessors but with even better upgrades, additional features, and overall changes. Right at the bat, I'm just going to say that this is the best smartwatch Fitbit has released yet.
Despite the slight price increase, the Versa 3 justifies this with a much larger AMOLED and always-on display screen for easy viewing, integrated GPS to accurately track your pace and distance, built-in microphones and speaker for hands-free calls, a larger range of fitness statistics, longer battery life, a SpO2 sensor, and so much more.
Not to mention, even with the increased price point, it is still a lot more affordable compared to its competing wearables from Apple and Samsung. Also unlike other smartwatches, the Versa 3 seem to prioritize fitness and health tracking over wellness and productivity.
Some of you might notice that the Versa 3 lacks an FDA-cleared electrocardiogram or known as an ECG or EKG. This can either be a big deal or not for some of you but the lack thereof this feature cuts the cost to $100 in comparison to the Fitbit Sense.
Depending on your priorities, the Versa 3 is much better if you feel like the Sense is too overwhelming with health and medical features and does not have enough focus on the fitness aspect.
Features & Specifications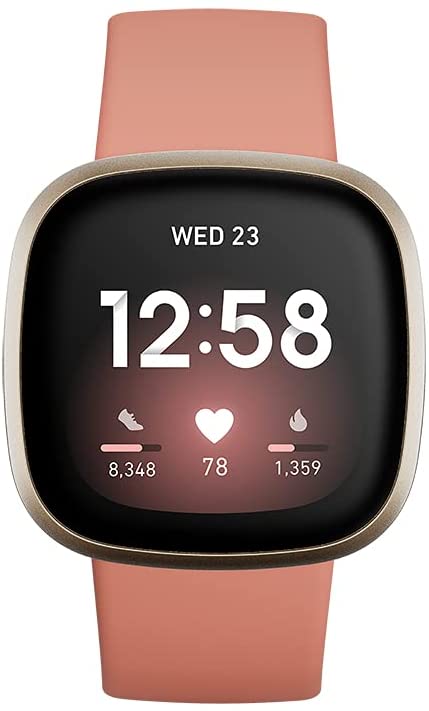 Product Dimensions: 1.59 x 1.59 x 0.49 inches
Product Weight: 0.71 Ounces
Manufacturer / Brand: Fitbit
Batteries Used: 1 D batteries.
Battery Life: Up to more than 6 days of battery life on a single charge depending on usage.
Wireless Communication: Bluetooth
Compatibility: iOS and Android.
Interface Output: Touchscreen display.
Waterproof: Yes.
Heart Monitoring: Yes, 24/7 heart rate monitoring.
Sleep Tracking: Yes.
Colors: Black/Black Aluminum, Midnight/Soft Gold Aluminum, Pink Clay/ Soft Gold Aluminum, Thistle/Soft Gold Aluminum, and Olive/Soft Gold Aluminum
Extra Features: Weather, Sleep Monitor, Reminders, Voice Assistant, Alexa, Phone, GPS, and Heart Rate Monitoring
Click here to read the Fitbit Versa 3 user manual.
Check out Fitbit's introduction to the Versa 3 below!
What We Love About The Fitbit Versa 3
Integrated GPS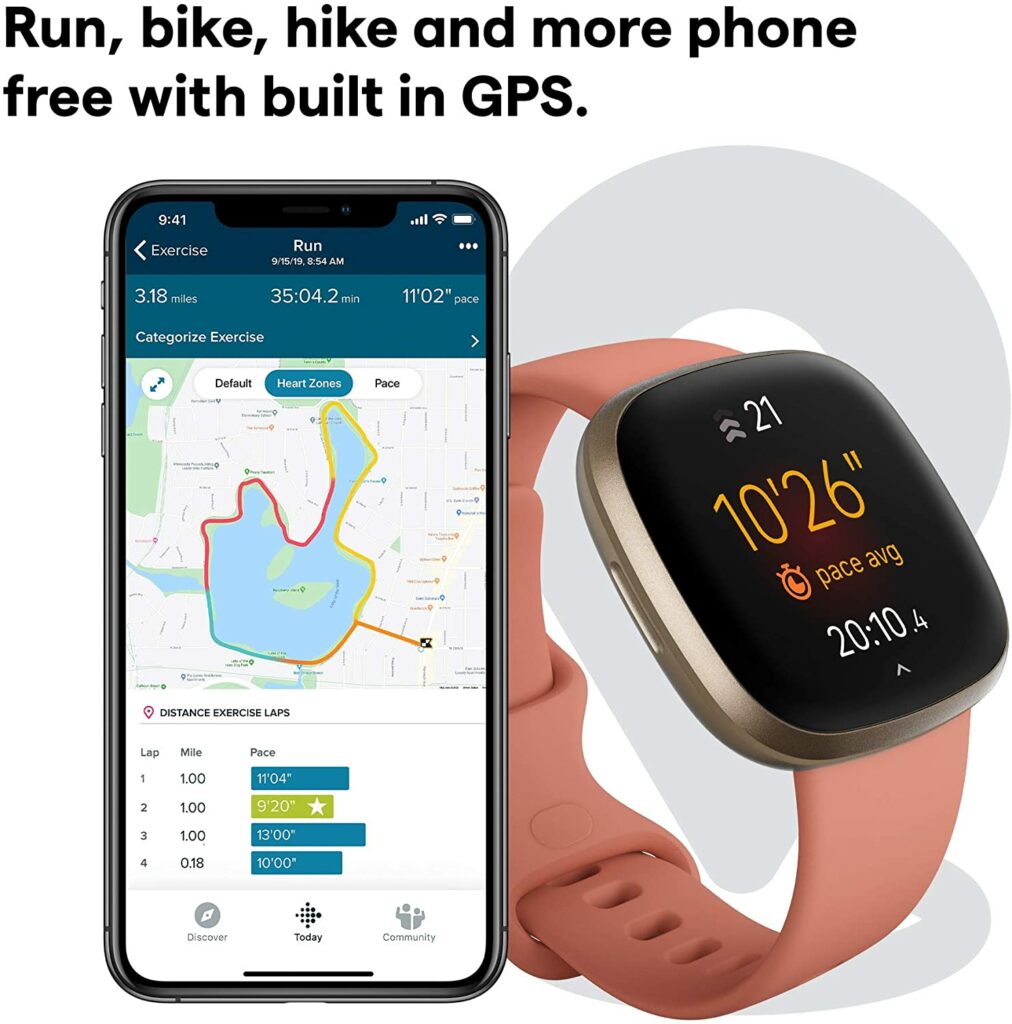 Unlike the previous models in the Versa lineup, the Versa 3 now comes in with its own GPS. This means that this particular wearable offers better and more accurate data regarding your workouts and exercises, especially if you're a runner, a biker, or a hiker.
Gone are the days when you had to constantly whip out your phone from your pocket just to check the GPS. Now, you can just conveniently check your pace, distance, and other fitness stats with a quick glancing at your wrist.
A Plethora Fitness & Health Functions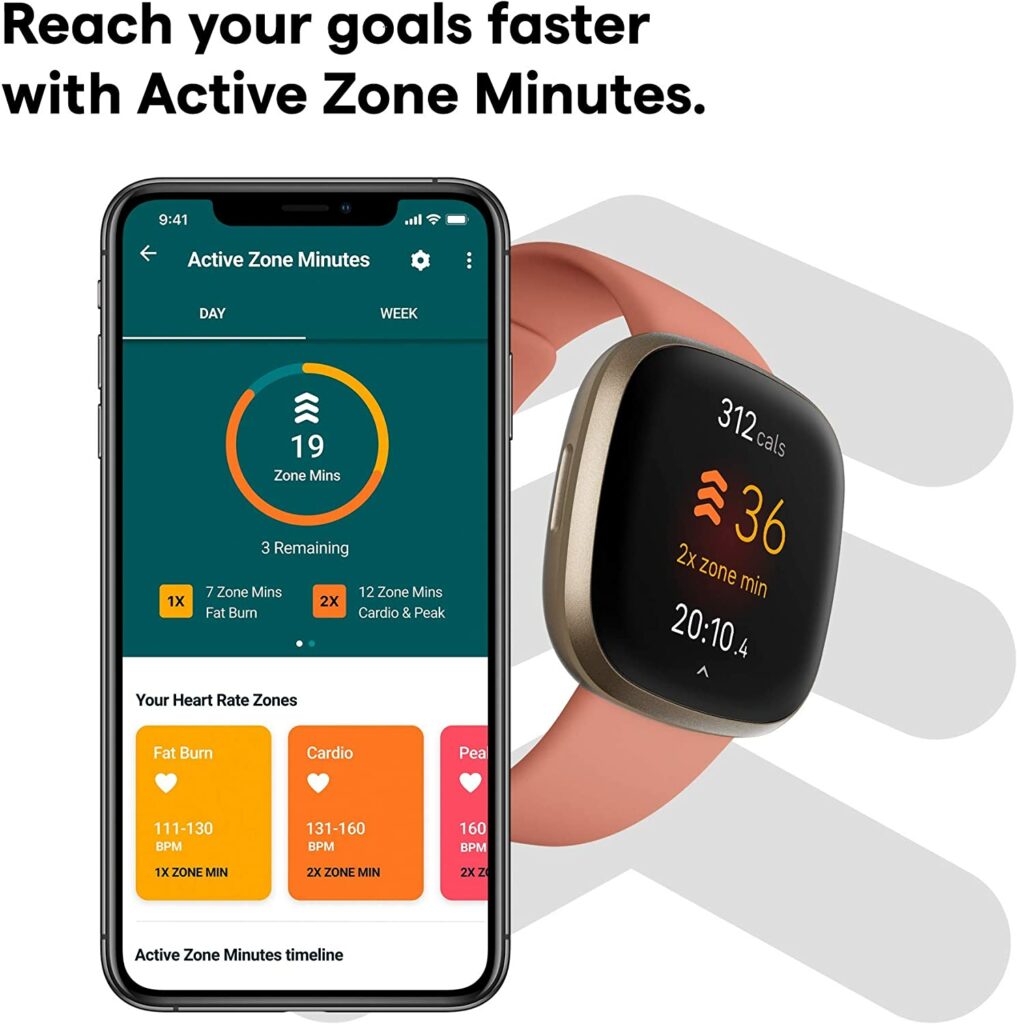 By now, I think we all know that every Fitbit wearable probably covers every basic fitness and health tracking that we need daily and regularly. The Versa 3 is no different. Not to mention, it also almost has the same health functions as the much more expensive Fitbit Sense and for two-thirds of the price!
Apart from that, Fitbit also included their new feature that was first introduced on the Charge 4, called Active Zone Minutes. Which according to Fitbit, counts your time spent in heart-pumping activities like cardio workouts.
Additionally, you also get notifications of your different heart-rate zones during workouts so you know when to push harder or to cool down. You will also find an exercise app on the Versa 3 that provides you with up to 20 exercise routines for real-time stats during workouts.
Aside from the new feature, the Versa 3 also uses an impressive sleep monitoring system that provides you a very detailed statistic on your sleep. It not only tells the length of your sleep but also the quality and how long you've spent in each of the measured sleep stages (light, REM, and deep).
SpO2 Sensor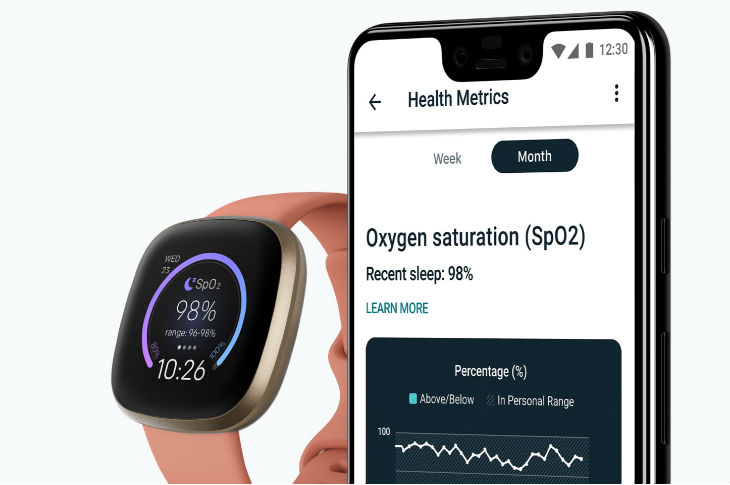 While the Fitbit Sense 3 remains superior in terms of health and medical functions, the Versa 3 holds solidly on its own now that it has an integrated SpO2 sensor. This is a pretty useful feature nowadays to conveniently check your blood oxygen saturation after a night's sleep, especially as we continue to go through a pandemic.
Having a handy SpO2 sensor wrapped around your wrist can also help you in detecting low blood-oxygen levels and other possible health issues such as asthma, sleep apnea, allergies, and etc.
Any indication of abnormal levels of your blood oxygen will tell you that it's the right time to go see a doctor for a proper investigation and consultation.
AMOLED Screen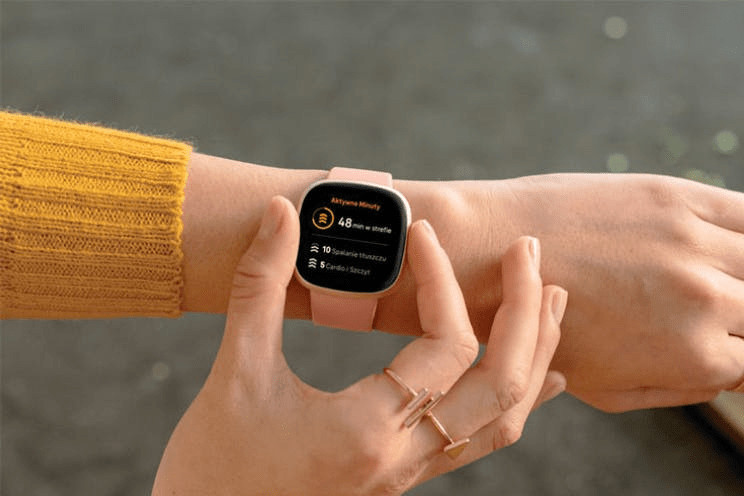 While the Versa 3 still sports the same cut, shape, and build as its predecessors, the bigger AMOLED screen makes a huge difference in terms of display quality. The 1.58-inch AMOLED screen on the Versa 3 has narrower bezels, it has an "always-on" display, and an overall brighter and flashier screen.
For some of you, a monochrome or greyscale screen is enough but I find that AMOLED screens are just generally a lot easier to read when you're under direct sunlight or any harsh lights. The screen doesn't dim and you don't have to constantly look for shade to see what's going on with your smartwatch again.
In addition, you can also opt to turn off the "always-on" display during situations where you won't need to check your smartwatch frequently. This will also help prolong the wearable's battery life. The "always-on" display is mostly preferred in cases where you need to check your stats and metrics right away like during workouts and exercises.
Other Features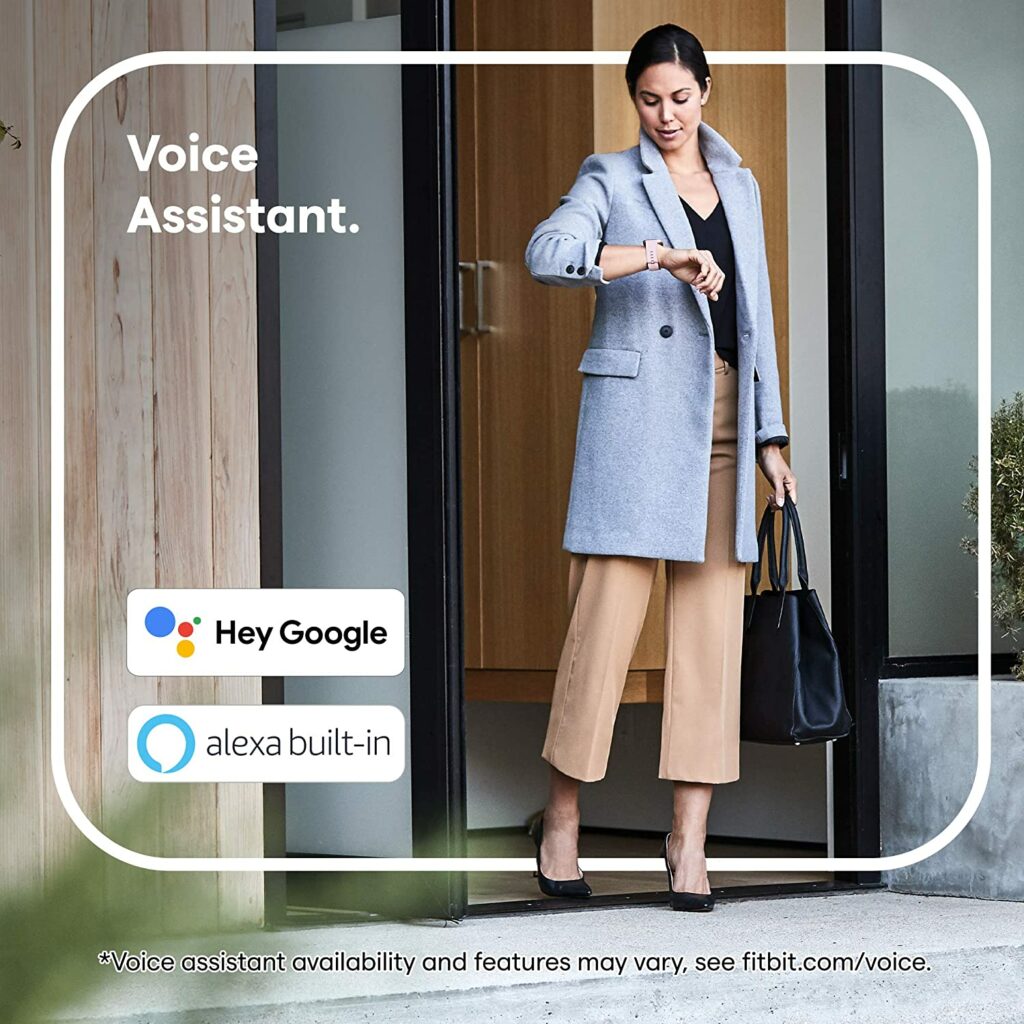 Voice assistance is something I always appreciated from any device. So the fact that the Versa 3 supports Google Assistant, Amazon Alexa, and has a built-in microphone and speaker, this wearable gets major plus points for me.
These features are very functional and convenient when you're always on the go. The built-in mic and speaker allow for hands-free calls while Amazon Alexa and Google Assistant can give you updates on almost everything whenever you ask.
Battery Life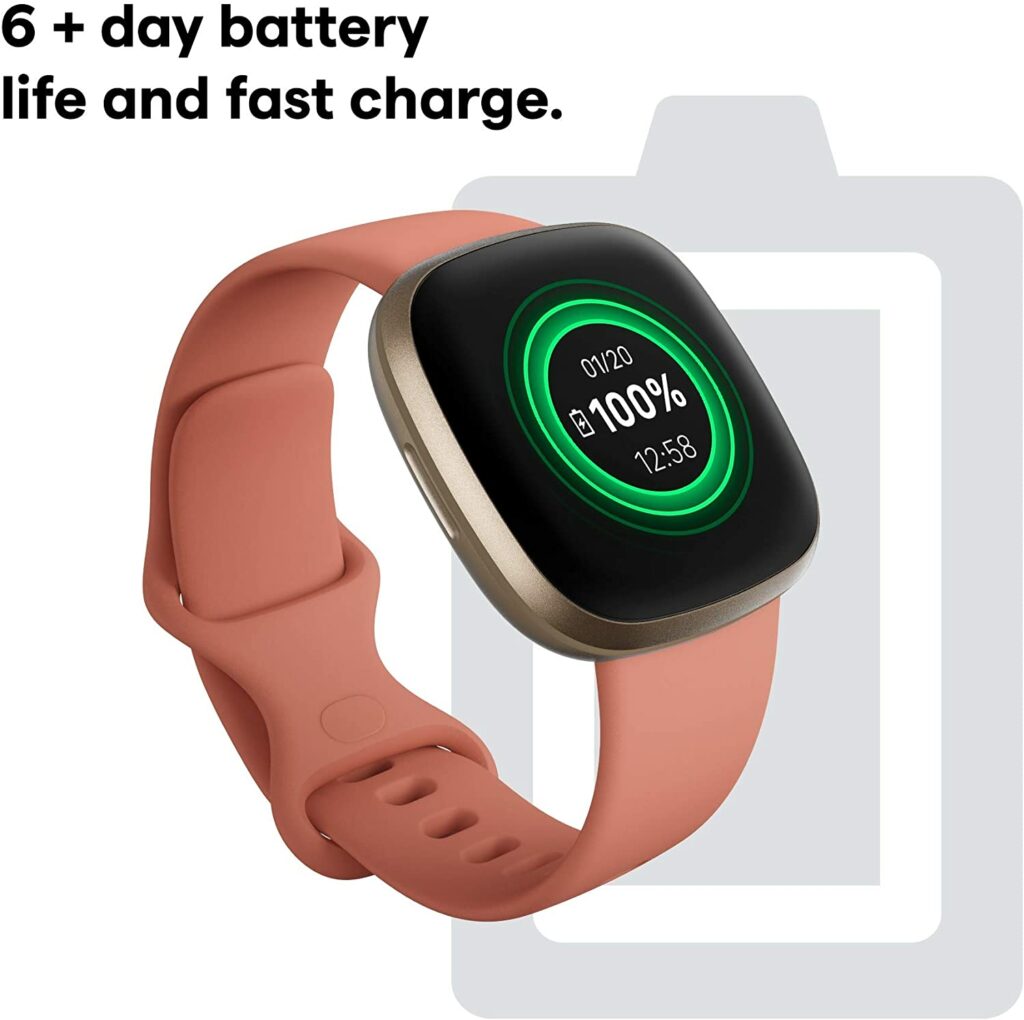 As expected from Fitbit, the Versa 3 has an excellent battery life in comparison to other more premium smartwatches that only last for less than a day. With this wearable, you're getting a whopping 6-day battery life out of a single charge! And that's depending on your usage.
So if you're the kind of person that tends to forget their devices from time to time, you can just set a reminder for yourself to charge this once or twice every week.
Click here to check out our top recommendations of the best fitness trackers for seniors this 2021.
Our Least Favorite Thing
Limited Apps
The Fitbit Versa 3 is an overall impressive wearable. But it's not perfect by all means. It doesn't support quick replies or calls if you're using an Apple smartphone and it has very limited access to a small number of apps.
For some, this can be a dealbreaker. Especially when you're eyeing a smartwatch that can provide you control support into your smart home or have access to a dedicated app library like the Apple App Store.
Though aside from this setback and if you're not too picky with apps, I think the Versa 3 supports just enough apps that will make most of its users happy.
In A Nutshell
Now that we have broken down the things we loved and disliked about the Fitbit Versa 3, here is a narrowed-down list of the good and the bad.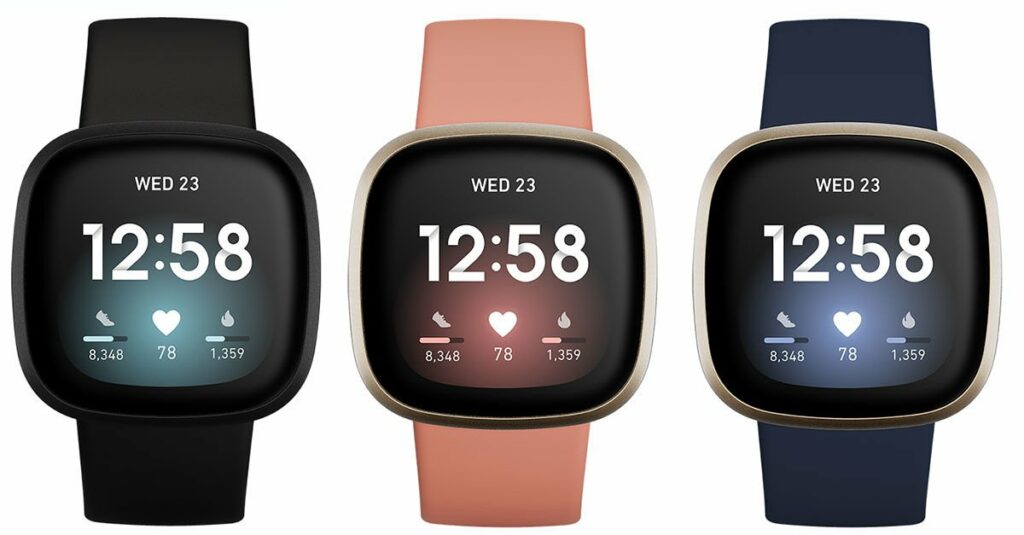 Pros
Impressive smartwatch features.
More than 6 days of battery life in a single charge.
A great and budget-friendly alternative to the Apple Series Watch.
Built-in GPS, Google Assitance and Amazon Alexa.
Microphone and speaker inclusion for hands-free calls and text dictation.
Bright and always-on AMOLED display.
Music control support for Spotify.
SpO2 readings and better heart rate monitoring with the PurePulse 2.0.
Active Zone Minutes.
Cons
Heavily relies on your smartphone being nearby.
Only allows you to make quick replies if your smartwatch is an Android phone.
Limited apps.
No offline support for music playback.
Final Verdict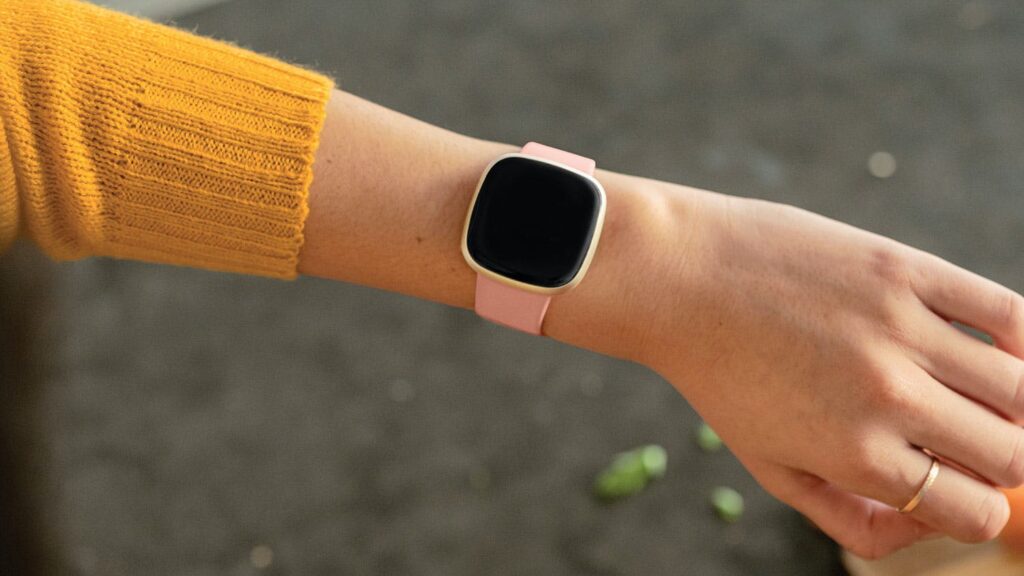 Overall, the Fitbit Versa 3 is a pretty great choice for a smartwatch. If you want an Apple Watch but can't afford it, this is an impressive alternative. The only thing you will be missing out on is the polished ecosystem the iOS has along with access to the Apple App Store.
If the latter is no big deal to you and you feel like you can live without it, the Fitbit Versa 3 has a great value for its price. Especially if you're an Android user. It nearly has everything for you from great smartwatch features to impressive fitness tracking metrics and health sensors.
For less than $250, you're getting a beautifully designed watch that's packed with so much functionality and all the features necessary to keep you on track for a healthy lifestyle.
Already own the Fitbit Versa 3? Let me know about your insights and experiences in the comments section below. I would love to hear your thoughts!
Recommended reading for you:
The Best Fitness Trackers With GPS For 2021
The Best Smartwatch For Nurses 2021: Stay Healthy With These Wearables
Your Quick Guide To Buying Fitness Trackers With GPS 2021
How To Buy The Best Activity Fitness Trackers 2021: Shopping For The Right One
The Garmin Vivosmart HR+ Review: The Best Wearable For You?
The Fitbit Charge 4 Review: Your New Bestfriend To A Healthier Lifestyle
The Apple Watch Series 6 Review: Is It The Best Choice For You?
The Samsung Galaxy Watch 3 Review: Is It The Best Android Smartwatch?