Take your fitness training to the next level…
Today's review will be focusing on some of the best wearable fitness devices to help with tracking physical activities and get you in the best condition in no time. I'll be giving you a quick summary of the must-have features including the native app that can be loaded to your Android/ IOS device for a detailed breakdown of your workouts and activities. Let's go!
3. JAWBONE UP2
First up, the Jawbone Up2 fitness tracker is very well built and stylishly discreet. It boasts a remarkable 6-day battery life and syncs via the latest Bluetooth 4.0 using the iOS and android app (illustrated below).
It calculates steps, calories, distance, sleep analysis and provides the data in a simple user-friendly format via the installed app (shown above). The Jawbone Up2 is splash resistant but not water-proof (you've been warned).
Pros:
Great battery life.

Discreet and stylish.
Cons:
Not water-proof.

Doesn't pair with heart-rate monitors.

Doesn't track heart rate.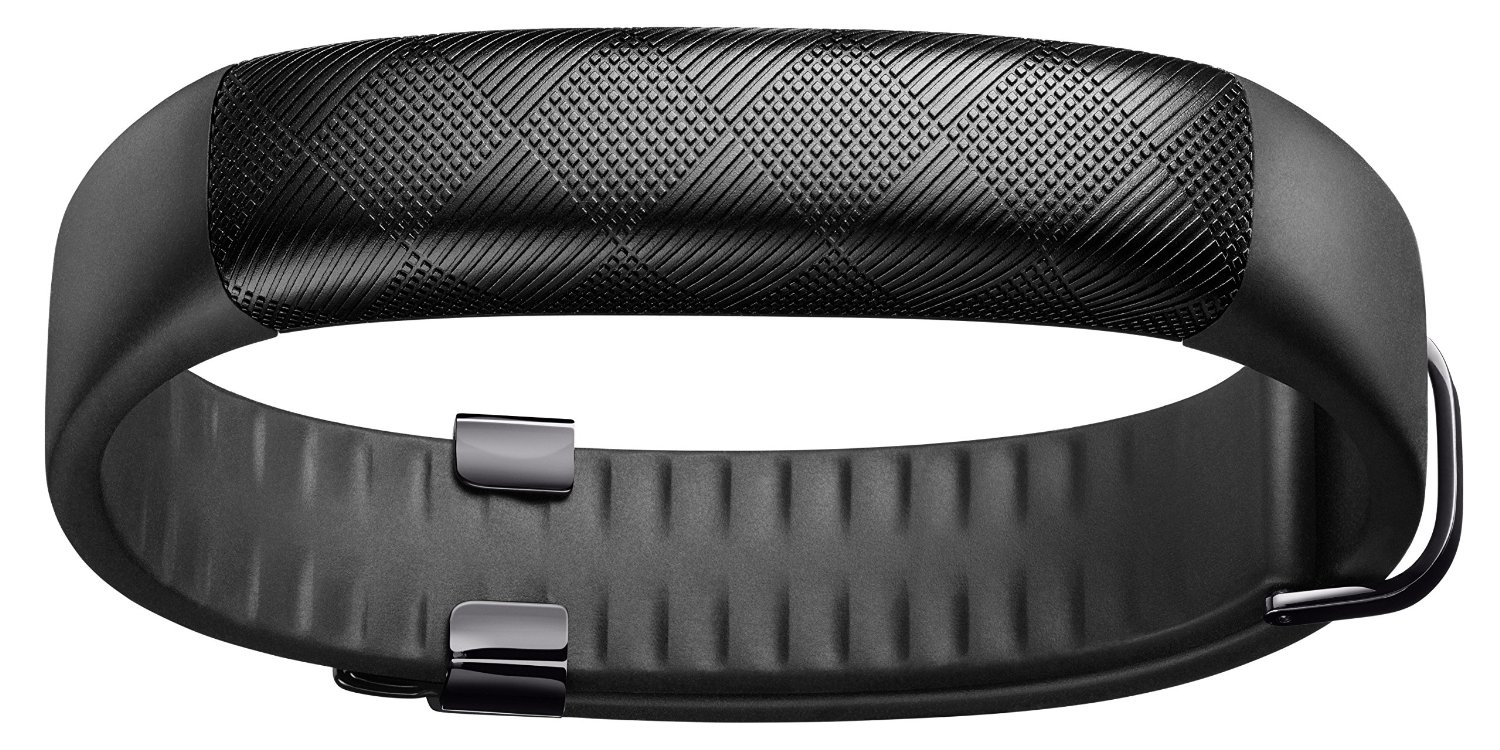 Product rating 7/10 ★★★★★★★
US: Purchase it on Amazon.com

2. Fitbit Charge HR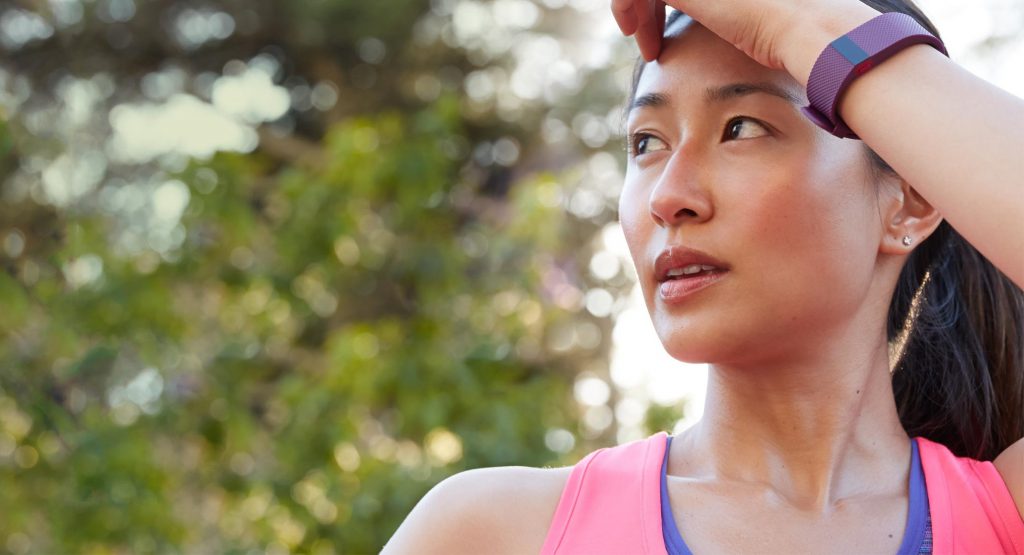 The Fitbit Charge HR a popular device that features an onboard screen that provides activity data for distance, calories, steps and heart rate. It calculates heart rate and eliminates the need of wearing a separate heart rate monitor which is a big PLUS by saving the cost of buying a separate accessory.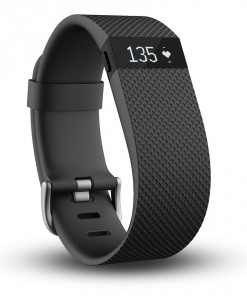 The battery life lasts an impressive 5-7 days (less time on the charging cradle and more time recording your workouts!) Fitbit charge HR syncs via the latest Bluetooth 4.0 using iOS, Android app, a web browser and Windows Phone through the Fitbit app (illustrated below).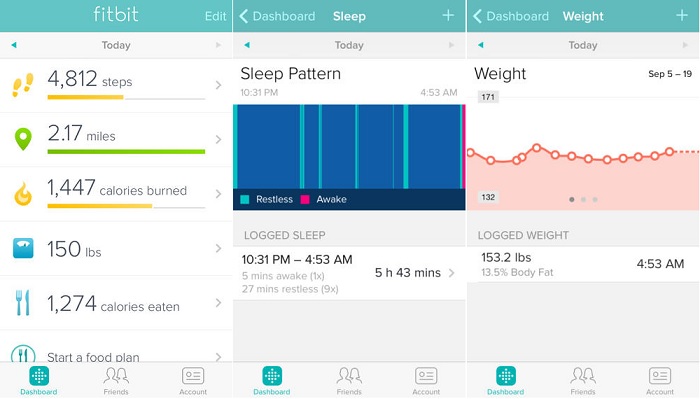 The Fitbit app also features a dietary and food logging system. Other features on the device include Caller notifications and silent alarms.
Pros:
Integrated Heart rate monitor.
Cons:
Product rating 8/10 ★★★★★★★★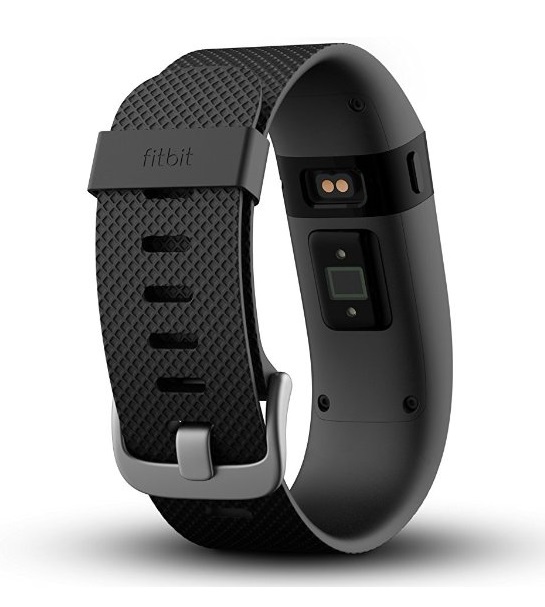 US: Purchase it on Amazon.com

1. Garmin vívofit 2
The number 1 spot goes to the Garmin vivofit 2 which is arguable one of the best fitness activity trackers at the moment. It is water-resistant up to 50 meters.
The battery life lasts a staggering 12 MONTHS (the competition doesn't even come close). It looks stylish when strapped on and feels robust even on the most challenging workouts.
The Garmin vivofit 2 syncs via Bluetooth 4.0 and USB using iOS, android app or a web browser through the Garmin connect app (illustrated below).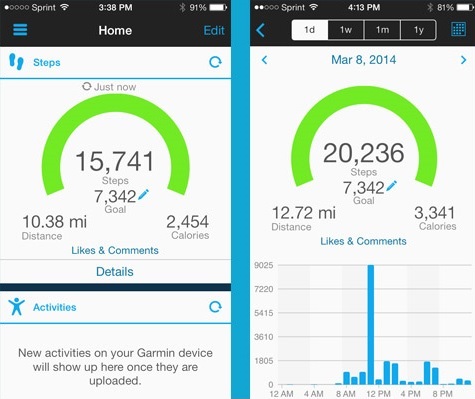 The device can be completely customised to a range of colours and strap styles.
The display is always on, includes a backlight and can be paired to an ant+ heart rate monitor.
Pros:
Waterproof.

Unrivalled battery life.
Cons:
No caller notifications or silent alarms.

No GPS.
Product rating 9/10 ★★★★★★★★★
Purchase it on Amazon.com

Please leave your comments and suggestions below- I'd love to hear from you.