Finding the best activity tracker for running depends on your fitness level and the amount of detail you want the device to display. Are you just starting out? Are you a seasoned runner with substantial mileage under your belt? Maybe you're looking to step things up? These questions will influence your decision of what you consider to be the perfect fitness tracker.     
Apart from the standard stride and distance data, the newest activity trackers provide a wealth of running information including heart rate data and some even observe your running technique.
The price range varies, with some fitness trackers coming in a bit too expensive. The good news is that there's a budget to suit every pocket without having to compromise on essential features.
It's hard to find a watch that ticks all the boxes, so I've included my top recommendation directly below, along with a list of activity trackers with standout features and attractive prices to suit your budget.  
My Best Recommendation
1. TomTom Spark
The TomTom Spark deserves the top spot because of its added functionality that surpasses standard tracking. On top of displaying the usual distance, pace and lap information it comes equipped with an integrated optical HR (heart rate) monitor which has better accuracy than any of the other trackers on this list.  
TomTom Spark is compatible with 99.9% of running apps available plus it has space for your favourite running playlists which can play wirelessly to Bluetooth headphones!
It's nice to know that I can leave my phone or iPod at home and run uninterrupted.
Another worthy feature is the ability to compete against your previous time to keep your runs competitive and exciting. Well done TomTom.
Where Can I Buy The TomTom Spark?
Top Activity Tracker to Monitor Recovery
2. Garmin Forerunner 630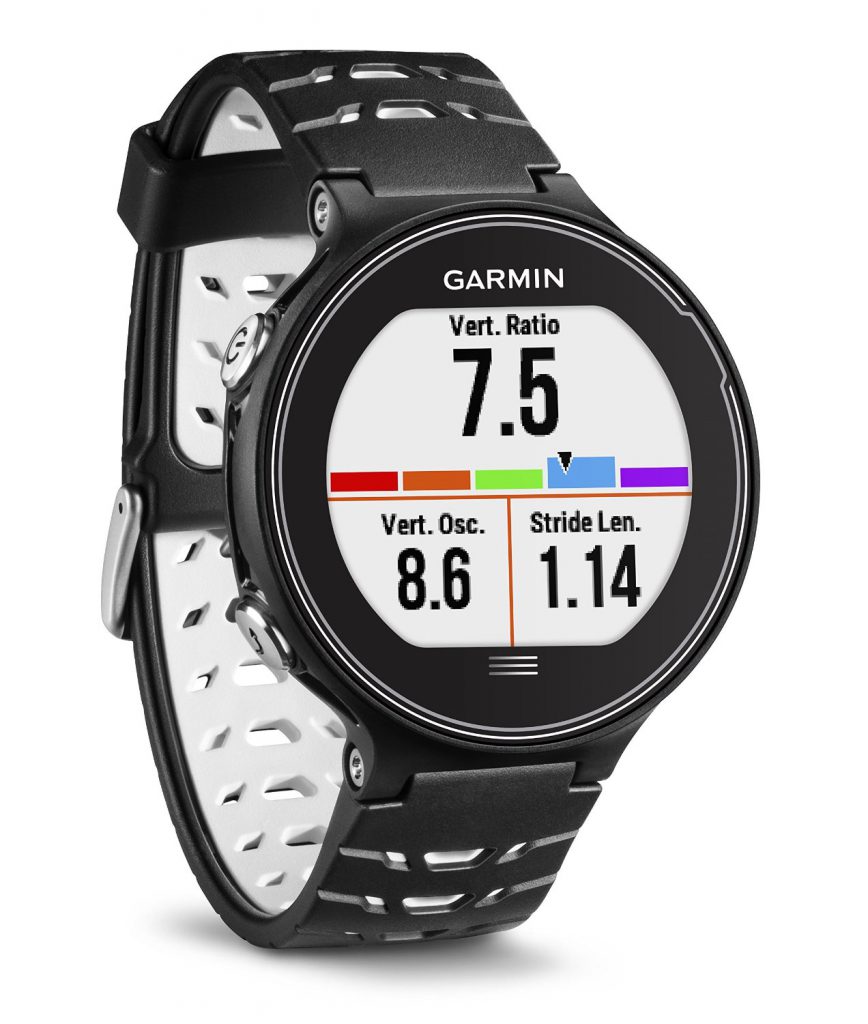 The Garmin Forerunner 630 provides useful running details including your pace measurements and vertical ratio to improve performance.
Attention has been given to recovery times meaning that the device can rate your performance and lactate levels to help you avoid overexertion. It will prompt you when you're pushing your body more than you should be.
The Garmin Forerunner 630 is a device for the die-hard runner who's also looking for a fitness tracker that mimics smartwatch features.
It's not cheap but it's uncompromising on functionality and amongst the top running activity trackers you can get your hands on.
Where Can I Buy The Garmin Forerunner 630?
3. Polar V800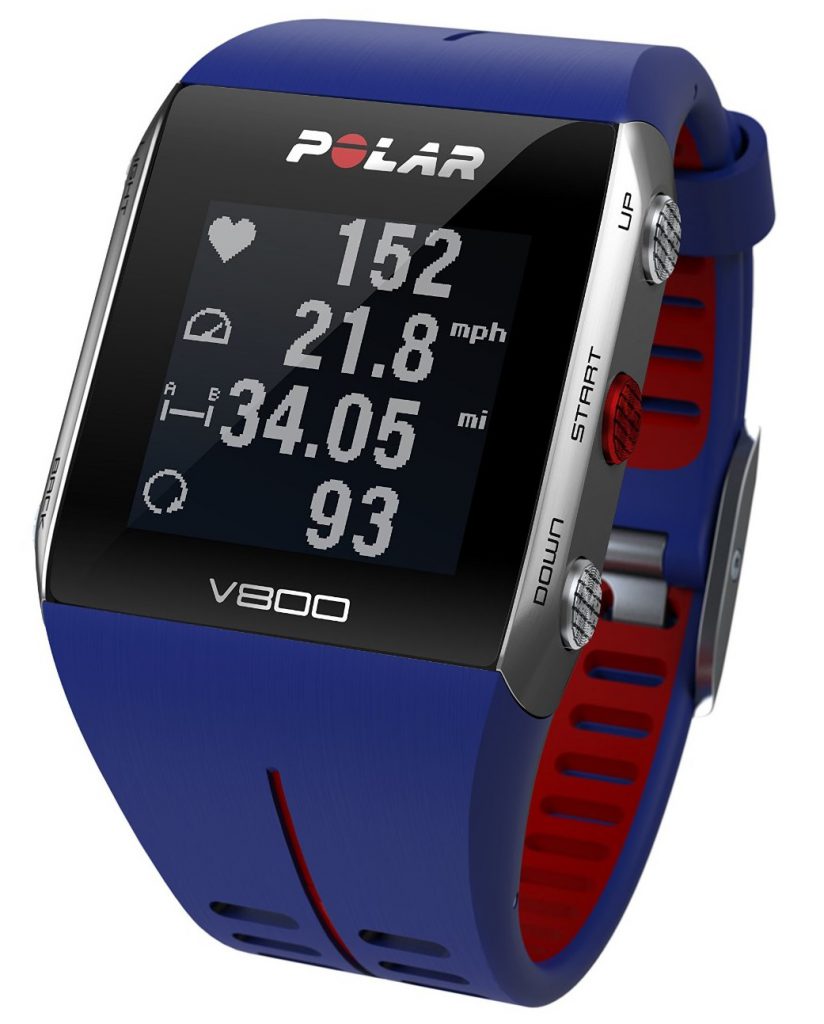 The Polar V800 fitness tracker is ideal for the all-round trainer. In addition to running, it's great for swimmers and cyclists. Stride, heart rate, calories and distance are all recorded on a highly customizable gorgeous display.
Does Measuring Heart Rate matter?
Heart rate tracking is getting popular but is it really that important? If you're in your early days of running then it's not as important because the heart rate details won't help you to improve your running.
Training in heart rate zones is difficult and best saved for later when you're at the highpoint of your fitness. Having noted that, it's still good to have the heart rate data at your disposal.
Your running details will be colour-coded with your heart rate info and shows improvements as you become fitter.
Linking the V800 with the Polar H7 heart rate chest strap will bring to life some smart features such as zonal training that ensures you accomplish your best. Pair it with the Polar stride sensor and the unit will automatically update pace, cadence, and distance based on the sensor as you run.
The Polar V800 is smart enough to keep providing useful performance data even after you've completed your run.
The Orthostatic function can forecast your body's recovery status and when it will be ready for your next training session. The device can also determine whether your calorie output is from normal daily activity or exercising.  
Where Can I Buy The Polar V800?
Top Tracker for All Day fitness
4. Garmin Forerunner 235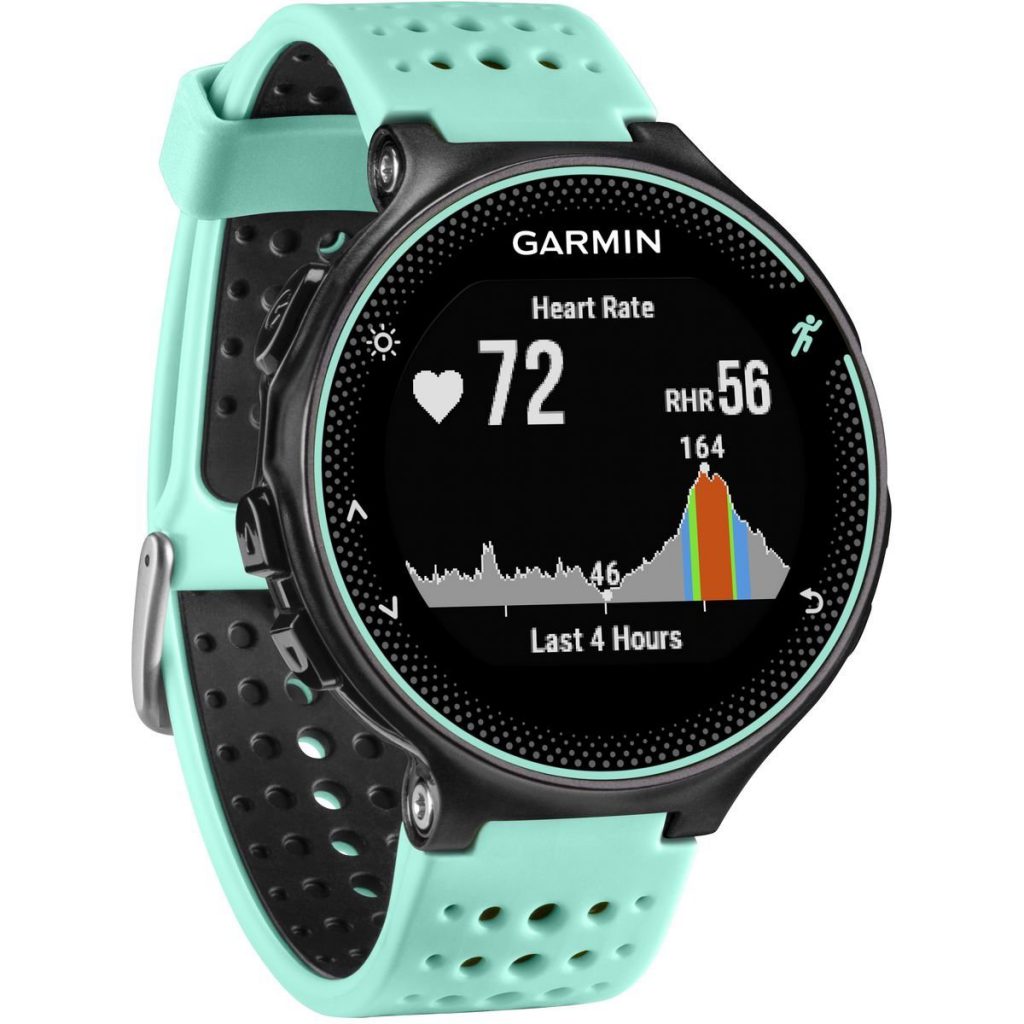 The Garmin Forerunner 235 is ideal for the runner that wants to level up and train better.
The Elevate built-in HR sensor is the standout feature, it monitors stable runs over a sustained period.
You can also pair up the tracker with a chest strap for high-intensity training and it provides an expected recovery time post-workout.
You have the benefit of training alerts centered on stride, speed, heart rate, calories burnt, time and distance.
You can get new watch faces, widgets and apps from the Garmin Connect IQ store. The battery life on the Forerunner 235 lasts between 2 days to over a week.
If you're after an activity tracker that keeps you updated on general health, useful running metrics and heart rate monitoring then the Forerunner 235 ticks the boxes. It provides smart notifications and all-day performance.
Where Can I Buy The Garmin Forerunner 235?
5. Fitbit Surge
The Surge is still one of the leading activity trackers from the Fitbit camp.
It excels as a running companion owing to the built-in GPS, which tracks your routes accurately and great battery life that lasts for 7 days between charges meaning that your weekly workouts don't need the inconvenience of factoring in charging times.
The Fitbit Surge has a solid build and can endure tough terrains if required. It was the first Fitbit to sport a touchscreen display.  
I've mentioned in previous reviews how the Fitbit standouts from its rivals because of the user-friendly layout and running data that simple to understand.
You get clever charts that show your performance over time. The details work together with your day-to-day goals so you get the most out of your training.
Where Can I Buy The Fitbit Surge
Recommended Read: Fitbit Surge full review
Great Value Activity Tracker
6. Polar M400
The Polar M400 is a cheaper option over the V800. The integrated GPS tracks running metrics like stride, routes, distance and even altitude. Cheaper doesn't mean that the M400 compromises on features, it comes with some neat tricks.   
Should you bother with a chest strap over optical?
Given that most of the latest activity trackers come equipped with optical heart rate sensors, is it worth bothering with an additional chest strap?
Optical sensors pose the problem of accuracy. While they a good at tracking your heart rate during a steady workout, their accuracy suffers during high intensity workouts or too much arm movement.
Optical sensors are more suited for beginner runners that want a general indication of heart rate instead of wearing a chest strap. If HR accuracy is top of your priorities then an optical sensor might not be the best option.   
With the M400 you have the benefit of all-day activity tracking. It comes packed with features tailored for running to keep you engaged.  The interval timer can be customized to specific timings and distance, the device will even show a projected completion time for your run depending on your stride.   
If directions are not your strong point and you veer off track, the M400 can determine the shortest distance and direct you back to the beginning point of your run. If you're striving for better performance, the Polar Running Index measures your performance over say, 1 or 3 months, and shows progression based on your pace and heart rate.
Where Can I Buy The Polar M400?
Best Tracker for the Hard-Core Runner
7. Suunto Ambit 3 Peak
The Suunto's Ambit3 is made for the hard-core runner.
The built-in GPS and smart connectivity provides precise route tracking functionality.
Sync the tracker with the Suunto Movescount app to customize run settings and monitor your performance.
The Suunto Ambit3 has a number of sensors including a compass, heart rate sensor that works underwater, altitude sensor and the GPS sensor.   
If you're looking for route guidance and additional running data that determines how the outdoor elements affect your running, this premium activity tracker is a worthwhile investment. 
Where Can I Buy The Suunto Ambit3 Peak?
8. Garmin Fenix 3
The Garmin Fenix 3 is a modern take on the all-round fitness tracker.
If you're a runner that also dabbles in swimming, mountain biking, cycling or skiing this activity tracker will accommodate your training requirements.
This doesn't detract from its great running features where the device excels itself.  
Link the Garmin Fenix 3 with a heart rate strap to open up a host of smart running features including vertical oscillation, elevation, cadence and V02 max. It's a remarkable tracker that will add an edge to your runs.
Where Can I Buy The Garmin Fenix 3 
Top Smartwatch for Your Run
9. Moto 360 Sport
Although the Moto 360 is technically a smartwatch, it packs some great features for running and qualifies as a worthy activity tracker for this list.
The watch is encased in durable silicon and sports an AnyLight LCD touch screen to browse through your running info.
The screen benefits from minimal glare even in direct sunlight.  
The Moto Body app has a remarkably good design and user-friendly layout that makes data easier to interpret whilst you're on the go. Great stuff Motorola!
Where Can I Buy The Moto 360 Sport? 
 10. Garmin Vivoactive

The Sony SmartWatch 3 seems to have ruffled a few feathers and the Vivoactive is Garmin's come back to this. It presents a host of smart notifications in a similar manner as a smartwatch.
You can even view your emails and messages while you're on the move, not that I'd be worried about my inbox during a sweaty run. The Vivoactive comes equipped with inbuilt GPS so you can leave your phone at home.
It has multiple activity functions for cycling, playing golf and swimming amongst a few. Garmin has recently upgraded the tracker to include an inbuilt optical heart rate sensor.
Where Can I Buy The Garmin Vivoactive 
That concludes our list of the best activity trackers for running right now. I'd be gobsmacked if you can find an alternative tracker that beats those listed above. If you do find one, please could you include it in the comments section below? I'd be happy to hear what you think.
Thanks for reading and happy running.